SAN FRANCISCO FASHION WEEK
San Francisco Fashion Week kicked off its third year with the Spring 2006 collections in the Galleria Atrium at the San Francisco Design Center.
Created and produced by New York transplant Erika Gessin of Mystery Girl Productions, the five days of 18 runway shows spotlighted established fashion designers, along with young up-and-comers.
According to Erika, "San Francisco is full of people who are innovative, creative, and have a distinct style that reflects an irreverent yet intelligent vibe."
The shows were formerly held in the Palace of Fine Arts and the W Hotel, but the surging popularity of SF's Fashion Week demanded a newer, and more importantly, larger venue. For the first time, the Galleria allowed a 40-foot-long runway so the models were able to really strut their stuff.
I attended the opening night, which featured four couture collections and benefited the National AIDS Memorial Grove in Golden Gate Park.
It was a hot ticket so a lot of people were left with "standing room only." After an open-bar reception, including California wines and hors-d'oeuvres, many in the attractive crowd chose to line up on the four story balconies for a bird's eye view of the catwalk.
In the VIP section sat Stephanie Solomon, fashion director for Bloomingdale's in NY, next to PR maven Gretchen de Witt and SF Chronicle's style reporter, Sylvia Rubin.
Beautiful Carol Chen, Miss San Francisco, with J D Wang, President of Enertech also stood out in the front row. Fashionable Karen Caufield flew in from Santa Barbara with her venture capitalist husband Frank Caufield (Kleiner, Perkins, Caufield & Byers) to support the cause.
Businessman Alfred Giuffrida and his wife, the striking Pamela Joyner, managing partner of Avid Partners and co-chair of the SF Ballet Board, also attended. Pamela recently visited NYC designer Michael who is designing a gown for her to wear at next January's San Francisco Ballet Opening Night. (You can read about the last Ballet gala in the August 31st column.)
Others spotted: fashionista Karen Caldwell, realtor Betsy Linder, Tamiko Taylor-Grant, a principal in the Samira Ange model agency, and a room full of young fashion hopefuls.
Designers Colleen Quen, Erin Mahoney, Cari Borja, and Lily Samii were the lucky four who showed their unique and inimitably stylish collections. The models were as eclectic as the fashions, with makeup supplied by MAC cosmetics.
Other nights featured the designers Pink Elf, Oda, Richard Hallmarq, Hisbyher, Kelly B, Donna Lou, Tamiece, Katherine Noyes, Teresa Romero for Dichotomy, Anazara, Genevieve Primavera, Gypsyand Loic, and Wee Scotty.
Another innovative idea was to include the Emerging Stars runway show, spotlighting the creations of carefully selected Bay Area design students from all over the nation including the Art Institute of California.
It was so enjoyable and utterly chic that next year I plan to bring friends to shop the on-site boutiques and take in some seminars. How about Model Boot Camp or Catwalk Choreography? Maybe I'll just stick with Defining San Francisco Style.
Oh, and I almost forgot, there was also all those official after parties all over town – for those who want to party the night away – how do those models look so good the next day?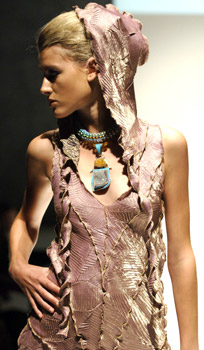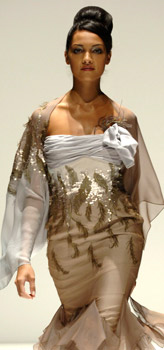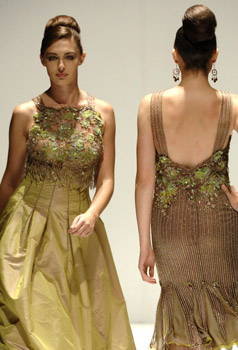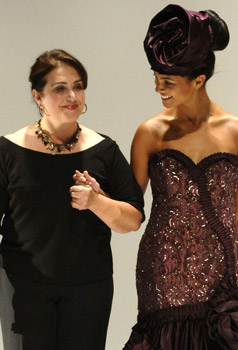 BERKELEY'S BANCROFT LIBRARY HONORS JOAN DIDION
The University of California, Berkeley proudly commemorated "100 Years of the Bancroft Library" with a special gallery exhibition and dinner for 200 fortunate guests, chaired by Paul Bancroft III, grandson of the library's founder.
The highlight of the evening was the presentation of the 2006 Hubert Howe Bancroft award to New York author, journalist, and screenwriter Joan Didion, a U.C., Berkeley alum.
Among Didion's many novels, memoirs and essays are The Year of Magical Thinking, winner of the 2005 National Book Award and her latest nonfiction collection, We Tell Ourselves Stories in Order to Live.
The evening supported the Bancroft's Regional Oral History Project and the upcoming documentary on the California wine industry produced by Carla de Luca and narrated by CNN correspondent Larry Woods.