VUITTON, NORDSTROM, AND ARMANI, OH MY!
Seems like every week is Fashion Week in San Francisco. The newly expanded Louis Vuitton Maison opened in Union Square with a private dinner hosted by LV Chairman and CEO Yves Carcelle and LV North America President and CEO Daniel Lalonde.
Did you know that Louis Vuitton luxury brand, a member of LVMH (Louis Vuitton Moët Hennessy) since 1987, boasts 367 stores in 55 countries?
Yves Carcelle confided that the new store, the largest in the US, "definitely will has some surprises for our customers."
The unique "Maison" concept has been immensely successful in Paris, Hong Kong, Taipei and New York with the marrying of "luxury, leisure, art and culture."
The fashion savvy guests list included Mayor Gavin Newsom, former Mayor Willie Brown, Vanessa Getty, Kimberly Bini in from LA, California artist Shell Cardon and hubby Craig, a media and entertainment lawyer, and Hooman, DJ for Alice radio.
"Louis Vuitton is an astonishing company…through the talent of Marc Jacobs they combine classic with contemporary designs attracting a new generation of buyers," said Maria Manetti Farrow.
And Maria should know as she created the groundbreaking concept of "The Designer Boutique" within department stores with the "Gucci Accessory Collection."
Chef Thomas Keller of Yountville's French Laundry and Bouchon and New York's Bouchon Bakery and Per Se restaurant, treated guests to one of his world famous menus.
An evening filled with great food and good fun, the fortunate invitees couldn't help but enjoy themselves. But the vintage Dom Perignon generously supplied by Moët et Chandon, (the M in LVMH) didn't hurt either.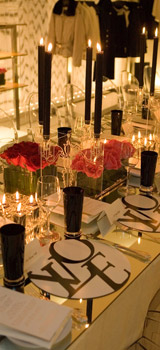 A CURE FOR THE COMMON CLOSET
Authors and stylists Jesse Garza and Joe Lupo, dubbed the "style SWAT team" by fashion editors, landed in San Francisco after their whirlwind book tour promoting Nothing to Wear? A 5-Step Cure for the Common Closet.
Since the launch at Bergdorf's last spring, they've been popping up in all the best press: Elle magazine's "Closet Case," the New York Times – twice, and September's O magazine, including an appearance on Oprah, too. They've been behind the "looks" in many top magazines for more than a decade.
Seems everyone is clamoring for advice about their wardrobe and Jesse and Joe are the ones to see for, what else, Visual Therapy – that's the name of their business. Famous for their "capsule wardrobe" that "defines your style," the duo solves the age-old quandary of "too many clothes and nothing to wear."
Their loyal clientele panic at the thought of their newfound fame but fear not, Jesse and Joe still find time for devoted customers.
Their book features actual scenarios of friends and clients, how women and men can approach style…transforming with different ages and stages. It's illustrated by Rubin Toledo who, according to Jesse, "is the Picasso of fashion illustrators" – his painter's smock is in the Smithsonian.
You can expect nothing but the best from these two!

RAPHAEL HOUSE BENEFIT AT NORDSTROM
Nordstrom, in Westfield Center downtown, presented a full-runway designer show benefiting Raphael House, a shelter for homeless families.
The preview included designers Alexander McQueen, Chloe, Dolce & Gabbana, Donna Karan, Behnaz Saraspour, Michael Kors, Missoni, Narcisco Rodriguez, Roberto Cavalli, and Valentino – you get the idea.
The cocktails and dessert reception and fashion show was chaired by Claudia Castillo Ross, co-chaired by Ann Ferrell Millham, and Kimberly Bakker.
One guest, Dr. Melina B. Jampolis, chatted about her new book, The No-Time-to-Lose Diet, published this January. You might say, "Oh, not another diet book," but Melina has the credentials: a graduate of Tufts School of Medicine and one of around 200 board-certified internists who are nutrition specialists.
In addition, she has hosted Discovery Network's FIT TV series Diet Doctor.
Jampolis is also an Advisory Member to the recently launched new web magazine "VIV" (www.vivmag.com) that David Gilmour created. Gilmour is the one that brought us Fiji Water. Since sold, he commutes between New York, Palm Beach, and Fiji with his stunning wife Jillian, a former model. What stands out about Raphael House is that it offers full support for that in need: a family shelter, casework/counseling and education, children's programs, and aftercare.

A KAISER AT EMPORIO ARMANI
Over at Emporio Armani boutique, Joel Goodrich and Mark Calvano hosted a luncheon for forty people in honor of NYer Larry Kaiser.
"We welcome Kaiser who entertains us royally when we're in New York," Joel toasted. The guys know each other from the luxury real estate world: Kaiser owns Key-Ventures and Joel is a top producer at Tri/Coldwell Banker, and Mark is a developer and movie producer.
Located on Grant street, Emporio Armani inhabits a neo-classical building (the former Hibernia Bank) with a balcony overlooking the boutique. The airy space, with its lovely café, is a great place to stop for a light lunch or coffee when shopping downtown.
Guests included Parisians Katia and Charles Sakr, NYer Shirley King, property manager Carolyn Chandler of Chandler Properties, Dr. Melina Jampolis, bon vivant Harry de Wildt, and restaurateur Jorge Maumer.
Others included interior designer Ron Crosetti, Renee Singh, Afsaneh Akhatari, Tatiana and Henry Phillips IV, Renata and John Strazzanti, Heide Betz, and Stephanie Lingle, publisher of Gentry magazine.
I chatted with Isha and Asim Abdullah, the venture capitalist who bought the House of Ungaro from the Italian fashion Ferragamo family, about his plans "to restore the house to its former glory."
Asim, one of the Bay Area's successful dot-commers, co-founded Commerce One, a booming software company. Having made his fortune, he's now branching out, enjoying the perks of this new venture.
With impromptu charm, Asim invited everyone for coffee at their gracious Pacific Heights pied-a-terre, next door to author Danielle Steel. His wife Isha fretted, "I hope we have enough – our family home is in Atherton."
They did. Sipping coffee, the guests enjoyed one of the most incredible panoramic views of San Francisco from the wraparound balconies of the beaux art apartment, decorated by the talented designer David Kensington.
What a lovely ending to a luncheon party!
Photographs by Drew Altizer.