COUTURE & COCKTAILS – VIVIENNE WESTWOOD: 36 YEARS IN FASHION AT THE DE YOUNG
I knew I was in for a jolly good time when I arrived at the de Young Museum in Golden Gate Park and an empty champagne bottle rested between the paws of the Egyptian Sphinx out front.
The invitation stated it perfectly. "Come celebrate Vivienne Westwood – a designer who has shocked, amused, and impressed us for over 30 years!"
I heard the museum wanted to draw a hipper, younger crowd so it became the sole U.S. importer of this Victoria and Albert Museum exhibit, joining Australia, Shanghai, Taipei, Tokyo, Dusseldorf, and Bangkok.
Of course, Westwood drew a crowd, with her bright copper hair set off by her grey and black frock. She's the notorious Queen of Punk, the one who created such a stir, and a new fashion genre for that matter, with her designs for The Sex Pistols, the British Punk Rockers of the 1970s.
That evening, a Dance Party followed the VIP reception. Hot lighting, abundant bars – plenty were seen drinking those triple sized martinis – and DJ Shissla's music mix kept the joint jumping into the wee hours.
Curious did not begin to describe my interest in the dress code; everything from casual to costumey to outlandish. And it wasn't the usual cast of characters, either. This was a young group that only a multicultural city like San Francisco could produce – full of artistic vitality.
Here's a sampling of the people that attended: English musician Eleni Xigaki from England with actor Angela Ryskiewicz, who are both, as they said, "huge fans of Vivienne's work." Flying in from Los Angeles and wearing vintage Pucci was Joanna Ceppi, a psychologist in Malibu, Autumn Adamme, owner of Hayes Street's Dark Garden specializing in "unique corsetry," and SF native, artist Henri Him, who traveled to Shanghai and studied brush art for four years.
In the VIP lounge, I chatted with Lydia Mondavi, wife of Rob Mondavi, son of Michael and Isabel Mondavi, and grandson of the legendary Robert Mondavi. Lydia was with friends Todd White of St. Helena, and Patti Hoffman. Patti's husband Paul Hoffman and Rob Mondavi are partners in winemaking at Spellbound Wines, "Wines that have you spellbound," as the label reads.
Did you know that Lydia launched a new line of cosmetics in February, 29 Cosmetics (named after Napa's Route 29), sold exclusively at Neiman-Marcus? All the products are made, naturally, with grape seed extract, the latest rage in anti-aging, all those fabulous anti-oxidants.
Seventeen-year-old designer Kit Halverson has his own line of fashions, Common Era carried by MAC, a boutique on Hayes Street. Owned by Ben Ospital, MAC specializes in avant-garde California and international designers, and even carried Westwood at one time.
Kit was with a friend, 16-year-old Zoe Fisher, who came because "that was my mother's era and I wanted to see what she meant by 'when fashion was alive' and Punk was cutting edge."
Her mother Darcy Campbell added, "Today is so casual; it wasn't like that before. We'd go out late, and we'd sew something to go out in and try to be different with hats and gloves. It was about being glamorous and individual, and we took fashion risks." Life moves on and now she's a professor of education at San Francisco State, but I wondered if she misses all that dressing up.
I spotted an outrageously dressed group who drove in from Sacramento. Heath Hamilton, channeling Vivienne by wearing her Scottish-inspired tartans. Along for the ride were David Lee and Eric Jensen, wearing black Jean-Paul Gaultier, a designer he has been collecting for over 30 years. Of course, I suggested that he consider donating his collection to the de Young someday but he made no promises.
The only hitch came when the clock struck midnight and the scramble began by all of those who wanted a cab. SF's not a taxi town like New York, so we had to wait, amusing ourselves with complaints about the lack of livery vehicles.
You know what they say about silver linings, I shared a cab with three 30-something Yahoo! types heading downtown. One guy, Jose, confessed he knew nothing of fashion but was impressed with how Westwood designs seem "larger than life" and how her look has filtered down into what we wear today.
The discussion continued with "Old Navy is the new Gap" and they critiqued what people wore at Yahoo!
One former New Yorker who's never moving back because as she loves the outdoor lifestyle here explained her style as "a little preppy, a little country, a little rock & roll and green recycled."
She described some of the corporate types at Yahoo! as "formal," wearing, "What are those things I never wear? Oh, pantyhose!" – I've never felt the generation gap more but they didn't seem to mind. They were so cute, friendly and full of life that it was a wonderful ending to the evening.
Almost a study in contrast, Nan Kempner: American Chic is opening at the de Young on June 17. The exhibit features San Francisco-born Kempner's "fashion favorites" that recently showed in New York at the Metropolitan Museum.
Until then, "Go Westwood, my friends," as the phrase almost goes, if you want to see Vivienne's retrospective. The City by the Bay is its only US port of call.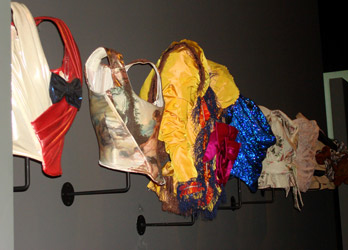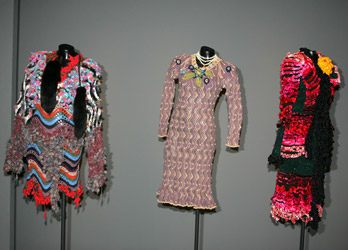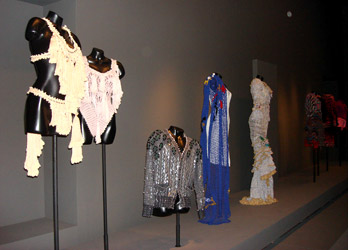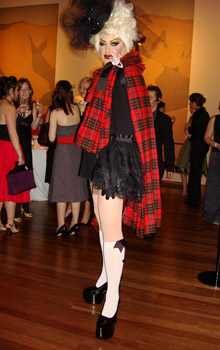 DODIE ROSEKRANS HOSTS RECEPTION FOR THE SAN FRANCISCO DECORATOR SHOWCASE
Grande Dame Dodie Rosekrans feted VIP's of the 30th annual San Francisco Decorator Showcase with an exclusive reception in her fabulous home in Pacific Heights, boasting one of the most glorious views of San Francisco Bay.
The Showcase house (really a mansion) just listed for a hot $55 mil. It's located at 2901 Broadway in an area known as the "Gold Coast" – the section of Broadway that extends from Divisadero to Lyon Street. Built in 1927, this grand Renaissance style mansion is open to the public for the first time as it has been in the Mitchell family since 1946.
For a little history, Herbert Hoover's wife, Lou Henry Hoover, once owned the property before famed "hilltop architect" Henry Clay Smith designed the 10,000 square feet plus manse. It is noted to have one of the only private outdoor tennis courts in Pacific Heights.
The always gracious Dodie took the time to personally host the reception even though she was on her way to her Paris apartment and then her Venetian palazzo on the Grand Canal – both decorated by the late designer Tony Duquette, who created such wonderful fantasy worlds. You can see Duquette's jewelry designs at Bergdorf Goodman.
Trendsetting Dodie has an incredible history as patron of the arts. She and her late husband, John Rosekrans, have supported museums and music organizations throughout the world, especially the Fine Arts Museums of San Francisco, SFMOMA and the Pompidou Center in Paris.
In 1998, her devotion was recognized by France when they awarded her the Medal of the Legion of Honor. That was like coming full circle, as it was her husband's grandmother, Alma Spreckels who founded San Francisco's Legion of Honor museum.
Her innovative style ranges from her choosing Michael Taylor, the inventive interior designer known for his "California Look" to decorate her home to being instrumental in fashion designer John Galliano's rise to prominence.
The evening's guest list included Showcase homeowner Gladyne Mitchell, designer Suzanne Tucker, Birgit Hall, Randy Arczyinski, Gisele Huff, Katy Glass, Janet Hunter, Bill and Leigh Matthes, designer Kendall Wilkinson, Laney and Pasha Thornton, Connie and Dr. Barry Baron, antiques dealers Collier and Victoria Gwin, designer Steven Volpe, and neighbor Nicola Miner.
A few days later on April 27th, they held the opening night of the 30th annual San Francisco Decorator Showcase, "A Celebration of San Francisco Design."
This year's Showcase House runs April 28 – May 28 and raises funds for University High School. It is a must for locals and visitors alike, affording a rare glimpse of one of San Francisco's architectural gems.
Photographs by Drew Altizer (Showcase); Jeanne Lawrence, and Tom Gibbons (Westwood).