BARNEY'S NEW YORK OPENS IN SAN FRANCISCO
Taste! Luxury! Humor! The black rubber bracelets handed out at the fabulous, by invitation only, opening of Barney's New York in San Francisco, said it all.
Couture-loving author Danielle Steel and her daughter Beatrix Lazard Seidenberg hosted the fete, along with her other children, Samantha, Victoria, Vanessa, Maxx, and Zara Traina.
All the proceeds benefited the Nick Traina Foundation, an organization dedicated to helping those with mental health problems. It was founded by Steel in 1998 in memory of her son. His sister Beatrix remarked, "It is the 10th anniversary of his death, and we miss him more than ever. Not many events would have inspired me to get dressed up in my very pregnant state." Since then she has welcomed a new baby daughter. Congratulations!
The invitation read, "We insist upon the pleasure of your life-enhancing company at the spectacularly fabulous new Barney's New York. Scrumptious hors d'oeuvres and buckets of fancy champagne followed by mounds of yummy cuisine by Quince restaurant dessert and dancing at Union Square." That was enough for me!
Humor did set the tone for our evening. Catherine Schmidt, Robert Kar, and I shared a cab from Nob Hill,and our female driver broke us up with her observation of the party, "This is an uplift bra and stiletto heel night… and you're in your Brooks Brothers suit."
The party was a hot ticket – so oversubscribed that checks were returned, but the fire marshal rules. That didn't stop plenty of party crashers, however, and thank goodness PR wiz Allison Speer stood guard at the door.
A whole crew from Barney's New York flagship flew in for this dazzling fete: CEO Howard Socol, fashion director Juliet Gilhart, and creative director Simon Doonan, who is also responsible for those whimsical award winning windows.
Other NY'ers who couldn't resist were fashion designers Derek Lam (a SF native), Isabel Toledo (the new Anne Klein designer) and her husband artist Ruben Toledo, perfumer Frederic Malle, and designer Jonathan Adler.
"We've been waiting a long time and the time was right. We're not a department store, we're a luxury specialty store," Socol said. Along side him was the new GM Richard Canciamilla, very popular with the ladies who shop 'til they drop.
The 60,000-square-foot, five-story store at 77 O'Farrell and Stockton, is just across from Macy's and only a block from Union Square. The landmark building was originally a Joseph Magnin (1914-1984), the cutting edge emporium and later FAO Schwarz (1989- 2003).
Old-timers remember Cyril Magnin, aka "Mr. San Francisco" and Chief of Protocol for years. His family, Ellen Magnin Newman and Donald Magnin, ran J Magnin until it was sold in the 1970's. "Barney's brings style and excitement back to Union Square, as JM did in its best years," said retail consultant Newman.
By the way, Barney's New York, which has had its ups and downs, was acquired last month for $942.3 million by Istithmar, a Dubai-based investment holding company.
Certainly the guests were dressed for the occasion, wearing new, "very Barney's" designers. The luxury store is known for supporting emerging designers such as Derek Lam, Doo Ri, Proenza Schouler, Rodarte, Thakoon, Trovata, and Thom Browne.
Everyone loved the space, especially architect David Kensington. "It reminds me of the great designers of the 20's in Paris; the use of exotic materials, the reinterpretation of classical details – paired down in a modern way."
Champagne flutes in hand, the guests hiked up and down the beautiful iron staircase. As one guest climbed in stilettos, she lamented the lack of escalators. By the time she found the shoe salon, she forgot her misery.
The entire mezzanine floor is devoted to shoes. "Barney's has over 20,000 pairs of designer footwear…over at Saks they have 30,000 so the gauntlet has been thrown down," mused real estate mogul Carolyn Chandler.
Shoes are definitely The Thing and the higher heel the better, some 4 and 5 inches high. Christian Louboutins, with their red soles, seem to have replaced the Manolo Blahniks, made infamous by TV's Sex and the City. Whenever I see gals hobbling around, I am reminded of Chinese ladies and their bound feet – has anything changed?
Vintners Urannia and Brunno Ristow graciously donated their Ristow Estate's trademark Cabernet Sauvignon for the occasion. Their daughter Cecilia de Quesada Harris flew in as she and her financier husband Will Harris and their two children moved to NYC this city this fall.
Seen in the crowd: Mayor Gavin Newsom, Jennifer Siebel, Melanie Ellison, wife of Oracle's Larry Ellison, Denise Hale, District Attorney Kamala Harris, Chief of Protocol Charlotte Shultz with George Shultz, Sloan Barnett, Marissa Mayer, and Bita Daryabari wearing a mini black and white Chanel, John Traina, Alexis and Trevor Traina (Vanessa Getty is their new baby's godmother), Katie and Todd Traina, Dede Wilsey, and Elizabeth Touw.
Others guests: Actress Minnie Driver with Craig Zolezzi and his son Caden, Laura Cunningham with chef Thomas Keller, of the famed French Laundry in Napa Valley and Per Se in New York, Daniel Lurie and Becca Prowda, Katie Jarman, Marcia Monro Wright, Katie Schwab, Irene Neuwirth, Brian Wilsey, Kathryn Lasater, Hillary Armstrong, Lindsay Bolton, Joe and Mary Ann, Vanessa Getty's mother, Susan Dunlevy, and author Paul Duchscherer.
Also, LA interior designer Robert Marinelli and LA Chopard's Wes Carroll, Joy Venturini Bianchi, jewelry designer Rosalina Lydster, journalist Elizabeth Laurence, nightclub impresario Harry Denton, Frank and Daru Kawakowski, Afsaneh Akhtari, realtor Joel Goodrich, Dr. Alan Malouf, Cameron Phleger in vintage in Howard Grier, the best colorist in town Alex Chases, and writer Jennifer Raiser.
Others looking at the luxury goods: Daniela Faggioli with daughter Max Boyer and her fiancé David Glynn, Yurie Pascarella, Ann Ferrell Millham, Maria Manetti Farrow, a former buyer at J. Magnin, O.J. Shansby who just returned from NY's Fashion Week and who saw Bette Midler shopping at Barney's there, Cissie Swig chatting with Mary and Steve Swig, who recently bought an apartment in Manhattan, where his brother Kent Swig resides.
And more: Karen and Frank Caufield (of Kleiner, Perkins, Caufield & Byers) venture capitalists who commute between San Francisco and Santa Barbara, Andre de Baubigny, Jr. and his English-born wife Juliet de Baubigny (the only female partner of Kleiner, Perkins, and Caufield). The couple spent last summer in the Hampton's with their two babies and noted "there were a lot of Westies this year."
From the Barney's shop, the party moved up the block to Union Square Plaza. With 700 acceptances, I thought I'd just stop in for a few minutes – it's just another store party in the tent, right? Was I ever wrong!
It was one of the savviest soirees, not to mention best store opening, I have ever attended – a splash. Top Drawer. I was one of the last to leave; I had so much fun. So much for a few minutes.
Two transparent tents transformed Union Square into a multi-leveled lounge with large and cushy grey velvet banquettes trimmed in yellow, coordinating with rows of giant sunflowers.
The energetic revelers floated past, chatting with friends, congregating under the stars against the glittering city backdrop on a perfectly balmy, windless night. It was up the evening, "Our opening party was a great mix of class, flash and a little bit of trash." magical.
"Surprisingly there's not your usual cast of characters – there's society, artist, artisans, designers, fashion lovers, they're all here…the synergy, the diversity makes it a city-wide party, said Kim Wilsey.
And everyone loved the food. Chef Michael Tusk of Quince restaurant designed the menu and Taste catered it. According to Cynthia Coolidge, the late NY Times food writer, Johnny Apple, touted Quince as the next Chez Panisse, the Berkeley restaurant of Alice Waters.
It was so crowded I almost missed the second tent with desert and the Disco. Complete with a massive disco ball, it was packed with dancers gyrating to popular New York DJ Johnny Dynell's mixes, cheered on by wife Chi Chi Valenti. A stream of entertainment ensued, from performance art to a full floorshow with go-go dancers, and enough energy spent that no one needed to go to the gym the next day.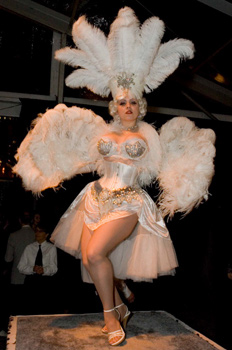 Photographs by Drew Altizer and Jeanne Lawrence.