A MASKED BALL FOR A CAUSE
Nearly 300 from San Francisco, New York, and Silicon Valley gathered for a masked ball benefiting the Landmine Survivors Network (LSN) at the home of Pamela Joyner and her husband Fred Giuffrida. LSN was a co-recipient of the 1997 Nobel Prize for Peace and raised more than $200,000 on this evening.
Giuffrida and Joyner, board co-chair and board member respectively of LSN held the event to raise awareness of the internationally recognized charity that assists individuals and communities affected by violent conflict to recover from trauma and reclaim their lives.
The Joyner-Giuffrida fundraiser also served to "unmask" their 1909 four-story home on Presidio Terrace, recently renovated by architect Dan Phipps, bringing it back to its former glamour.
Event planner J. Riccardo Benavides of Ideas transformed it into a party house by transforming the cellar into an opulent lounge where Dick Bright and vocalist Clairdee performed for the guests who danced the night away.
Meanwhile, on the rooftop was a swanky old-world gentleman's smoking room which was a hit with both the gents and the ladies alike. In another era, the men would retire to the smoking room after dinner while the ladies went off to powder their noses. Although Liberation, however, has arrived too late — few in San Francisco seems to smoke much anymore.
Among those attending: British Consul General Julian Evans, Emanuel Ungaro owners Asim and Isha Abdullah, LSN board co-chair Jane Olson, Nobel Peace Laureate Jerry White, SF Ballet Artistic Director Helgi Tomasson and his wife Marlene, with principal dancers Yuan Yuan Tan and Damian Smith, Christine and Richard Thalheimer, Doug and Lisa Goldman, Ken and Dorothy Paige, Ed and Rosemary Baker, Wilkes Bashford, and Rosalina Lydster, who designed Ms. Joyner's emerald necklace.
Also: Jim Swartz, founder of Accel Partners; Irwin Federman of US Venture Partners and his wife Concepcion; Robert Smith, founder of Vista Partners; Nancy Schoendorf, a partner at Mohr, Davidow Partners, with her husband Joe Schoendorf, himself a partner at Accel; Marx Cazenave, founder of Progress Trust Investment; Peggy Woodford Forbes, founder of Forbes Asset Management; Scott Wise, the Chief Investment Officer of Rice University; and Ken and Caretha Coleman.
There were a number of New Yorkers who flew in for the bash, including B. Michael, Reginald Van Lee, Senior Partner at Booz Allen, and real estate developer Daniel Bythewood and his wife Alice. Artist Richard Mayhew, whose works are in the permanent collection at MoMA in New York, led guests on a tour of the Joyner-Giuffrida collection, which includes his work.

LACROIX FASHIONS TOP SAN FRANCISCO BALLET AUXILIARY LUNCHEON
The San Francisco Ballet Auxiliary ate up the 2008 Christian Lacroix Spring Collection at their 28th annual luncheon at the Westin Hotel. This was an extra-special event as the Ballet is celebrating its 75th season this year.
Chairs Cheri Spolin and Susan Solinsky Duryea thanked Saks Fifth Avenue's GM Cheryl Fordham and Senior Vice President Joe Boitano for their generous sponsorship.
This year also marks the 20th anniversary of the House of Lacroix. Marie Martinez-Seznec, director of Haute Couture flew in for the occasion. They showed the colorful Spring Collection along with six favorites from the designer's glamorous Winter '07 Haute Couture.
Many of those attending wore their Lacroix, both au courant and vintage, proving: once fabulous, always fabulous. I was reminded of my Paris friend, a French aristocrat who told me she always kept her couture gowns. "You never know when you might want to bring out and show it off."
As long as you maintain your figure. Although "French women don't get fat." Oh sure.
One of the items in the Ballet luncheon's live auction which created quite a frenzy was two runway seats to Lacroix's Couture in Paris this month.
Grand benefactors of the luncheon attending: Barbara Brookins-Schneider, Shannon Cronan, Ann Fisher, Lisa Goldman, Angelique Griepp, Jill Hamer, Ceceilia and Jim Herbert (board co-chair), Marlene Jacura, and Pamela Joyner (also a board co-chair).
Other grand benefactors attending: Kathy Kimball, Barry and Marie O'Gare Lipman, Marissa Mayer, Debbie Messener, Yurie Pascarella, O.J. Shansby, Judy Swanson, Pasha Thornton, Beatrice Wood, and Jan Zakin. The generous patrons were feted by the Lipmans at a fabulous party at their home.
Pasha Thornton hosted the out-of-town fashion crowd at a designer dinner at Spruce, the popular new restaurant on Sacramento Street. Many other attended the Lacroix dinner as well.
The Ballet's 75th opening night on January 23rd, a week from Wednesday, promises to be a dazzler. And since it's the diamond jubilee, diamonds are sure to abound. Will someone show up wearing a 75 carat diamond to mark the occasion?

THE SAN FRANCISCO FALL ANTIQUES SHOW
The San Francisco Fall Antiques Show boasted as Honorary co-chairs the most powerful woman in the U.S., Speaker of the House Nancy Pelosi and her husband Paul Pelosi at the annual Preview Party. The evening benefited Enterprise for High School Students.
Rated one of the top ten international art and antiques fairs by the 2006 Robb Report, the Fall Antiques Show is increasingly a destination of choice for premiere dealers and collectors with people coming for the weekend to experience and enjoy San Francisco and nearby Napa's legendary food and wine scene.
This year's Preview set a record: more than 3,000 attended, selling out the top price $2,500 ticket, raising even more for the charity and setting another record. Artnet.com joined as a sponsor, raising the show's international profile as the only other fair Artnet sponsors is Art Basel.
This year's show emphasized 20th century antiques – fresh ideas attracting a younger crowd. A continuing educational was also launched to help cultivate the emerging collectors in their 30s and 40s, especially timely with the Dotcom revival and VC market in the Bay Area.
Old and young alike flocked to the show, the youngest being Maitland Zachary Wais, baby son of the executive director Lisa Beth Podos (a former New Yorker who came from the Bard Graduate Center for Studies in the Decorative Arts, Design, and Culture) and her husband Michael Wais. The oldest attending was Harold Boucher, 101 years young.
The show's 70 renowned dealers, all vetted by the Antiques Dealers Association of California, included Axel Vervoordt, Bernard Steinitz, Richard Philip, Helen Fioratti's L'Antiquaire & the Connoisseur, Kentshire Galleries, Mallet, Dillingham & Company, and Hedge. New additions included Jackson Design of Stockholm, Iliad Antik, and Fraenkel Gallery, introducing photography to the mix of collectibles.
Sotheby's again underwrote the lecture series. One of the sell-outs was L.A. designer Hutton Wilkinson speaking about his former business partner, mentor, and collaborator Tony Duquette. This talk was presented in association with Wilkinson's new book, co-authored with Wendy Goodman, on Duquette's life and career.
Bergdorf's hosted a book-signing for the book last month, drawing fans from around the country, including his San Francisco friend and patroness Dodie Rosekrans, whose homes in Venice and Paris were extravagantly decorated by Duquette and Wilkinson.
In the crowd: Michele Goss, John Traina, Dede Wilsey, Randolph Arczynski, Sandy Ogden, Diane Morris, Laura King Pfaff, Suzanne Tucker, Emmy and Adolph Andrews, Helen and Chuck Schwab, John and Cynthia Gunn, George and Lindsay Bolton, Marcia and Robin Williams, Paul Vincent Wiseman, Caley and Heidi Castelein, Montgomery and Anne Robinson Woods, Kevin and Holland Lynch, Victoria Richardson, Bo and Kathryn Lasater, Shirley Robinson, and Gardner and Kenall Wilkinson Robinson.
After the show, the ravenous crowd devoured Dan McCall's gourmet spread. Many return year after year for the lavish buffet with its abundance of iced champagne and vodka accompanied by mountains of caviar, Scottish Smoked Salmon, Pacific Oysters on the Half Shell, Roast Sirloin, Gulf Shrimp, and everyone's favorite, Rack of Lamp Karsky; after which there's a rush to the decadent dessert table.
The new younger set didn't want to leave. The party which was scheduled to end at 9 pm was still in full swing at 11.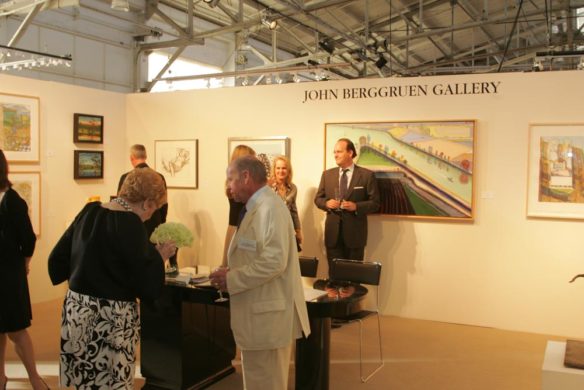 Photographs by Tom Gibbons and Drew Altizer,