SAN FRANCISCO BALLET PERFORMS IN CHINA
The San Francisco Ballet, America's oldest professional ballet company and the premier company on the West Coast, made its first tour to the People's Republic of China this fall.
It was a major event to celebrate both the 60th anniversary of the founding of the People's Republic of China and the 30th anniversary of the establishment of official diplomatic relations between China and the U.S. San Francisco is sister city to Shanghai.
The SF Ballet gave seven performances at two prestigious venues, the Shanghai Grand Theater and the Beijing Poly Theatre.
Their two programs included a full-length production of Swan Lake by Artistic Director and Principal Choreographer Helgi Tomasson and a mixed repertory program of acclaimed works by Tomasson, George Balanchine, Edwaard Liang, and Christopher Wheeldon.
I didn't see much U.S. press coverage about the celebration, but China put on quite an impressive and elaborate 2-1/2 hour ceremony at Tiananmen Square that I was able to watch on the web. It included mass marching military displays, floats, and 5,000 children dressed in colorful ethic costumes.
The SF Ballet Principal Dancer Yuan Yuan Tan was born in China. Her family, who still lives there, came to show their support, and Board Member Tom Horn particularly enjoyed meeting them.
A group of about 20 of the SF Ballet's supporters who accompanied the troupe included Jean Larette and Mary Poland. The women told me the amusing story of how they tried to sneak out of the hotel to watch the parade in person, but discovered that security was so tight that they were stopped from leaving. So they returned to their room to watch the parade on television like most of the country.
"I loved the mini-skirted female soldiers wearing belted bright pink uniforms with shiny white go-go boots. They were all the same height and size, so they reminded me of the Rockettes at New York's Radio City Music Hall," Larette said, with a laugh.
The next day the group of Ballet supporters, along with a crowd of about 3 million, toured Tiananmen Square to take a look at the floats—another highlight of their trip.

COMPASSION AND CHOICES LUNCHEON
The mood was upbeat when 200 of the Bay Area's most caring and philanthropic ladies and gents gathered at the St. Francis Yacht Club to attend "Passages," a sellout "awareness-raising" luncheon, introducing a serious new cause – new to them, at least.
Thanks to the health care controversy, discussions of end-of life options have moved from the fringes to the mainstream, and formerly hush-hush talk has become standard talk at all levels of society.
For many of the guests, it was an eye-opening experience to see a short video and hear a panel of health care experts expound on the need for thinking now about the end of their lives.
As one doctor put it, "The two most important events in life are being born and dying. There's not much one can do about the former, but it seems a good idea to plan for the latter."
The good idea comes courtesy of Compassion and Choices of Northern California, a branch of the national non-profit organization. Its mission is a positive approach, encouraging healthy individuals to plan, strange as it may sound, for a humane and dignified demise. It also offers free counseling about end-of-life options to mentally competent, terminally ill.
Even on New York's Broadway the topic of dying attracting huge audiences. Actress Anna Deavere Smith's one-woman performance in Let me Down Easy, at the Second State Theater is doing sell-out business.
Senator Dianne Feinstein and California Chief of Protocol Charlotte Mailliard Shultz served as Honorary Chairs of the luncheon, though both were traveling and sent congratulations and regrets that they couldn't be there.
Co-chairs JaMel Perkins and Merla Zellerbach closed the event with personal tales, and they reminded all guests to make their end-of-life wishes known to their loved ones with a (free online) "advance directive."
Guests piled out at 1:30, as promised on the invitation, and a curious valet parker couldn't resist asking a woman, "Was something important going on in there?"
"Yes, indeed," she smiled. "A matter of life and death."
On a lighter note, Merla just launched her latest novel, Mystery of the Mermaid, billed as a mystery/romance. This woman knows everyone and everything in town as she is a San Francisco native and was a featured columnist for the SF Chronicle for 23 years, editor of the Nob Hill Gazette for 12, and has written eight novels. Wherever does she find the time?

SAN FRANCISCO'S FALL ANTIQUES SHOW
I love to attend the "biggest cocktail party in San Francisco," the Fall Antiques Show at Festival Pavilion in Fort Mason. Held annually in late October, it's one of the season's highlights.
This year's theme, Egyptomania: Nile Style in the Decorative Arts, coincided with the "Tutankhamen and the Golden Age of the Pharaohs" exhibition that opened in June at the M.H. de Young Memorial Museum in Golden Gate Park.
The festive, exotic mood was set at the entrance of Festival Hall, where we were greeted by Cleopatra reclining on a Regency divan—her feet and midriff bare, her toenails lacquered red.
Antiques dealer Ed Hardy, who accompanied his dear friend, the international style-setter and tastemaker Dodie Rosekrans, told me Dodie's antique Egyptian-inspired gold necklace and bracelets she wore were once owned by the late Madame Ganna Walska.
Show Chair Michele Goss reported many new and returning dealers were very happy with sales, even in this economy. One decorator, I hear sold over $1 million worth of fabulous pieces to a single client. That's any decorator's or dealer's dream!
Collier Gwin, of Foster-Gwin was happy that a local couple purchased an 18th-century Venetian red rococo chinoiserie fall-front desk with an asking price of almost $700,000. After seeing it at the New York Fall Antiques Show, he said, "They did their homework, reflected, and ended up buying this stunning piece in San Francisco," he said.
Legendary Parisian antiques dealer Bernard Steinitz, who has a devoted San Francisco following, also sold a big-ticket item in the same range, making his trip well worthwhile.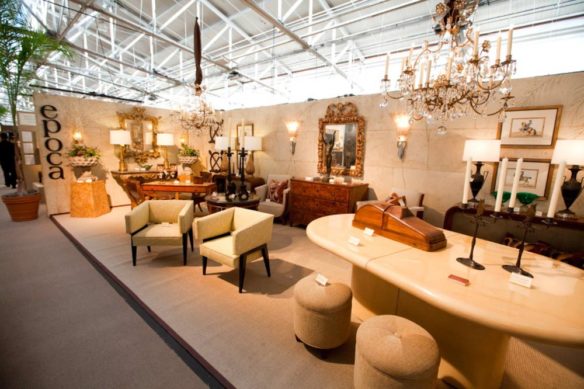 The show sales, of course, all help support Enterprise for High School Students, which helps with job training and career workshops.
"Everyone had fun—the thousands of guests and also the sponsors and the local, national and international dealers," said the show's creative consultant, Lisa Podos.
The party went on strong until closing, but many energetic guests continued their socializing at Nob Hill's swanky and intimate Le Club, presided over by Gina Milano and Todd Traina.
The next morning, I was among the many who returned to the show to get a better look at the goods and to attend the daily lecture series.
Not all the would-be attendees could squeeze into New York/Santa Barbara Interior Designer John Saladino's oversubscribed presentation, "Domus: Houses of the Ancient." He so brilliantly traced the evolution of architecture from Egyptian times to the present that I think he sparked a new spirit of Egyptomania.

WOLFSON / FEDERIGHI HALLOWEEN PARTY
Again this year, interior designer Bob Federighi and jewelry designer Toni Wolfson threw open the doors of their Marin home for their annual Halloween party—always a few nights before All Hallow's Eve so as not to compete with the trick-or-treaters.
Last year's theme, Alfred Hitchcock, was a smash, so ideal for the town where the famed
director filmed the psychological thriller Vertigo starring Jimmy Stewart and Kim Novak.
But Toni and Bob topped it with this year's "Circus and Carnival" theme, inspired by their antique toy collection and carried to fantastic heights thanks to Bob's design talents.
The invitations prompted guests to come as a favorite circus act, carny or sideshow attraction, ride or treat, and everyone complied creatively. Lion tamers, knife throwers, Annie Oakley, fortune tellers, clowns, and others and arrived in high spirits.
At the house, decorated inside and out, fire jugglers greeted the guests and they were further entertained by such nostalgic games as a penny toss and a shooting gallery with stuffed animal prizes and vintage amusements such as a funny mirror.
The theme hors d'oeuvres included mini corn dogs and blue cheese hamburgers, bite-size grilled cheese sandwiches with tomato soup shooters, crescent-shaped chicken pot pies and salmon "lollipops" were complemented by more traditional adult fare: filet mignon, lamb, lamb, and caviar. In these times, what a welcome night it was—all fun and games and escape into fantasy.

FAMED CHEF THOMAS KELLER CELEBRATES THANKSGIVING IN MANHATTAN
I was among the lucky guests when Chef Thomas Keller celebrated Thanksgiving at his New York restaurant, Per Se. Per Se and his other restaurant, the Napa Valley's French Laundry in Yountville, were both awarded three stars by the Michelin Guide, and he is the only American-born chef to be so honored.
Located on the fourth floor of the Time Warner Center, Per Se with its picture windows overlooking Columbus Circle, was ideal for watching the 83rd annual Macy's Thanksgiving Parade.
So many streets were closed for the occasion that I had to make my way there on foot, but the weather was ideal, in the mid-60's with no wind or rain.
Sailor Mickey, Ronald McDonald, Kermit the Frog, Pillsbury Doughboy, Snoopy and Spiderman and other giant balloons floated by, accompanied by 1,500 dancers, 800 clowns, and dozens of cheerleaders, singers, performers, marching bands and floats.
As they paraded, we were pampered. Scattered around the restaurant were stations serving Champagne and caviar by the spoonful; smoked sturgeon; pancakes and waffles; beef rib-eye and squash veloute; eggs, biscuits, ham and gravy; bagels, cornbread, pastries, cookies, Danishes and tarts from the ovens of the Bouchon Bakery downstairs.
Keller and his fiancée Laura Cunningham had just arrived from Los Angeles from the star-studded opening of the Bouchon in Beverly Hills. I heard Pierce Brosnan, Jay Leno, Larry King, Julia Louis-Dreyfus, and Don and Kelley Johnson were among the crowd.
He has also designed the Hommage Point collection of Limoges porcelain for Raynaud, written several cookbooks (The French Laundry Cookbook and the new Ad Hoc at Home), and for fun consulted on Ratatouille, the 2007 Pixar animated movie.
I can't imagine a finer Thanksgiving host or a better way to celebrate Thanksgiving morning in Manhattan!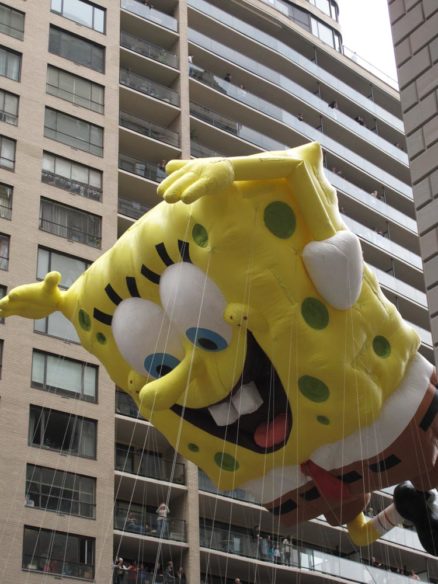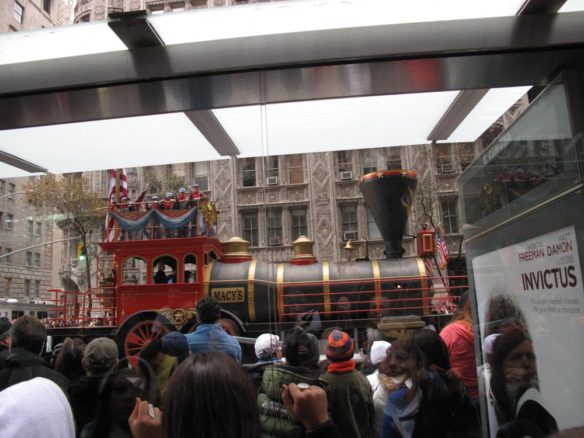 Photographs by Erik Tomasson, Ray Scotty Morris, Drew Altizer, and Jeanne Lawrence.