"SILVER CELEBRATION" HONORS HELGI TOMASSON'S 25 YEARS AT SF BALLET
The annual San Francisco Ballet Opening Night Gala, now in its 77th year, is always one of my favorite evenings, but this was special: a "Silver Celebration" in honor of Helgi Tomasson's 25th anniversary as artistic director and principal choreographer.
"Suddenly it was 25 years! Hard to believe," he said. The Iceland native was 17 when he was spotted by Jerome Robbins, who arranged a scholarship at the School of American Ballet in New York City.
Tomasson became a principal dancer with the Joffrey, the Harkness, and in 1970, the New York City Ballet, where Robbins and George Balanchine created many roles for him.
When he was hired by the S.F. Ballet in 1985, he had just retired from dancing. Although he had never run a company, the Board took what turned out to be a brilliant gamble on him.
Tomasson is credited with lifting the regional San Francisco Ballet to international ranks, and the company tours often. I'm fortunate to have seen them perform in Athens, Greece, New York, Paris, and China.
Last fall, when the Chinese invited the Ballet to Beijing and Shanghai to perform the full-length classic "Swan Lake," Tomasson insisted on presenting a program that also showcased the Company's eclectic repertoire.
On January 20, the sold-out, black-tie Gala honoring Helgi began with cocktails at 5, then dinner at the Rotunda of City Hall. I found it refreshing that the Grand Benefactors, Benefactors, Patrons, and Encore! (the younger set) were all together in the same space.
Last year's Encore! Chair Erin Glenn agreed: "It creates a more energetic party."
The silver theme was carried out in every detail, from the invitation and menu cars to the linens to the Lucite and silver-painted chairs—"like an Icelandic ice palace," exclaimed Robin Collins, an event planner. When we noticed the wine was a 2005 Cabernet Sauvignon from Tomasson Vineyard, we made a "Helgi Toast."
My tablemates (former Corps dancers) raved about Helgi. "He attracts the best, most diverse dancers, and gives them opportunities: a corps dancer may dance a solo, and a soloist may dance a principal role. We get to dance twice as often with this Company." Also, they respect that Helgi is a "straight- shooter."
When trumpets sounded at 7:45, we grabbed our raincoats, daunted at the prospect of crossing Van Ness to the Opera House for the performance. But the committee had provided gigantic black umbrellas, and a police escort stopped traffic so we could run across quickly.
On stage, Board Chair Richard Barker introduced Helgi Tomasson and his wife, Marlene, whom he called "comrade-in-arms" to her husband. He presented her with the Lew Christensen Medal (named for Helgi's predecessor, who served for 40 years).
Former publisher of the SF Chronicle John Sias was among the many enthusiastic about the evening's program of 10 vignettes (including many duets) rather than longer pieces. It gave the audience a "sampler" of the 50 pieces he has choreographed and the dancers could show their technical skills.
"The artistry was dazzling. Helgi may have the very best men dancing in ballet today," said Pamela Joyner, a member of the board of the SF Ballet as well as of the New York School of American Ballet. (A number of San Franciscans will attend the March 1 gala for the latter that Pamela is chairing.)
There was some competition for the Opening Night gala honoring Helgi: Next door, Yo-Yo Ma, who was in town for a two-week residency, was performing with the SF Symphony. ("I couldn't miss that," said music lover Barbara Brookins-Schneider.)
We returned to City Hall for the post-performance party, a movable feast with cocktails, buffet stations of hors d'oeuvre, and an array of old-fashioned desserts. Sleek white banquettes and mirrored cubes created a lounge effect, and DJ Grooveline and DJ Solomon provided the background to dance the night away.

CHANEL BOUTIQUE OPENS IN DOWNTOWN SAN FRANCISCO
How lucky for Chanel that those fashionable ladies Vanessa Getty and Samantha Traina agreed to chair the evening event celebrating the newly redesigned San Francisco boutique.
Getty is a classic beauty with impeccable taste, and Traina developed her fashion sense attending the Paris haute couture shows with her mother, best-selling author Danielle Steele.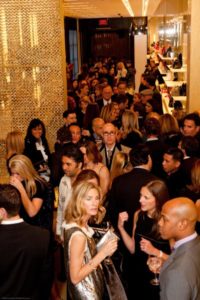 In a prime location off Union Square, the Chanel boutique occupies 8,000 square-feet in a three-story building amid galleries, cafes, hair salons and boutiques on chic, all-pedestrian Maiden Lane—once an alley known (and eventually named) for its "ladies of the night."
Peter Marino, the international architect, cleverly created a look for the boutique that is modern yet evocative of the Parisian apartment of Gabrielle "Coco" Chanel on rue Cambon (though she actually lived at the Ritz Hotel across the street).
Her transformation from an orphan into the pioneering founder of her own firm in 1924 was beautifully captured by Audrey Tautou in the recent French film, Coco Avant Chanel.
Le tout San Francisco showed up for the opening. All the pretty young things wore Chanel from head to toe—selections from Lagerfeld's recent collections or vintage items plucked from their own closets.
They wafted among a dozen mannequins also clad in vintage couture that was flown in from Paris for the opening.
You have to marvel at Chanel's vision. Her clothes and accessories (bags, shoes, belts!) are elegant and timeless.
The 2010 Cruise Collection by Designer Karl Lagerfeld was introduced at the boutique opening. Lagerfeld "broadened the inspiration Venice once offered Mademoiselle Chanel and conveyed the mythical place it has become," said Barbara Cirkva, a Division President, who flew from New York to welcome the crowd.
Personally, I'm planning to stock up on some of those outfits to wear for the Save Venice group's trip to celebrate the "Venice Carnival" in mid-February. They're the very things to wear under a warm raincoat—when I'm not in costume, that is.

SAN FRANCISCO ASIAN ART MUSEUM HONORS SISTER CITY SHANGHAI
My spending a year in San Francisco's sister city—vibrant, sophisticated Shanghai—was inspired: China seems to be where everything is happening and it's touching so many aspects of our lives.
Just recently, the Asian Art Museum in San Francisco announced a Shanghai celebration and exhibition to coincide with EXPO 2010—the World's Fair of the 21st century that will be held in Shanghai May 1 to October 31.
The Museum's Celebration kickoff will be a not-to-be-missed Gala on February 10, 2010, to usher in the Year of the Tiger. It will be a sold-out event. The accompanying exhibition will run from February 12 through September 5.
"The World Expo 2010 is Shanghai's coming-out party. The city will reclaim its position as a global powerhouse," said Asian Art Museum Director Jay Xu, a native of Shanghai.
At the press party announcing the celebration and exhibition, which he initiated, Xu held up a copy of the exhibition catalog "hot off the press." The exhibit is a visual examination of the culture of Shanghai from 1850 to the present. Shanghai museums are sending some of their collections.
Second-term San Francisco Mayor Gavin Newsom also greeted the crowed and noted the long-standing "sister city" relationship that former Mayor (and now California Senator) Dianne Feinstein established over 30 years ago.
San Francisco is the only U.S. city that will sponsor its own week at EXPO 2010, Mayor Newsom said. When the U.S. didn't get engaged (he termed that "a mistake" and said the Chinese government was "disappointed"), San Francisco stepped in.
Just as it did for the Olympics, China has gone all out to beautify and showcase Shanghai for EXPO 2010, spending billions on projects from the subways to the fairgrounds, renovating the famous Bund esplanade, digging a tunnel underneath it to route traffic, building luxury hotels, planting trees, and more.
Some of the festivities include: The annual Arts of Pacific Asia Preview Opening Reception that will honor the Shanghai Celebration partners, and the Symphony will host a Chinese New Year Concert and Celebration.
The American Jewish Committee plans an exhibition of The Jews in China and will sponsor talks by Sephardic, Russian, and Holocaust-refugee Jews, to whom China opened its doors.
Shanghai-based artists who will exhibit at the Museum include Zhang Haun, who will install a colossal "Three Heads Six Arms" (2008) sculpture in front of the City Hall, and my friend, artist Jian-Jun Zhang, who will exhibit his sculpture garden.
San Francisco-based fashion designer Colleen Quen will create a modern interpretation of the traditional Chinese dress—qipao or, in Cantonese, cheongsam. Lisa Podos announced that the annual San Francisco Fall Antiques Show in October 2010 will have a "Chinoiserie-inspired" theme.
Vincent Lo—the Hong Kong/Shanghai real estate developer and member of the China SF Board that works to improve business ties between the countries—will fly in for the Gala with his bride, Loretta Lo, who is honorary chair. (My home in Shanghai's Xintiandi is one of Lo's residential developments, which boasts all modern amenities.)
His Excellency Liu Yungeng, Chairman of the Shanghai Municipal People's Congress, will also come in from Shanghai for the gala. Others who will be part of the celebration will be Gala Chair Gorretti Lo Lui and the Honorary Chairs will be Jennifer Siebel Newsom (the Mayor's wife), actress Joan Chen, author Amy Tan, and SF Ballet principal dancer Yuan Yuan Tan.
I'm so excited about the Bay Area-wide program that I found listed on the website shanghaicelebration.com. They include performances, film series, and lectures on topics such as architecture, jazz, contemporary art, high-rise urban planning, fashion, food, and more. I wish I could attend every one—it would be a crash course on Shanghai—and they sound incredibly interesting.
Photographs by Jeanne Lawrence, Drew Altizer, Heather Wiley, Claudine Gossett, and Aubrie Pick.