SAN FRANCISCO OPERA OPENING 2010
Drama and intrigue, a fascinating and attractive cast of characters, a spectacular setting, and breathtaking costumes: the opening night of the San Francisco Opera's 88th season had it all. And there was more of it onstage—plus singing!
Opera General Director David Gockley and Musical Director Nicola Luisotti's pull-out-the-stops production of Verdi's Aida was matched in crowd appeal and sheer excitement by the evening's festivities: the Opera Guild Ball and the Bravo! Club Gala for the younger set at City Hall.
GRAND ARRIVAL
Egyptians gods stood guard at the door to City Hall, including Anubis, the jackal-headed god. Could some of them be Secret Service agents in disguise, there to guard Speaker of the House Nancy Pelosi, who was among the guests?

BREAKING TRADITION
Traditionally, the patrons—the big donors—dined in a tent next to the Opera House and the BRAVO! Club crowd supped in City Hall. The last two years, the cost-conscious committee held both dinners in City Hall, although in separate locations. And dinner was before, rather than after, the performance. For most, this was a welcomed change.
The successful chairpersons, Charlot Malin and Mary Poland did their homework and enticed more than double the number of corporations to participate this year. (Mary had spent three weeks in Egypt in January with her husband, Bill, looking for inspiration for the Egyptian theme.)
Jon Finck, the public relations man for the Opera, summed up their results: "King Tut would be jealous."

THE BEST OF THE GOWNS
The Opera season opening is a major fashion event, and you can even vote for the Top Five Gown Poll of the evening online at www.sfgate.com, the website of the San Francisco Chronicle. Word has it there's a lot of behind-the-scene lobbying as the ladies back their favorites!
There were five nominees: In alphabetic order: Amber Marie Bently, Jennifer Siebel Newsom, Deepa Pakianthan, Larissa Roesch, and Karen Sutherland.
The winner was Deepa Pakianthan, who loves fashion, and wore a spectacular gown designed by Zuhair Murad. She was also a runner-up for the best gown at the Symphony Opening in a Michael Kors.

DRESSED TO THE NINES
The Opera opening, like the Oscars, has its equivalent of the eye-popping red carpet parade. I was wowed by the dresses—and the ladies who wore them so brilliantly.
I was once again impressed by how daring the Californians are about wearing color and how right it was for the Egyptian theme (I was in my Michal Kors—NY black, of course).
BRAVO! President Marie Carr noted, "In casual San Francisco, it's lovely to see everyone dressed to the nines."
"They told me to dress glitzy. This was my glitziest," said Barbara-Brookins Schneider, in vintage Bob Mackie.
Some of the familiar fashionistas missed this big night. Pamela Joyner, Angelique Griepp, and Elizabeth Touw, and a few others were in New York for Fashion Week and Fashion Night Out.
More than the usual number of gents came in white tie. Have we spotted a trend? I hope so. Event designer Riccardo Benavides opined, "A man should wear only tails to the opera opening. It's the one time we can be very sophisticated and it ups the glamour quotient."

RECEPTION AND DINNER
During the reception, I chatted with John and Cynthia Gunn, who in 2008 donated more than $40 million to the opera—the largest single gift ever. "We haven't run out of money yet," he jested.
At my dinner table, Jack Calhoun, the youthful-looking president of Banana Republic, summed it up: "If you've never attended an opera, this is the one to see," he said. It's got everything: spectacle, story, music…and an elephant.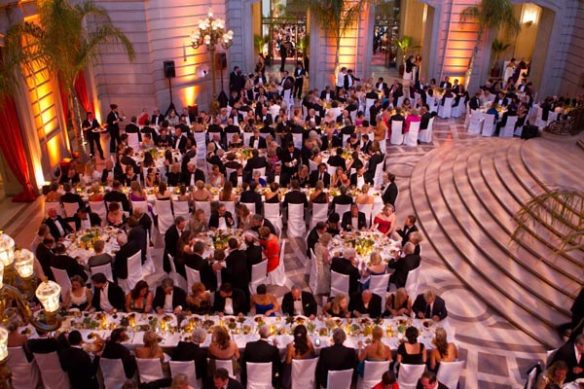 AIDA THE OPERA
Verdi's masterpiece premiered in Cairo in 1871 and at La Scala 1872, and was first performed in SF in 1925.
In 1981, there was a one-night-only performance with Leontyne Price as Aida and Luciano Pavarotti as Radames, torn between love of country and love of one another. Don't we all wish we'd been there?!

DESIGN BY ZANDRA RHODES
Exotic British fashion designer Zandra Rhodes created the costumes and sets. With her bright pink Dutch boy bob—her trademark look for 40 years—she was easy to pick out in the crowd.
Known for her originality and theatricality, she's represented in London's textile museum by an archive of her fashion and fabric designs.
"A true professional," Opera Director Gockley says, "and a treat to work with." I missed the party Wilkes Bashford threw for her at his eponymous store in May—I was in Shanghai at the time—but I hear it was a big success. "She's a terrific businesswoman, a rarity in this world of temperamental designers," he said.
For the opera, Zandra chose a palette of golds and blues—sapphire, aqua, teal, every shade imaginable—and she mixed glitz and gauze, the glamorous and the gossamer. (All this reminded me that it's time to get my 1980's Zandra Rhodes gowns out of storage. Now they qualify as "vintage.")
My Shanghai readers will understand when I say Zandra can be compared to Chinese fashion designer Han Feng, who has created costumes for operas including the Metropolitan's Madame Butterfly, the San Francisco Opera's Bonesetter's Daughter, and even the movie Karate Kid.

AFTER-PARTY AND CAST DINNER
Opera patron Maria Manetti Farrow knows the cast doesn't eat until after a performance. She tracked them down where they were dining—on the balcony overlooking the rotunda.
"For me, the most exciting moment is to congratulate the artists on their performances. I want to pay homage to them. They sacrifice their life to lift our soul and our spirit," she said. She put all of our feelings into words.

AN OPERA NOTE
The San Francisco Opera will be performing Richard Wagner's masterpiece, Ring of the Nibelung, starting June 14, 2011. If you want tickets, you'd better buy them now. I was fascinated to learn that the Ring is being performed in Shanghai in September and my New York friends David Beer, Marife Hernandez, and Joe Bell are attending.
Photographs by Drew Altizer, Jeanne Lawrence, and Cory Weaver.