Before I returned to Shanghai after the summer, I was in Paris with my daughter Stephanie, who is studying there. Who knew that so many friends from Shanghai would be in Paris as well?
One of them, French architect Jean-Pierre Heim, invited us to a 9/11 commemoration arranged by "The French Will Never Forget," an organization that he co-founded.

SEPTEMBER 11, 2001: "THE FRENCH WILL NEVER FORGET"
The official and solemn remembrance began with a moment of silence at 14:46 in Paris, which is 8:46 a.m. U.S. time, when the plane hit the first tower, and it continued until 16:28 (10:28 U.S.), when the second tower collapsed.
Despite torrential rains, the crowd of 1,300 simply opened their umbrellas and stayed put. Their discomfort was so minor compared to what nearly 3,000 victims endured on that fateful day. As the ceremony finished, the sun came out as if to reconfirm that there were still bright days ahead.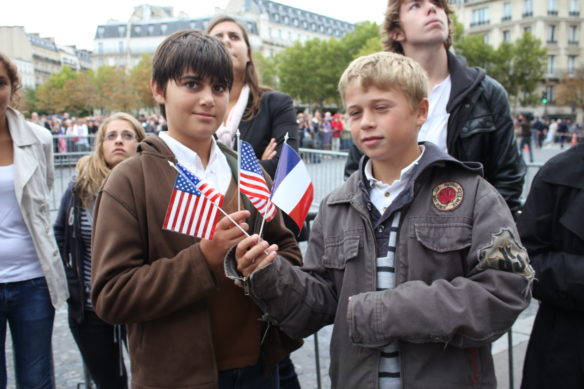 SHANGHAI TO PARIS BY SIDECAR
Another one of my Shanghai friends I met was Thomas Chabrieres, at a Champagne reception honoring a team (average age of 28) of motorcycle sidecar riders who rode from Shanghai to Paris in 130 days.
The team, called "Side by Side," stayed in homes, hotels, tents, and even a police station in a town in Kazakhstan. The Kazakhstani police said their vintage motorbikes weren't safe – "It's like Chicago here!" (I guess they watch American TV!) – and offered to keep them in the station. The team preferred to sleep in the jail rather than let the cycles – their only means of transport home – out of their sight.
Another highlight of this trip was that Thomas proposed to fellow rider Valeriane Barjhoux. How many can say they became engaged on such an exotic quest.

MAGDA DANYSZ ART GALLERY
Another friend from Shanghai, Magda Danysz, also happened to be in Paris when I was. She travels constantly between her gallery in Paris, which she considers her home base, and her Shanghai gallery, 18 Gallery, which she opened a few years ago.
Art collector Nadia Rottger and I visited Magda's Parisian gallery to view the work of Wang Keping. One of China's pioneering sculptors, he moved to Paris in 1984. He is known for his wood sculpture but is currently exploring new mediums.

VOGUE'S NIGHT OUT, PARISIAN STYLE
Stephanie and I have been to Fashion's Night Out in New York, conceived by Vogue's Anna Wintour. While in Paris, we thought it would be fun to see the counterpart, Vogue's Paris Night Out. I didn't see anyone I recognized, but then, I'm not a local.
Along with the visual treats, invited guests enjoyed Champagne, hors d'oeuvres and macarons.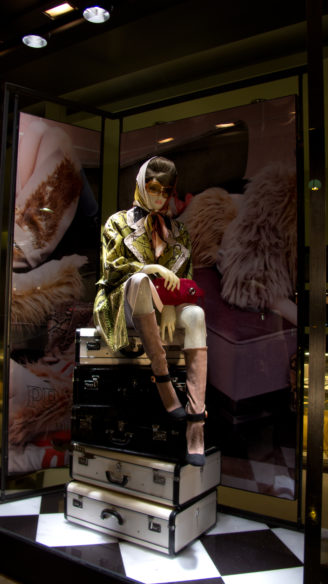 GALA LAUNCH OF LANCEL'S DALI-INSPIRED HANDBAGS
While we were in town, Lancel threw a launch party for the Daligramme handbag collection, inspired by the legendary surrealist artist Salvador Dali, at the well-known Parisian department store Galeries Lafayette.
The collection was inspired by the love affair between Dali and his Russian-born wife and muse Helene Dimitrievna Diakonava (known as Gala).
Dali created an eight-character alphabet for Gala that was made up of significant letters—G for Gradiva-Gala, D for Dalí, and S for Salvador—and which he called Daligramme. He said it was not art but a declaration of love.

LA SUITE GALERIES LAFAYETTE
At the reception I heard about the new "La Suite" service offered on the penthouse floor of Galeries Lafayette, meant to give you a highly personalized shopping experience.
As I don't like to shop, I was intrigued. After I learned more about "La Suite" from Isabelle Dubern, the creative force behind the concept, I'm looking forward to taking advantage of it on my next trip—if the dollar is stronger.

STEPHANIE'S APARTMENT
I was in Paris with my daughter Stephanie, who recently graduated from college, to help her settle in as she continues her studies.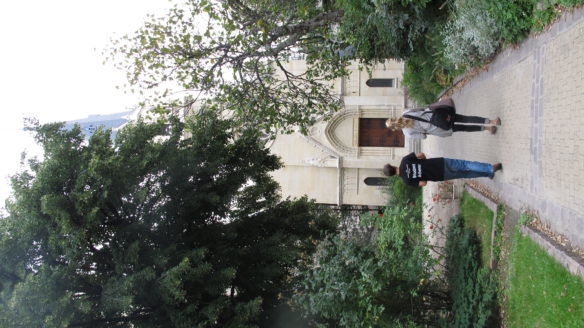 JULIEN MARINETTI AND HIS "DOGGY JOHNS"
On another day, art collector Nadia Rottger and I visited the studio of Julien Marinetti. His monumental "Doggy John" sculpture stood guard in the courtyard of New York's Palace Hotel following a reception in May 2011 co-hosted by nightclub impresario Amy Sacco.
Julien, who began painting at the age of five, has classical training, but he considers himself an "instinctive painter." He is best known for his Doggy John sculptures, made in bronze, then lacquered and finally painted. He personally creates each unique piece.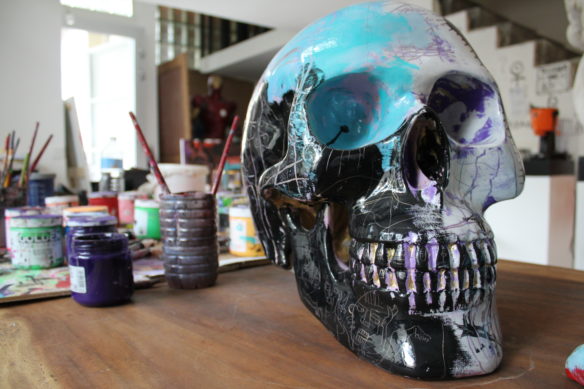 DRINKS AT SUSAN GUTFREUND

DINNER WITH ETIENNE DE DAMAS

DRINKS WITH JOURNALIST MORT ROSENBLUM ON HIS HOUSEBOAT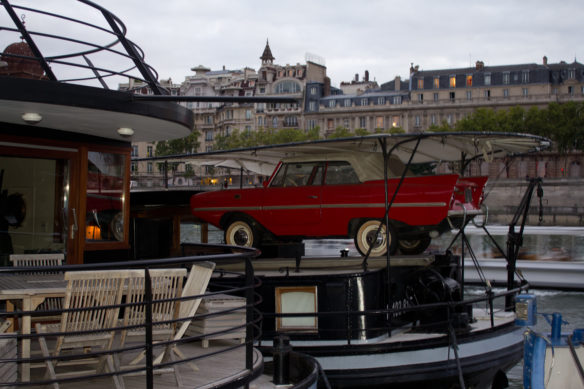 TEA AT MARY DUNCAN'S

LUNCH AT COSTES HOTEL WITH NEW YORKERS

CHRISTINE SCHWARZMAN

DINNER AT LE RELAIS DE L'ENTRECOTE

LUNCH AT L'AVENUE
Photographs by Jeanne Lawrence.
*Urbanite Jeanne Lawrence reports on lifestyle and travel from her homes in San Francisco, Shanghai, and New York, and wherever else she finds a good story.