Though I hibernated much of the winter in San Francisco—writing my columns about Shanghai and organizing over 100,000 photos from China—I did manage to catch some of the highlight events of the social seasons so I could share them with you.
THE SAN FRANCISCO BALLET GALA OPENING
The opening night black-tie gala for the San Francisco is one of my favorite social occasions of the year. This year, the 79th anniversary of the annual event attracted 850 guests and raised an incredible $2 million.
As always, the evening was an all-around treat. In addition to a spectacular performance by first-rate dancers and gorgeous ballet scenery and music, first-nighters enjoyed a dinner and after-party with lavish décor and splendid food.
And of course, the glamour quotient could not have been higher. All of San Francisco's bold-faced names were there, and the ladies dazzled — gloriously gowned in rich jewel tones and sporting their special-occasion sparklers.
Kudos to the chairs who put together such a memorable evening: Marie Hurabiell Trader (Auxiliary Gala), Carla Wytmar (Gala Dinner), Dr. Carolyn Chang (Décor); Robin Farmanfarmaian (ENCORE! Gala–the younger social set), and Trish Loucks (Post Party Chair).
The 2012 theme for the dinners was Bella Notte (Beautiful Night). J. Riccardo Benavides of Ideas drew inspiration from the Italian Renaissance and Romeo and Juliet set in Verona. The attention to detail was amazing and the total effect was smashing.
The festivities continued at the La Dolce Vita Post-Party where the young (and young at heart) enjoyed the live entertainment of the rock band Notorious, the dancing, and a bountiful buffet until way past midnight.

HEROES & HEARTS AND HEARTS AFTER DARK
San Franciscans are reminded to buy their cards and flowers when giant fiberglass hearts called "heartworks" appear around town to herald the arrival of Valentine's Day. For that charming custom, we are indebted to Nancy Bechtle and Ellen Magnin Newman, who initiated the Hearts of San Francisco program in 2004.
Designed by various artists, the "heartworks" are eventually auctioned to raise funds for the research, education and critical care programs of San Francisco General Hospital (SFGH), which has the only Level 1 trauma center serving the 1.5 million residents of this city and San Mateo County.
On February 9, the Seventh Annual Heroes and Hearts Luncheon, co-founded by SFGH Foundation Board members Judy Guggenhime and Pamela Baer, was held in the tent at Union Square.
Pam's husband, Giants CEO Larry Baer, welcomed the guests at the luncheon, where this year's fourteen "heartists" were introduced and four local heroes, all with ties to SFGH, were honored.
That night, the third annual Hearts After Dark was held at the AT&T Ball Park, home of the SF Giants. Young professional supporters turned out in droves to enjoy hors d'oeuvres and cocktails, entertainment and dancing.
SFGH met its goal with these fund-raising events, which brought in $1.5 million in donations, brining the total raised to date to almost $7 million. San Franciscans give back to the city that has our hearts.

THE SYMPHONY CELEBRATES CHINESE NEW YEAR
The San Francisco Symphony ushered in the Year of the Dragon on February 11th with a strong program for its 12th Annual Chinese New Year Concert and Celebration.
How appropriate: the Dragon is the mightiest of signs, and people born under that sign are ambitious, passionate and successful — much like co-chairs Iris Chan and Sharon Seto and the other folks responsible for this wonderful cultural event! Carolyn Kuan, in her first year as Music Director of the Hartford Symphony Orchestra, came back to conduct the New Year Concert for the sixth year in a row.
Hu Jianbin, a master of the cheng (the Chinese mouth organ), and pianist Jie Chen were featured on the program, which consisted entirely of works by Chinese and Chinese-American composers. It included a commissioned symphony by Huang Ruo that incorporates traditional Chinese music and traditions into Western orchestral style.
An hour before the 4:00 concert, all comers were treated to a free, family-oriented Festival Reception. They participated in arts and crafts, enjoyed lion dancing, learned Chinese calligraphy, and partook of buffets of traditional food, desserts and tea in the Davis Symphony Hall lobbies.
Following the performance, an elegant Chinese New Year Imperial Dinner was held in the grand Rotunda of the City Hall.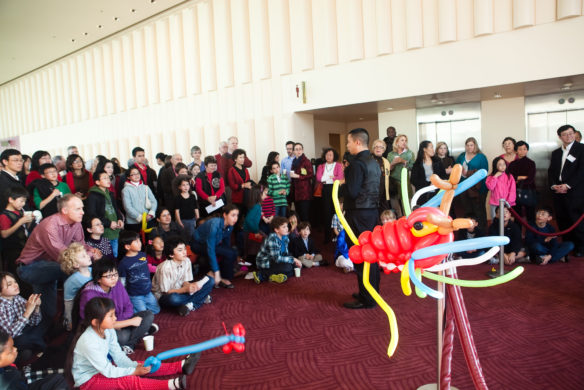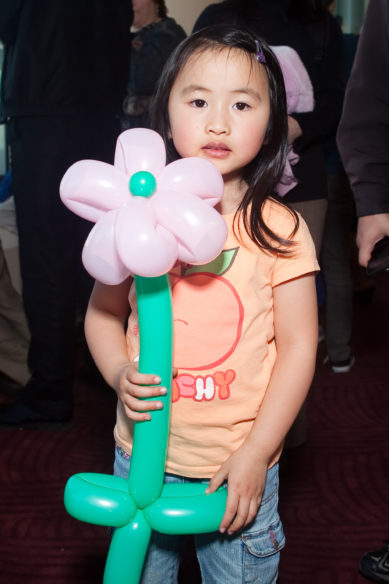 TONY BENNETT ROMANCES THE CROWD FOR USCF'S CARDIOLOGY DIVISION
I consider San Francisco America's most romantic city. No other place can match its many delights: fantastic views, spectacular beaches and hiking paths, charming neighborhoods, ideal weather, innovative cuisine, and the bounty of local farms and Napa's vineyards to enjoy at intimate dinners.
On Valentine's Day, a sellout crowd of 1,000 enjoyed an especially romantic and nostalgic treat. Tony Bennett serenaded their city with "I Left My Heart in San Francisco" at a benefit sponsored by the First Republic Bank for the UCSF's Division of Cardiology.
What made the performance extra-special was the venue. Crooner Bennett performed at the Venetian Room in the Fairmont Hotel — the very same place where he debuted the song that would become his signature piece almost exactly fifty years ago.
That was during the Venetian's glory days, the late '40s through the '80s, when it reigned as an elegant supper club. It featured performers like Bobby Short and Lena Horne—the kind of headliners who today rarely perform outside of Las Vegas.
But Tony Bennett, at 85, brought big-room excitement here. The crowd roared its approval, and he rewarded them with a stirring encore of "Fly Me To The Moon."
The event netted over $500,000, which surely warmed the hearts of honorary event chairs Charlotte and George Shultz and Diane B. Wilsey and dinner chairs Bill and Susan Oberndorf.

SUPPORTING NATUREBRIDGE AND OUR NATIONAL PARKS
On March 15, Gail and Harvey Glasser hosted an event at their Russian Hill abode for the San Francisco-based non-profit NatureBridge. The evening honored their friend, Dr. Stephen Lockhart, Chair of the Board of Directors for NatureBridge and now the medical director of Sutter East Bay.
NatureBridge (previously the Yosemite Fund) is the San Francisco-based educational arm of the National Parks Service. It is one of the largest programs dedicated to teaching science and environmental studies: 30,000 students participate annually in its three-to-five-day programs.
Founded in 1971 to inspire personal connections to nature, NatureBridge has introduced one million young people to the wonders of nature in the world's best classrooms — our national parks.
Its campuses are spectacularly located in Yosemite National Park; Golden Gate National Recreation Area; Olympic National Park in Washington State; Santa Monica Mountains National Recreation Area; and Channel Islands National Park.
I was very taken by a remark from a student who had visited Yosemite and Half-Dome for the first time: "I never knew such beautiful places existed." Let's do all we can to preserve them. Join in for the 40th Anniversary at The City View Metreon on May 16.
In the crowd were California District Attorney Kamala Harris; the Honorable Bill Newsom, father of California Lt. Governor Gavin Newsom and the officiate at the Glassers' marriage; and Director of Development Kate Hamilton.

SUNDAY'S A DRAG!
For lots of fun on a San Francisco Sunday, head to Harry Denton's Starlight Room on top of the Sir Francis Drake Hotel. You can enjoy a buffet lunch and a performance of "Sunday is a Drag" by an engaging and amusing ensemble of female impersonators.
Emcee/top diva Donna Sachet, creator and co-producer Michael Pagan, and nightclub owner and restaurateur Denton have successfully revived the high spirits of the drag show at Finocchio's. (That legendary North Beach nightclub ended a 63-year run in 1999.)
Since both the noon and 2:30 seatings are often packed to the 100-person capacity, I had to call Harry himself to make there was room for our group, celebrating Linda Cannon's birthday.
Red banquettes, chandeliers heavy with pendants, and bouquets of roses create an atmosphere of Victorian opulence, and Sachet rules the room in her 45-minute show.
Sachet was the first drag queen to sing the national anthem for at a Giants game at AT&T Park. "You're a city icon," someone shouted. "Like Coit Tower?" Sachet shot back. "No; I'm not that old — or that straight."
After the show the talented divas mixed with the audience — a typical San Francisco blend of locals and tourists, straights and gays — and happily obliged requests to pose for souvenir photos.
Photographs by Drew Altizer, Moanalani Jeffrey, Jeanne Lawrence, and Erik Tomasson.
*Urbanite Jeanne Lawrence reports on lifestyle and travel from her homes in San Francisco, Shanghai, and New York, and wherever else she finds a good story.