OPERA FOR EVERYONE!
With the traditional opening night gala in September, the San Francisco Opera kicked off its 90th anniversary year and the city's philanthropic social season. This night rates as one of the grandest opening evenings in the world and one not to be missed by those who love opera, theater, and glamour.
More than 3,000 opera aficionados showed up at the Beaux-Arts War Memorial Opera House (1931) for the performance of Giuseppe Verdi's Rigoletto, conducted by Music Director Nicola Luisotti.
A lucky 850 fans also attended private festivities, a true test of party-going stamina: a Champagne reception in the Opera House foyer at 5 p.m., the Notte di Splendore ("Night of Splendor") themed dinner at 6, the opera at 8, and a post-performance bash, a theatrical evening that went on until the wee hours.
Kudos to Opera Guild Ball co-chairs Diane Rubin and Cathy MacNaughton, and Bravo! Club Opening Night Gala (for the younger set) co-chairs Eva Binda and Gianna Cardinale. Along with Opera Guild President Ann Girard, they produced a brilliant evening, which raised over a million dollars—a new gala record!
During this celebratory week, for those who prefer a more casual setting and want to bring family and friends, there are free performances open to the public: "Opera in the Park" and "Opera in the Ballpark," the brainchild of San Francisco Opera General Director David Gockley.
San Francisco may be one of the leading cities in the world for helping keep opera alive and relevant!

FASHION HIGHLIGHTS
"This is the night the guys go to see the girls," mused former opera ball chair Mary Poland. "It's a wonderful show that happens once a year and everyone goes all out."
At the peacock-themed opening night reception, the human females took over the male peacocks' role and created marvelous displays, wearing brilliant baubles and ball gowns designed by Oscar de la Renta, Carolina Herrera, Valentino, and local designers Azadeh, Karen Caldwell, and Lily Samii, to name a few.
Gents carrying out the tradition of full evening dress of white tie and tails included David Gockley, Steve Diamond, Ken Paige, Bobby Sullivan, and the Honorable George Shultz and Theodore Brown with top hats too.
Those in more contemporary attire were just as dapper, including Jorge Maumer in his designer Issey Miyake shirt and classic black bowtie, as well as Darren Bechtel, joking that his outfit was from "some carmaker"—in fact, designer Tom Ford.
Red Carpet Bay Area contributor Marybeth La Motte and society photographer Drew Altizer were among the hordes of press covering the event, which is like theater itself.
It's entertaining watching the ladies who have a passion for fashion strut and pose for the paparazzi. Considering what these fashionable designer frocks costs, and that they may be worn only once, the photogenic ladies want their dresses to get as much mileage as possible.
"This is my first and last train!" I heard one of the guests exclaim. "I stepped on someone's gown, and everyone is tripping on mine."
The men looked amused when another woman moaned, "What sadist invented five-inch heels and dresses to the floor?" No wonder it became a tradition to grab hold of a man's arm, just so we don't topple over.
Society Haberdasher Wilkes Bashford thought the Oscar de la Renta, Spanish-inspired dress worn by Clara Shayevich was one of the best of the night; and the glamorous Sonya Molodetskaya drew praise for her white ruffled Vasily Vein couture gown suitable for a Russian fairytale princess. Edgy Amber Bentley evoked a "Girl with the Dragon Tattoo" look in her Chado Ralph Rucci black silk dress that resembled leather. Fashion designer Olya Dzilikhova looked ever so chic in a black and white column dress from her own brand, Minolya.
Another standout was radiant Maria Manetti Shrem, wearing the same vintage voluminous Roberto Capucci dress that she donned the weekend before at the Harvest Moon Ball in Napa Valley, celebrating her February marriage to new husband Jan Shrem.
Surely one of the best stories was the fashionista who arrived in a black evening gown, but was later noticed in a smashing red frock. She regaled us with the story of how a last-minute alteration meant the dress arrived during dinner. Determined to wear the gown, she changed mid-meal without missing a beat.

CHAMPAGNE RECEPTION
Guests arrived on the dot for the 5 p.m. champagne reception in the grand foyer of the opera house. Many feel this is one of the best parts of the evening, as they're all dressed up and excited about the night's festivities. Maybe this time should be extended since there never seems to be enough time to see and be seen.
There was lots of happy chatter at the sold-out event, where the crowds were so thick that many never found the friends for whom they were searching.
Politicos in attendance included Congresswoman Nancy Pelosi and husband Paul Pelosi (I hear they were celebrating their 49th anniversary), Mayor Ed Lee and his wife Anita, former Secretary of State George Shultz and his wife, Protocol Chief Charlotte Shultz, and former mayor Willie Brown.
Out-of-towners included dapper Boaz Mazor, right-hand man to Oscar de la Renta, who dresses half the ladies in town, in New York, and around the globe. Naturally, Boaz was escorting Dede Wilsey, one of the biggest supporters of both the Opera and Oscar.
Up from L.A. were Rick and Kathy Hilton (aka parents of Nicky and Paris), who sat in opera enthusiast Dr. Alan Malouf's box, and in from NY was Urban Stages Founding Artistic Director Frances Hill Barlow. Louis Vuitton Corporate Events Director Christine Bélanger, who is organizing the Louis Vuitton Cup events for the America's Cup boat races, was in town for the races.
Other luminaries spotted on the scene: Grand Benefactors Nancy and Joachim Bechtle, Grand Benefactors Athena and Timothy Blackburn, Vera Carpeneti, Marian Cope, Olivia Hsu Decker, Daniel Diaz of Grand Benefactor sponsor Bulgari, Donald and Laura DuBain, Samantha Duvall, Delia Ehrlich, Fati Farmanfarmaian, Ken Fulk, Robert Gerard and Phoebe Cowles, Leon and Sallie Huntting, Katie and Claude Jarman, former chairman of the San Francisco Opera board Pitch Johnson and his wife Cathie, Linda Kemper, Fred Levin and Nancy Livingston, Nion McEvoy, Dorothy and Ken Paige, and Stephen and Deborah Rocha.
Other celebrants: Grand Benefactor Denise Littlefield Sobel, Patricia and Charles Sprincin, Adrianna Pope Sullivan and Bobby Sullivan, Karen Sutherland, Koret Foundation co-founder Tad Taube and wife Dianne, Beth Townsend, Alexis and Todd Traina, James Schneider and Barbara Brookins-Schneider, and Françoise Skurman, looking French-chic in a chignon, with her husband Andrew, who recently launched his new book Contemporary Classical: The Architecture of Andrew Skurman.

PRE-OPERA DINNER
An hour wasn't time enough for mingling, so it took a lot of cajoling and nudging to keep the guests moving on schedule through the garden to the tented pavilion where dinner was waiting.
Guests promenaded through the former carriage entrance that in May was re-named the Charlotte & George Shultz War Memorial Horseshoe Drive in honor of the couple.
Along the way, they were entertained by acrobats and dancers wearing white peacock-inspired costumes and accompanied by the sound of peacocks.
Katie Jarman, Opera co-chair 2007, said, "There should always be an element of surprise and fun for the opening and the acrobats did just that…guests entered the dinner with a smile on their faces."
The pavilion created by event planner Robert Fountain was so inviting and warm that one guest described it as a "lavender womb." Ball co-chairs Diane Rubin and Cathy MacNaughton were inspired by a room at the Four Seasons Hotel in Florence.
Centerpieces featured a profusion of purple and white Phalaenopsis orchids topped with faux white peacocks, with birdcages hanging overhead filled with more faux peacocks.
Fountain told me the peacock event was his swan song. He said he wants to focus on his international roster of private clients, but I predict (or, certainly, hope?) he just needs a breather and will be back.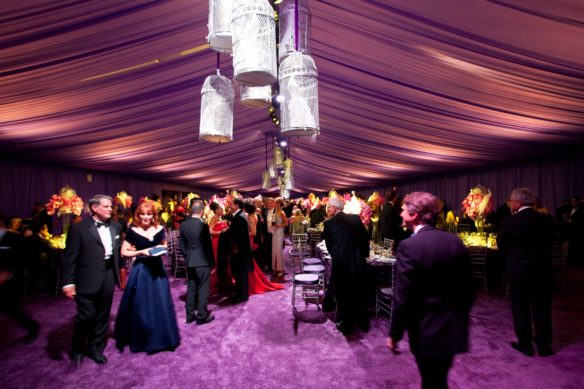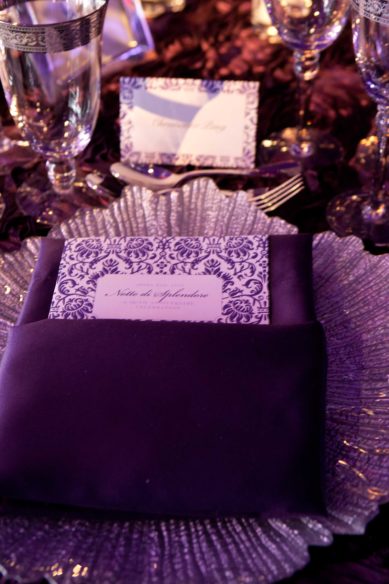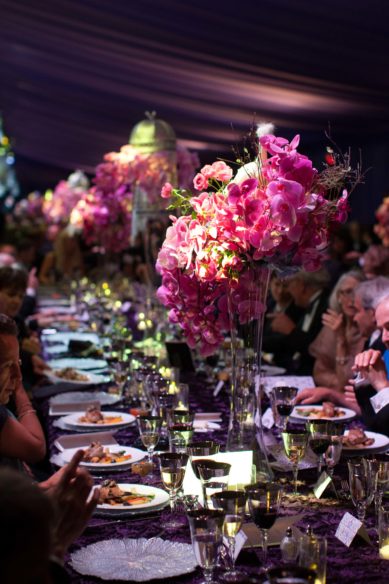 DINNER
General Director David Gockley started the dinner by congratulating newlyweds Maria Manetti Shrem and Jan Shrem, who have contributed $3 million for a new program in support of Italian opera. As a wedding gift to them, the Adler Fellows sang the Wedding March from Wagner's 1850 opera, Lohengrin.
Another celebration was for opera patron Barnard Osher, along with his wife Barbro, who invited 78 friends as his guests to celebrate his birthday at this entertaining evening.
The supper consisted of lasagna verde, veal loin with morels, and for dessert a delicious deconstructed tiramisu with Italian espresso gelato cone and orange panna cotta. Wine from Scharffenberger Cellars and William Hill Estate was poured freely.
The room was so beautiful and attendees were so filled with the excitement of the opening night that they were reluctant to leave. In fact, the curtain had to be held briefly while they found their seats, apparently not an unusual occurrence on opening night.

THE GIFTING PATRONS
From the singing of the national anthem, to the welcoming of the crowd by San Francisco Opera President George Hume and Opera Board Chairman John Gunn, tradition reined.
This is a city that prides itself on its incredible civic and cultural causes. Among some of the bigger donors Hume thanked for their whole-hearted support were John and Cynthia Gunn, who gave $40 million-plus in 2008, and Jeannik Mequet Littlefield, who gave more than $35 million in 2006.
Other supporters they thanked included Gordon and Ann Getty, Franklin and Catherine Johnston, Jan and Maria Manetti Shrem, Bernard and Barbro Osher, and opera trustee Dede Wilsey. Dede underwrote Opening Weekend and the flower garlands that adorn the Golden Horseshoe Circle Balcony, designed by Stanlee Gatti.

THE OPERA RIGOLETTO
Gunn introduced the performance as "magic on stage," which it certainly was. The curtains parted to reveal a scene from 14th century Mantua, Italy, that recalled the paintings of Giorgio de Chirico. The actors wore richly detailed, brilliantly colored medieval costumes.
The all-star international cast featured Serbian baritone Željko Lučić in the title role, handsome Sardinian tenor Francesco Demuro as the Duke of Mantua, and Polish soprano Aleksandra Kurzak as Gilda. Her rich yet sweet voice alone would have made the show unforgettable.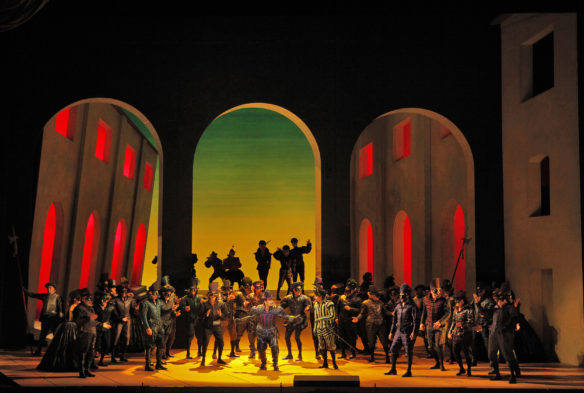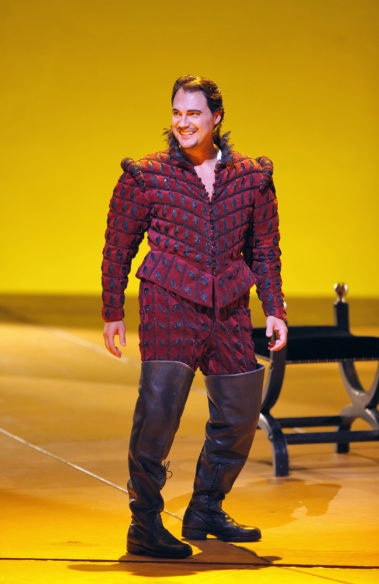 AFTER-PERFORMANCE BASH
After the performance, Champagne was poured for the opera patrons as they returned to the pavilion for dancing and a bountiful buffet with mounds of freshly carved prosciutto and coppa (salami), an array of cheeses, and a full bar.
Now it was the spectators' chance to perform, dancing to the music of Richard Olsen Orchestra. "I love the juxtaposition of Rigoletto with 'HonkyTonk Woman,'" exclaimed entrepreneur Carolyn Chandler. "It's great fun."
In the spirit of the night, guests climbed into oversized birdcages for amusing portraits capturing the moment.
The last guests to leave––I among them!––finally took off around 1:30 a.m. And this is our little secret: If you stay late enough, there is no standing in line for the valet; our cars were already waiting.
Upon leaving, I noticed the lights of City Hall were turned off, saving taxpayers' money. We didn't miss them; we were all starry-eyed after a spectacular evening.

FREE OPERA
Thanks to the generosity of benefactors, San Francisco opera lovers are treated to two free performances that have become a local tradition.
Traditionally, on the Sunday following the opera season opening, the popular "Opera in the Park," underwritten by the San Francisco Chronicle, is held in Golden Gate Park. More than 20,000 opera lovers come with friends, family, and children and sprawl on blankets to picnic and enjoy the music al fresco.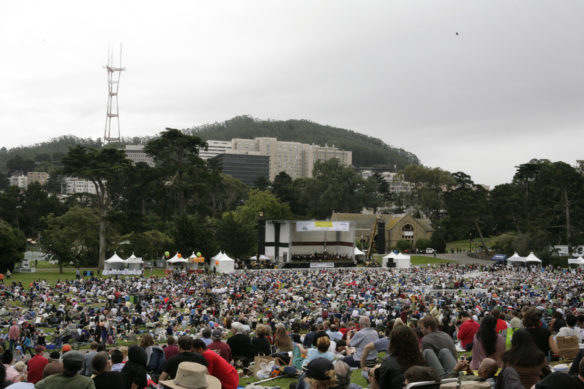 The following Saturday night, September 15, the San Francisco Opera partnered with Webcor Builders and the San Francisco Giants to present "Opera at the Ballpark" at AT&T Park, home of the Giants. The event was started in 2007 by General Director David Gockley to bring opera to a wider audience.
Spectators sit on the field and in the stands, watching a live performance transmitted on a 103-foot, high-definition screen. The concessions are open, so attendees can snack on ballgame favorites like hot dogs and popcorn while enjoying high culture. So far, more than 165,000 people have participated. BRAVO!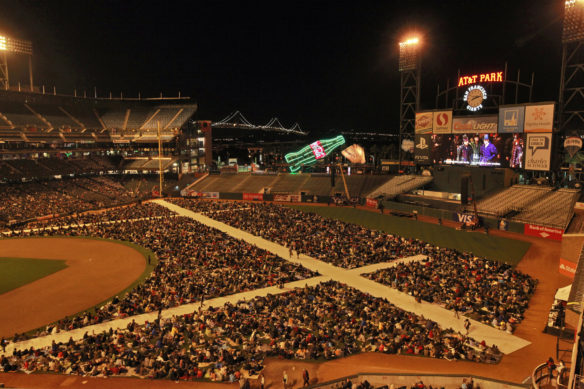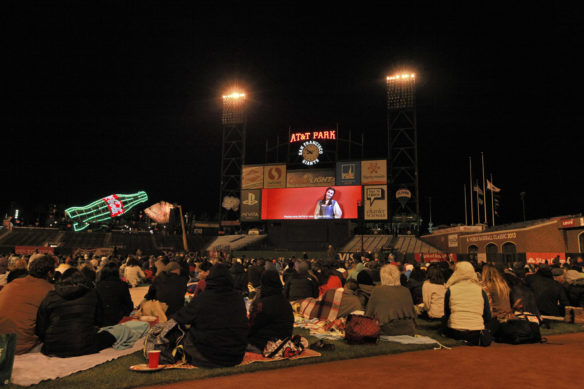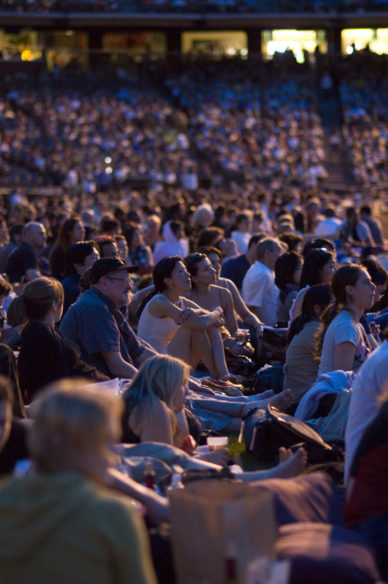 Photos by Jeanne Lawrence, Drew Altizer, Edgar Lee, Kristen Loken, Scott Wall, and Cory Weaver.
*Urbanite Jeanne Lawrence reports on lifestyle and travel from her homes in San Francisco, Shanghai, and New York, and wherever else she finds a good story.