Under a full moon, Napa Valley's fall social season began on the evening of September first with the Romantic Harvest Ball, a celebration of the marriage of arts patron and businesswoman Maria Manetti Farrow to Clos Pegase Winery founder Jan Shrem.
Maria and Jan have been fêted with parties around the globe since their spontaneous decision to marry at San Francisco City Hall during the 2012 Valentine season.
The mood at the Ball was joyous for the assembled partygoers, who had watched love blossom between this popular pair—who are an inspiration for all those still looking for a love of their own!
The couple share a fondness for the good things in life—opera, wine and food, and travel—and a devotion to doing good, especially as arts patrons.
In the past year, they donated $3 million to the San Francisco Opera in support of Italian opera and Music Director Nicola Luisotti, and $10 million to the University of California (Davis) for construction of a new campus art museum to be named in their honor.

A ROMANTIC SETTING
The beautiful venue for the gala was Florentine-born Maria's Tuscan-inspired 50-acre estate, Villa Mille Rose ("house of a thousand roses") in Oakville. Once the sun set, the gardens of the villa were aglow under a full moon.
Black-tie balls are a rarity in Napa Valley these days, but in honor of this once-in-a-lifetime event, the men donned their finery. Mother Nature rewarded their efforts with temperatures ideal to ensure their comfort.
The couple greeted and posed for a picture with each of the 240 guests as they arrived. Maria was stunning in a blue silk vintage gown by Italian designer Roberto Capucci.

SURROUNDED BY THOUSANDS OF ROSES
We lingered under the pergola during cocktail hour (there's never enough time to see everyone), many of us sipping Bellinis made with peaches from the Mille Rose orchards, until Marianne Kent trumpeters signaled the next stage.
As guests crossed the bridge built over the swimming pool, they gasped at their first glimpse of the truly magical décor created by the artistic, creative event planner Stanlee Gatti, working with local party planner Laurie Arons.
The estate was scattered with arrangements of 7,500 pink Fancy Amazon roses imported from South America, including huge urns overflowing with the flowers flanking the entry gates.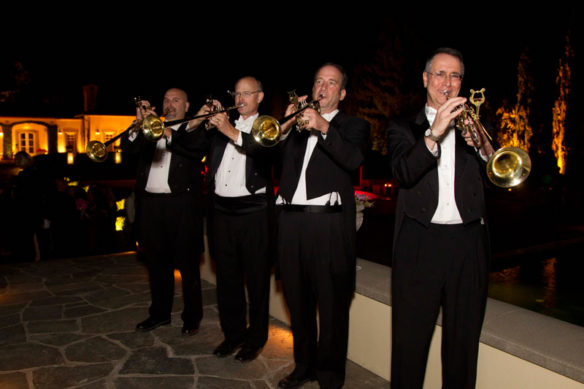 THE WELCOME
Jan welcomed the crowd, saying, "All of us are lucky Maria has entered our lives. I just want to add I am one of the happiest and luckiest of men." Maria rewarded him with a big hug.
"Jan and I have received such an outpouring of affection to celebrate our marriage," Maria said to the guests. "So tonight, this is your party!"
Her young niece Camilla toasted the couple and expressed hopes for a wedding of her own at Villa Mille Rose someday.
Lots of cheering and "bravos!" followed!

MUSIC IN THE VINEYARDS
Music lovers Maria and Jan came up with a marvelous alternative to the usual dinner-and-dancing type party: a private concert of romantic music.
Baritone Gino Quilico, son of the world-renowned baritone Louis Quilico, provided one of the masterful performances. Gino and Maria have been friends for 24 years. They met when he sang with Luciano Pavarotti in the San Francisco Opera's La Boheme and she later invited him to sing at the inauguration of Villa Mille Rose in 1994.
"You can't turn down Maria…with that big smile." he commented.
Sicilian tenor Francesco Demuro (who was to debut the next weekend in the San Francisco Opera's Rigoletto) sang "Parlez Moi d'Amour" to the piano accompaniment of San Francisco Opera Music Director Nicola Luisotti.
One of the most endearing moments came when Gino and mezzo-soprano Heather Antonissin (who flew in from Taos, New Mexico for the event) sang a duet of "Tonight," from West Side Story. It included a most apropos line: "And there's nothing for me but Maria. Every sight that I see is Maria."

CUTTING THE CAKE
After dessert, the revelers were invited to meet on the dance floor for the traditional cutting of the cake and the first dance—and more surprises.
Maria disappeared briefly to change into a traditional ivory wedding dress with a veil that friends had given her for fun. "Three marriages and I've never had a veil!" she joked, to uproarious laughter.
Served with the cake was Luciano Pavarotti's Bellavista Cuvee wine. "I was saving it in my cellar for years for a special occasion" Maria exclaimed. "And I realized this is the special occasion!"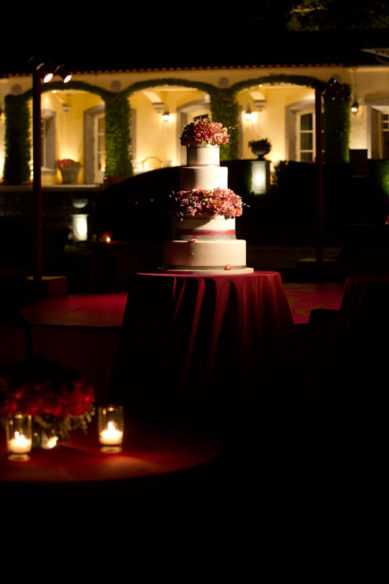 DANCING UNDER THE MOON
After Maria and Jan's turn, guests took to the dance floor. Fellow newlyweds Lee Hudson and Cristina Salas Porras were among those enjoying the lively accompaniment of the East Coast's Mike Carney and his orchestra.
The dancing and the party lasted until well past 2 a.m. We gathered on the circular banquettes and kept warm by drinking vodka under the heat lamps. If the orchestra hadn't left, I'm sure people would have remained until dawn!
The food and décor were spectacular; but of course what made the evening truly successful was the great mix of people.

FRIENDS FROM EVERYWHERE
Friends had come from all over the world to fête Maria and Jan. In from New York were composer Daniel Brewbaker, Sandra Cooksey-Tully, fellow newlyweds Michael Trokel and Pamela Morgan, and new Sonoma residents Sandy and Joan Weill. Later in the month, the Weills celebrated the opening of Green Music Center's Weill Hall at Sonoma State University, where internationally acclaimed Chinese pianist Lang Lang performed.
Other visiting guests included Tom Quick, Eddy Taylor, and Brett Price from Palm Beach; LA's Linda May with husband Jack Suzar; Patty and Tommy Skouras, who are relocating from LA to Napa; Jane Beasley from Nantucket; Ann Paolini and husband David Lambert from Dallas; and Doris Feffer from Boston.
The Italians were out in full force too: Milanese Roberta Cassol, Florentine Rolando Beramendi, who announced he was moving back to San Francisco, and Ludovica de Ambrogi, who said she enjoyed visiting Napa because its soft hills are so similar to the ones in Tuscany. "The climate is so sunny, as are the people," Ludovica said. "When we arrived, we Italians felt we were at home."
Among the many food and wine luminaries in attendance were some of the city's and Napa Valley's premier and best-known chefs: New York-based Lidia Bastianich; Californian Gary Danko; The French Laundry's Thomas Keller, with fiancée Laura Cunningham; Michael and Lindsay Tusk of Quince and Cotogna; and Tyler and Tolan Florence of El Paseo and Wayfare Tavern.
Since Jan is the proprietor of Pegase Winery, a number of top vintners were also invited, including Jean-Charles Boisset and Gina Gallo of Raymond Vineyards, Jeff and Valerie Gargiulo of Gargiulo Vineyards, Helen and Stanley Cheng of Hestan Vineyards, Shahpar and Darioush Khaledi of Darioush Winery, Margrit Mondavi of Robert Mondavi Winery, Napa Valley Reserve's Philip and Carol Norfleet, Urannia and Brunno Ristow of Ristow Winery, and Norah and Norman Stone of Stonescape Vineyards.
Luminaries in attendance included SF MoMA Director Neal Benezra and his wife Maria Makela; Dante and Adria Bini with their family, Nicolo and Kimberly Bini and Stefano and Katherine Bini; former Mayor Willie Brown with his companion Sonya Molodetskaya; celebrity stylist Alex Chases; former California Supreme Court Justice Ron George and his wife Barbara; SF Opera General Director David Gockley with Linda Kemper; socialite Denise Hale; interior designer Ken Fulk; video art collectors Pam and Dick Kramlich; graphic designer Ken Monnens; Tequila Partida founder Gary Shansby and his wife OJ; Congresswoman Nancy Pelosi and her husband Paul; PR maven Allison Speer; Architect Brooks Walker and his wife Summer; Festival del Sole Director Rick Walker and his wife Karen; and Dede Wilsey and her son and daughter-in-law, Trevor and Alexis Traina.
Despite overseeing this entire evening and entertaining ten houseguests, Jan and Maria looked relaxed and were clearly enjoying every moment. "People energize me," Maria said.
After all the fanfare surrounding the couple this year, next year in San Francisco might seem very quiet. Thanks to Maria and Jan for giving us all a chance to share in their glow. Here's to more weddings, and more vicarious happiness, in the future!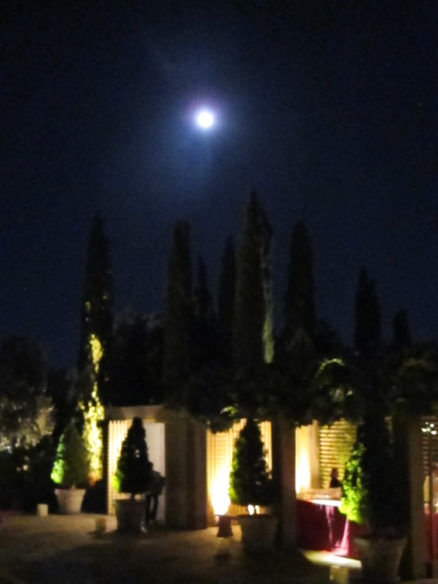 LUNCHEON FOR OUT-OF-TOWNERS AT GARGIULO VINEYARDS
The next day, Sunday, neighbors Jeff and Valerie Gargiulo and I hosted a luncheon for houseguests and visitors who had travelled from out of town.
In a spot overlooking the Gargiulo Vineyards in Oakville, Napa Valley, the luncheon was a mix of California elegance and casualness. We dined al fresco while recalling the highlights of the celebration.
Maria's houseguests shared their method of keeping her calm throughout the hectic weekend: They would sing a chorus of Bobby McFarren's song, "Don't Worry, Be Happy" and snap their fingers.
And Jan's friends recalled his signature phrase for toasting his friends with a glass of wine: "Delicious, nutritious, makes me feel so sexy and ambitious."
Jeff, who loves to cook, prepared our entire lunch. He and his wife adore their neighbors Maria and Jan, and this labor of love was a wedding present to the couple.
Gardener Valerie made a hands-on contribution as well, decorating the tables with flowers and fruit from her garden.
Thanks to their experience in farming, Jeff and Valerie were able to source some of the best produce from small local farmers and gather ingredients from the best artisans worldwide.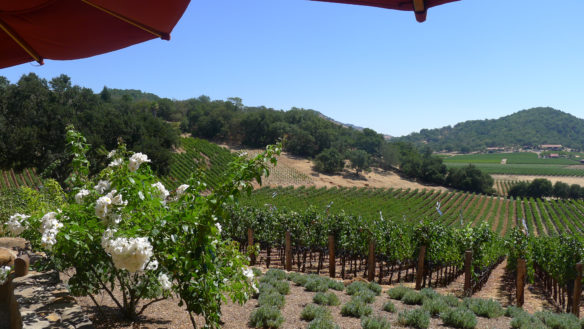 THE GARGIULO VINEYARDS
Jeff Gargiulo had been farming for more than 30 years when he and his wife Valerie purchased Money Road Ranch, their first Oakville vineyard, in 1992. Eight years later, they acquired another premier Oakville vineyard property, the 575 OVX vineyard, where a state of the art winery was built to produce Gargiulo's single vineyard Cabernet Sauvignons.
The Gargiulos use cutting-edge grape-growing techniques in conjunction with delicate hand-harvesting and a gentle gravity flow winery system. They produce three Cabernet Sauvignons from their Oakville vineyards and their wines have won a number of awards—most recently, the Robb Report's Best Domestic Red Wine of 2011 honoring their 2007 575 OVX Cabernet Sauvignon.
Overlooking the vineyards, we enjoyed the fruit of the vines: Gargiulo Vineyards Chardonnay 2011 and Gargiulo Vineyards OVX G Major 7 Study Cabernet Sauvignon 2009, along with Champagne Billecart-Salmon.
We were made welcome by Jeff and Valerie's daughter, April Gargiulo, who is also involved in the business, and Gargiulo Vineyards General Manager Justin Dragoo. Justin recently exchanged his Manhattan lifestyle as VP of Global Technology at IBM to return to his wine roots in Oakville.
Though many of the lunch guests didn't know each other ahead of time, all felt at home. Everyone bonded quickly over the one thing they all had in common—love for Jan and Maria.
Photos by Jeanne Lawrence and Drew Altizer.
*Urbanite Jeanne Lawrence reports on lifestyle and travel from her homes in San Francisco, Shanghai, and New York, and wherever else she finds a good story.