BEIJING –When I learned the Museum of Contemporary Art San Diego (MCASD) Collectors Circle was making its first trip to China so the members could acquaint themselves with the burgeoning art scenes in Shanghai and Beijing, I knew it would be the best of the best.
I'd once served on the Museum's board, and I was living in Shanghai, so I offered to help. Since I've extensively covered the Shanghai art scene for New York Social Diary already, it was the Beijing leg of the tour I wanted to report on.
The well-honed trip included a dream schedule of meet-ups with top artists, visits to galleries and studios, and tours of historic sites and restaurants that could be the blueprint for any art lover's visit.
This China trip was one of two annual excursions organized exclusively for the Collectors Circle, MCASD's premier support group. Members enjoy access to a range of art institutions, attend private dinners and special events, and even get to vote on which works the Museum will acquire. Learn more at http://www.mcasd.org/join-give/collectors-circle.
The ten-day trip was too eventful to cover in a single story. So here's the first of two parts.

DAY 1: MONDAY, OCTOBER 18
RAFFLES HOTEL
I flew from Shanghai's modern and well-organized Hongqiao airport to Beijing, China's second largest city and its political center, to meet up with the group.
A Raffles Hotel representative accompanied me from the airport on the drive through maddening Beijing traffic. Though the city has built ring road after ring road, you still encounter a constant line of red taillights—much like L.A.!
The historic beaux-arts Raffles Hotel Beijing, built in the early 1900s, is centrally located on Chang' An, the main street that runs east and west through Beijing.
(Hint: always carry your hotel's business cards, which will have directions in Chinese and Pinyin [Chinese characters transliterated into the Latin alphabet]. If you can't pronounce the hotel name, just hand the card to the taxi driver.)

CAVIAR & CHAMPAGNE
After unpacking, we headed downstairs to the Writers' Bar, named for the famous literary luminaries who have stayed at the hotel or written about it, including George Bernard Shaw, Rudyard Kipling, Joseph Conrad, and Noël Coward.
MCASD patrons Irwin Jacobs and Melissa Garfield Bartell were celebrating birthdays, so fellow patron Joan Jacobs had orchestrated a caviar and Champagne party.

MAISON BOULUD RESTAURANT
The birthday dinner was held at New York-based chef Daniel Boulud's Beijing outpost. It's in the heart of the city, in the newly renovated former Delegation Quarter. During the former Qing era, many embassies, including the American Embassy (then called the Delegation), were located here.

DAY 2: TUESDAY, OCTOBER 19
BREAKFAST IN CHINA
Breakfast in China at international hotels is always a treat. Many serve a bountiful buffet with American, British, Japanese, Korean, and Chinese fare cooked to order. Sometimes I can't resist returning for an American breakfast after eating my Chinese one!
My favorite feature is the noodle station. You choose one of the four kinds of noodles, the chef lowers them into boiling broth, and then you add fish or chicken and vegetables, such as bok choy and mushrooms, to make a filling, healthful soup.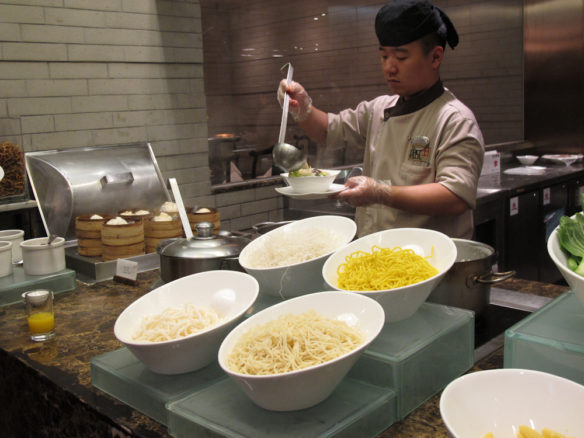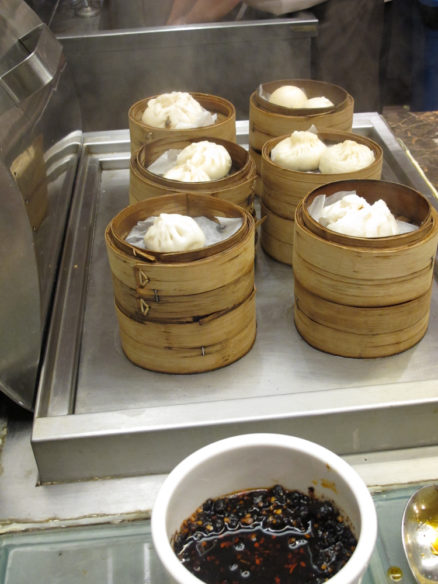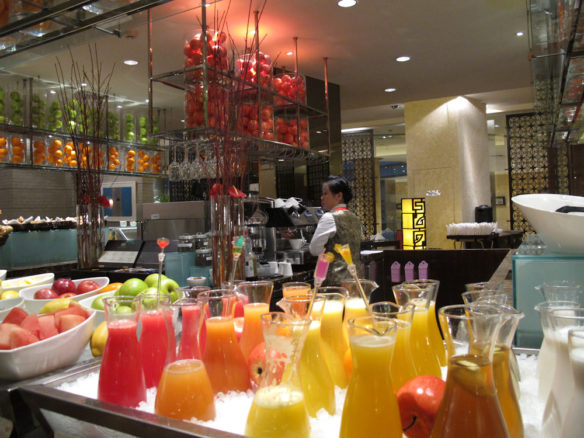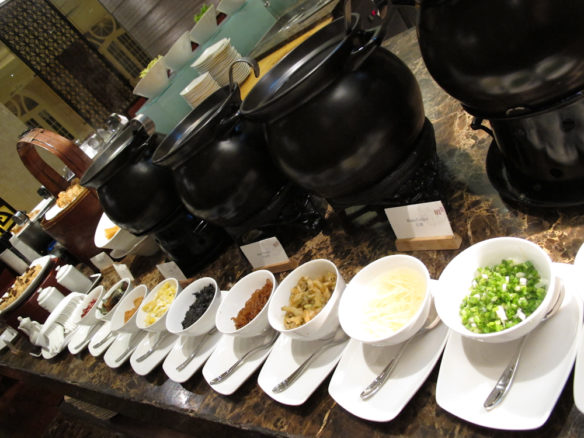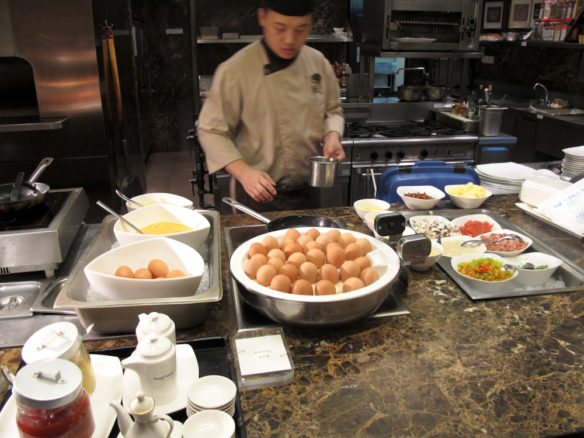 ART SCENE HISTORY – CAO CHANGDI ART DISTRICT
Tuesday, we left early for the Cao Changdi Art District, about 40 minutes from downtown Beijing. Once a farming village, it has become an international center for contemporary art in China.
Many artists relocated here when the 798 Art Zone (one of the first arts communities in China, sometimes compared to Manhattan's SoHo and Greenwich Village) became too commercial and expensive.
Now Cao Changdi is like the "alternative" art enclaves in Brooklyn's Williamsburg and Bushwick neighborhoods. Members of the artistic community mix with locals and migrant workers.
The number of galleries and studios is ever expanding. Though we could have spent several days here, with our time limitations we could visit only a few—but they were outstanding.

PEKIN FINE ARTS GALLERY
A dirt road lined with artists' studios and homes led us to the Pekin Fine Arts gallery. Opened in November 2005, Pekin has more than 1,900 square feet of exhibition space and a sculpture garden. It showcases the best contemporary Chinese artists and promotes them abroad.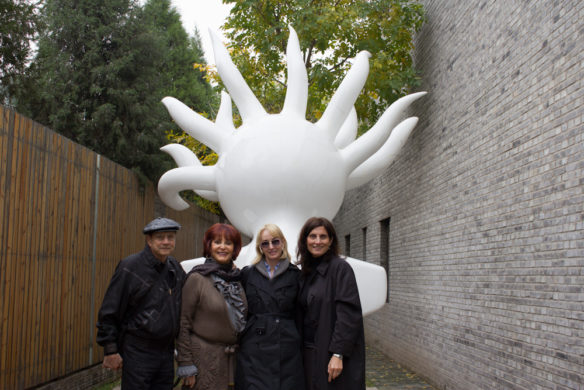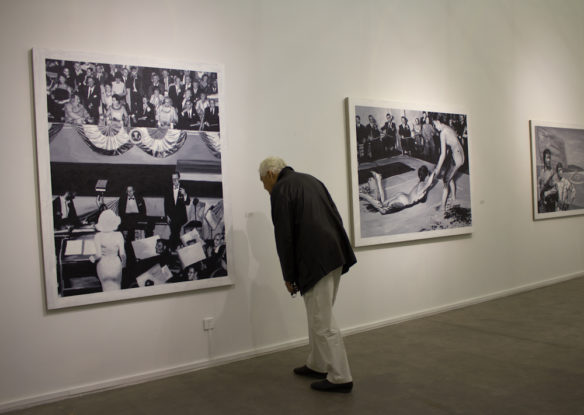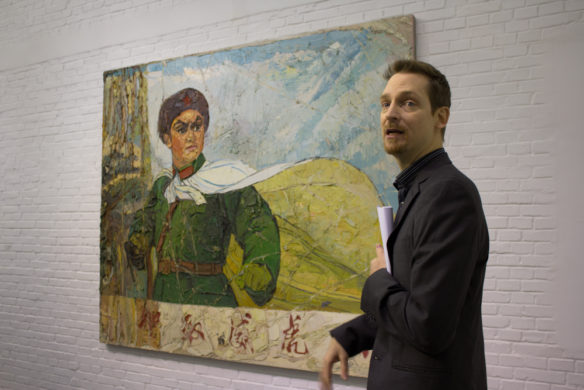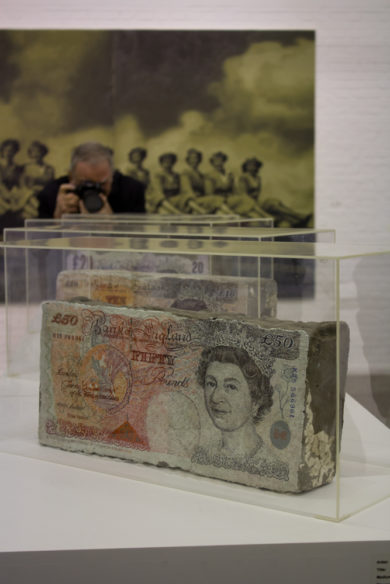 CHAMBERS FINE ART
Next we visited Chambers Fine Art, a gallery displaying calligraphy and landscapes by Shanghai-born Wang Tiande—his first solo show in Beijing.
Considered one of the most innovative modern calligraphers in China, Wang combines materials both traditional (xuan [rice] paper and ink) and unorthodox (cigarette burns) to create his drawings.
The paintings on display were illustrations for Wang's novel 3,720, about a man who counts the number of steps he takes on his daily walk home from work and is never again able to repeat the number. It suggests that despite seemingly repetitive actions, ordinary life still holds uncertainty.

THE LOCAL NEIGHBORHOOD
Many of the galleries are located in the surrounding authentic village neighborhood, dotted with farmer's markets, tiny local cafes, and stands selling a little of everything.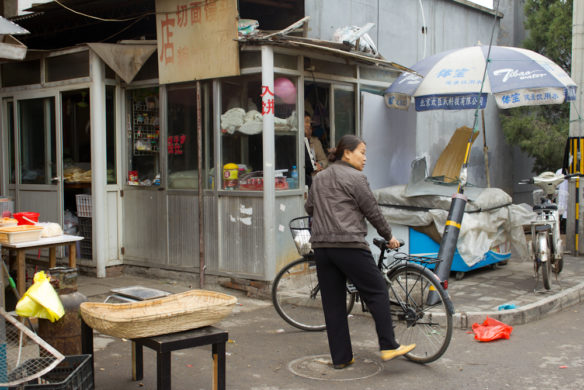 GALERIE URS MEILE
In the center of the village we stopped at the Galerie Urs Meile, sister to a gallery based in Lucerne, Switzerland. In the 1990s, Urs Meile was one of the first international galleries to get involved in the Chinese art scene. It has nurtured the careers of many now popular avant-garde Chinese artists.
Its artist-in-residence program offers Western artists the opportunity to work in China and establish themselves in the Chinese art world.

LUNCH AT GREEN T. HOUSE LIVING
After a full morning of art gallery visits, we were happy to sit and dine at Green T. House Living, a very cool "concept store" and destination spot with a spa, a private dining room, and a boutique selling beautiful design objects.
The neighborhood around Green T. House is being transformed. Of the villages we drove through, seven out of nine had been razed.
Now filling with ubiquitous high-rise apartment houses and big estates, the area might become the Beverly Hills of Beijing. With its close proximity to the airport and international schools, it's a draw for foreigners and locals alike.

798 ART ZONE
After lunch we visited the 798 Art Zone, created out of former munitions factories in the Chaoyang District of Beijing.
The factory complex, which originally served as a neighborhood for factory workers and their families, fell into disuse under Deng Xiaoping's reforms in the 1980s.
In the early 1990s, Beijing's Central Academy of Fine Arts set up temporary workspace there, and other artists soon trickled in.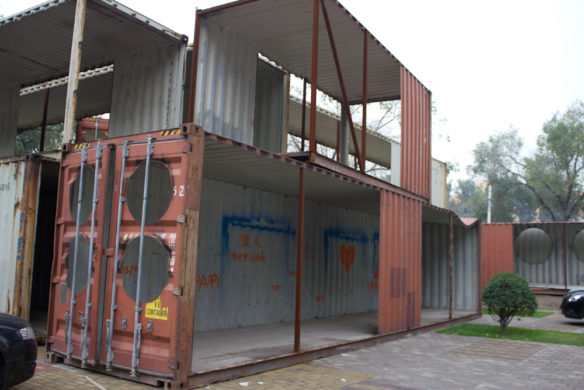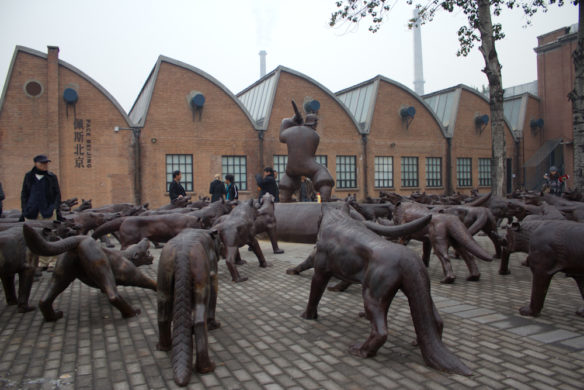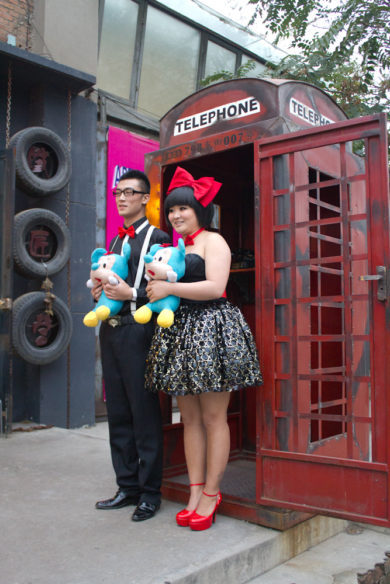 ULLENS CENTER FOR CONTEMPORARY ART (UCCA)
At the Ullens Center for Contemporary Art, Art Department Director Yan Zheng gave us an enjoyable private tour. The Center was founded in 2007 by a Belgian couple, Guy and Myriam Ullens, two of the leading art collectors in the world.
The first private, noncommercial cultural institution in the country, it serves as an organization and gallery space to promote the local artistic environment and showcase art and design.
The 26,000-square-foot Center hosts exhibitions of all sizes, lectures, film screenings, performances, and public festivals. We could have easily spent an entire day browsing here.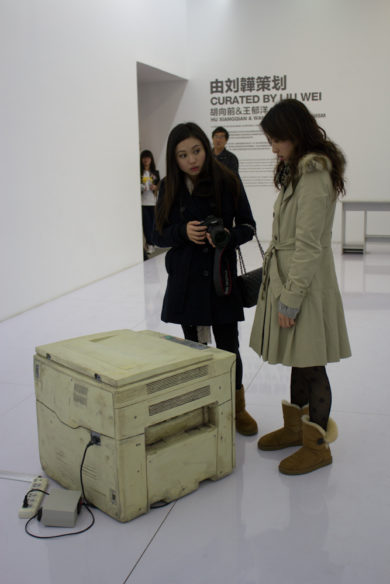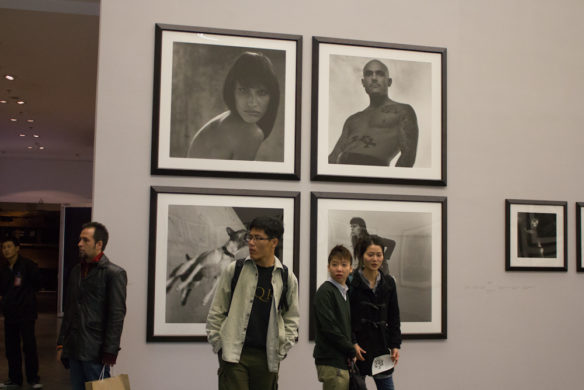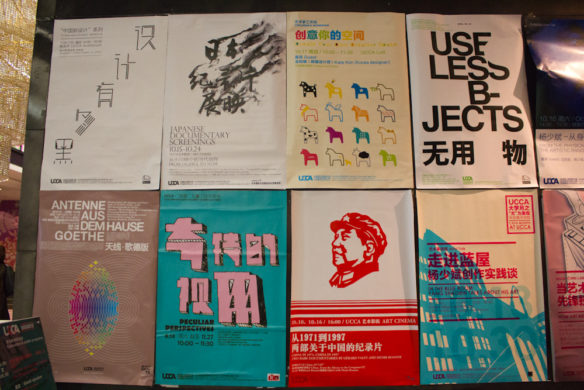 Hope Tunnel by Zhang Huan

Yang Shaobin's Blue Room

PACE GALLERY
Later we visited some of the other galleries, among them the New York-based Pace Gallery, whose incredible space in the 798 District houses an extensive collection.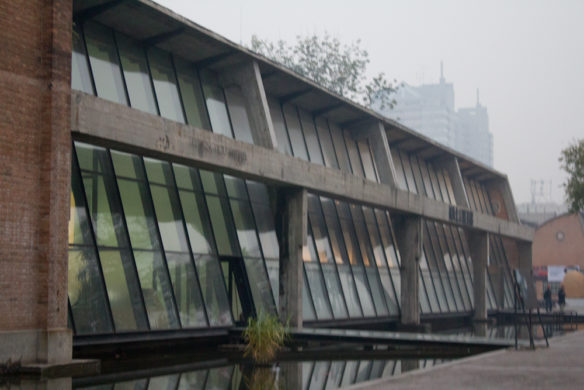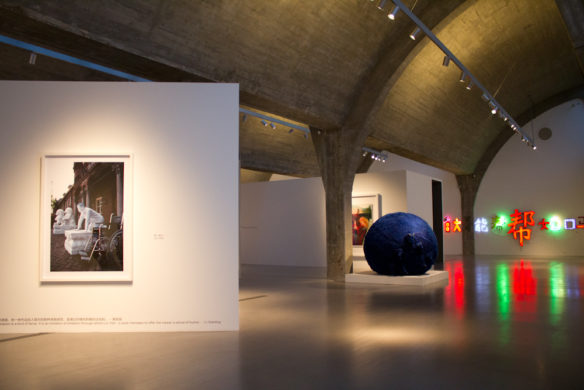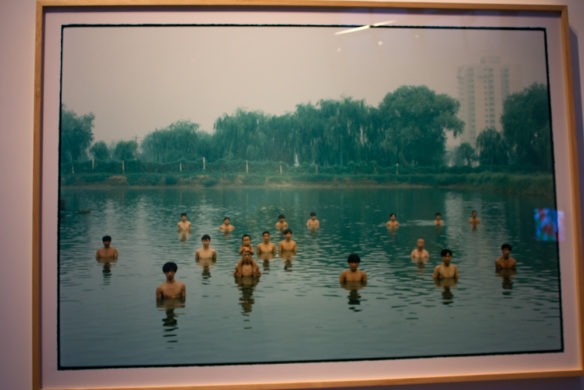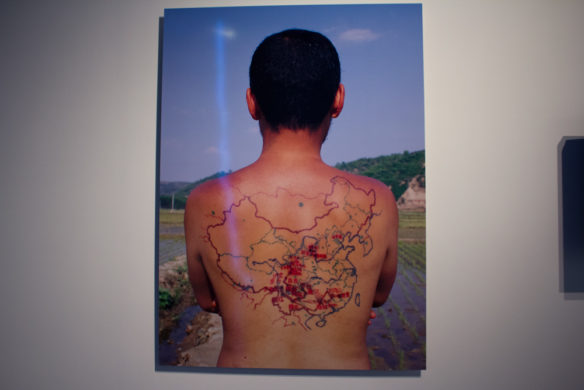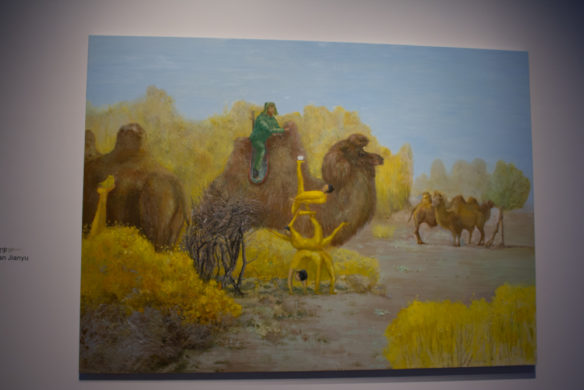 BEIJING CENTER FOR THE ARTS
Our last stop was the Beijing Center for the Arts, located in the same complex as Maison Boulud. Here we enjoyed a tour by Museum Founder and Director Weng Ling. With an impressive resume, she is considered one of the power players in the art scene.
In 1996 she became the director of the Gallery of the Central Academy, and in 2002 she was named co-director of the Shanghai Biennale. She then spent four years at the Shanghai Gallery of Art at Three on the Bund.

BANQUET AT THE CHINA CLUB BEIJING
After the full day of gallery tours, we dined at the beautiful China Club Beijing, an exclusive private club in an authentic palace near the Forbidden City and Tiananmen Square. Founded by David Tang, it has a sister club in Hong Kong.
The palace was built in the 17th century for a prince descended from Emperor Kang Zi of the Quin Dynasty. Its architectural features and character have been carefully preserved, and it is now designated a historical landmark.
The China Club is famous, since reformist Deng Xiaoping was a frequent guest. A native of the Sichuan province, whose spicy cuisine includes lots of chili and peppers, he influenced the club to use these ingredients. They are often accompanied by beer or maotai, an intense Chinese liquor.
Photos by Jeanne Lawrence.
*Urbanite Jeanne Lawrence reports on lifestyle and travel from her homes in San Francisco, Shanghai, and New York, and wherever else she finds a good story.