MUSEUM OF CONTEMPORARY ART SAN DIEGO VISITS CHINA – Part II
BEIJING—I was thrilled be part of the first trip to China with the Museum of Contemporary Art San Diego's (MCASD) Collectors Circle. The trip introduced members to the burgeoning art scenes in Beijing and Shanghai.
Having already written extensively about the Shanghai art scene, I reported on the Beijing leg of the tour for New York Social Diary. I have already filed a report on Part I of the ten-day trip. Part II was equally spectacular.

DAY 3: WEDNESDAY, OCTOBER 20
LAN CLUB DINNER
Dinner the third night was at the Lan Club Beijing, an exclusive lounge and restaurant about which I'd been hearing ecstatic reviews.
Established in 2006, Lan Beijing is the flagship of entrepreneur Zhang Lan's South Beauty restaurant empire. Lan is often compared to Wolfgang Puck for his innovative restaurant ideas. The "club" is actually an upscale Chinese restaurant specializing in Sichuan cuisine.
Philippe Starck Design
The renowned contemporary French designer Philippe Starck spent two years transforming the vast raw space into an opulent restaurant and bar for a reported $2 million. Instead of erecting permanent walls, he cleverly hung enormous canvases to create a series of private tented rooms.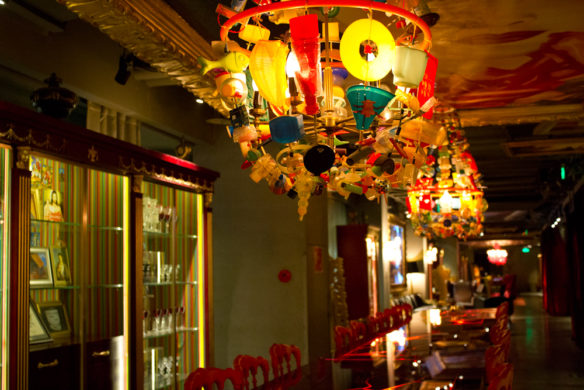 A Chinese Banquet
Commodious enough to serve 1,200 people at once, Lan encompasses an oyster bar, a luxury cigar room, a red wine chamber, a classic English bar, a French bistro, and a restaurant serving contemporary Cantonese cuisine and special dishes from elsewhere in China.

DAY 4: THURSDAY, OCTOBER 21
THE FORBIDDEN CITY
The Forbidden City served as the imperial palace from the Ming Dynasty (1368-1644) to the Qing (1644-1912). The complex covers more than 1,477 square miles.
A sublime example of palatial Chinese architecture and the largest collection of preserved ancient wooden structures in the world, it was listed as a World Heritage Site in 1987.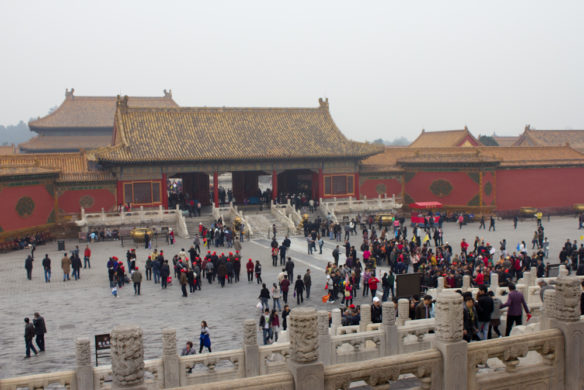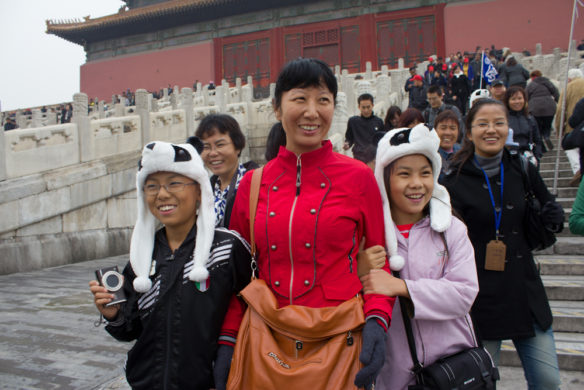 TIANANMEN SQUARE

PEKING DUCK AT MADE IN CHINA RESTAURANT
You can't come to Beijing without eating Peking duck any more than you can pass up a hot dog from Nathan's Famous at Coney Island.
In the very inventive Chinese culinary tradition, Peking duck stands out as one of the most sophisticated dishes. To prepare it, the duck is washed, air is pumped under the skin to separate it from the fat, and then it's hung to dry and glazed with maltose syrup. Finally, it's roasted over a fire until the meat is tender and the skin crispy.
The crispy skin is dipped in sugar and garlic sauce and eaten separately. The meat is served with homemade steamed pancakes, green spring onions, fresh cucumber sticks, and hoisin, a sweet bean sauce. You spread the sauce on the thick pancake, then wrap the pancake around some duck meat and eat it like a sandwich.
From places that have been around for a century to others that are new and modern, many local restaurants serve Peking duck.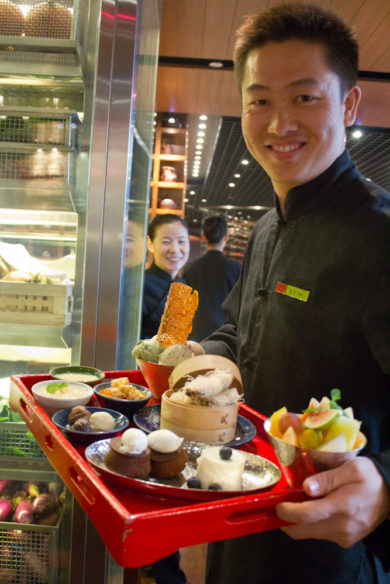 SHOPPING: SPIN GALLERY
After lunch, a few of us shopped at Spin, which offers elegant ceramic tableware in clean, timeless designs at reasonable prices. The displays and lighting make Spin (here and in Shanghai) resemble a museum as much as a shop.
Each of us bought pieces to be gift-wrapped and mailed to the U.S. A Texas friend I once took to Spin had a 20-piece dinner set shipped home and, amazingly, every piece arrived intact. So I knew my purchase was safe!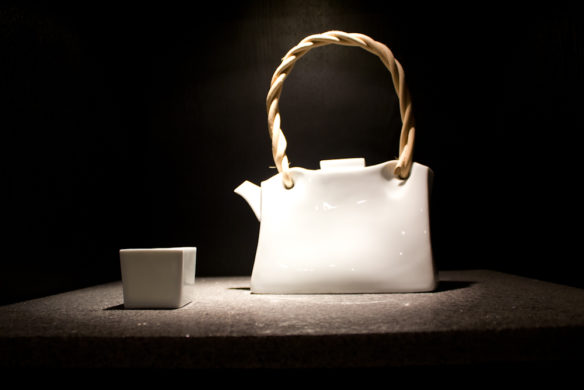 DAY 5: FRIDAY, OCTOBER 22
SUMMER PALACE
This morning we traveled northwest of the city to the landmark Summer Palace, a royal retreat and playground during imperial days. (The Chinese, who love poetic names, dubbed it "The Gardens of Nurtured Harmony.")
The magnificent palace and other structures are located on Longevity Hill, which Emperor Qianlong named to honor his mother on her 60th birthday in 1752.
Largely destroyed during the 1860 Anglo-French war and damaged again during the 1900 Boxer Rebellion, it was rebuilt in 1886 and 1902. In 1998, UNESCO added the Summer Palace to its World Heritage List.

LUNCH AT THE AMAN HOTEL AT SUMMER PALACE
From the Summer Palace grounds, we ducked through a private door into the new Aman Hotel, adjacent to the palace's east gate.
The hotel, an hour from Beijing, is an ideal place to stay and enjoy a rest day or to wander in the atmosphere of an ancient world.

TOUR OF YANG BIN'S STUDIO
In the afternoon, we visited the private art collection of businessman and art world heavyweight Yang Bin and his wife Yan Qing.
The couple displays their collection in an off-site gallery that is part of a complex in a gated community. As they have such a large collection, the works are stored on the kind of racks a museum uses.
They have been collecting contemporary Chinese art for ten years. However, since Chinese art has become so expensive, as of 2006 they've been collecting European art as well.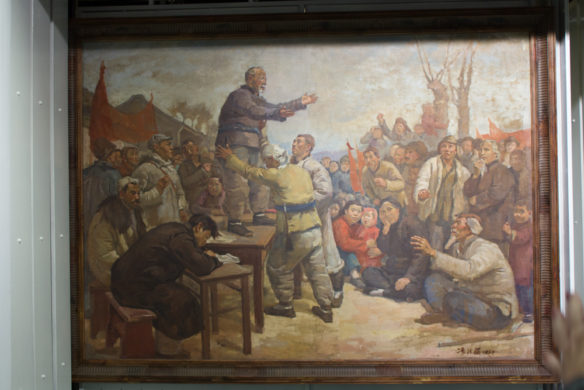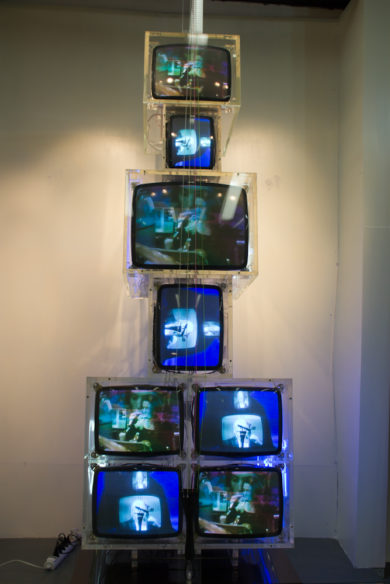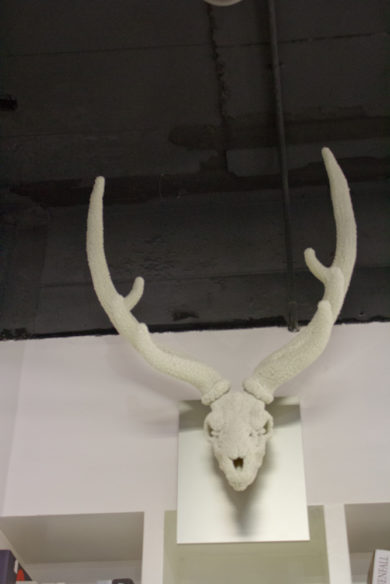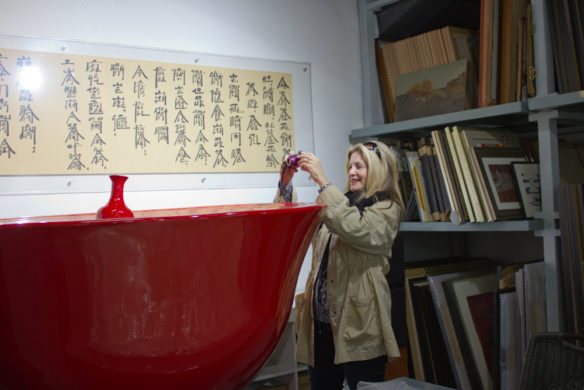 DAY 6-7: SATURDAY & SUNDAY, OCTOBER 23 & 24
Early Saturday, the MCASD tour left for Shanghai and the Park Hyatt. In only two days, they found time to visit Xintiandi and dine at private club One Xintiandi, take Patrick Cranley's Historic Shanghai Tour, lunch at The Chinoise Story, enjoy a meal at Ye Shanghai, attend a farewell dinner at M on the Bund, and tour a number of art galleries. The ladies also managed to squeeze in a shopfest at designer Han Feng's Studio, where they loaded up with fashion.
The group concurred that this kind of trip—one dubbed it "Beijing 101"—is exhausting but stimulating and educational. "When you see art in this context, you learn about a culture, not like a tourist but like a private collector," said Valerie Cooper.

DAY 8: MONDAY, OCTOBER 25: FAREWELL DINNER AT PEARL LAM'S SHANGHAI HOME

The group spent its last evening in China at the home of art collector and gallerist Pearl Lam. Cocktails were served in the private gallery above her sensational, whimsical penthouse, where artist Zhang Huan's ash paintings were on display. Then we enjoyed an elegant meal in her spacious home, where she can easily seat 60 for dinner.
I felt fortunate to be able to share the learning experience and the wonderful camaraderie the MCASD trip offered. For anyone with an interest in Chinese art—or simply an interest in having a stimulating, first-class, fun-filled, memorable, and unique trip (and isn't that everyone?)—this is it!
Photos by Jeanne Lawrence. Aman Hotel interior photos courtesy Aman Resorts.
*Urbanite Jeanne Lawrence reports on lifestyle and travel from her homes in San Francisco, Shanghai, and New York, and wherever else she finds a good story.