I recently returned from another fall season in Shanghai—that exotic, endlessly fascinating, and ever-changing city. I've compiled the best of the stories and pictures I gathered about social life and travels in China in diary form, and I'll be posting them from time to time. Here's another:

BESTSELLING BOOK SHANGHAI GIRLS UNCENSORED AND UNSENTIMENTAL: HOW TO MARRY UP AND STAY THERE
Shanghai was abuzz over Shanghai Girls Uncensored and Unsentimental: How to Marry Up and Stay There, a book by Korean-American author Mina Choi Hanbury-Tenison. As the New York City of China, Shanghai is unlike the rest of the country, and so are its women.
According to Mina, Shanghai girls have a reputation for being divas—opportunistic and materialistic, high maintenance, and focused on upward mobility, primarily through marriage. You'll be trampled if you're in their way, whether they're zeroing in on a promotion, a man, or your man. Mina's book represents the first time that one of these formidable specimens has talked on the record.
Mina, a literature major from Yale, was a Hollywood screenwriter before moving to Shanghai in the late 1990s with her British husband, William Hanbury-Tenison, a fine arts agent, and their two sons. When she first arrived, she was surprised to meet Shanghai women who had expensive wardrobes and frequented fancy restaurants and parties, yet held low-paying jobs.
Mina recalls marveling that "These women had amazing lifestyles. How did they manage to do it?" Then she befriended Lan Lan (not her real name), a Shanghainese woman with a Sex and the City lifestyle and clothing budget to match. Shanghai Girls Uncensored and Unsentimental is Lan Lan's tale.

A TEA AT OKURA GARDEN HOTEL
To celebrate the book's release, Mina's gal-pals hosted a tea party at Shanghai's historic Okura Garden Hotel, the former French Club of the 1920s. The event was held in a private room with a terrace overlooking the hotel's tranquil garden.

BOOK SIGNING AT THE GARDEN BOOKSTORE
After enjoying a proper British high tea (plus Champagne), we walked to the nearby Garden Bookstore on tree-lined Changle Road, which has one of the best selections of English-language books in the city and a cozy café section that serves coffee, gelato, and snacks.
The store was filled with more than 50 people, eager to hear the scoop about Shanghai girls. To my surprise, nearly half were male.

LAN LAN'S STORY
Mina launched into Lan Lan's story: She's a real estate owner and boutique investment fund manager who splits her time between New York and Shanghai. She has had three husbands—and is proud that each was richer than the last—but is single at the moment.
Unemotional and unsentimental, Lan Lan regards a relationship as an even exchange of her youth and beauty for his money. "I'm the best thing that's ever happened to him," she believes. Lan Lan never picks up the tab, even if it requires excusing herself to go to the ladies' room and then sneaking out the door.

THE LUXURIOUS LIFESTYLE OF A SHANGHAI GIRL
Lan Lan and her type of Shanghai girls live a life of luxury even if it doesn't seem within their means. In this vibrant city, once called the "Paris of the Orient," they can find plenty to do. A glimpse into their lives might include polo matches, driving a fancy car, shopping at luxury European boutiques, and nightclubbing.

HOW TO SNAG THAT MAN
Lan Lan's technique for snagging sugar daddies is complex, and even she found it difficult to explain to Mina. It's a combination of flattery, attentiveness, and supportiveness, but also nagging. Shanghai women don't necessarily need (or have) good looks to rise socially, Mina said, because they are masters of seduction.
"They know when to go forward, when to be there [for the man] all the time, and when to withhold," Mina said. "They know instinctively the seduction game."
"It's like a business deal," Mina continued. "Shanghai women are absolute closers. Their eyes are on the short-term as well as the long-term." To them, the Western beliefs of romance and everlasting love are mere illusions.
Although Mina's values are very different from her Shanghai friends, she added, "I'm not judging Lan Lan. It's a very different approach to courtship that all women can learn from. I'm just putting her words down … to see the world from the Shanghai Girl's point of view."
But Mina also pointed out the positive traits of Shanghai women. They are family-oriented and make devoted moms, and once they have a child they'll stick with the father. They will look after all of the man's and the household's needs, including his money.

SHANGHAI GIRLS AND EXPATRIATES
The topic of Shanghainese women hits a huge nerve in the expatriate community. One English-language magazine in Shanghai run by foreigners didn't preview Mina's book, because it didn't want to cause an uproar among its predominantly expat readers.
So at Garden Books, the audience discussion was predictably lively. One expatriate woman said she'd lost her husband to a Shanghai girl, but nevertheless urged women like herself to triumph over the "predatory local women" who are "realist and hardnosed."
Andrea Mingai Chu, a Shanghai-born author of Shanghai Interiors and other architecture and design books, defended her Shanghai sisters. "We real Shanghai women are well-educated, work hard, and play hard," she said. "We care about the men who are worth our caring, and we always have wonderful male and female friends in life, whether we are in a relationship or not."
Some people were not fazed by Lan Lan's character. "She's not different from any other gold-digger," a European man declared. "She just does it better and is more frank about it." Mina noted that on the Hollywood and US celebrity scene, plenty of 20-year-old girls couple with men at least twice their age.
Others noted that Chinese people generally are very focused, and perhaps Shanghai girls are the epitome of this. In contrast, New Yorkers, San Franciscans, and other Westerners get sidetracked and muddled in life when they fall in love—so they end up settling.
China's economic boom has also raised the prerequisites for a husband. A few Chinese in the audience said that to find a bride, a man in China must be debt-free and have a house, a car, and a job.

COMBAT TIPS FOR MEN AND WOMEN
For those women worried about losing their men (anywhere in the world), Lan Lan offers tips in the last chapters on how to fight off contenders. But it's not only for women; it should be required reading for foreign men too—as a cautionary tale.
Shanghai Girls Uncensored & Unsentimental is now into its second printing, and Mina has toured Hong Kong, Chengdu, and Beijing, leaving us still wondering whom the real Lan Lan is.
But maybe she isn't such a mystery: Every woman has a little Lan Lan inside her, concluded Mina.

A SHANGHAI GIRL'S DREAMS: THE WEDDING
The dream of a Shanghai girl is to marry up (maybe even more than once!), with the ultimate goal of starting a family with a rich husband. Of course, to kick off her marriage, the wedding must be even more extravagant than her lifestyle as a single gal.
And what better way to celebrate her catch than by wearing an over-the-top wedding gown? Although Chinese brides traditionally wear red dresses, as it stands for luck and auspiciousness, today many copy the Western trend and wear white gowns. In fact, a bride might wear both a traditional red frock or Chinese dress and a white gown during the marriage celebration. If she's really hit the jackpot, she may even make several more wardrobe changes during the party.
The bridal dresses from fashion designer Tsai Meiyue are perfect for a Shanghai girl: They're glitzy, extravagant, and ostentatious—much like the bride herself.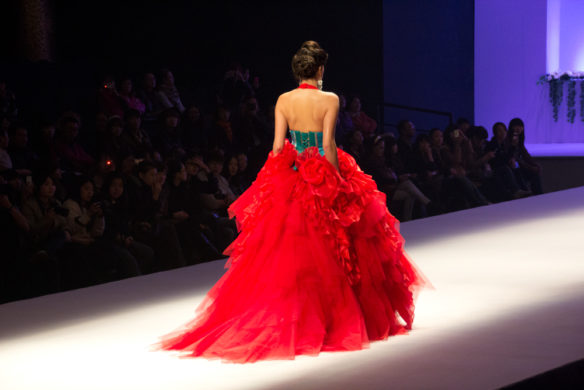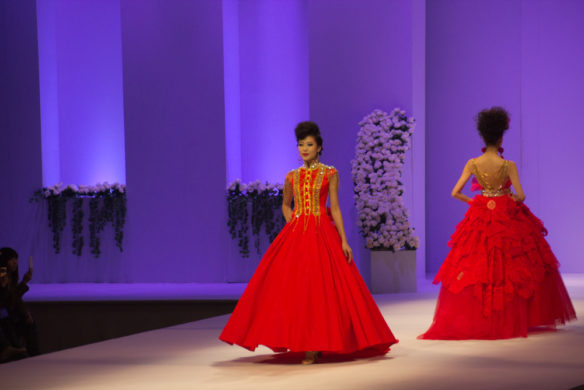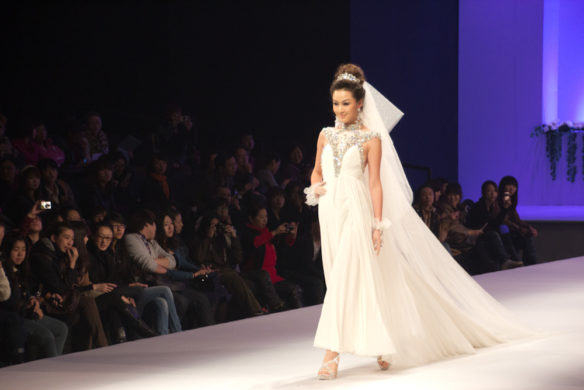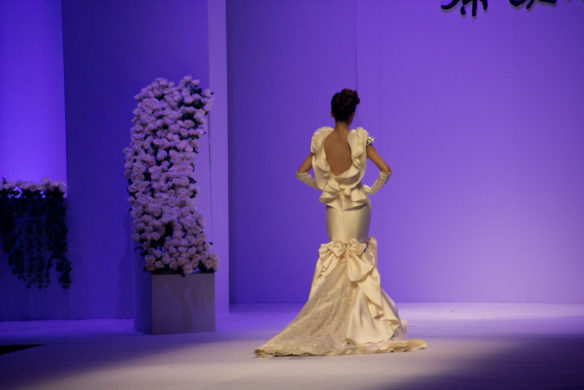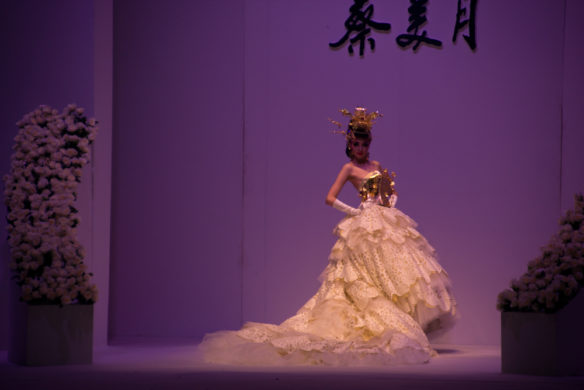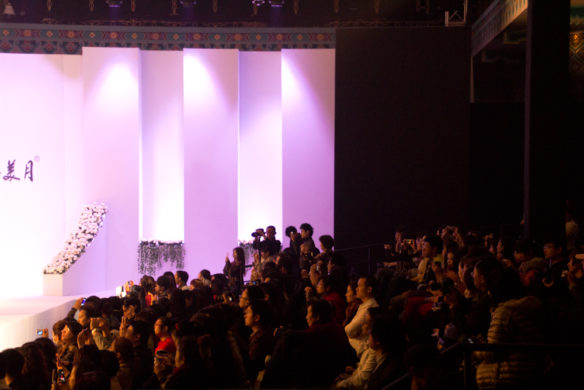 VIVIENNE WESTWOOD OPENING
A high fashion boutique opening in a luxury shopping mall is an event no Shanghai girl would miss, and British designer Vivienne Westwood was only too happy to oblige.
To celebrate the opening of the new Vivienne Westwood boutique at the Grand Gateway shopping center in the Xujiahui area of Shanghai, the store held a big event in the mall.
Vivienne Westwood was largely responsible for bringing modern punk and new wave fashion to the mainstream during the 1970s. She and then-husband Malcolm McLaren (who later became manager of the Sex Pistols) sold punk attire in their London store "Sex" in the '70s.
You couldn't miss Westwood, with her trademark wild orange hair and infectious smile, as she made her appearance. She was there to inaugurate her new boutique, surrounded by young, excited, and eager fashionistas.

VIVIENNE WESTWOOD SHOES RETROSPECTIVE
A private VIP room also played host to Vivienne Westwood Shoes, a retrospective of the brand's fantastical footwear. Examples of this "ultimate fetish object" from 1973-2011 were displayed in glass cases and paired with photos of key moments throughout the brand's history, such as model Naomi Campbell's runway tumble in a pair of extremely tall platform heels. The forward-thinking Westwood must have enjoyed creating these outrageous designs.
Westwood has been quoted as saying, "Shoes must have very high heels and platforms to put women's beauty on a pedestal." (I feel it's more like having my foot bound, as the Chinese did during the late 10th to the mid-20th centuries, so all I can do is hobble instead of walk.)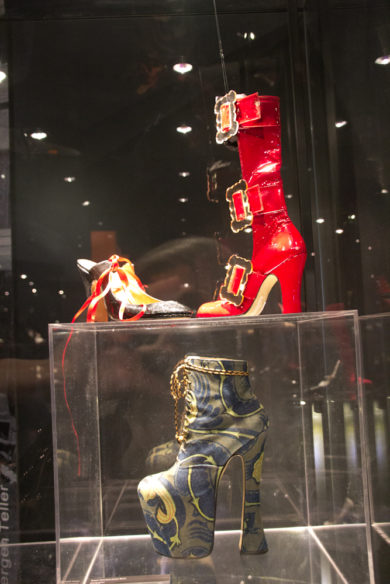 I stayed around until the very end of the Vivienne Westwood event, and afterward browsed the shops. I must admit I was surprised by some of the prices. In one store, a pair of boots cost $700—and it wasn't even a top luxury brand! I wondered how young girls afford this on Chinese wages. Some say they live with their families and spend all their money on shopping.

SHANGHAI FASHION WEEK
Shanghai Fashion Week is another event at which you're likely to find Shanghai Girls. It first took place in 2003, and remains the city's only organized fashion event.
Contrary to the Fashion Weeks in New York, Paris, Milan, and even Beijing, Shanghai's iteration showcases edgy, largely local designers. Though the new Chinese wealthy may snap up Prada, Chanel, and Gucci items with fervor, these shows reflect a newfound Chinese confidence in its own sensibilities and talent.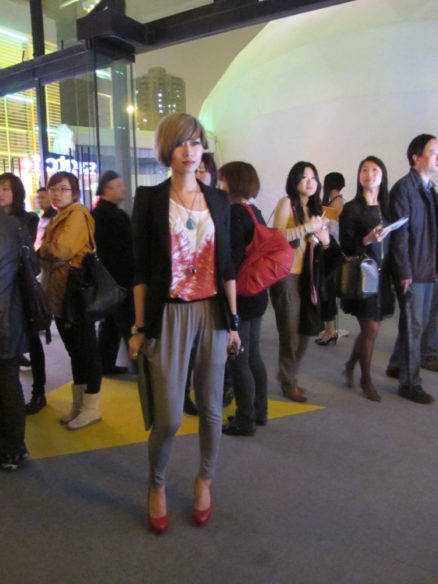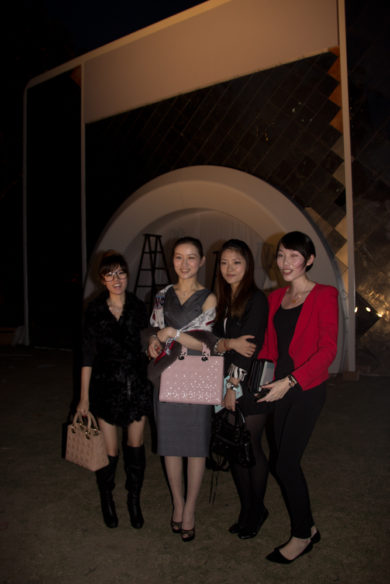 POPULAR CHILDREN'S FASHION
For a Shanghai girl, after the marriage comes baby. And like Mother, baby must be dressed to the nines. Kel Kel, a cute children's brand showcased during Shanghai Fashion Week 2012, certainly fits the bill.
The little models even sported junior-sized tuxedos! Though I overheard someone near me say Chinese parents treat their children like "little pets."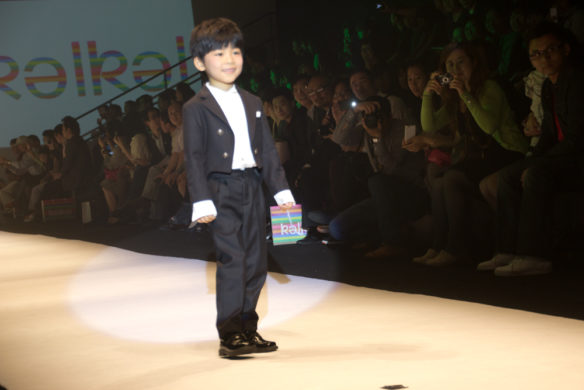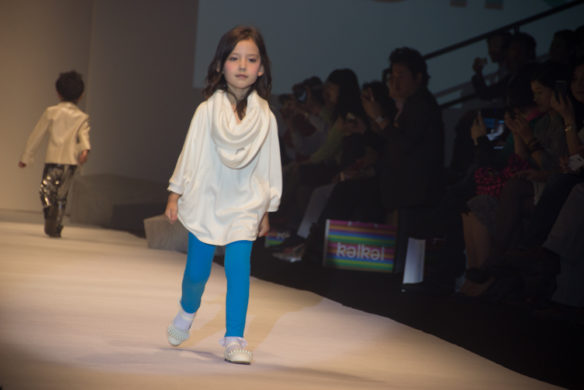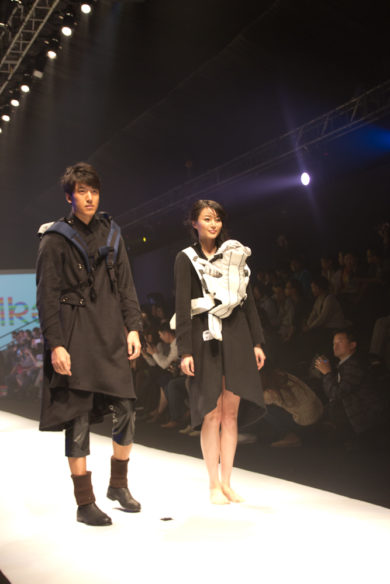 Photos by Jeanne Lawrence.
*Urbanite Jeanne Lawrence reports on lifestyle and travel from her homes in San Francisco, Shanghai, and New York, and wherever else she finds a good story.