Though I hibernated much of the winter in San Francisco—writing my columns about Shanghai and organizing over 100,000 photos from China—I did manage to catch some of the highlight events of the social seasons so I could share them with you.

THE SAN FRANCISCO BALLET GALA OPENING – 2013
The San Francisco Ballet celebrated its 80th anniversary with the annual Opening Night Gala on January 24, 2013—just in time to add sparkle to a quiet January in the city.
This year's gala theme was "Moving the Compass—Bridging the Globe through the Universal Language of Dance." The idea that dance can bridge the globe and our cultural differences is a fitting theme for this international city.
The black-tie gala drew over 850 balletomanes from the Bay Area: old and new guard mixing together along with the swan-like socialites, dot-commers, venture capitalists, and a new chic younger set, more than I recall at other black-tie cultural events in town.
I know I say it every year, but this is one of the most glamorous, romantic, and enchanting evenings, no matter how many times I attend.
In addition to a spectacular performance by world-class dancers and music, gala attendees enjoyed lavish décor and splendid food during the cocktail reception at City Hall, followed by an elegant dinner and, later, a smashing after-party with dancing and more nibbles.
On arrival, I ran into former Board Chair Richard Barker, who had just been interviewed by the China television station CCTV, which is producing a documentary on leading Chinese in the arts. Featured prominently will be the principal dancer, Shanghai-born Yuan Yuan Tan, who joined the SF Ballet company at the tender age of 19. Richard further mentioned the huge ovation Yuan Yuan received for Swan Lake when the company toured Beijing and Shanghai.

PRE-DINNER COCKTAILS
The Ballet's opening night began promptly at 5 p.m. with the La Marca Prosecco Cocktail Reception in City Hall, where so many social, political, and cultural occasions take place.
I don't recall if they've hosted the reception in the South Light Court before or not, but it was a lovely room to meet friends in an elegant atmosphere with bars and lounging areas to sit and chat before dinner.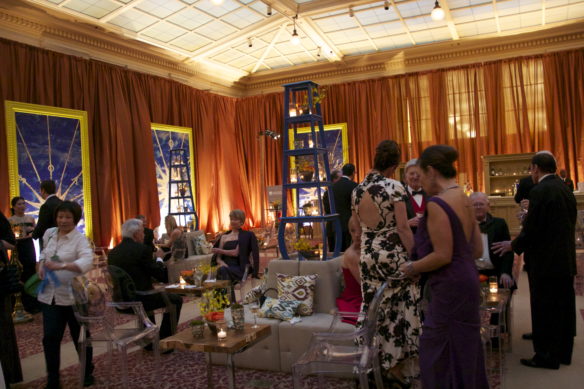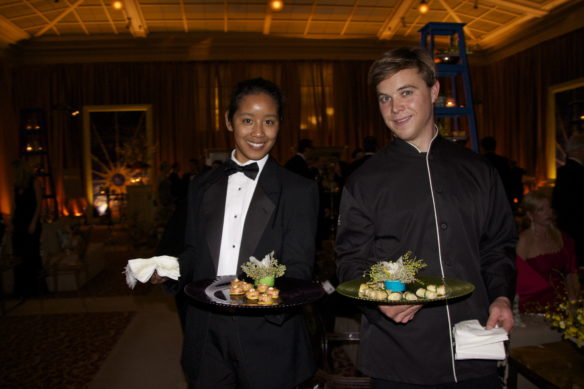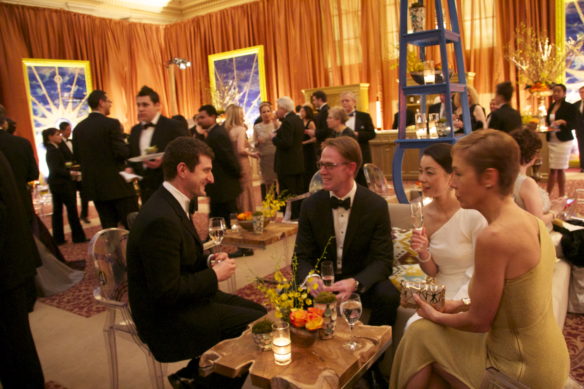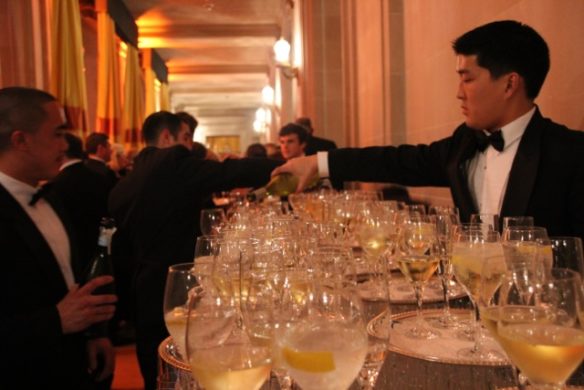 I chatted with longtime ballet patrons Lucy Jewett and Wendy Schmidt, both of whom are members of the America's Cup Organizing Committee. They were delighted to announce that they'd just received another big check for the America's Cup regatta taking place in the San Francisco Bay this summer.
Congratulations were in order for director George Lucas, in attendance with his newly announced fiancée, long-time partner Mellody Hobson, whom everyone seemed eager to congratulate.

THE GOWNS
This gala brings out the brightest and most beautiful—all dressed to impress. One difference I notice, compared to New York City's tendency for sophisticated and serious shades of black, is that the ladies here sport rich and brilliant shades of deep red, emerald green, royal blue, violet, shocking pink, and glitter, as you will notice in the photographs.
An international array of designers were worn, though, as always, many of the gorgeously attired women supported local couture designers like Azadeh, Karen Caldwell, Colleen Quen, and Lily Samii.
Other designers represented included Carmen Marc Valvo, worn by Gala Décor Chair Leslie Ryder; Diane von Furstenberg, worn by Julie Dolan; David Meister, worn by Cathy Goodman; Siri, worn by Joilene Grove and designer Beverley Siri Borelli; Badgley Mischka, worn by Marie Hurabiell; Helen Morley, worn by Rhonda Mahendroo; and Mary Katrantzou, worn by Tanya Powell.

PRE-PERFORMANCE DINNER
Despite the many social events held at City Hall, each time you walk in it never looks the same; the space is transformed by a different theme and décor. Tonight, Blue Hill Special Events used eclectic colors, furnishings, and sculptural elements to reflect the evening's international theme.
The City Hall Rotunda and the Rotunda Mezzanine, where dinner was served, were particularly dazzling; awash in tempered orange and purple, the lighting cast a warm glow over the scene, and the lotus-like chandeliers caught everyone's attention. The grand staircase was carpeted in vivid hues of yellow, orange, and royal blue, and lights projecting compasses onto the soaring walls created a dramatic setting.
Table settings included golden-accented crystal candelabras and arrangements of light green orchids and orange roses, complementing the color scheme.
Diners feasted on caterer Dan McCall's elegantly presented dishes with wine pairings of Chardonnay and Cabernet Sauvignon generously donated by William Hill Estate Winery. Other donors included Crystal Geyser spring water and Blue Angel Vodka.
Believe it or not, we didn't feel rushed at all, and after dinner we leisurely walked across Van Ness to the War Memorial Opera House. Thankfully, the police held up the traffic so we could cross mid-street to make the 8 p.m. curtain call.

THE BALLET PROGRAM
As is the tradition, the evening began with the playing of the "Star Spangled Banner." Then Board Chair John Osterweis welcomed us all, saying the night was to be "artistically challenging with such a diverse program."
The gala selections are always chosen to highlight the company's artistic and technical skills. This year's program included works by German, Russian, and French composers, as well as SF Ballet Artistic Director and Principal Choreographer Helgi Tomasson.
Helgi came to San Francisco 28 years ago via the New York City Ballet, where he was a principal dancer under the direction of legendary choreographers Jerome Robbins and George Balanchine.
Instead of a full-length ballet, the performance showcased a collection of eleven short vignettes lasting from three to twelve minutes. The briskly paced program kept the audience on its toes. One supporter crowed, "They listened to us; we want to see classical dancing too."
Over and over, I heard attendees say that this was one of the best openings ever. Lois Lehman, of the society must-read paper, Nob Hill Gazette, proclaimed that she's been attending since the 1970s and this was "one of the best programs ever…a great mix of styles, quick-paced, very special."
Trustee Emeritus and former gala chair Pamela Joyner, who's also on the board of the New York City Ballet, said, "I feel fortunate to enjoy ballet that is danced at this level, as I have great enthusiasm for the art form and the warmest regard for the artists who share their talents with us."
The dancers made it all look so simple, but they are in full control of every limb. But dancing takes its toll; it's easy to forget what these dancers sacrifice to pursue their passion.
I sat next to physical therapist Coleman O'Leary, who works with the dancers. He said dancers work as hard as any professional athlete. They must be "both highly conditioned and highly talented." As dancers push their bodies, they suffer many injuries, but still dance for their passion and our enjoyment.

AFTER-PARTY BACK AT CITY HALL
After the final curtain calls, festivities continued at the post-performance party back at City Hall. This dazzling gala is always elegant, yet still relaxed and fun too. It's one of the more exciting evenings, as it attracts supporters of all ages and walks of life.
It's especially entertaining to observe the crowd that comes just for the after-party; it's a very diverse group, dressed stylishly in suits and gowns and with an attitude that they're going to have fun.
An open bar and free-flowing libations seemed a bargain at $100 for SF Ballet subscribers and $125 for others, as it was open to the public—an oh-so-clever way to entice a young crowd of prospective ballet supporters.
It seemed like every young attractive person in town was in attendance; I'm sure the booming tech industry's young members have added new energy to the mix.
In contrast to noisy, crowded clubs in which you can't hear the person next to you, here partygoers seemed to enjoy conversation and seeing friends in this gracious atmosphere.

FLASH MOB
Adding even more pizzazz to the evening and again catering to the younger tastes, at 11:30 the dancing and conversations were halted when a flash mob took to the dance floor and led guests in a performance choreographed by European reggae star Heath Hunter, who studied modern ballet at the London Contemporary Dance School.

PARTYING ALL NIGHT
Stoked with plenty of food to sustain their energy, many partied on until the drinks stopped at 1 a.m. and the lights were turned back on.
Staying to the very end, board member Carl Pascarella and his wife Yuri were some of the last to leave, even though he had early morning meetings.
Yuri said, "Tonight is a sample of what the company can do to entice more people…not only classical Balanchine, but bits of everything to introduce the season."
Said Board Member O.J. Shansby, "I just love this gala. The ballet is off to a stellar season. Nijinsky and Cinderella add extra excitement to their 80th year."
These kinds of events show that the art form can be a fun and young activity and that the SF Ballet really offers more than just ballet.
What's not to enjoy? An old-world glam evening, with a exquisite dinner in a romantic setting, and brilliant ballet dancing and choreography accompanied by beautiful music. Yes, it was another extraordinary opening night gala for a resplendent evening of sublime performance perfection.

SEEN IN THE CROWD
Kudos to the chairs who put together such a memorable evening: Honorary Committee Co-Chairs Mary Jo and Dick Kovacevich, Auxiliary Gala Committee Chair Deborah Taylor, Dinner Chair Mrs. Alexander Leff, Décor Chair Leslie Ryder, and Allegro Steering Committee Chair Erin Glenn, as well as ENCORE! (for the younger social set) Gala Chair Jane Burkhard and ENCORE! Gala Committee members Bridget Dixon, Robin Farmanfarmaian, Marie Carr, Kelly Cramer, Greer Goings, and Lina Ochman.
The A-list crowd included: Auxiliary President Jennifer Brandenburg with her husband William, Honorary Committee Member Brenda Jewett and her husband George; power couple George and Charlotte Shultz; and Wilkes Bashford, who hosted the launch party.
Other balletomanes included Yahoo! founder Jerry Yang and wife Akiko Yamazaki; Pam Baer and SF Giants President Larry Baer; Charles de Guigne; Carolyn and Alex Mehran; and Joy Bianchi, with the best vintage wardrobe in town, wearing a Ralph Rucci green jacket that he would love to have back for his archives.
In this difficult economic climate for fundraising, it's especially important to thank the generous sponsors this year:
Lead Sponsor Pacific Gas & Electric Company; Grand Benefactor Dinner Sponsor Bank of America; Benefactor Dinner Sponsor KPMG; Patron Dinner Sponsor J. P. Morgan; After-Party Sponsor HSBC; Media Sponsors Nob Hill Gazette and Scene; Invitation Sponsor Pacific Union – Christie's International Real Estate; Grand Benefactor & Benefactor Party Host Peter Rothen (Consul General of the Federal Republic of Germany) and Mrs. Gerlind Rothen; and Patron Party Host Bart van Bolhuis (Consul General of the Kingdom of the Netherlands).
Photos by Jeanne Lawrence and Drew Altizer. All ballet performance photos by Erik Tomasson.
*Urbanite Jeanne Lawrence reports on lifestyle and travel from her homes in San Francisco, Shanghai, and New York, and wherever else she finds a good story.