Back from another extended stay in endlessly fascinating and ever-changing Shanghai, I'm posting another installment of some of the social, cultural, culinary, and travel highlights.

TRAVELING TO EAT
Travel is my passion. It's a chance to experience other cultures, traditions, art, music, history—and especially food. I can't think of a better way to get the flavor of a country than by sampling its cuisine.
From haute cuisine to street food, all around the globe I love the adventure of being introduced to unfamiliar dishes … well, not too unfamiliar. I don't just love tasting everything, but also learning about the local markets, exotic ingredients, and indigenous cooking methods.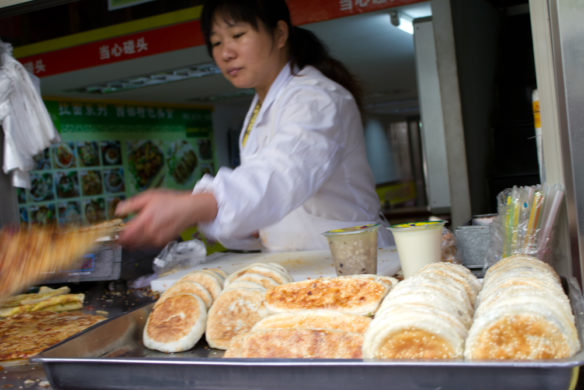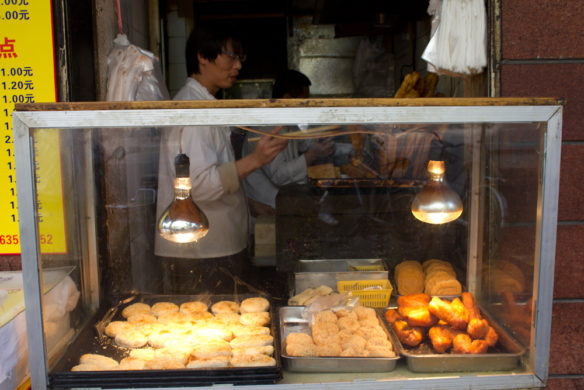 CHINESE FOOD CULTURE
Because I want to experience authentic local cuisine and learn its history, I try to take a cooking class in whatever country I'm visiting.
From living in Shanghai, I've learned how important it is to dine together and enjoy good food.

CHINESE COOKING WORKSHOP
I've taken a number of cooking classes in Shanghai, many at the Chinese Cooking Workshop School. It offers demonstrations and lessons in the cooking styles of various Chinese regions (Sichuan, Canton, and Huaiyang), along with Thai and some other foreign cuisines.
When I saw them on the schedule, I immediately signed up for "Wet Market" and "Shanghai Cuisine" classes—the first because I had no idea what the term meant and the second because I wanted to get familiar with the cooking style of this amazing city.

"WET MARKET" (or Greenmarket)
A "Wet Market," I learned, is an Asian term for a greenmarket, named for the high amount of water used to keep the fruits and vegetables wet and fresh, to keep the fish and shellfish alive, and to wash down the floors.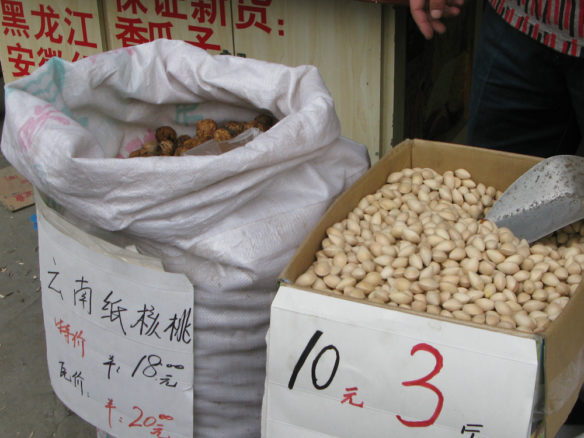 VARIETIES OF PRODUCTS
I was amazed by the choices available: so many breeds of poultry and types of meat; such a variety of colored eggs—blues, creams, and browns; and such a selection of pickled vegetables, spices, noodles, and teas.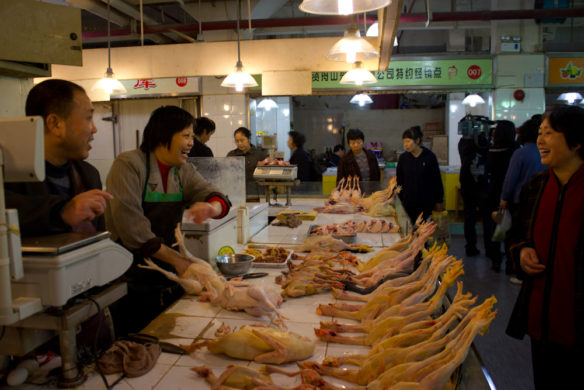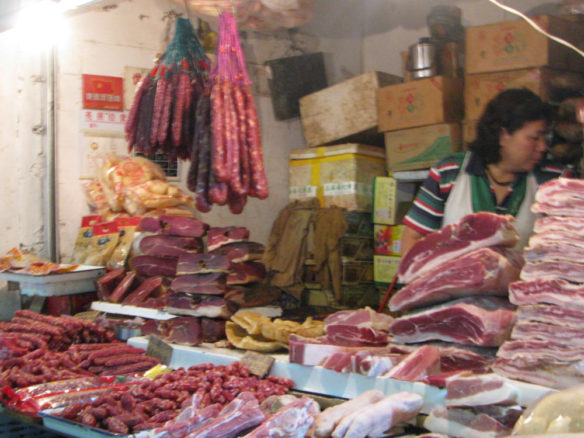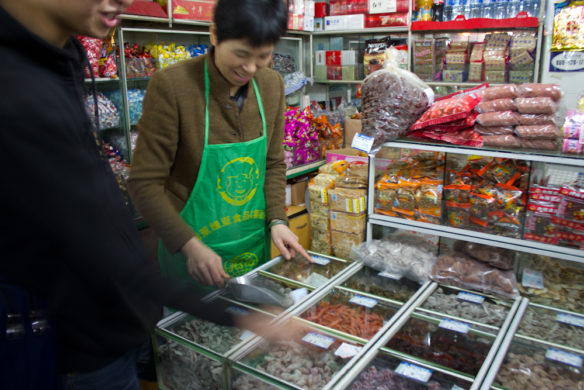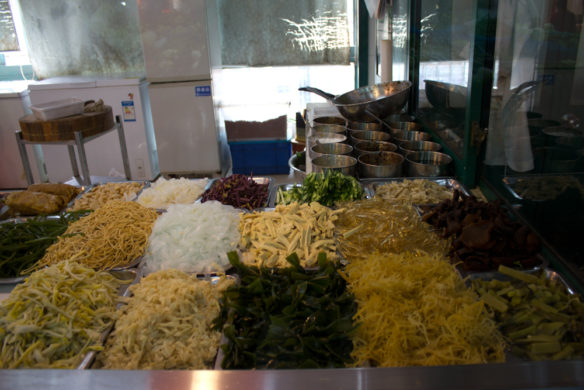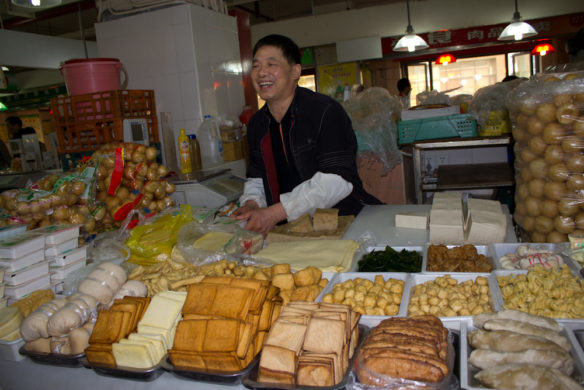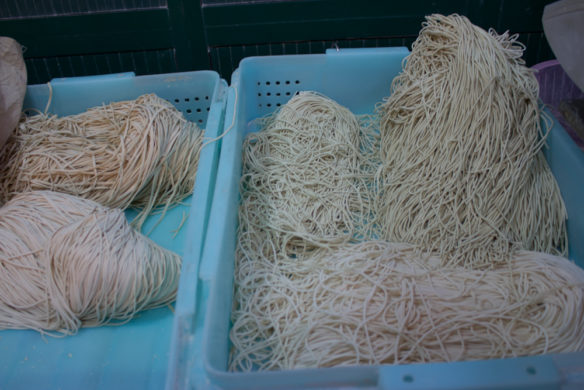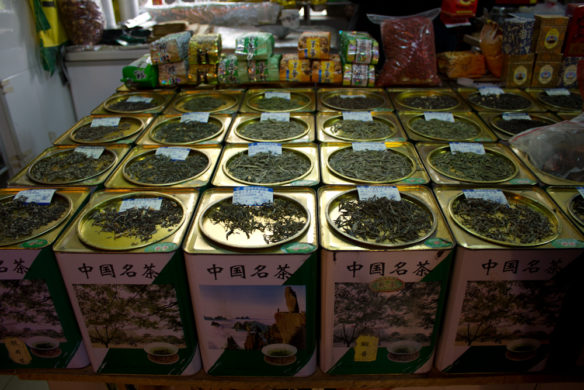 HAIRY CRAB SEASON
As October through November is the season for hairy crabs, a Shanghai specialty, we saw them for sale all over town.

OUR COOKING CLASSROOM
After picking up seasonal groceries, we headed back to the classroom, then located in an old Shanghai neighborhood. The area has since been razed, probably for another high-rise office building, so the classroom has been moved elsewhere.

SHANGHAINESE CUISINE
Since this was my introduction to cooking Shanghainese cuisine, I wasn't sure what to expect.
Turns out Shanghai does not have a cuisine of its own, but is influenced by the cooking styles of the surrounding provinces. Because it faces the East China Sea, seafood, along with local freshwater crabs, oysters, and fish, is very popular here.
Shanghainese cuisine is characterized by a generous use of soy sauce, sugar, rice wine, and rice vinegar. The use of sugar, the "secret ingredient," is unique to Shanghainese cuisine. Combined with soy sauce, it infuses foods and sauces with a savory rather than sweet taste.
Thus the Shanghainese meal we prepared consisted of a fish with sweet and sour sauce, fragrant and spicy squid, and stir-fried greens.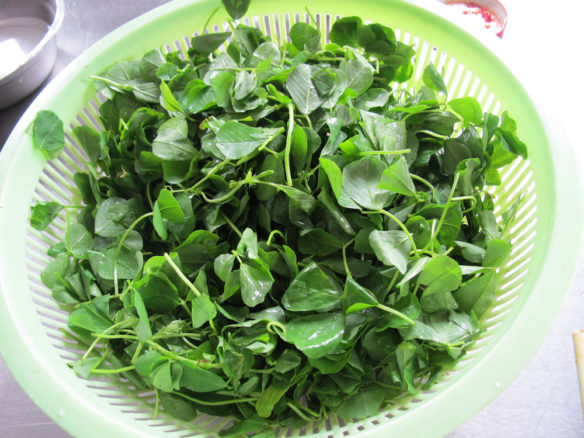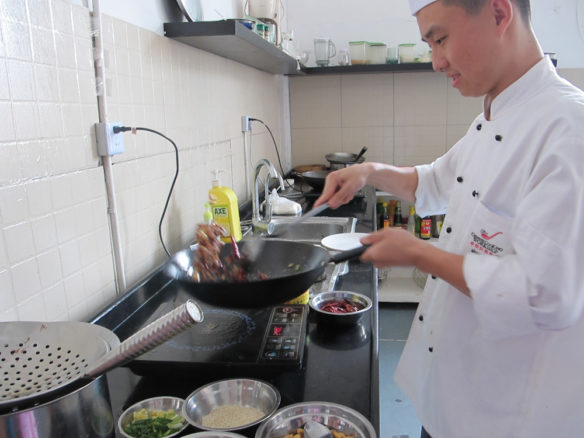 THE "SQUIRREL-SHAPED" MANDARIN FISH

CHINESE DIM SUM – MAKING DUMPLINGS
Each class teaches me something new; and knowing about the ingredients (their provenance and when they are in season) and the methods of cooking also adds to my appreciation of Chinese cuisine.
In a dim sum class, I tried again to make a perfectly formed dumpling. I'm getting better at it, but the instructors say to get it down pat takes five or six sessions. We'll see.
Among the many types of dumplings the teacher demonstrated were four-happiness dumplings, hat-shaped dumplings, and the Shanghai specialty, Xiao Long Bao, also called "soup dumplings."
After seeing how much work is involved, I now really appreciate why people recall so fondly memories of their grandmothers preparing special dumplings for the many Chinese holidays.

RECOMMENDATIONS
If you don't speak Chinese, taking a cooking class is a clever way to learn how the locals shop and an opportunity to taste authentic Chinese cuisine instead of the Americanized takeout version we get in the West.
Everything we used was fresh from the market, we learned how to prepare genuine regional dishes, and, best of all, we had a lovely home-cooked lunch—a morning to savor!

GL JAPANESE PLAZA SUPERMARKET
While the produce looks good, the local markets are difficult for a foreigner to navigate. They're crowded and the language barrier makes ordering and negotiating difficult. Sometimes it's easier just to go to the supermarket and pay with a credit card!
So on my way home from class, I stopped at GL Japanese Plaza Supermarket in my Xintiandi neighborhood. This supersized store is filled with meats, fish, organic produce, and specialty items; Japanese ingredients, produce, and prepared foods; and other products from around the world.
Many expatriates shop here because of the huge selection and because we are concerned about food safety after recent food scandals with milk and cooking oil in China. We think imported goods are held to higher safety standards. I understand that this is one of the major concerns for the Chinese.
Photographs by Jeanne Lawrence.
*Urbanite Jeanne Lawrence reports on lifestyle and travel from her homes in San Francisco, Shanghai, and New York, and wherever else she finds a good story.