Back from another extended stay in endlessly fascinating and ever-changing Shanghai, I'm posting another installment of some of the social, cultural, culinary, and travel highlights.

ZHUJIAJIAO'S HISTORY
Zhujiajiao, founded more than 1,700 years ago, was an important trading center during the Ming (1368–1644) and Qing (1644–1911) dynasties.
Its impressive canal system was originally built for irrigation and travel. Today it is a town of 60,000 with gondolas, arched bridges, centuries-old architecture, and picturesque lanes that give it an enduring charm.
On my first visit, a bicycle trip, our guide told us not even to try to pronounce the name, which sounds like "jew ja je-ow." I've returned a few times, most recently for a day of photographing capped off by a private viewing of Oscar-winning Chinese composer Tan Dun's musical production Water Heavens.

A DAY OF PHOTOGRAPHY POINTERS
I had gone to Zhujiajiao for a digital photography course offered by the Shanghai Community Center, a great resource for members of the international expat community who want to delve deeper into Chinese culture and life. I've taken many tours, lectures, and classes there.
We were told to photograph whatever interested us in Zhujiajiao, which offers much enticement. The unique town is so often used as a location for films and television shows that it's been called "the Hollywood of Shanghai."

BRIDGES AND BOATS
Its riverside location made Zhujiajiao an important distribution hub and marketplace in the 1300s.

VIEW FROM A GONDOLA

THE TOWN
A walk through the many streets of Zhujiajiao offers numerous delights, especially along the main thoroughfare or Dajie (North Street), lined with shop after shop.
Strolling through the narrow lanes, you'll find tiny cafés down back alleys, teahouses, hole-in-the-wall souvenir stores, and houses dating back a hundred years or more.

SHOPPING & TOURIST AREAS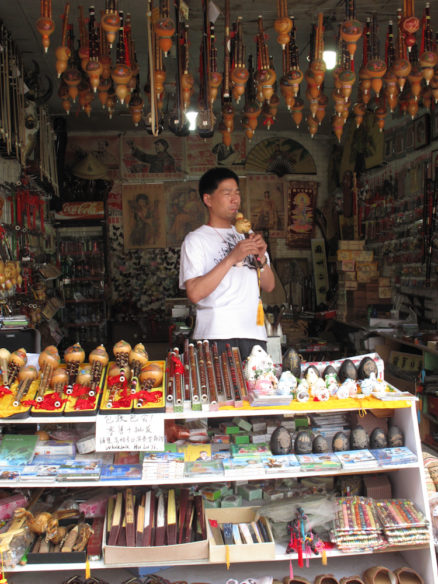 There are many antiques stores to browse and, if you have a good eye, great finds.

STREET FOOD
The food stalls that line the narrow streets gave us ample opportunity to sample some local delicacies and offered me a terrific chance to do food photography, one of my special interests.

TIME FOR LUNCH

MUSEUMS

OFF THE BEATEN TRACK
If you walk past the crowds and the main streets, you will discover tourist-free, quiet alleys where mostly elderly residents remain, the younger generation having decamped for the city.
Here you can still witness a way of life that is disappearing as the country modernizes.

CONSTRUCTION & RENOVATION
Zhujiajiao is very popular with tourists thanks to its close proximity to Shanghai, so more and more shops are replacing homes and its authenticity is in danger of disappearing.
I understand there's a new large-scale shopping and entertainment development. That and the construction of new housing may turn the area into just another modern Shanghai suburb rather than a genuine historic town.

WATER HEAVENS EVENING PERFORMANCE IN ZHUJIAJIAO
After a day of taking photographs and roaming the town, I met up with friends to watch a private musical performance, Water Heavens, in Zhujiajiao's Water Music Hall.
The show was created and produced by Chinese-American Tan Dun, the Oscar-winning composer of scores for Ang Lee's Crouching Tiger, Hidden Dragon and Zhang Yimou's Hero.
Enjoying the special privilege of a private show with the composer himself, our group included music patrons Dolly and Victor Woo, visiting from San Diego, and Shirley Young. Dubbed the "Chinese Ambassador of Culture" because of her involvement with Chinese-American cultural exchange, Shirley divides her time between New York City and Shanghai.
Listening to this water percussion masterpiece was one of my most memorable experiences in Shanghai.

THE MAGICAL SETTING
With Tan Dun's vision, Isozaki Studio transformed an unused ancient house into a performance hall, maintaining the influence of ancient houses and furniture.

THE WATER-INSTRUMENT ORCHESTRA
Since childhood, Tan Dun has been fascinated by water and the natural music it makes. At La Jolla's SummerFest in 2012, where his work Water Passion after St. Matthew was performed, he asked, "Since the sounds of water are so beautiful, why do you need instruments?"

CHANTING MONKS AND BACH
The combined sounds of Bach being played on string instruments and the chanting of the monks created an ethereal harmony that gave me goose bumps. This scene was reflected in the pool of water and the image will linger forever in my mind.

OTHER MOVEMENTS
The second piece was "Water Rock and Roll," during which the sounds of heavy rain coming down from the dome's oculus hit the floor like sounds of thunder.
The third movement, "String Quartet and Pipa," featured the traditional four-stringed Chinese instrument that is similar to a lute.
The fourth and last movement, "Four Seasons of Zen," merged the sounds of gentle rainfall with the singing of the monks and the ringing of temple bells.
What an imaginative idea to use water elements to create music. "In Water Heavens, music can be seen and architecture can be heard," Tan Dun said. It was an overwhelming auditory and visual treat.

MY RECOMMENDATIONS
Avoid weekend visits and peak visiting hours during the late morning and early afternoon. Crowds thin in late afternoon, which is prime time to stroll around, stop at a teahouse, and enjoy the especially magical dusk hours.
If you visit Zhujiajiao between April and December, be sure to see one of Tan Dun's musical performances. Touring the town and hearing the music would make for a very special day's outing.
Photographs by Jeanne Lawrence and Zhang Yi.
*Urbanite Jeanne Lawrence reports on lifestyle and travel from her homes in San Francisco, Shanghai, and New York, and wherever else she finds a good story.