TERRA COTTA WARRIORS AT ASIAN ART MUSEUM
Through the end of May, the Asian Art Museum (AAM) of San Francisco is exhibiting terra cotta warrior statues from the tomb of China's first emperor, Qin Shi Huang (259-206 BCE), who unified the country in 221 BCE.
The exhibit explores the emperor's reign and influence. Qin leaders, much like the Egyptian Pharaohs, were buried with their wealth so they could carry it into the afterlife.
Discovered in 1974 in Xi'an in northern China by farmers digging a well, Emperor Qin's riches-filled tomb is guarded by more than 7,000 life-size terra cotta warriors, horses, chariots, and more than 10,000 weapons, with more excavation continuing today.

MY TRIP TO XI'AN, CHINA
While living in China, I've visited the original terra cotta warriors several times over the years. Archeologists have carefully excavated the pits where rows of warriors were discovered. Some are in good condition, but others are damaged, and a protective cover was built to protect that which is unearthed.
The find was designated a UNESCO World Heritage Site in 1987 and is sometimes referred to as the Eighth Wonder of the World.

TERRA COTTA WARRIORS EXHIBIT
The AAM has eight warriors and two horses on display along with more than 100 artifacts of the era. The exhibit is organized into four themes—Immortality, Innovation, Archaeology, and Unification—exploring the emperor's vision and his contribution to historical and modern-day China.

ANOTHER POINT OF VIEW
On my last visit to the exhibit, I was joined by my friend Tatiana Sorokko, who chaired the AAM Maharaja Gala (2011). It's always fun to go with another person since you get another viewpoint.
While I was studying the captions and thinking about their historic significance, Tatiana, an editor for Harper's Bazaar, was considering the figures' role in fashion. She whipped out her iPhone and sent a photo of the detail of the sleeves of a general's uniform to her favorite designer in New York, Ralph Rucci.
She wanted Ralph to design a dress for her using these sleeves as inspiration. Ralph was also fascinated by the chained armor; I wonder how he'll recreate it?

SAN FRANCISCO DECORATOR SHOWCASE
The 2013 San Francisco Decorator Showcase kicked off with a sponsors' opening night preview party at the historic Herbst Manor in the exclusive Pacific Heights neighborhood. The show is open until May 27.
The Georgian mansion, built in 1899 by Ernest Coxhead, has more than 8,000 square feet of spacious rooms, a dramatic grand stairway, outdoor terraces and gardens, and sweeping panoramic views of San Francisco Bay and the city. With so much space, the 27 selected designers had room to let their imaginations fly.
In the lovely garden, guests enjoyed drinks and plentiful hors d'oeuvres provided by McCalls caterers. Guests nibbled on caviar, oysters, and rack of lamb—if only I had known there'd be so much food, I would have planned on dinner there.
Benefitting San Francisco's University High School Financial Aid Program, the SF Decorator Showcase selects a different estate every year, and then invites a select group of interior and landscape designers to transform spaces within the site.

SERGE SOROKKO GALLERY OPENINGS
It was a busy season for the Serge Sorokko Gallery: It hosted a stunning exhibition of work by New York-based painter Hunt Slonem, followed by an impressive selection of works by Belgian mixed media artist Isabelle de Borchgrave.
For each artist, fans turned out for a private opening night reception, enjoying cocktails, hobnobbing with the artists, and getting a first look at the works on display.

HUNT SLONEM
The Worlds of Hunt Slonem featured more than 30 of Hunt's latest neo-expressionist paintings, and marked his return to the Sorokko Gallery after 16 years.
Influenced by life in New York and his personal aviary of 30 to 100 live birds, the artist's paintings frequently convey an appreciation for nature. His bird and rabbit paintings, especially, are favorites among collectors.
Hunt's work is often seen in the culinary scene. One of his early works (and also his largest) is the 86-foot-long birds mural in New York's Bryant Park Grill Restaurant.
West coast chef Gary Danko, who catered the gallery preview, is a longtime friend and fan: Some of Hunt's paintings hang in his upscale San Francisco eatery, Gary Danko. Hunt has also designed the wine label for Napa Valley winery Amuse Bouche's 2009 Merlot.
April was a big month for Hunt. In addition to the opening of his show at the Sorokko Gallery, he was honored with the "Award of Excellence" from the Horticultural Society of New York at its annual Flower Show Dinner Dance, and received a "Lifetime Cultural Achievement Award," created in his honor, from the Louisiana State Arts Council and Governor Bobby Jindal.

ISABELLE DE BORCHGRAVE
Next at the Sorokko Gallery, the internationally renowned Isabelle de Borchgrave displayed her works of paper. She crafts three-dimensional, tactile masterpieces that beg to be touched.
Influenced by international travels, the colors and textures of her work reflect the many locales she's visited.
"My work is a confluence of influences—paper, painting, sculptor, textiles, costume, illusion, and trompe l'oeil," she says.
I was first introduced to her work during a fabulous retrospective at San Francisco's Palace of the Legion of Honor Museum in 2011. Pulp Fashion: The Art of Isabelle de Borchgrave was the museum's most attended show that year.
Isabelle de Borchgrave: New Paintings and Sculptures included a selection of the artist's paintings, works on paper, paper sculptures, and bronzes—the first time her bronzes have ever been displayed in the U.S.
Her gorgeous pleated gowns, created with paper, were inspired by fashion designer Mariano Fortuny's early-20th-century "Delphos" dresses, finely pleated silk frocks based on classical Greek statues.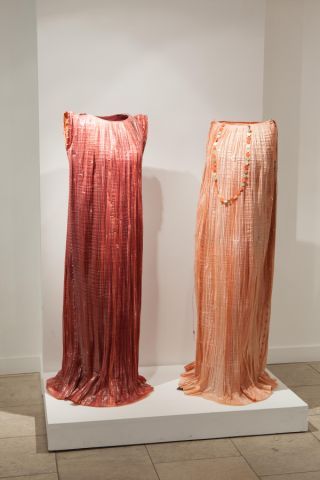 GUCCI CELEBRATES ITS ANNIVERSARY AND THE BAY LIGHTS
The Italian luxury brand Gucci held a party at its San Francisco flagship store to celebrate the 60th anniversary of the brand's horsebit shoe—the iconic equestrian-style loafer with a double ring and bar motif.
Hosted by the city's movers and shakers Sloan and Roger Barnett, Sabrina Buell and Yves Behar, Jean-Pierre Conte, and Alison and Mark Pincus, the evening was to benefit the "The Bay Lights," the stunning light installation on the San Francisco–Oakland Bay Bridge.
With this stellar committee and with PR wiz Allison Speer's help, all the "beautiful young things" showed up and it seemed more like an exclusive cocktail party than a typical store event.
Visiting New Yorker Aileen Agopian (Sotheby's Senior International Specialist of Contemporary Art), accompanied by colleague Jennifer Beiderbeck (Director of the San Francisco office), was impressed by how fashionably the guests were dressed at this glamorous and high-energy party.
The classic Gucci horsebit loafer debuted in 1953 and was soon seen gracing the feet of celebrities such as Clark Gable, John Wayne, and Fred Astair. In 1985, the iconic shoe was adopted into the permanent collection of the costume institute at New York's Metropolitan Museum of Art.
Today the loafer is available in numerous materials—suede, patent leather, and python—and it was announced that you can now even customize the shoe, so it really is uniquely yours.
Ricky Serbin, of online luxury retailer 1stdibs, exclaimed, "Talk about 'light on his loafers. To me, Gucci shoes are the most comfortable."
Of course Florentine-born Maria Manetti Shrem was in attendance, as she once established 12 Gucci stores at the now closed but much missed upscale department stores Joseph Magnin.
Other Gucci party guests included Adria Bini, Willie Brown, Glen and April Bucksbaum, Carla Emil, Ken Fulk, Peter Hirshberg, Jenna Hunt, Sonya Molodetskaya, Alison Sonsini, Steve and Mary Swig, Jeana Toney, Alexis and Trevor Traina, and many others.
Photos by Jeanne Lawrence, Drew Altizer, Darryl Kirchner, Serge Sorokko Gallery, Rebecca Kmiec, Christopher Stark, Drew Kelly, and Lucas Saugen.
*Urbanite Jeanne Lawrence reports on lifestyle and travel from her homes in San Francisco, Shanghai, and New York, and wherever else she finds a good story.