THE EXPLORATORIUM
One evening, some friends and I headed over to Pier 15 to try out the new Seaglass Restaurant at the newly opened Exploratorium museum that enjoyed its grand opening on April 17, 2013.
The beloved Exploratorium was based for 40 years in the Palace of Fine Arts, a building dating back to the 1915 San Francisco World's Fair. It is an interactive museum of art, science, and human perception, founded by Frank Oppenheimer in 1969 to make science fun for all ages.
The Exploratorium needed an update. Instead of renovating the old space, after much discussion, it was decided to move it to the Embarcadero, the stretch along the city's eastern waterfront. I predict it's going to be one of the most popular destinations for all.

DINING AT SEAGLASS RESTAURANT
Created by Executive Chef Loretta Keller and Operational Partner Clay Reynolds (both of iconic Coco500 restaurant), the glass-enclosed Seaglass restaurant seats nearly 200 diners and offers a stunning view of the Bay, including Treasure Island and the sparkling Bay Bridge.
Seaglass is a welcome addition to a neighborhood where there's a shortage of good eating options and is a destination to consider even if you're not visiting the Exploratorium.

PLAYING AT THE EXPLORATORIUM
After dinner, we were delighted to discover that the Exploratorium was still open, as we had arrived for "After Dark," a program on the first Thursday of the month during which the museum stays open from 6 to 10 p.m. The regular event features a cash bar, screenings, and more for visitors over 18. (We qualified.)
The first interactive science museum, the Exploratorium in its new incarnation "remains the most important science museum to have opened since the mid-20th century," reported The New York Times in April.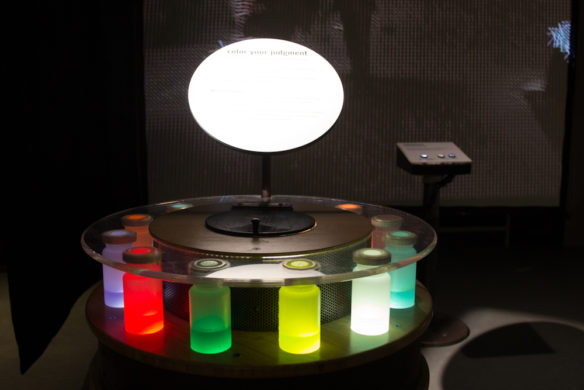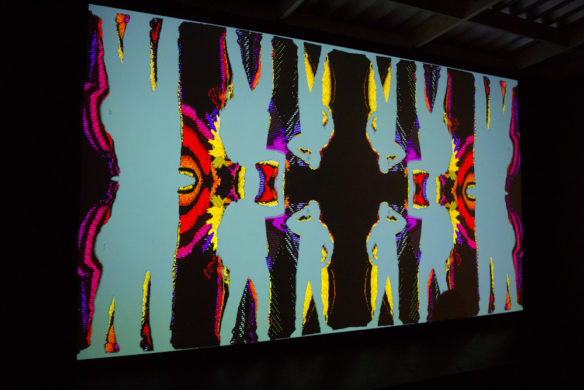 GOLDMAN ENVIRONMENTAL PRIZE CEREMONY
On another spring evening, I attended the prestigious Goldman Environmental Prize award ceremony at San Francisco's War Memorial Opera House, where six environmental activists and heroes were being honored.
Established by Richard and Rhoda Goldman in 1989, the Prize, known as the "Green Nobel," is now in its 24th year. The late philanthropic couple had decided that protecting the environment was an area in which they could make the greatest impact.
The Goldman Prize honors activists who undertake grassroots environmental efforts, often at their own personal risk. With a cash award of $150,000, it is the largest award given in this area.
To date, the Goldman family foundation has donated over $700 million to various causes and prizes have been awarded to 157 environmental heroes from 82 countries.

THE GOLDMAN FAMILY
At the beginning of the ceremony, the Goldman family welcomed the crowd. Foundation President Doug Goldman asked for a moment of silence for the victims of the Boston Marathon bombings, which had taken place earlier that day.
He stated emphatically that the next generation of the Goldman family will continue awarding prizes. His siblings John Goldman of San Francisco and Susan Gelman of Washington D.C., and their families are all deeply involved with this program.

PROGRAM
The MC was the environmental advocate and CNN correspondent Philippe Cousteau, grandson of scientist Jacques Cousteau. The evening featured video profiles of the honored activists and stirring speeches that conveyed the message that even the smallest voice can make a difference.
The honorees' stories of courage are emotionally moving; individually and collectively they have made an impressive impact.

RECIPIENTS
The six individuals honored include South Africa's Jonathan Deal, who led a campaign to keep hydrofracking out of the Karoo region; Iraq's Azzam Alwash, who restored lush Iraqi marshes that had been destroyed under Saddam Hussein's reign; Italy's Rossano Ercolini, an elementary school teacher whose campaign about the dangers of incinerators led to a national zero waste policy; Indonesia's Aleta Baun, who organized hundreds of peaceful protesters to stop destructive marble mining operations on the island of Timor; American Kimberly Wasserman, who led a successful campaign to close down two of Chicago's dirtiest coal plants and continues to transform the city's old industrial sites into public green spaces; and Colombia's Nohra Padilla, who fights for the rights of her country's marginalized waste pickers and successfully had them integrated into Columbia's legitimate recycling program.

INTERNATIONAL PERFORMANCE

RECEPTION AT CITY HALL
After the award ceremony, everyone was invited to join the Goldman family across the street at a reception at San Francisco's City Hall.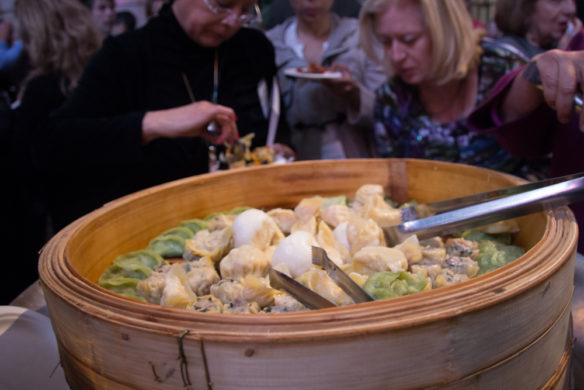 ON TO THE NATION'S CAPITOL
The next day, the Goldman family members flew to Washington D.C., for a smaller ceremony at the Ronald Reagan Building, where they met with San Francisco Congresswoman and House Minority Leader Nancy Pelosi and others.

HEARST'S NEWELL TURNER HOSTS A BOOK PARTY
In town for the Decorator Showcase, New York-based Newell Turner, editor-in-chief of Hearst Design Group since 2012, joined interior decorator Kendall Wilkinson to co-host a book party in honor of chef and House Beautiful food columnist Alex Hitz's new book, My Beverly Hills Kitchen.
This was the second book party I'd attended for Alex; this time the venue was the stunningly decorated Nob Hill home of Cheryl and Ralph Baxter. The newly retired CEO of Orrick, one of the largest law firms globally, Ralph couldn't be in attendance: Instead, he was in his birthplace of West Virginia, contemplating a run for Senate. Stay tuned.
When the Baxters' last child left the nest, they decided to keep a pied-a-terre on Nob Hill and enlisted Kendall Wilkinson, the eminently qualified decorator with 20 years in business and a staff of 16, to turn it into an Art Deco-themed home.
In her Pacific Heights store, Kendall Wilkinson Design & Home, Kendall offers an eclectic mix of luxury home goods, including her own line of Lucite furniture, pillows, and candles.
Newell Turner now oversees Hearst's three shelter publications: Elle Décor, House Beautiful, and Veranda. When Newell, a Mississippi native, introduced Alex, who comes from Atlanta, the two joked that somehow southerners always seem to find each other.
Newell, who is based at Hearst's Manhattan offices, told guests, "I try to come to San Francisco anytime I can—and I'm not just saying that to be polite." Discussing San Francisco's influence on American design, Newell said, "I've been interested in California decorating for years, because I believe that a distinctly American 'look' synthesized here in the '60s and '70s."
He went on to explain that the American aesthetic took shape on the East Coast and was heavily influenced by European traditions, but it changed as the population moved westward.
Design on the West Coast, and in San Francisco in particular, was influenced by the Far East and the more casual California lifestyle, which blurred the lines between indoor and outdoor to blur.
Newell paid tribute to some of the prominent California decorators of the 20th century, among them Michael Taylor, John Dickenson, Frances Adler Elkins, and Tony Duquette, who all played an important role in developing a distinctly American style.
"There was a European or cosmopolitan sensibility to their decorating," he said. "But there was also a playfulness in scale and materials—rough juxtaposed with refined, expensive with inexpensive, and high-brow with low-brow, in addition to the influences of Hollywood."
Guests included the Singapore-born, Paris-based fashion designer Andrew Gn, in town with his 2013 pre-fall collection at the Betty Lin boutique on Sacramento Street in the Pacific Heights neighborhood.
When we were introduced, I didn't catch Gn's name above the cocktail chatter until he said, "You're wearing my jacket." Of course after that we were best of friends. I love his clothes and so I'm sorry I missed his trunk show the next day, hosted by his admirers Juliet de Baubigny, Carolyn Chang, Yuri Pascarella, Allison Speer, and Akiko Yamazaki.
The high-energy book party crowd included young socialites, design hobbyists, and fans of Alex, Kendall, and Newell. "It was a perfect combination of good food, design, and fashion," said Kendall. "The stars were aligned tonight."
As you can see, the crowd was full of visitors from around the world, all in love with design in some way.
Photos by Jeanne Lawrence, Drew Altizer, and the Goldman Environmental Prize.
*Urbanite Jeanne Lawrence reports on lifestyle and travel from her homes in San Francisco, Shanghai, and New York, and wherever else she finds a good story.