BEIJING – Every day in China is an adventure for me, and one of the most fascinating was my visit to the Beijing studio of couturier Guo Pei, a singular talent yet to be introduced to many Westerners.
The gifted Beijing beauty produces some of the most sumptuous and exquisite fashions I have ever seen. Take a look at some works from her recent Beijing show: boldly colored, intricate designs and intriguing silhouettes, masterfully executed by needlework artisans.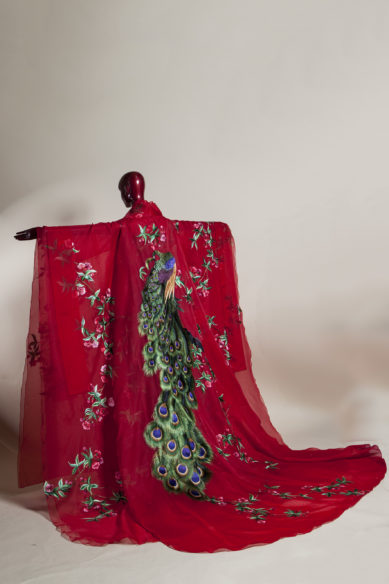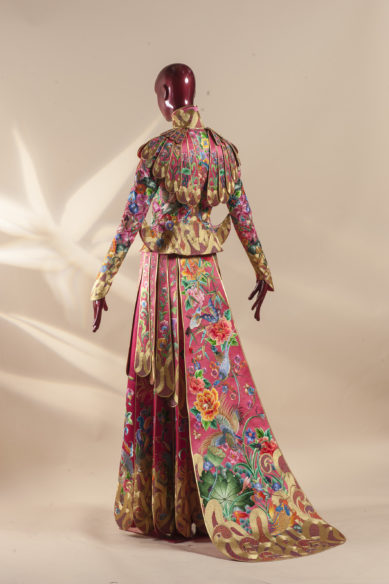 THE EMPRESS OF FASHION
Now 45, and still looking like a college student, Guo Pei was born at the start of the Cultural Revolution, when the drab, functional "Mao" uniforms were obligatory wear. In 1982, at the age of 19, she enrolled at the Beijing Second Light Industry School to study fashion design, influenced by the extravagant costumes she saw in fashion design books.
In 1986, she became one of the first professional designers in China, first working on children's clothing and then graduating to women's wear. By 1997, she had done well enough to open her own Rose Studio (Mei Gui Fang).
China's premier couturier, Guo Pei's luxurious, lavishly embellished clothing is a hit among the country's burgeoning wealthy set.
There was no haute couture in China when Rose Studio opened, but designing high fashion and gowns for entertainers was Guo Pei's dream. The timing was perfect; she launched her career at the dawn of a new "Gilded Age of China."
A new generation of super-rich was emerging, hungry for luxury products and not shy about flaunting their wealth and spending freely in Europe and at home.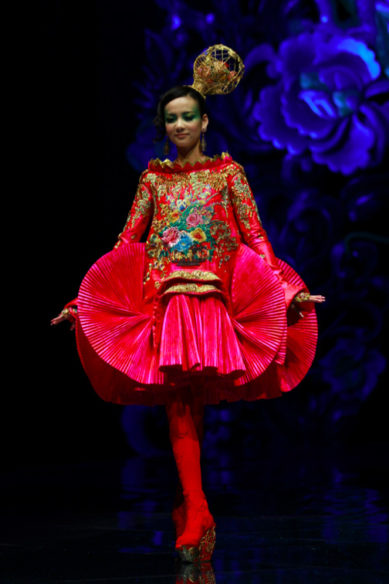 MODERN DESIGNS INFLUENCED BY THE PAST
Guo Pei's work is strongly influenced by traditional court costume: the elaborately embroidered and ornamented, silk and fur-trimmed styles worn by Chinese royalty and their court throughout the various dynasties, especially the Ming and Qing eras (1369-1911).
Many Chinese consumers, who have also been influenced by these traditions, prefer opulent and colorful styles—so unlike what I see in New York, where women often choose sleeker silhouettes, mostly in basic black!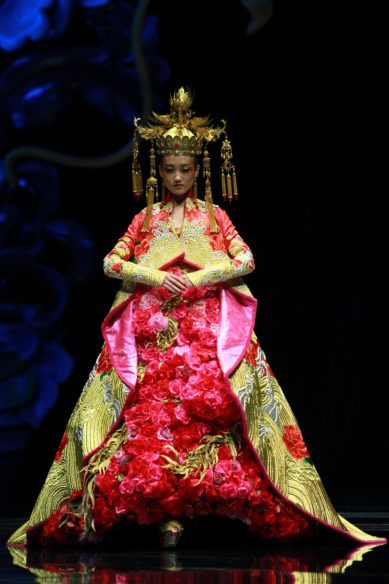 Guo Pei's work is highly original, but brings to mind Valentino, who also loves embroidery, color, and luxurious fabrics, and Alexander McQueen, whose designs are similarly extravagant and sculptural.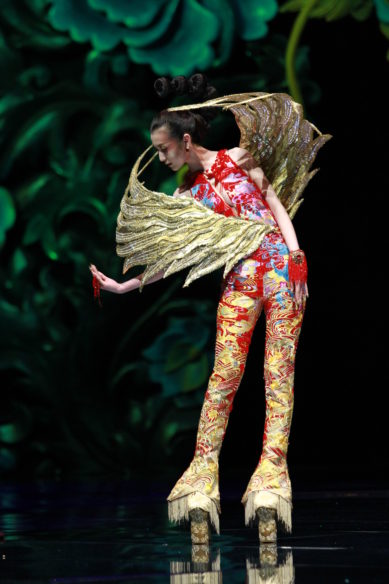 DRESSING THE STARS
Often created for the stage or red carpet, Guo Pei's designs are bright and ornate—not for a shrinking violet. Her clients include singers, actresses, beauty pageant competitors, prominent performers, and anyone who wants to dress to be the center of attention.
They've even caught the eye of Lady Gaga, who was lent a selection of heavily crystal-beaded frocks; but at 40 pounds, they were too heavy for Ms. Gaga to sashay around onstage.

A SERENDIPITOUS MEETING
My friend Carmen Dell'Orefice was the first to mention Guo Pei's name to me. When I admired a blouse she was wearing at a Museum of Arts and Design gala in New York, she told me the designer was Guo Pei, and I made a note to visit her on my next trip to China.
When I next headed to Beijing, I asked my travel agent to make an appointment with Guo Pei, which was not easy. Why didn't I think to ask Carmen to make an introduction?
While in Beijing, I attended a reception at the Belgian Ambassador's home when a glamorous, petite woman caught my eye, as she was so elegantly dressed. A friend introduced us and, coincidentally, I discovered the woman was Guo Pei herself. "I have an appointment with you at your studio tomorrow!" I exclaimed.

AT GUO PEI'S ATELIER, ROSE STUDIO
The next morning, I arrived at Rose Studio, located between central Beijing and the airport. Guo Pei's husband, Cao Bao ("Jack") Jie, came out to greet me and graciously paid for the taxi.
I was expecting a small boutique, but what I found overwhelmed me: a showroom and workshops beyond expectation—a kaleidoscope of colorful fabrics and hand-embroidered, museum-worthy pieces of imaginative design.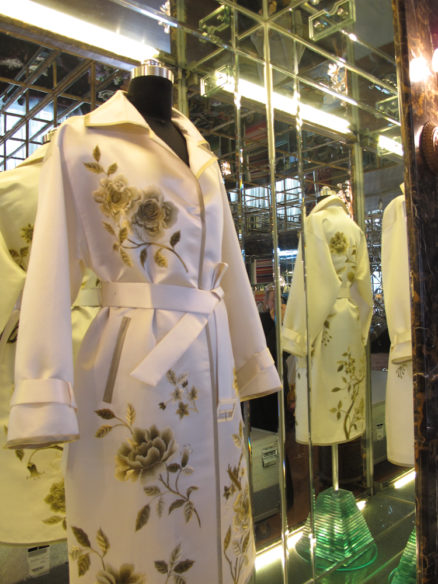 GUO PEI DESIGNS FOR ME

THE BLOUSE

CHOOSING FABRICS

MY GOLDEN JACKET
When you find fashion this perfect, you buy it—who knows when you'll be back? So I added one last item: an exquisitely detailed evening jacket. The hand beading took two women two months to complete.

THE STUDIO SHOWROOM
In her Beijing showroom, Guo Pei's stunning works transport you to another time and place.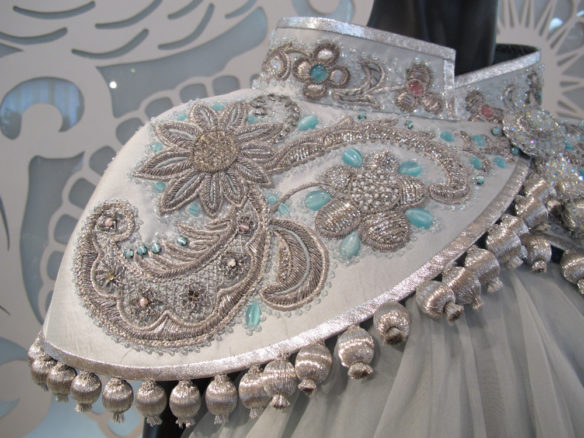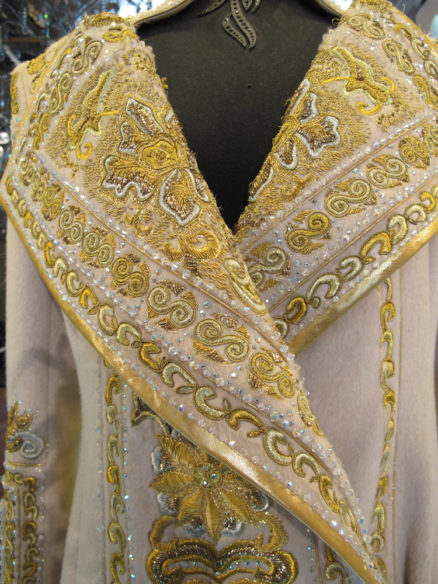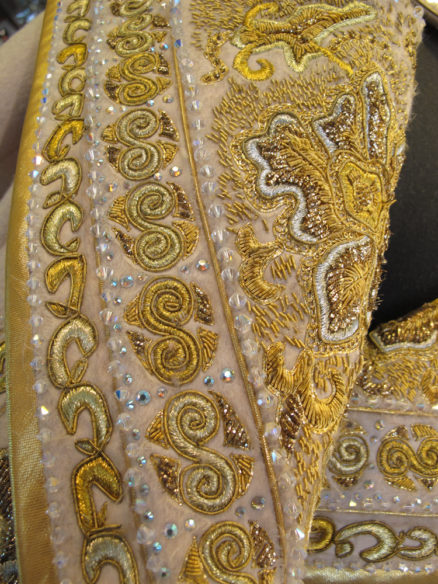 Many of Guo Pei's creations incorporate age-old Chinese motifs such as dragons, phoenixes, and clouds.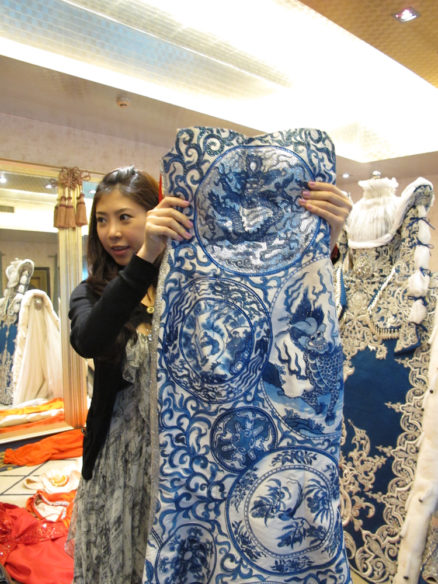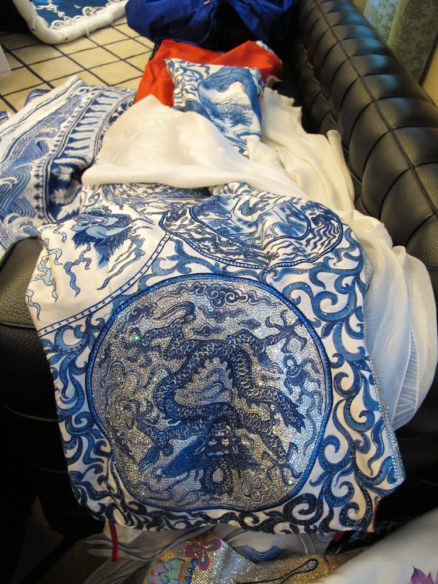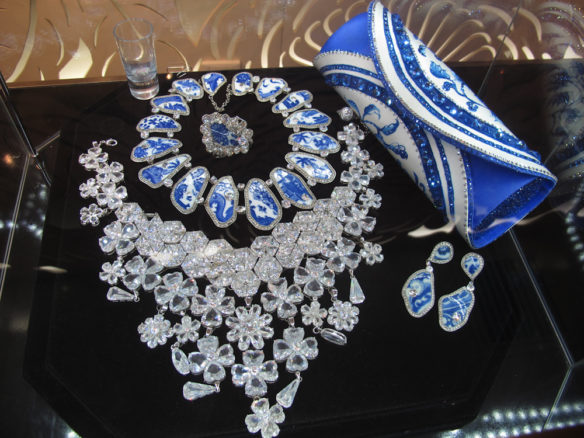 THE WORKROOMS
When Guo Pei offered to take me on a tour of her workshops, I was astonished at what I saw. She has a fashion empire all under one roof, with the workrooms organized by divisions, such as pattern-makers, embroiderers, and jewelers, allowing her to ensure quality by controlling the entire production process.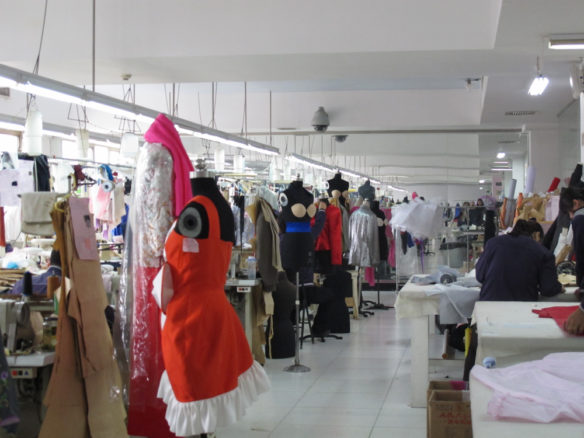 I was flabbergasted to learn she employs 450 craftsmen, some at her atelier and others elsewhere. That includes 150 designers, pattern makers, and sewing technicians, plus 300 embroiderers.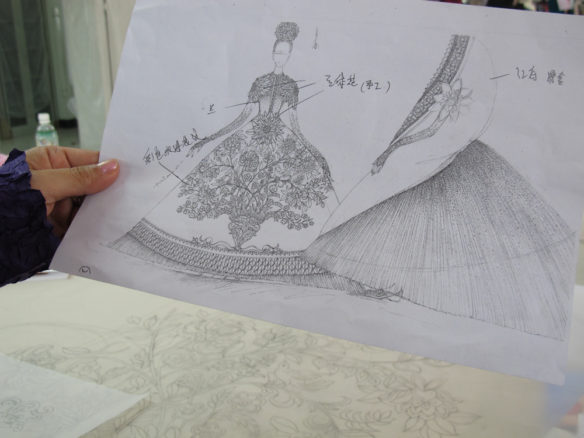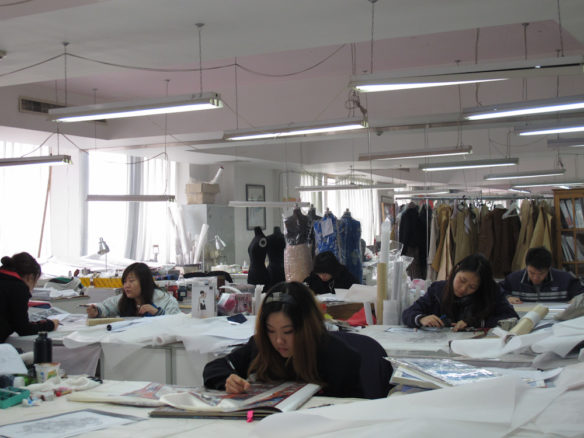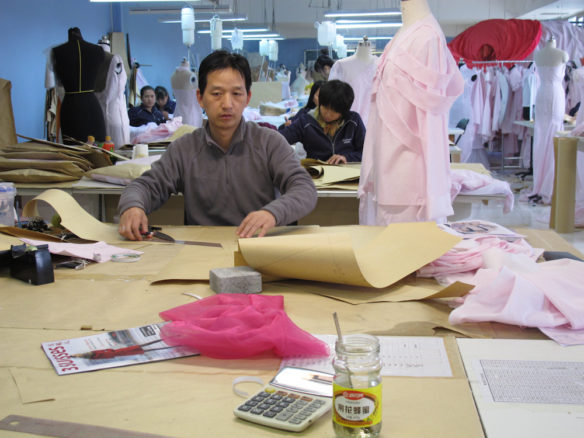 EMBROIDERY
Guo Pei had to train craftspeople to produce her designs, keeping alive the ancient art and craft of embroidering that had become a lost art during the Cultural Revolution. She hopes to make Chinese people proud of their heritage and inspire a greater appreciation for traditional crafts so they will be preserved.
Carmen told me that because it's costly, craftsmanship of this quality has all but disappeared even in French haute couture.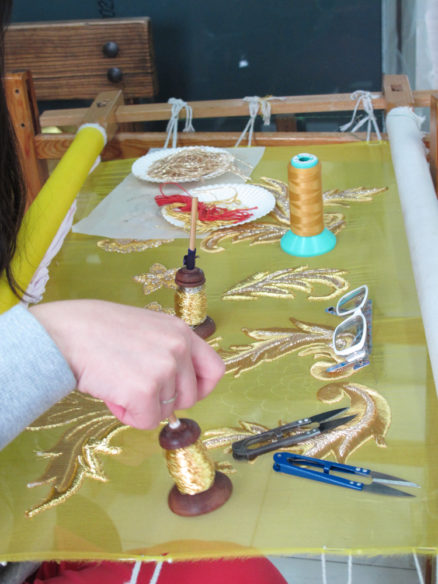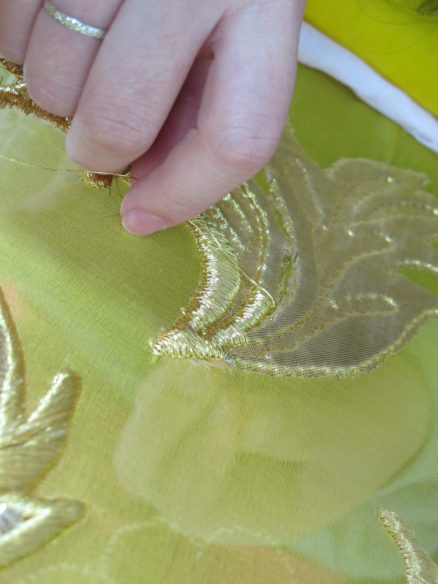 OTHER FASHION ACCESSORIES
Guo Pei couldn't find bold jewelry designs to complement her clothing, so she began to make her own. I noticed that her artisans take great pride in their work.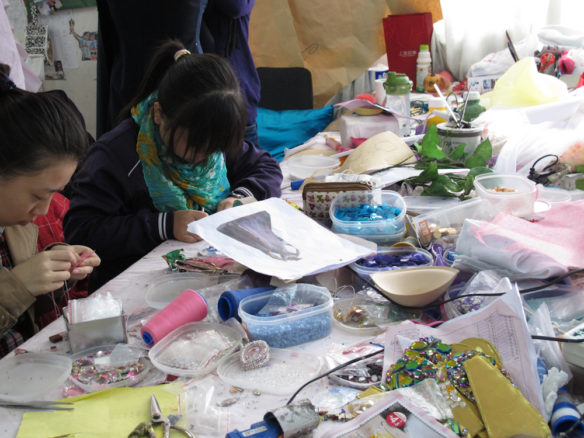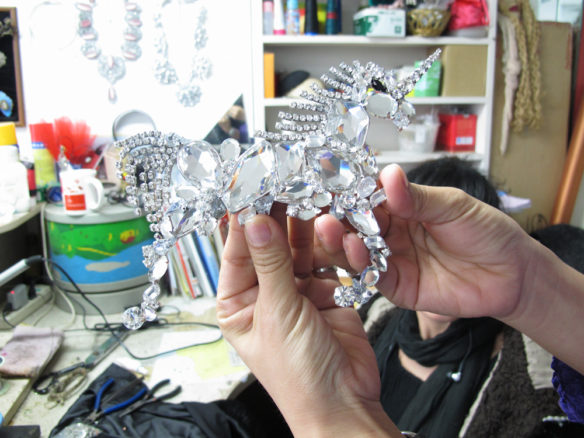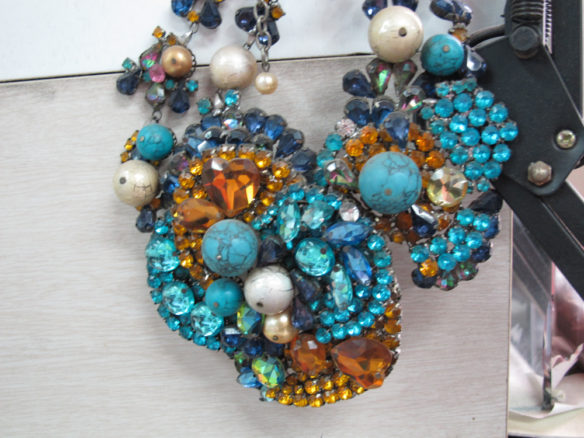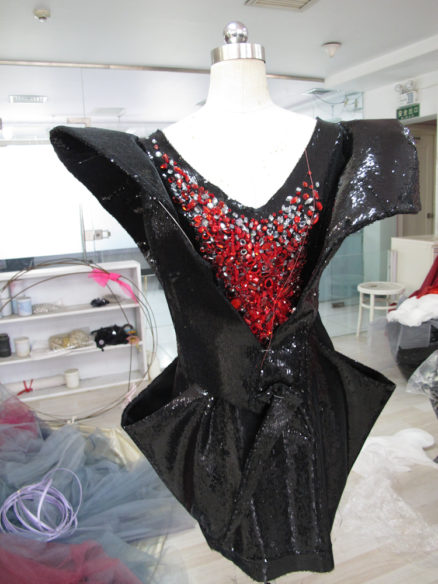 MY BILL
I'll never tell you the price (I'm too embarrassed), but I will say that I'm happy they took an American Express card, which has no limit. And there was an 8 in the final figure, which (I was reminded) is a lucky number.
On this day, I expected to visit only an hour, but the experience was so exciting and eye-opening that I stayed half the day. It was so gracious of Guo Pei to spend so much time with me.

THE FITTING
As I was returning to Shanghai in two days, Guo Pei's workshop rushed to produce the fitting patterns. I stopped at the atelier on the way to the airport and they took me directly to the VIP fitting rooms.

END OF THE ADVENTURE
Despite everyone's attempts to get me to the plane on time, I missed my flight by five minutes. Still, I was able to book another in time to get to a very elaborate dinner party that night at the home of gallerist Pearl Lam. My only regret was not having one of my new acquisitions in my suitcase to wear that very evening!

GUO PEI DEBUTS IN NEW YORK CITY ON SEPTEMBER 6, 2013
If you're in New York City on September 6, you too can experience Guo Pei's fashion firsthand at "China Fashion Night," the inaugural benefit for the China Beauty Charity Fund (CBCF), founded by my friend Yue-Sai Kan.
Fashion designer Vivienne Tam is the honoree, and the event at the Pierre Hotel will benefit the scholarship program at the Fashion Institute of Technology.
Guo Pei's client base is mostly in China. On the benefit night, she will present her dramatic fashion show for the first time in the U.S. Although she's still relatively unknown here, I predict that soon you'll see Guo Pei's name everywhere in the fashion community, and someday you'll see her frocks in a museum.
For more information or to buy your ticket, go to www.friendsofchinabeauty.org or email cbcfnyoffice@gmail.com.
Photos by Jeanne Lawrence and Rose Studio, Beijing.
*Urbanite Jeanne Lawrence reports on lifestyle and travel from her homes in San Francisco, Shanghai, and New York, and wherever else she finds a good story.