Deciding to winter in San Francisco turned out to be a brilliant choice. New York City has suffered through record cold and snow, while San Francisco experienced an uncharacteristically warm and dry January. The social season was heated here, too, as you'll see from the following reports.

SAN FRANCISCO BALLET OPENING NIGHT GALA, 81ST REPERTORY SEASON, 2014
The San Francisco Ballet's 2014 Opening Night Gala performance on January 21 brought its theme, "Phenomenal," to life! A record 3,200 balletomanes filled the War Memorial Opera House to see the company deemed "a national treasure" by the The New York Times when it appeared at Lincoln Center last fall.
The chairs of this wildly successful event included Auxiliary Gala Chair Tanya Marietta Powell, Gala Dinner Chair Patricia Ferrin Loucks, and Décor Chair Shelley Gordon, along with Richard Barker as Honorary Chair.
The evening's glamour quotient could not have been higher. The ladies dazzled, gowned in rich jewel tones and many also adorned with Bulgari baubles in support of the jewelry house that underwrote the launch party. (Not hard to muster enthusiasm for this show of support!)

A RECORD ATTENDANCE FOR ALL EVENTS
Three lavish black-tie pre-performance dinners were held in the grand City Hall, across the street from the Opera House. Hosted by the SF Ballet Auxiliary, the Grand Benefactor, Benefactor, and Patron benefit dinners were all sold out.
With 1,200 at the dinners, a packed house for the performance, and a capacity 3,000 (fire-department maximum) crowd at the after-party, this gala was the highest grossing to date. Wow!
"Bulgari's launch party kicked off the Gala with a bang!" Auxiliary Gala Chair Tanya Powell said. "Bulgari gave a beautiful launch party. It set the tone for a phenomenal Gala. As well, they were a generous cash sponsor."

DAZZLING DECOR
The "Phenomenal" theme was also epitomized in the dinner décor created by J. Riccardo Benavides of i•de•as. Cutting-edge special effects by Immersive Lighting added to the excitement of the evening.

ENCORE! – THE YOUNGER SET
Encore! event chair Alyson Blume and vice-chair Greer Goings planned a buffet supper in the South Court rather than a formal sit-down dinner to keep the ticket price affordable for 200 younger fans. This group is vitally important, since they represent the future of the Ballet Company.
I love that everyone, from grand benefactors to Encore! members, dine together in City Hall. The diversity of the crowd ensures the Gala is always fresh and energetic.

ONE-TIME-ONLY GALA PERFORMANCE
Welcoming the crowd before the 8 p.m. performance, Board Chair John Osterweis announced that the Ballet raised more than $2.4 million from the event, a record amount.
Artistic Director & Principal Choreographer Helgi Tomasson, who began his career as a principal dancer with the New York City Ballet, started the program with a selection from his production of Giselle, a classic that the SF Ballet premiered in 1999. Twelve spectacular classical and contemporary works and excerpts followed.

AFTER-PARTY BACK AT CITY HALL
After the magnificent performance ended at 10:20 p.m., guests returned to City Hall, where the young (and the young at heart) enjoyed an after-party for three hours with live entertainment, dancing, a bountiful buffet, and an open bar.
Some indefatigable guests partied from 5 p.m., when the cocktail reception began, stayed till the end of the after-party at l a.m., and continued on to the first-ever after-after-party!
The exceptional event, just $100 a ticket for SF Ballet subscribers and $125 to members of the public, was quite a clever way to entice young, prospective ballet supporters.
During the party, principal dancers dined on the Mayor's Balcony, overlooking all the frolicking guests as they were pumped up by DJ Chris Clouse and the live music of David Martin's House Party.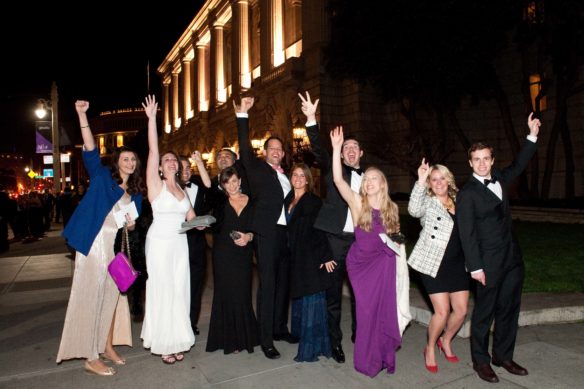 THE FIRST AFTER-AFTER-PARTY
Following the after-party in City Hall, many headed to another, first-ever after-after-party at Club Harlot on Mina Lane in the Financial District. I'm told that the crowd, which included many of the ballet company members, got a second wind and kept the party going until 4 a.m.
This ballet gala was truly "Phenomenal," as its theme promised.

CHINESE NEW YEAR
I love the festive Chinese New Year celebration in San Francisco. Under red banners flying all over town, it always includes a colorful parade, the crowning of a new Miss Chinatown, street fairs, and myriad other activities.

HONORING CULINARY ICON CECILIA CHIANG
For the 2014 New Year celebration, I hosted a luncheon to honor the remarkable restaurateur Cecilia Chiang, a dear and longtime friend. At 94, she is as elegant, sharp, and gracious as ever. We celebrated at one of her favorite restaurants, Hakkasan. World-renowned, recipient of a Michelin star, it offers a modern take on Chinese cuisine.

CECILIA CHIANG'S LEGACY
Often credited with introducing Americans to authentic Chinese cuisine and hailed as "the Julia Child of Chinese food" by chef Alice Waters, Madame Chiang created the legendary San Francisco restaurant The Mandarin, which in its heyday was arguably America's best Chinese restaurant.
In 2013, Chiang was awarded the James Beard Lifetime Achievement Award. You can read more about that in my previous dispatch here.

LONGTIME FRIENDS & NEW FACES
Many of Madame Chiang's longtime devotees were at my party, and those who were meeting this charismatic and dynamic woman for the first time felt privileged to do so.

TWO CULINARY AND WINE ICONS

It gave me great pleasure to see Cecilia and Margrit Mondavi laughing together heartily. Margrit, the younger at 88 and also a renowned figure in the food and wine world, had driven down from Napa just for the occasion. The two are an inspiration for remaining vital, involved, charming, and dynamic even as one ages.

HAKKASAN PRIVATE ROOM

EXQUISITE DISHES
Madame Chiang, who knows Hakkasan's chef and has doubtless sampled every dish they serve, helped me choose the menu.
At 94, Chiang never uses her age as an excuse to turn down any food. She eats everything, and she was the one who selected pork belly (fat and all!). Is that attitude the secret to longevity?
"I'm keeping this menu," said one guest. "Everything was delicious, and now I'll know exactly what to order the next time I'm here!"

THE CHEFS
Chef Jason Xu, who once worked for Madame Chiang at the Mandarin, was applauded when he appeared at the meal's end.
Chiang remains involved in the city's culinary scene, especially new restaurants and chefs, and continues to touch many lives. Through her, I met b. Patisserie proprietor
Belinda Leong
, who was voted 2012 Pastry Chef of the Year by
SF Magazine
.
"I am obsessed with [this] new bakery/cafe in my lower Pacific Heights neighborhood," said the esteemed food critic Patricia Unterman. "I sit at the computer inventing excuses to walk over." Try the mousses, macarons, croissants, and more and you'll be hooked, too.

COMPASSION & CHOICES LUNCHEON WITH THE GETTYS
On a wintery day, two blocks of cars lined up on Broadway Street in San Francisco's Pacific Heights neighborhood. Their owners were eagerly waiting to enter the luxurious, antique-filled mansion owned by San Francisco's popular and generous hosts, Ann and Gordon Getty, who open their home to many causes.
This time, more that 60 guests filled the house to learn about Compassion & Choices, which supports "Death with Dignity."
For eight years, Ann Getty's co-host, author Merla Zellerbach, has been a leader in addressing end-of-life issues and bringing them to the attention of Californians. She spoke briefly of her own experiences—a father who died of pancreatic cancer in the ICU of a hospital, full of needles and tubes and in agonizing pain, in contrast to her late husband, who died in his own bed at home, peaceful and smiling, thanks to the help of a sympathetic oncologist.
"No terminally ill patient needs to suffer a prolonged, painful death," she told the crowd. "We had no say about how we entered the world, but we can certainly plan how we exit."
Journalist/author Katy Butler spoke about her new book, Knocking on Heaven's Door: The Path to a Better Way of Death, and discussed the medical community's strong dedication to preserving life and maximum longevity no matter what the emotional and financial costs to the patient.
Zellerbach and Butler were joined by Dr. Robert Brody, Chair of the Ethics Committee at San Francisco General Hospital for 17 years and now a UCSF Clinical Professor of Medicine. He discussed the importance of having an advance directive (living will) so one's end-of-life wishes can be carried out.
During a lively Q & A that followed, a guest commented, "I think a revolution is brewing in medicine." Discussions of end-of life options have moved from the fringes to the mainstream.
"The two most important events in life are being born and dying," said a doctor who impressed me when he spoke at another of the group's gatherings. "There's not much one can do about the former, but it seems a good idea to plan for the latter."
I'm sure everyone who was at the lunch went home more aware of the importance of discussing end-of-life wishes with our loved ones, no matter how difficult. The organization's free online "advance directive" is a good place to begin and offers guidance to the terminally ill.
I'm setting up an appointment with Compassionate Choices and will then talk with my physician about the advance directive. To spare your family future heartache, I suggest you do the same.

SAVE THE DATE APRIL 4, 2014 FOR UPCOMING LUNCHEON
Committee member Gretchen de Baubigny urged guests to mark their calendars for Compassion & Choices' upcoming luncheon on April 4, 2014 at the St. Francis Hotel. The event, chaired by Zellerbach and co-chair Lucie Weissman, will present a short program emceed by Dear Abby (Jeanne Phillips), with other speakers yet to be announced.

CNBC SERIES SECRET LIVES OF THE SUPER WEALTHY
In January, Tom Klein, Regional Vice President and GM of the Fairmont (SF), his wife Barbara Klein, and their friend Joel Goodrich hosted a small luncheon for New York real estate agent extraordinaire Dolly Lenz—at the luxurious Fairmont hotel, of course.
Head of her eponymous firm, Lenz was named "New York's Real Estate Queen" by The Economist magazine. As if that weren't enough, she also hosts her own TV show, Secret Lives of the Super Rich, which in September was picked up by CNBC for eight half-hour episodes.

VIEWING THE EPISODE
The next night, the Kleins hosted an evening of drinks and nibbles and a sneak preview of the premiere episode of Secret Lives of the Super Wealthy, which aired February 5 in 88 countries and featured the Fairmont's luxurious 6,000-square-foot penthouse overlooking the city. Anyone seeing the stunning apartment surely dreams of moving right in.

SAN FRANCISCO'S FAIRMONT HOTEL
Construction of the hotel began in 1902 and was nearly complete before an earthquake in 1906. The structure survived, but the interior was damaged by fire. Julia Morgan, the first woman graduate of the architecture program in Paris's École Nationale Supérieure des Beaux-Arts, was hired to undertake the repairs, and the hotel opened a year later. Morgan also designed the legendary William Randolph Hearst Castle in San Simeon.

THE FAIRMONT PENTHOUSE
The fabled penthouse was added in 1927 as an opulent private residence. Spanning the entire eighth floor of The Fairmont's historic Main Building, it offers 6,000 square feet at a nightly rate of $15,000.
In 1945, financier Ben Swig bought the Fairmont and for many years lived in this luxurious penthouse himself. It features a billiard room and four fireplaces, as well as one of the best night views of the city from the terrace.

SAN FRANCISCO REAL ESTATE UPDATE
The next night, Lenz was again feted by realtor Joel Goodrich, this time at a private party at his Nob Hill lair.
I asked Joel to give my readers his perspective on the current real estate market. "I see a continuing focus on the Bay area," he said, noting that The Wall Street Journal called the city's historic Jackson Square area "The New Sand Hill Road."
"Continuing its tradition as the city that is constantly reinventing itself, San Francisco's landscape is changing at dizzying speed!"
He mentioned that there's been a 24.6% sales price increase in the market since 2013. Will the trend continue or the bubble pop? Only time will tell.
Photos by Drew Altizer, Moanalani Jeffrey, Elizabeth H. Armstrong, Jeanne Lawrence, the James Beard Foundation, the Southwest Airlines San Francisco Chinese New Year Festival, and The Fairmont Hotel.
*Urbanite Jeanne Lawrence reports on lifestyle and travel from her homes in San Francisco, Shanghai, and New York, and wherever else she finds a good story.