SPRING HAS SPRUNG AT THE DE YOUNG MUSEUM
In March, the San Francisco de Young Museum celebrated its 30th annual Bouquets to Art exhibition—floral interpretations of art from its collections. The Bay Area florists chosen to participate once again delivered spectacular results.
The annual five-day exhibition showcases the work of 130 innovative floral designers and raises more money than any other Fine Arts Museums of San Francisco (FAMSF) event. Of the 74,000-plus visitors who attended the show, more than 700 signed up for new museum memberships.

GREEN COUTURE
Seven students from the Environmental Horticulture/Floristry department at City College of San Francisco were invited to create "Floral Fashions"—wearable flower art. To everyone's delight, students also modeled the green couture.

LAVISH BUFFET
The organizing committee of the Opening Night Gala and Preview went all out for the 1,200 guests.
Friends and I enjoyed early (5:30 p.m.) entry for Patron-level members. The spread was something to behold—and even better to sample! I hope no one had planned to go out for dinner afterward!
"The best chocolate mousse I've ever tasted," said Heidi Betz. "Like an old-fashioned chocolate pudding." I was told to try the chocolate bacon—and was I glad when I did!

FACES & FLOWERS
The floral arrangements were ingenious, and the entire evening was a rare pleasure. In the following week, the museum featured lectures by prestigious floral designers, lunches and teas, and floral demonstrations.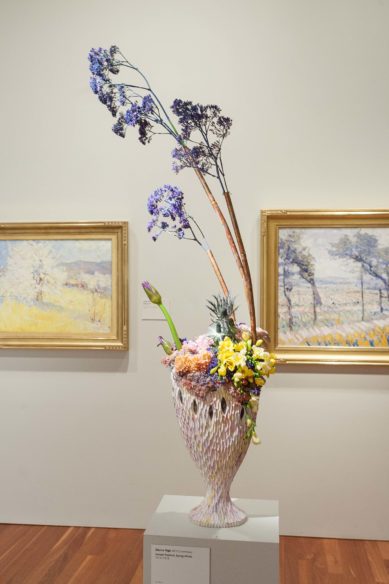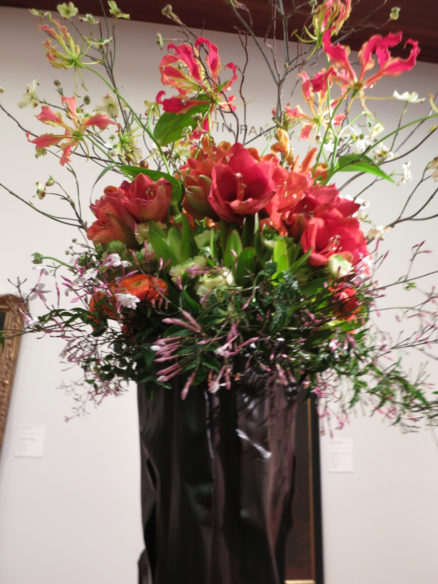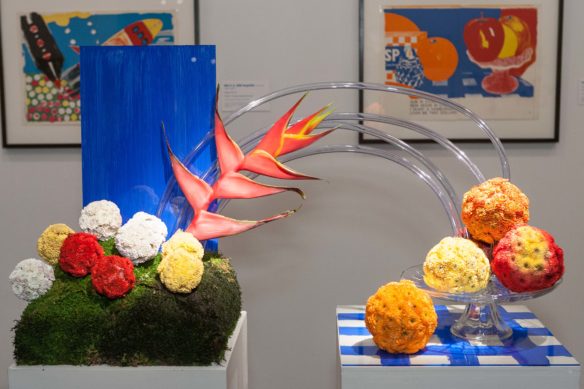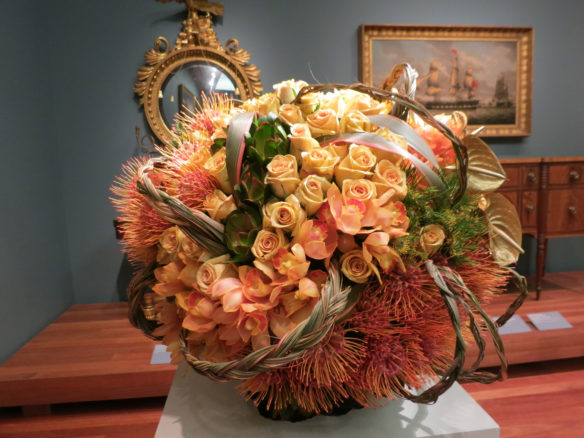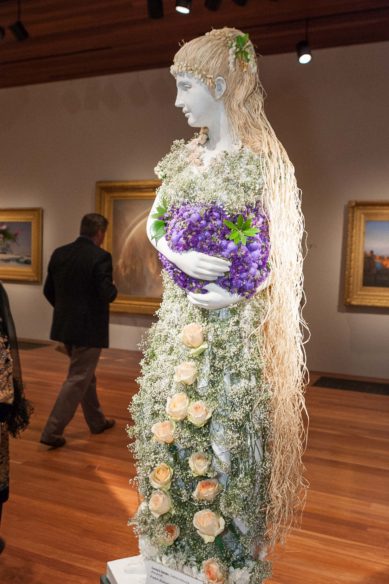 I can hardly keep up with the de Young's wonderful 2014 exhibition schedule: David Hockney: A Bigger Exhibition (which included a painting of fellow NYSD diarist Charlie Scheips, who once worked for Hockney in LA) just closed in January, Modern Nature: Georgia O'Keeffe and Lake George runs through May, and Modernism from the National Gallery of Art: The Robert & Jane Meyerhoff Collection opens in June.
At its sister museum, the Legion of Honor, Intimate Impressionism just opened, featuring more than 70 works from the National Gallery of Art in Washington DC, and Masters of Fire: The Copper Age in the Holy Land will open in June.

CALDWELL SNYDER GALLERY 30TH ANNIVERSARY CELEBRATION
Caldwell Snyder Gallery, the contemporary San Francisco art gallery founded by Oliver Caldwell and Susan Snyder in 1983, observed its 30th anniversary this past year. In celebration, they presented a collection of original 30×30-inch paintings and drawings, in a special exhibition at the gallery's Union Square location.
The gallery represents more than 50 artists from Europe, Latin America, and the U.S., including major American post-war and emerging contemporary artists. It specializes in 21st-century American and European paintings, drawings, sculpture, and limited-edition prints.
Oliver Caldwell and Susan Snyder purchased their flagship Sutter Street gallery in the late '90s and transformed the building from a restaurant into a light-filled, 9,000-square-foot exhibition space.
The gallery has satellites in New York and St. Helena, Napa Valley, where its Main Street turn-of-the-century Star Building is listed on the National Register of Historic Places.

ARCHITECT ALLAN GREENBERG SPEAKS
In January, architect Allan Greenberg spoke at the Northern California Chapter of Classical Architects for the launch of his book, Classical Architect, featuring a forward by author and tastemaker Carolyne Roehm.

FOSTER-GWIN ANTIQUES GALLERY
The evening began with cocktails and a book signing at Collier Gwin's antiques gallery at Hotaling Place, Foster-Gwin Art & Antiques. It's in a historic mid-19th-century stable tucked into an alley in the Jackson Square neighborhood.
Having survived the 1906 earthquake, Jackson Square is one of the oldest neighborhoods in San Francisco. Once home to art and antiques stores, law offices, and design firms, the historic area is fast becoming the equivalent of New York's Silicon Alley.

THE RECEPTION
When I saw that one of the featured buildings in Classical Architect was Carolyne Roehm's Connecticut country home, which I had visited, I bought the book at once and   had Greenberg autograph it. The home is an exquisite testimony to the duo's collaborative brilliance.
After cocktails, the group moved on to the private club Villa Taverna, directly across the alley from the gallery, where Greenberg discussed his work and we had an opportunity to admire his masterpieces.
Photos by Jeanne Lawrence and Drew Altizer.
*Urbanite Jeanne Lawrence reports on lifestyle and travel from her homes in San Francisco, Shanghai, and New York, and wherever else she finds a good story.