One of the great pleasures of traveling, to me, is the chance to sample the extraordinary variety of cuisines around the world. Some of the most exotic meals I've ever tasted were in Asia, thanks to Chinese friends who made sure I didn't overlook any of the best dishes on the menu.

AUTHENTIC SHANGHAI CUISINE AT JESSE RESTAURANT
I'm savoring the memory of a whirlwind two-week "culinary discovery" trip of Asia with stops in Hong Kong, Taipei [Taiwan], Singapore, and Shanghai, organized by George Chen, the restaurateur behind San Francisco's Betelnut and Shanghai 1930.
George's latest project is China Live, an upscale Chinese food emporium (à la New York's Italian Eataly), planned for SF Chinatown. (I'll be sharing details on this highly anticipated attraction in an upcoming column.)

JESSE RESTAURANT
We didn't want to miss the chance to dine at Jesse (Ji Shi), which many consider the best and most authentic Shanghai restaurant in town. What made it even better was being joined by 94-year-old Cecilia Chiang, the culinary legend and James Beard Lifetime Achievement Award-winner, who gave us a commentary on the cuisine while we ate.
I always advise that anyone in search of genuine Chinese food at a restaurant go with a Chinese friend or a guide who can select the specialty dishes for you. Otherwise, you may miss the best ones! With George and Cecilia at our table, we had no such concerns.

SHANGHAI CUISINE
Much of the food in Shanghai now reflects the influence of other provincial cuisines. Authentic Shanghai cooking tends to be sweeter, is unlikely to contain garlic or scallions, which are considered too unrefined, and often involves wine, according to Chen.
"Drunken" chicken and similar dishes get their name from the fact that the ingredients are often marinated in Huangjiu, the famous Chinese yellow wine fermented from grain.

SIGNATURE DISH: OPIUM FISH

OTHER FAVORITES

ANOTHER VISIT TO JESSE
With San Francisco/Shanghai restaurateur and wine importer George Chen, I returned to Jesse, taking along friends whom he could introduce to Shanghai cuisine.

ROOSEVELT PRIME STEAKHOUSE
In Shanghai, George owns the American-style, clubby Roosevelt Prime Steakhouse (not to be confused with The House of Roosevelt, a restaurant on the Bund), where he offers some of the best steaks in town. Wine groups come to the restaurant for the atmosphere, and cigar aficionados puff contentedly in the cigar room.

JESSE APPETIZERS
Foreigners are often surprised to discover that Chinese restaurant meals or banquets typically begin with an abundance of cold dishes. As soon as we sat down, George ordered eight tasty small dishes. (Eight is a lucky number for the Chinese.)

MORE DISHES
I was amazed at the number and variety of dishes we tasted—too many to eat them all.

LOST HEAVEN RESTAURANT
"Have you eaten yet?" In China, this common, respectful greeting, meant to show concern for your well-being, reflects the importance of food in a country with a huge diversity of foods and preparation techniques.
The award-winning Lost Heaven restaurant brings together the cuisines of the Ancient Tea Horse Road, the thousand-year-old caravan trading route that passed through   Yunnan Province.
Yunnan is home to 25 of China's 55 officially recognized minority groups, a concentration second in size only to that in the Northwest Xinjiang province.

YUNNAN AND ETHNIC INFLUENCES
In China's most southwesterly region, bordering Tibet, Vietnam, Laos, and Myanmar, Yunnan province is one of the most exotic and beautiful regions of China. Tourists flock there for the scenery, coursing rivers, snow-capped peaks, fertile fields, and clean fresh air.
A mention of the Ancient Tea Horse Road that passed through Yunnan conjures up romantic images of mule caravans, tea traders, and stunning scenery. The Chinese tourism authorities have encouraged tourism along the Tea Horse Road, so it's now possible to visit the ancient trade towns that line the route.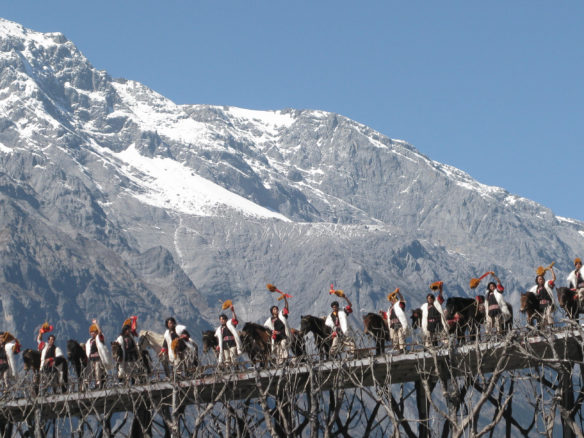 YUNNAN CUISINE
What, then, is Yunnan or Dian (its ancient name) cuisine? In this diverse region, it merges elements from many ethnic tribes.
For the most part, the food is braised, steamed, or lightly stir-fried. It consists largely of fresh vegetables and ingredients indigenous to the region, such as the wild mushrooms foraged from the mountains, wild herbs and greens plucked from the countryside, fresh potent chilies, fruits, and edible flowers.

LOST HEAVEN RESTAURANT
Lost Heaven, a Yunnan restaurant in Shanghai, is one of my favorites. It's especially popular with the expat community, which some say makes it touristy. But after several days of eating the rich Shanghainese sweet and sauced dishes, you are likely to crave its lighter fare.

DISHES TO TRY
Lost Heaven just might change your view of what constitutes Chinese cuisine. It offers dishes that incorporate non-Chinese influences and ingredients—among them lime juice, coconut, palm sugar, cloves, turmeric, tamarind, and curry.
The mouth-watering specialties include Seven Spices Chicken, Burmese Tea Leaf Salad, Da Li-Style Chicken with chili and green onions, raw chrysanthemum leaves with sesame dressing, charred baby eggplants soaked in black vinegar and topped with crushed peanuts and slivered red chilies, crispy whole shrimp with citrus, and more.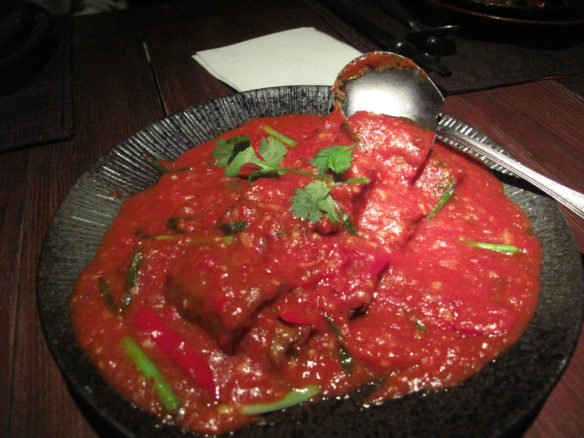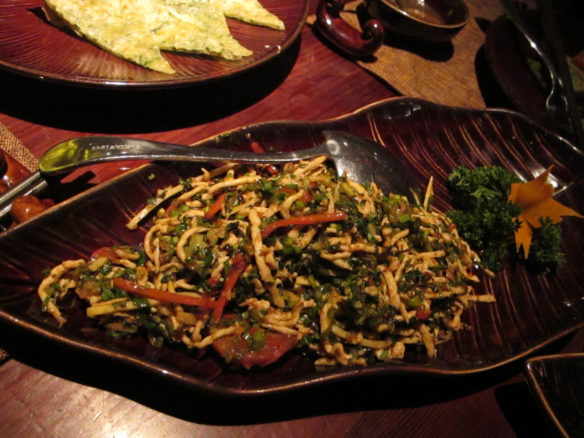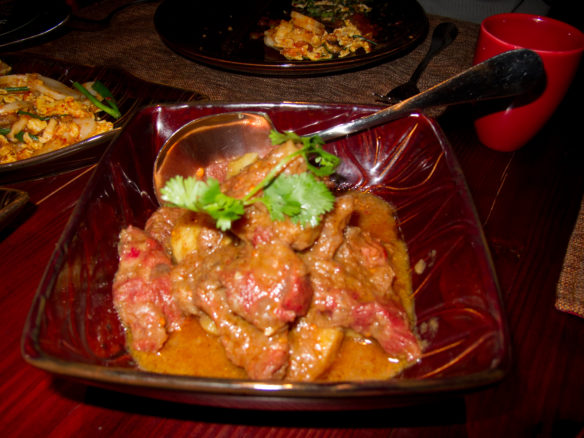 SISTER RESTAURANT COCONUT PARADISE THAI
Lost Heaven has three branches in China, and its Thai sister eatery, Coconut Paradise, has two. When I'm in the mood for Thai cuisine and especially when I desire an al fresco lunch, I head to the lovely tranquil garden of the local Coconut Paradise.
I enjoyed a meal here with Erin Walsh and Jane Huang. Erin, visiting from Hong Kong, has an incredible job leading philanthropy for Goldman Sachs in the Asia-Pacific region. One of the main projects is 10,000 Women, which funds and mentors women entrepreneurs. Jane is the wife of Academy Award-winning Chinese composer Tan Dun, best known for scoring the films Crouching Tiger, Hidden Dragon and Hero.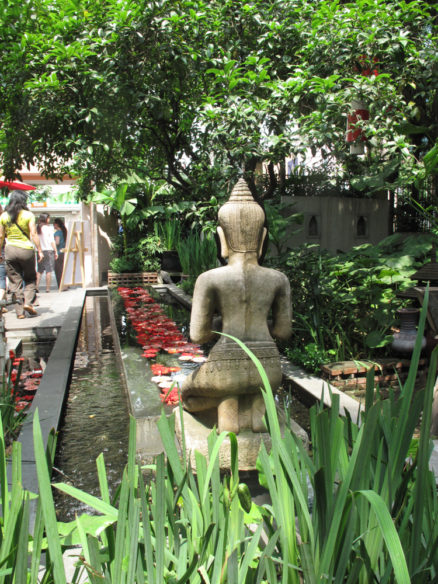 Photos by Jeanne Lawrence.
*Urbanite Jeanne Lawrence reports on lifestyle and travel from her homes in San Francisco, Shanghai, and New York, and wherever else she finds a good story.