SAN FRANCISCO SOCIAL DIARY

My New York friends are always asking what goes on in San Francisco. Plenty! There are meet-ups with friends, lots of parties, and so much live entertainment it's hard to make a choice. Here's a report on some of the events I enjoyed this year.

NICKY HILTON'S BOOK PARTY
I attended a glamorous book party honoring style icon Nicky Hilton, the author of 365 Style. Dr. Alan Malouf co-hosted with Isha and Asim Abdullah, owners of French fashion house Ungaro, in the couple's magnificent penthouse apartment.
Nicky is the great-granddaughter of Conrad Hilton, founder of Hilton Hotels, and younger sister of socialite Paris Hilton.
Her proud parents, Kathy and Rick Hilton, flew up from Los Angeles to celebrate both the book release and the exciting news of Nicky's engagement to London-based banking heir James Rothschild. I was told they met at the wedding of model Petra Ecclestone and billionaire James Stunt in Italy in 2011 and have been dating ever since.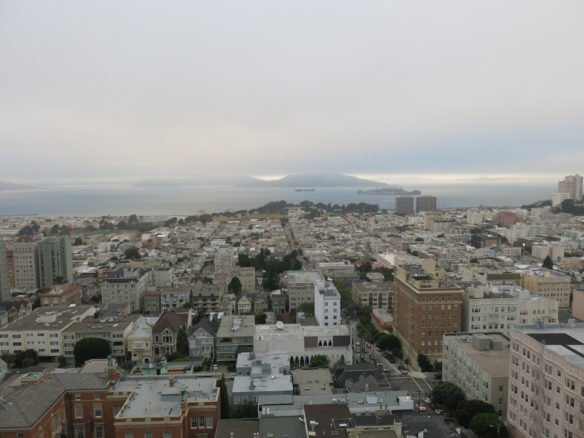 Droves of fashionistas showed up to meet Nicky. Graciously, she gifted her book to all the guests and personally inscribed each one. It's a fun and useful read, and I particularly enjoy the photographs of the beautiful Hilton clan growing up.
A modern style icon, fashion-savvy Nicky has designed jewelry and handbags, and this year she launched a clothing collection with eLuxe. Her new book aims to teach readers how to look like a million bucks—even on a budget.
Her title hints at her method: She suggests you discover your personal style by identifying THREE key lifestyle events, SIX staple wardrobe items, and FIVE essential accessories.
Nicky's three lifestyle events are day casual, business, and special events. Since I work from home and mostly socialize only at night, my lifestyle events are less glamorous: exercise, stay-at-home, and evening attire.
On a slightly less practical note (you have to leave room in your wardrobe for fun, after all!), I got a chuckle when I read about Nicky's enthusiasm for Manolo Blahnik's blue satin "Something New" pumps, famously worn by Sarah Jessica Parker as Carrie Bradshaw in the first Sex and the City movie.
"I had to have them in my life," she writes. Understandably: just reading about the glamorous heels made me crave a pair for myself!
Though based in Los Angeles, Kathy and Rick Hilton recently acquired another pied-a-terre in New York City. Many of us remember the fabulous parties they threw in the apartment they had in the Waldorf-Astoria, then owned by the Hilton brand. The hotel built a worldwide reputation for decades of hosting heads of state, royals, and celebrities. In October, the Waldorf was sold to the Chinese Anbang Insurance Group for the highest price a hotel ever commanded: $1.95 billion.

BEYONCE & JAY-Z AT AT&T STADIUM
Speaking of celebrities and royalty, I was in the audience when a king and queen of the music world, Jay-Z and Beyoncé, completed their blockbuster "On the Run" tour with two nights at AT&T Park.
Wanting to keep abreast of what fascinates the younger set, I decided to attend, especially since rumors of marital problems suggested this might be the last time the duo would perform together.

THE POWER COUPLE
Considered one of the most successful hip-hop artists in the world, rapper, record producer, and entrepreneur Jay-Z is reportedly worth half a billion dollars—not bad for a Brooklyn projects boy. And Texas-born pop singer and actress Beyoncé has fared pretty well herself, with a net worth of $450 million.
"On the Run" played 17 American cities coast to coast, plus two shows in Paris. Promoted and produced by Live Nation, it attracted more than 850,000 spectators and grossed more than $100 million.
Beyoncé's sister Solange Knowles and Jay-Z's videotaped elevator fight caused a lot of speculation about what really went down, but Beyoncé's father and former manager Mathew Knowles claimed it was all publicity stunt.
After Inside Scoop SF reported that Beyoncé and Jay-Z were seen happily dining at local restaurants Tosca Café and Boulevard, I tend to agree. The couple are brilliant at generating publicity.

THE CONCERT
There was a full house for the 2-1/2-hour performance. Beautiful Beyoncé, whose lovely voice is matched by her skill as a provocative dancer, kept things moving with numerous costume changes. The duo alternated solos and duets, covering some of their biggest hits.
The show was visually spectacular, but those who didn't have front row seats got the full impact only via the closeups and special effects on large video screens.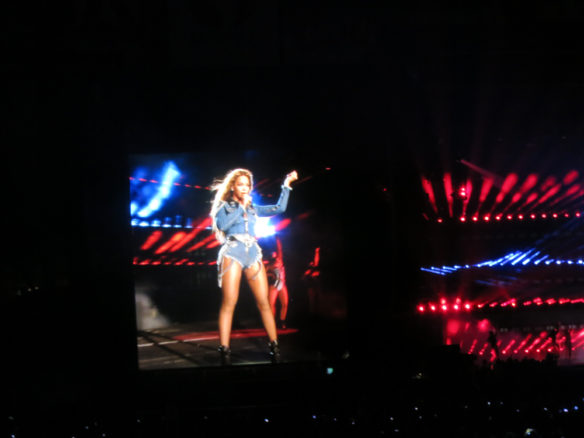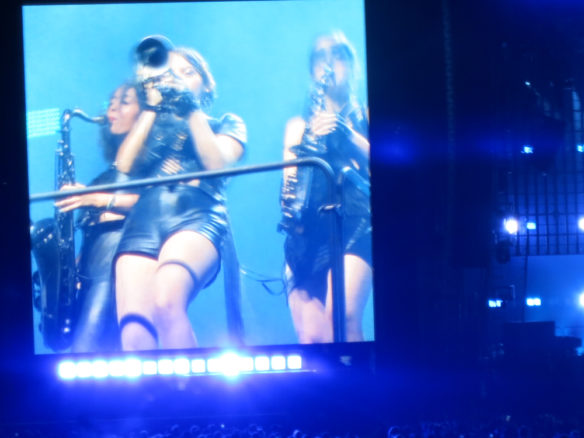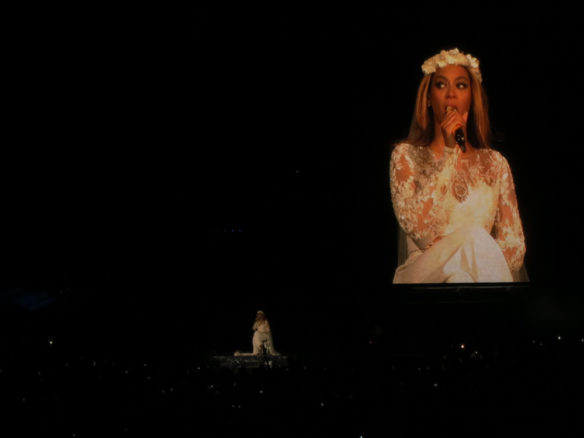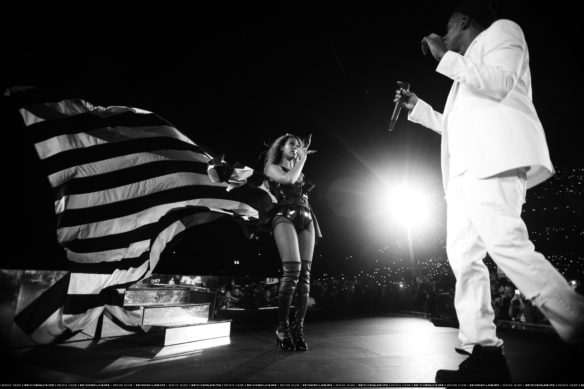 PAUL MCCARTNEY CLOSES CANDLESTICK PARK
A week after seeing Beyoncé and Jay-Z, I enjoyed a performance by the legendary Paul McCartney at San Francisco's Candlestick Park. It was the anniversary of The Beatles' last performance together in Candlestick Park 48 years earlier, and it was also the final performance ever to take place in the venue.
Open-air Candlestick Park, an outdoor sports and entertainment stadium located on the western shore of the Bay, has closed for good.
Constructed in the 1950s, Candlestick Park was home to the Giants and subsequently the 49ers. When the 49ers moved to Levi's Stadium in Santa Clara about 40 miles south of San Francisco in July 2014, Candlestick lost its last permanent tenant. I was among those disappointed to learn that because it was considered outdated and too cold due to strong winds, the stadium was scheduled for demolition.
Noting that his concert would be the last event in Candlestick Park, McCartney said, "It's sad to see the old place closing down," and added, "but we're going to close it down in style," which made the crowd go wild. I imagine some of the enthusiasts had also been at final Beatles concert here.

THE SHOW
The crowd seemed to be mostly middle-aged, and many brought their children to hear McCartney sing familiar hit songs from the entire span of his long career.
In front of me, a teenage girl accompanying her parents sang every word along with Paul. When I asked how she knew the lyrics, she said, "My parents play the music all the time." The Beatles' songs have appeal across generations.
The three-hour performance featured vintage photo collages of the Beatles and their fans on a big screen. Though the video wasn't as exciting as at the Beyoncé and Jay-Z concert, I prefer McCartney's music.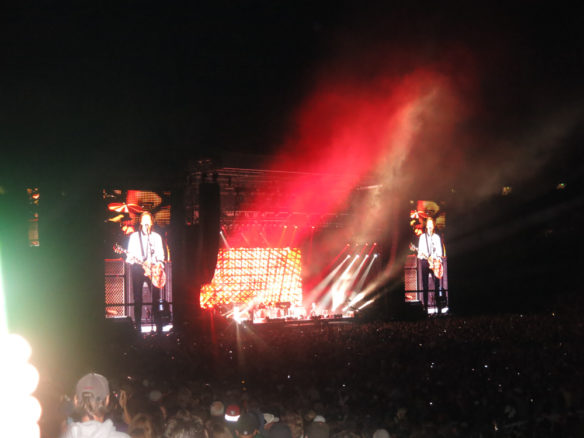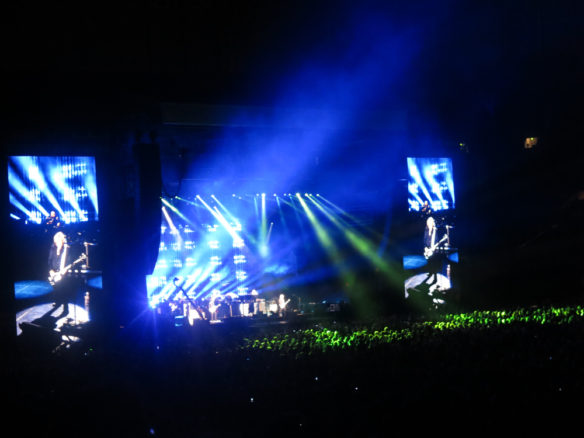 Launching into his final encore, McCartney toasted the city: "Thank you, San Francisco, for being cool now and for being cool back then." The packed house of 49,000 cheered.
Fireworks exploded and confetti rained down, to "Live and Let Die" as McCarthney wrapped his three-hour show—an achievement for any performer, but especially a 72-year-old!
Photos by Jeanne Lawrence, Drew Altizer, Beyonce.org, PaulMcCartney.com, and Wikimedia Commons.
*Urbanite Jeanne Lawrence reports on lifestyle and travel from her homes in San Francisco, Shanghai, and New York, and wherever else she finds a good story.