SAN FRANCISCO'S 51ST ANNUAL DEBUTANTE BALL

Twenty-four stunning young women made their bows at the 51st annual San Francisco Debutante Ball on Saturday, June 20. They crossed the threshold to adulthood at the Westin St. Francis in front of a crowd of 650 family, friends, and community members.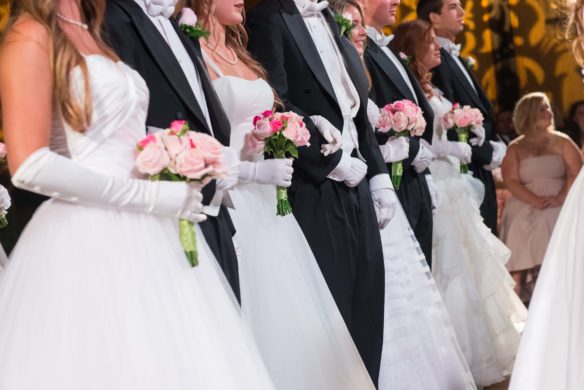 At the stroke of midnight, June 21st welcomed the Summer Solstice and Father's Day. What a memorable evening for dads who could twirl their debutante daughters around the dance floor in their traditional long white gowns.

THE BALL
The long-honored rite of passage dates back to l7th-century European courts, where   young girls of aristocratic families were introduced to society. The debutante tradition is still observed here and abroad, especially in major cites, where the balls typically are charitable events.
The debutantes (or "debs") make their debut after graduating high school, before heading off to college. Most of the San Francisco debs hail from the Bay Area, which includes the city of San Francisco, Marin, and the Peninsula. Many are legacies, whose mothers, sisters, aunts, and cousins also debuted here.

THE LONG NIGHT
The grand evening began with a 7:30 p.m. cocktail reception for family and friends in the century-old Westin St. Francis's Italian and Colonial Rooms. Upstairs, society photographer Drew Altizer's team snapped photos of the Debs for posterity.
Before the debutantes took their bows, they enjoyed a bite of from a selection of all-white foods, chosen to ensure no errant morsel would stain their pristine gowns.

THE DRESS CODE
According to tradition, debutantes must wear long white gowns with straps and a full skirt, paired with elbow-length opera gloves. The escorts must wear white tie and tails with gloves. All the young people seemed to enjoy every aspect of dressing the part.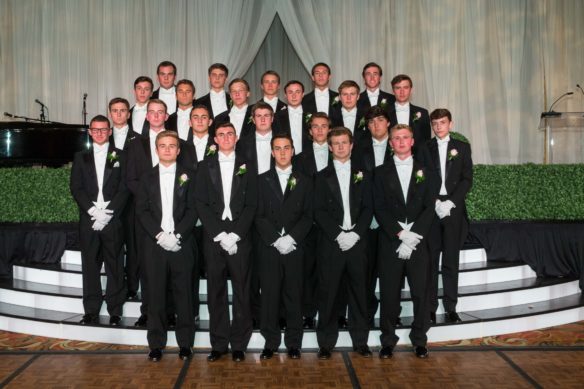 THE WOMEN'S COMMITTEE
The San Francisco Debutante Ball was founded in 1964 by the Women's Board of the California Pacific Medical Center Foundation (CPMC), whose goal was to support traditional and charitable values and to provide philanthropic support for projects at the Medical Center. They have raised millions, to date, and this year's ball proceeds will help establish the Resource Center for Parkinson's disease at CPMC's Neuroscience Institute.
The ball chair this year was Stacey Dobos of Hillsborough, a debutante herself 25 years ago and ongoing supporter of the cause. She was assisted by the Junior Committee, former debutantes who participate to reconnect and relive memories of their big night.

THE GRAND BALLROOM
The Westin St. Francis's rooms are timeless and magnificent. Designer J. Riccardo Benavides, creative director of Ideas Events, made them especially warm and inviting.

THE BOW AND FATHER-DAUGHTER WALTZ
As each deb made her grand entrance onstage accompanied by her escort, she performed the traditional curtsy or bow and was cheered on by new and old friends, some from high school and others dating back to childhood.
At the bottom of the stairs, the escort passed the deb's hand over to her father, relative, or a dear family friend, who presented her to the audience and joined her in the traditional waltz.

THE FRENCH QUADRILLE
Once all the new debutantes had been presented, they performed the slow French Quadrille, a step routine that dates back centuries and was performed at the European royal courts. Every turn gives the audience another view of the young ladies.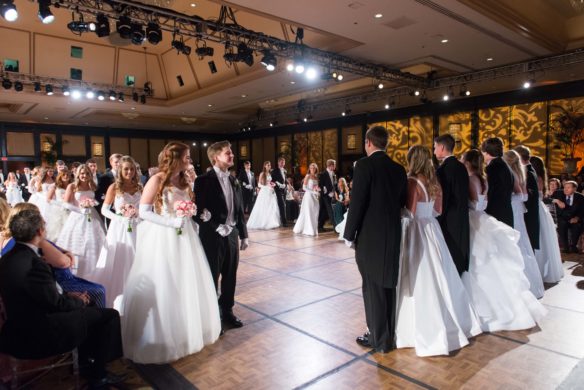 DANCING
For the young women, making their debuts was a once-in-a-lifetime experience; for everyone, it was a magical evening, evoking old-world glamour in an opulent setting.

BIG NEWS: TWO NEW HOSPITALS
It was announced that in four years, when the 2015 debs have graduated from college, CPMC will have opened two new hospitals. At Van Ness and Geary in Center City where the Cathedral Hill Hotel once stood, an entire block has been razed to make way for a new, state-of-the-art, seismically safe hospital. Ten years in the planning, it's set to open in 2019.

DEBUTANTES 2015
The San Francisco Debutantes of 2015, in alphabetic order: Jennifer Hannah Baylis, Julia Marley Chenette, Katarina Lina Churich, Hailey Elizabeth Cusack, Kendall Marion Finnegan, Curry Sullivan Fisher, Elizabeth Mason Grayson, Mary Elizabeth Grinnell, Katherine Hamilton Harris, Sarah Elisabeth Jackmauh, Allaire Houston Kruse, Madeleine Elizabeth Lamm, Rachael Jayne Maier, Lily Ann Ostler, Paloma Elizabeth Palmer, Brooke Emily Raabe, Jennifer Suzanne Reynolds, Camille Anne Rich, Sara Reeves Scannell, Paige Alexandra Silverman, Diana Laura Silvestri, Solange Celeste Soward, Connolly Grace Steigerwald, and Lindsey Marie Weber.
Photographs by Drew Altizer
*Urbanite Jeanne Lawrence reports on lifestyle and travel from her homes in San Francisco, Shanghai, and New York, and wherever else she finds a good story.