MANETTI SHREM MUSEUM OF ART AT UC DAVIS TO OPEN IN 2016-17
Recently, I celebrated another construction milestone for the Jan Shrem and Maria Manetti Shrem Museum of Art, the new museum at the University of California, Davis set to open next year. The museum's "topping out" ceremony commemorated the final beam being put in place.
The university's new facility is a state-of-the-art museum with a profound commitment to education. Students and other visitors will experience art in an intimate setting that provides exciting new resources to explore and celebrate UC Davis's rich artistic legacy. With its art studio and art history programs and exhibitions, the museum will play an important role expanding art access to all students.
Located 15 miles west of Sacramento, UC Davis is one of the nation's top 10 public research universities, and is currently ranked first in its veterinarian and agricultural programs, the latter of which includes top programs in viticulture (study of grape cultivation) and enology (study of wines).

THE UC DAVIS LEGACY IN THE ARTS
The Manetti Shrem Museum will showcase the university's legacy in the arts, particularly from 1960 to 1980, when renowned artists such as Wayne Thiebaud, William T. Wiley, and Robert Arneson taught there.
The faculty from those decades influenced generations of students, many of whom went on to become recognized artists in their own right, among them Deborah Butterfield, Bruce Nauman, Nancy Rubins, and Terry Berlier.

THE GENESIS OF THE MUSEUM
In 2011, Jan Shrem, founder of Napa Valley winery Clos Pegase, and his wife, arts benefactor Maria Manetti Shrem, gave $10 million to UC Davis to name a new museum of art.
How did this all come together? Margrit Mondavi donated $2 million to launch the museum project, and then approached her dear friends Jan and Maria for their support.
The Shrems are delighted to have their names memorialized next to that of their good friend Margrit Mondavi and her late husband, Robert. The Robert and Margrit Mondavi Center for the Performing Arts sits kitty-corner from the future museum.

THE SHREMS' PHILOSOPHY
Married three years ago, the prominent couple still seem to be on their honeymoon. The couple came together through mutual interests: the enjoyment of food, wine, friends, education, and all forms of visual art and performing arts, especially classical music and opera.
"Our philosophy of giving rests on simple concepts," says Maria. She and Jan believe that "education and the arts should be accessible to all people. And we believe that a curious and open mind should be nurtured and supported."

MANETTI SHREM MUSEUM DESIGN
The museum was designed by NY-based architecture firm Solid Objectives – Idenburg Liu (SO – IL), in partnership with SF-based Bohlin Cywinski Jackson, and is being built by contractor Whiting-Turner. "Our passion lies in making public spaces where people come together," said SO – IL architect Florian Idenburg.
The museum design integrates with the university's art department by dedicating 24% of museum space to education, allowing for the first time, a broad segment of the undergraduate population to study an interdisciplinary approach to art history, to cultivate individual creativity, and to create art within the museum.

GROUNDBREAKING CEREMONY
Soon after the donation, a ceremonial groundbreaking for the Manetti Shrem Museum took place on March 1, 2014, on the UC Davis campus.

GROUNDBREAKING RECEPTION
After the groundbreaking ceremony, guests were invited to a reception and student art fair.

THE TOPPING OUT MILESTONE
The next milestone for the Manetti Shrem Museum was its topping out ceremony in March 2015. A tradition in construction projects, "topping out" is a celebration marking the placement of the final beam. The ceremony allowed guests to connect with the museum both literally and symbolically.
Before the ceremony, UC Davis Chancellor Linda P.B. Katehi and her husband Spyros Tseregounis hosted a luncheon for museum supporters and friends at their residence. Guests enjoyed a "farm to table" lunch and California wines, appropriate since UC Davis is one of the top agricultural schools in the world.

THE TOPPING OUT CEREMONY
After lunch, we headed to the ceremony at the museum construction site, to which UC Davis students, faculty, staff, family and friends, as well as the general public, were all invited. Busloads of the Shrems' friends arrived from San Francisco, Napa Valley, Sonoma, and the Bay Area to celebrate.
Chancellor Linda P. B. Katehi, Provost and Executive Vice Chancellor Ralph J. Hexter, and Manetti Shrem Museum Founding Director Rachel Teagle spoke. Teagle had invited the campus community to be part of the topping out ceremony, "an historic event."

SIGNING THE BEAM
UC Davis campus and community members were invited to become part of history by placing their signatures on the final steel beam being put into place. It was a very exciting day indeed!

HOISTING THE BEAM
After signing their names, guests watched as the final beam was hoisted.

VIEWING THE MUSEUM'S LOBBY MOCK-UP
After a reception, guests and the architects walked over to the construction site to get a closer look at the museum in progress.

TODAY'S PROGRESS
By July, the construction of this cutting-edge facility was well on its way. The campus and community at large are no doubt excited to see the vision come to fruition.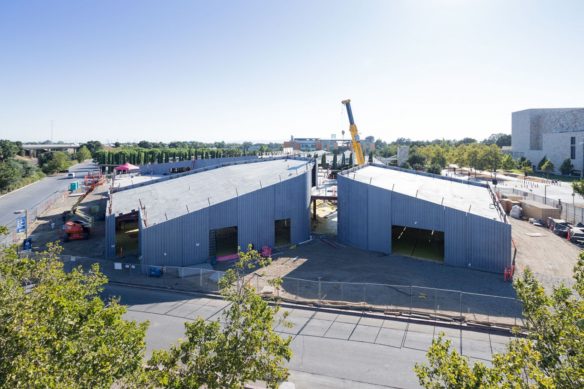 GETTYS HOST DINNER FOR HONORARY BOARD MEMBERS
Ann and Gordon Getty, dear friends of Maria and Jan Shrem, were supporters of the museum from the very beginning, and Ann serves as an honorary board member. To kick off the project, earlier in the year the Gettys hosted an elegant sit-down dinner in their Pacific Heights home.
A host of dignitaries, supporters, friends, and family drove in to celebrate. Guests discussed plans for the museum, and eagerly anticipated the completion of the spectacular addition to the campus.
For more information, visit shremmuseum.ucdavis.edu.
Photographs by Drew Altizer, Gregory Urquiaga/UC Davis, Tia Gemmell, Beatrice Ruini, Jeanne Lawrence, SO – IL, and UC Davis.
*Urbanite Jeanne Lawrence reports on lifestyle and travel from her homes in San Francisco, Shanghai, and New York, and wherever else she finds a good story.