SAN FRANCISCO OPERA'S 93RD SEASON
GALA EVENING INCLUDED VERDI'S LUISA MILLER AND A BALL
San Francisco kicked off its fall social and philanthropic season with the annual Opera opening night gala in September. One of the city's grandest events, it's a must-attend for lovers of opera, theater, fashion, and glamour.
The Opera's General Director David Gockley and Musical Director Nicola Luisotti pulled out all the stops for the season's opener, Giuseppe Verdi's Luisa Miller.

OPENING NIGHT GALA – A TRIBUTE TO DAVID GOCKLEY
The Opera's General Director, David Gockley, is stepping down in 2016 after a 10-year tenure in, so the Opera Guild's fall opening night Opera Ball took on special importance this year.
"We wanted to launch David Gockley's final season in grand style," said Opera Gala Co-Chair Karen Kubin. "All San Francisco loves him, and the city rallied. The evening was the Guild's love letter to him. We will miss him greatly."

DAVID GOCKLEY TRIBUTE
Gockley took the helm as the sixth general director of the San Francisco Opera on January 1, 2006, after 35 years with the Houston Grand Opera, where, at 29, he became the youngest person to ever lead an American opera company. When he retires in July 2016, he'll be succeeded by Matthew Shilvock, the San Francisco Opera's Associate General Director since 2010.
"For more than four decades, David Gockley's singular determination, constant innovation, and fierce passion have revolutionized opera in America," wrote Meyer Sound, in a tribute. "David has persevered with a twinkle in his eye, a savvy sense of business, and a wicked sense of humor."

THE BLUE CARPET PROMENADE
One of the biggest society events in San Francisco, the evening entertainment began as opera devotees arrived in a spectacular array of stylish gowns and walked the blue carpet at the War Memorial Opera House on Van Ness Avenue. The dazzling turnout establishes this event as San Francisco's answer to the Academy Awards ceremony in Los Angeles and the Metropolitan Museum Costume Institute gala in New York
As a change of venue from City Hall, the chairs moved this year's Champagne reception to the Opera House Grand Foyer and the dinner to an Opera Ball Pavilion. "It was a real thrill to see the guests' delight as they took in the magic," exclaimed Opera Ball Co-Chair Jane Mudge.

FASHION HIGHLIGHTS
The fashionable crowd went all out for this grand occasion. In their splendid designer gowns and dramatic baubles, with coiffure and maquillage done to perfection, many were happy to pose for the photographers and television cameras outside the Opera House.
I recognized gowns by international designers. So many featured trains that I overheard, "Sorry, you're stepping on my dress" more than once! For this column, I thought it would be fun to focus on the glamour of the night.

GENTLEMAN ATTIRE
"A man should wear tails to the opera opening," opined the evening's event stylist J. Riccardo Benavides, "as it's an occasion to up the glamour quotient." Benavides was happy that Vogue Editor Anna Wintour stipulated white tie for this year's Costume Institute Gala at the Metropolitan Museum in NYC. That means wearing a black tailcoat, waistcoat, wing-collared shirt, and white bow tie.
Many of the gents followed what has been a San Francisco tradition of wearing white tie and tails to the Opera opening night. The group included David Gockley, the Honorable George Shultz, former Mayor Willie Brown, Opera Association President Keith Geeslin, Opera Board Chairman John Gunn, Gregory Malin, Theodore Brown, Bob Friese, Mark Medearis, Giovanni Matter, and Richard Carpeneti.
Other gentlemen opted for evening attire, but a less formal and more individualistic style, including a surprising number of blue dinner jackets.

OUT-OF-TOWNERS
The annual gala draws guests from everywhere. John Capizzi, GM of Bergdorf Goodman, flew in from New York to honor Gockley, as they became friends when he was manager of Houston's Neiman-Marcus.
Capizzi chatted with Barbara Brookins-Schneider, who wore an evening gown by New York-based designer Bibhu Mohapatra. The Chinese-inspired YSL she wore to the 2007 Opera opening was included in this year's Metropolitan Museum couture exhibition, China: Through the Looking Glass.

CHAMPAGNE RECEPTION
The "Moonlight and Music" theme created a romantic mood for over 800 opera devotees who enjoyed the evening's events: a Champagne reception at 5 p.m., dinner at 6, the opera at 8, and a post-performance bash that lasted until the next morning.
"What fun to see new, fresh faces interested in opera and curious about opening night," said 2007 opera ball co-chair Katie Jarman. "We need them to sustain this art form in addition to the patrons, who have been coming for years."

DINNER IN THE OPERA PAVILION
Event Stylist J. Riccardo Benavides and the chairs crated a new venue, the Opera Pavilion tent, made possible by blocking off Grove Street, the side street that separates Symphony Hall and the Opera House.
The women, in particular, commented how much easier it was to walk out the Opera House side doors and directly into the Pavilion for dinner—especially in their long gowns and stiletto heels.

DÉCOR IN A NEW VENUE
The "Moonlight and Music" theme was inspired by the Luisa Miller hunting scenes and the Austrian schloss (castle) set in a village in the Tyrol Mountains. Of the space, Opera Guild member Linda Zider exclaimed, "I felt I was being entertained at an elegant private dinner party in a castle with friends, as the atmosphere seemed so intimate."

DINNER IS SERVED
The dinner from McCalls Catering was perfection: artistically presented, masterfully prepared, and accompanied by impeccable service, a remarkable achievement considering the large number of guests.

BACK TO THE WAR MEMORIAL OPERA HOUSE
As customary, the evening began with The Star Spangled Banner, conducted by Maestro Nicola Luisotti, and a welcome from Opera Association President Keith Geeslin, Opera Board Chairman John Gunn, and General Director David Gockley.
"Opera transports us, moves us, inspires us," said John Gunn, who added, "This company rivals any in the world." That the 3,000-seat house was sold out is a testament to opera's popularity in San Francisco as well as the appeal and excitement of this gala event.

THE GIFTING PATRONS
San Francisco prides itself on its outstanding civic responsibility and cultural causes. Under Gockley's tenure, the opera received such significant bequests as John and Cynthia Gunn's gift of over $40 million. Additionally, the late Jeannik Mequet Littlefield bequeathed more than $35 million, and her daughter Denise Littlefield-Sobel continues to provide ongoing support.

VERDI'S OPERA LUISA MILLER
First performed in 1849, Luisa Miller is less well-known than Verdi's Aida or La Traviata. The plot is classic: boys meets girl, they fall in love, the parents don't approve, and the ending is tragic.
That didn't dampen the enjoyment of the crowd. People were buzzing about San Francisco's favorite soprano Leah Crocetto in the title role, opposite tenor Michael Fabiano in a much-anticipated performance as her lover Rodolfo.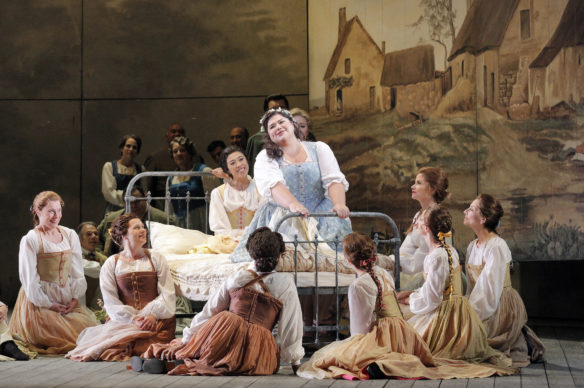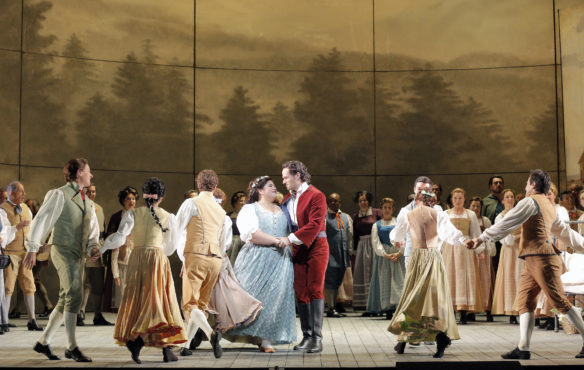 Following Fabiano's breathtaking and moving aria "Quando le sere al placido," in which Rodolfo reminisces of happier times with Luisa, whom he believes has betrayed him, the crowd rose in ecstatic applause.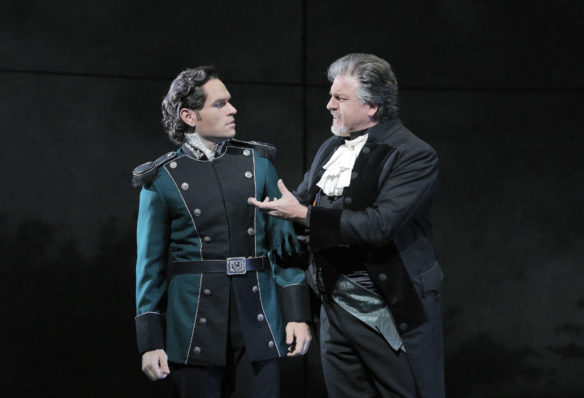 PRESENTATION OF THE OPERA MEDAL TO FRANCESCA ZAMBELLO
Following the final curtain call, General Director David Gockley presented celebrated SF Opera associate Francesca Zambello with the coveted San Francisco Opera Medal. Since 1983, Zambello has been involved in more than fifty SF Opera productions, including the current Luisa Miller and the 2011 staging of the Wagner "Ring" Cycle.

POST-PERFORMANCE CELEBRATION
After the curtain call, patrons returned to the Opera Ball Pavilion for the after-party, dancing, catching up with friends, and sampling from the buffet laden with risotto, freshly carved charcuterie, cheese, sweets, and more—plus the open bar!

DANCING UNTIL THE WEE HOURS
Among the revelers filling the dance floor were many young people, a tribute to the chairs' success at attracting a future audience and exciting them about this magnificent art form.
Photographs by Drew Altizer, Cory Weaver/San Francisco Opera, and Stefan Cohen/San Francisco Opera.
*Urbanite Jeanne Lawrence reports on lifestyle and travel from her homes in San Francisco, Shanghai, and New York, and wherever else she finds a good story.