LITERARY LUNCH: SHANGHAI'S VINTAGE & MODERN ARCHITECTURE

One afternoon in Shanghai, I wandered over to the famed restaurant M on the Bund for a "Literary Lunch," where American architect Ben Wood and Shanghainese author Andrea Mingfai Chu spoke about Shanghai's architectural heritage.

SHIKUMEN HISTORIC LANE HOUSES
Wood and Chu educated us about Shanghai's shikumen houses. Popular in the city during the 1920s and 30s, shikumen are a type of lane house unique to Shanghai. At the height of their popularity in the 1930s, shikumen-style buildings housed as much as 80% of Shanghai's total population.

AMERICAN ARCHITECT BEN WOOD IN SHANGHAI
Previously based in Boston, famed architect Ben Wood is a former Air Force pilot and an MIT graduate. He led the 2001 revitalization of Shanghai's historic Xintiandi (pronounced shin tee-en dee) neighborhood, a hub of shikumen houses.
Wood certainly had the credentials for the Xintiandi renovation project: He collaborated on rebuilding the Chicago Bears Stadium, and was mentored by the late Ben Thompson, who revitalized Boston's 150-year-old Faneuil Hall into a world-renowned marketplace and tourist attraction, which inspired Ben's Xintiandi design.

THE STORY OF XINTIANDI
In 1988, Wood and several other other architects were invited by Hong Kong real estate developer Vincent Lo, Chairman of the Shui On Group, to submit ideas for the redevelopment project in Shanghai. Originally, the developers wanted to demolish the neighborhood of dilapidated shikumen houses and replace them with a modern shopping mall complex, which is happening all over the city.
Wood had a different vision and dream of what Xintiandi could become: While other architects suggested razing the old rabbit warren of unique Shanghai-style houses, he instead proposed restoring and repurposing them for an upscale and trendy entertainment hub, while maintaining the original character of old Shanghai in this site.
While many Xintiandi lane houses were still used as homes and small shops, many were in disrepair, as seen below.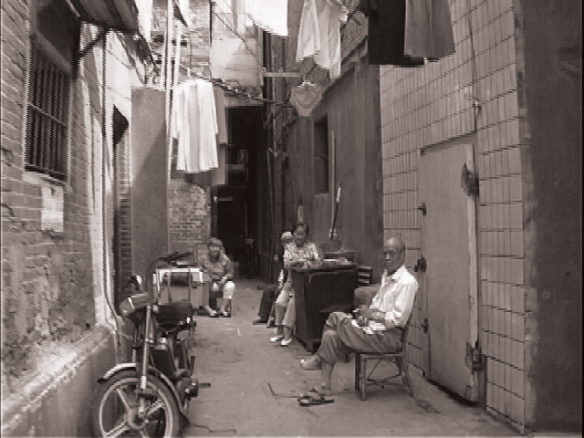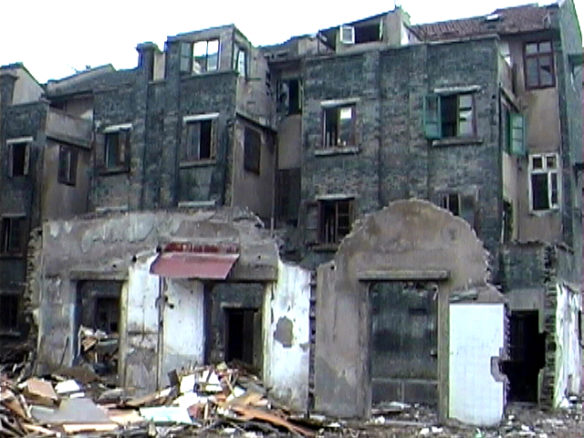 WOOD'S WINNING BID FOR XINTIANDI
Wood won the bid for the re-development and moved to Shanghai, where he established Studio Shanghai. He has since become one of the most influential American architects in China, leaving his mark all over the country. His skills are highly in demand, as other cities want to replicate the commercial success of Xintiandi.
When Xintiandi opened to the public, it was an immediate success. Though run-down before the renovation, many historic buildings were saved in the revitalization of the neighborhood, and visitors seeking a trace of old Shanghai's history were thrilled. It's widely considered one of the best urban developments in China.
Wood has been called "a star in China" by Architectural Record editor Cliff Pierson. "China needed someone like Wood to show them you can make more money by saving rather than tearing down old buildings. No one had done that before," he stated in a New York Times article.

XINTIANDI BEFORE-AND-AFTER IMAGES
"Ever mindful of the precinct's authentic history, Mr. Wood implemented the redevelopment according to its old layout," said Chu at the Literary Lunch. The restoration utilized original bricks and tiles, and doorframes, building heights, and rooftop terraces remained true to their original appearance.

ONE XINTIANDI MANSION
In the Xintiandi neighborhood, the address No. 1 Xintiandi is a historic three-story mansion originally designed by L. S. Zia in 1925, among the best preserved of the original houses in the neighborhood. Today it's a private clubhouse owned by Vincent Lo, mastermind developer behind the Xintiandi project.

THE COMMUNIST PARTY MUSEUM
Ironically, next door to this successful commercial enterprise is a space that was once the headquarters of the local communist party, now used as the Museum of the First National Congress of the Chinese Communist Party.
Mao Zedong chaired a meeting there with the first comrades, and together they formed the Communist Party, which transformed China. My, how things have changed. Mao must be rolling over in his grave to see what has happened to the neighborhood.

WOOD'S OTHER DEVELOPMENTS
Since completing the Xintiandi project, Wood has undertaken projects all over China, ranging from complexes similar to Xintiandi, to residential developments with houses in the $25 million range. He has certainly found his métier and his soul in Shanghai.

BEN WOOD'S NIGHTTIME HANGOUT, XINTIANDI'S DR BAR
During the day, you'll find Wood at his office in Xintiandi, but at night he can be found holding court at his minimalist DR Bar ("Design Resource") in one of Xintiandi's alleys. "I couldn't find a good martini anywhere, so I established my own bar," he said.
Today, DR Bar is one of the hottest haunts in town, frequented by tycoons, architects, designers, artists, and other creative types. For many of us who live in the neighborhood, including me, DR Bar has become our local pub. After business or dinners, we often stop by to say hello to friends and to Wood.

DR BAR DESIGN
Hidden in a small alley, Wood's DR Bar is easy to miss, but inside it yields a stunning dark space utilizing traditional Chinese elements repurposed in unexpected ways. The interior features the same materials used in Xintiandi's original buildings, all sourced from within China.
The bar's most striking feature is the ancient tiles that were sliced thin like salami, then applied to the walls. The look has been replicated around China, but Wood has no problem reminding us he did it first.
As a former fighter pilot during the Vietnam War, Wood once told me he "lived for adventure." Well, he has found that and more in Shanghai, one of the most happening, exciting cites in the world today. It's been a great adventure for me too!

THE SHANGHAI NEIGHBORHOOD WHERE I LIVE
When I moved to Shanghai, I chose to live in Shanghai's French Concession neighborhood, across the street from the Xintiandi district, as I wanted to be in the center of the action and be able to walk the area.
Since I admire historic buildings, I had the fantasy that I would live in one of the art deco shikumen gems. But reality hit when I learned of the required maintenance, and the problems for a part-timer, so instead I chose a modern building with all the amenities.
The view from my building looks down on a neighborhood of lane houses. Each year I watch as more and more of the traditional architecture is razed to make room for more high-rises.

ANDREA MINGFAI CHU'S BOOK, SHANGHAI INTERIORS
At the Literary Luncheon, Author Andrea Mingfai Chu explained that she had interviewed dozens of residents who live in these renovated vintage houses, and shared with us their fascinating stories, along with her own insight. Through the process, she says she gained a new appreciation for this form of living.
Chu grew up in Shanghai, in a traditional shikumen abode. She later moved to the US, working and studying at Georgetown University and Trinity Washington University, where she earned dual degrees in Accounting and Music. Chu returned to her hometown of Shanghai in 2002 as the International Director of Bertelsmann Asia Publishing.
Although I already possessed Chu's book, Shanghai Interiors, in my library, the photos of the city's architecture are so beautiful and the text so informative that I stocked up with more books to give as gifts to friends.

RENOVATED SHANGHAI LANE HOUSES
Although we foreigners may be nostalgic for these unique homes, Chu reminded us that she grew up in one of these lane houses and it wasn't all that nice. "The houses today are different than how I remember from childhood," she told us. "Memories of the communal kitchen and bathroom are unpleasant."
However, she concedes that the newly renovated ones are quite an improvement. "I never imagined old houses could be so beautiful," she said.
Many lament the destruction of these homes in the name of progress. In the past, foreigners were the ones that appreciated these traditional homes, but now some of the newly rich local Chines are interested too.
Shikumen houses are popular enough that in 2010, the Chinese government added the construction technique to the national non-physical cultural heritage register. But sadly, even cultural status isn't always enough to save these historical homes. Many are still being torn down and replaced with bland high-rises instead.
Photographs by Jeanne Lawrence, Studio Shanghai, and Shuyi Publishing.
*Urbanite Jeanne Lawrence reports on lifestyle and travel from her homes in San Francisco, Shanghai, and New York, and wherever else she finds a good story.