SAN FRANCISCO BALLET 2016 OPENING NIGHT GALA KICKED OFF THE 83RD REPERTORY SEASON
The San Francisco Ballet's 2016 Opening Night Gala performance brought its theme, "Provocative," to life! Balletomanes filled the War Memorial Opera House to see the company deemed "a national treasure" by the The New York Times.
This year's chairs included Auxiliary Gala Chair Jennifer Brandenburg, Gala Dinner Chair Christine Leong Connors, and Décor Chair Rhonda Mahendroo, as well as Honorary Chairs Barbro and Bernard Osher.
The Gala was the first event of the current season, which includes three acclaimed full-length productions as well as a wide variety of world premieres and works by choreographers such as Jerome Robbins and Christopher Wheeldon. This year also marks the 40th anniversary of the prestigious SF Ballet Orchestra, considered one of the best ballet orchestras in the country.

PRE-PERFORMANCE DINNER
The evening began with a cocktail reception, followed by three black-tie fundraising dinners hosted by the SF Ballet Auxiliary, all in City Hall. The reception was held in the  South Light Court, the Grand Benefactor dinner was in the Rotunda, and the Benefactor and Patron dinners were, respectively, in the North Light Court and the Mezzanine of the Rotunda.

DECOR
The "Provocative" theme was embodied in the décor. Creator J. Riccardo Benavides, of i•de•as, employed everything from delicate onyx lace to vivid fuchsia ostrich feathers and mixed yards of peek-a-boo sheers with lush, sensual velvets in lace and geometric patterns.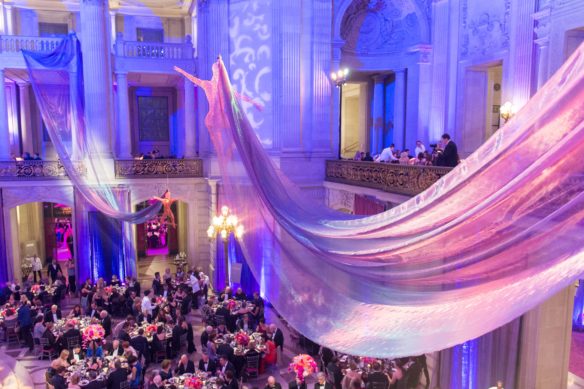 ENCORE! – THE YOUNGER SET
ENCORE! Gala Chair Sunil Sharma and Vice-Chair Elizabeth Sgarrella planned a buffet supper in the South Light Court rather than a formal sit-down dinner. This younger group of ballet fans is vitally important, since they represent the future of the Ballet Company.
I think it's wonderful to have everyone, from grand benefactors to Encore! members, dine together in City Hall. The diversity of the crowd ensures the Gala is always fresh and energetic.

ONE-TIME-ONLY GALA PERFORMANCE
Twelve classical and contemporary works and excerpts were presented as part of this one-night-only program. Artistic Director and Principal Choreographer Helgi Tomasson, who began his career as a principal dancer with the New York City Ballet, started the program with the "Waltz of the Hours" from Alexandra Danilova and George Balanchine's Coppélia.
In addition, following intermission, the SF Ballet Orchestra performed "Infernal Dance" from Igor Stravinsky's Firebird in celebration of their anniversary.

THIRD ANNUAL FOG DESIGN + ART FAIR KICKOFF WAS ONE OF YEAR'S BEST PARTIES
This winter's preview gala for the FOG Design + Art Fair 2016 was one of the city's most vibrant events and a great sendoff for the annual Fair, a four-day celebration and exploration of modern and contemporary design, architecture, and art.
FOG's proceeds benefit the San Francisco Museum of Modern Art (SFMOMA). Founded in 1935 as the first West Coast museum devoted to modern and contemporary art, SFMOMA is currently undergoing a major expansion project.
Exciting news is that SFMOMA is scheduled to re-open in May 2016. The expansion will house and display the collection of contemporary art donated by Gap founders Doris and the late Donald Fisher. When completed, SFMOMA will be the country's largest gallery space devoted to modern art.

THE PREVIEW GALA
The Preview Gala was a standout even in a city known for spectacular events, drawing 1,300 top gallerists, creators, socialites, style-makers, and young art lovers. Guests enjoyed an evening of entertainment, culinary creations by McCalls, and signature cocktails.
During FOG's four-day run in January, San Francisco became the country's epicenter of art and design.  The event celebrated modern art, architecture, technology, and design, with dynamic exhibits, custom installations and pop-up galleries, as well as presentations and discussions by leaders in the field.

THE GENESIS
The first FOG Design + Art Fair was the vision of event designer Stanlee Gatti and the late Elaine McKeon, who served as president, board chair, and chair emeritus of SFMOMA for nearly three decades.
This year's honorary co-chairs were Christine and Pierre Lamond.  Steering Committee members Gatti, Katie Paige, Roth Martin, Allison Speer, and Catherine Topham, and FOG Forum Chair Douglas Durkin were also part of the group that founded the fair.

ATTENDEES
The Preview Gala gave art and design patrons, design-industry leaders, SFMOMA patrons and supporters, VIP guests, and sponsors the opportunity to peruse exhibits prior to the fair's public opening and to enjoy an evening of culinary creations and signature cocktails.
Overall, more than 8,000 visitors attended FOG, which showcased 43 prominent 21st-century and contemporary art and design dealers from the Bay Area and beyond.

NEW FILM FROM JENNIFER SIEBEL NEWSOM LOOKS AT AMERICA'S FAILURES IN DEFINING MASCULINITY
Filmmaker and social advocate Jennifer Siebel Newsom is trying to change American social norms for the better, one film at a time. She also happens to be the wife of California Lt. Governor Gavin Newsom, and, as if that weren't enough, just gave birth to her fourth baby.
Following up on her award-winning 2011 documentary Miss Representation, about the underrepresentation of women in positions of power and influence, she recently debuted The Mask You Live In, exploring America's tendency to narrowly define masculinity and how that harms men, boys, and society in general.

THE MASK YOU LIVE IN SCREENED AT CASTRO THEATER
San Francisco-based PR pro Mark Rhoades hosted a special screening of The Mask You Live In, at the historic Castro Theatre, followed by a Q&A with Newsom, led by fashionable philanthropist Joy Venturini Bianchi.
The packed house sold out all of the 1,200 seats in the theater. Thanks to generous sponsor AT&T, it was a big night at the Castro Theatre, with all the trappings of a red-carpet Hollywood screening.

THE FILM
Newsom says she got the idea to make The Mask You Live in 2011 when she was promoting Miss Representation and pregnant with her son.
Newsom funded the film through Kickstarter, reaching—and surpassing—her $80,000 goal in less than two weeks. High-profile supporters included former first lady of California and veteran reporter Maria Shriver as executive producer, and in January 2015 the film debuted at Sundance.
The Mask You Live In explores a national crisis: that boys in the U.S. are more likely than girls to be diagnosed with a behavior disorder, prescribed stimulant medications, fail out of school, binge drink, commit a violent crime, and/or take their own lives. It ultimately illustrates how we, as a society, can raise a healthier generation of boys and young men. The film has won 15 awards from Sundance and other film festivals.

EARLY SUCCESS
After graduating with honors from Stanford University's Graduate School of Business, Newsom wrote, directed, and produced the award-winning Miss Representation, which premiered at the 2011 Sundance Film Festival.
In the film, an impressive list of high-powered women—including Representative Nancy Pelosi, Senator (and former San Francisco mayor) Diane Feinstein, activist Gloria Steinem, former Secretary of State Condoleezza Rice, actress Geena Davis, political commentator Rachel Maddow, journalist Lisa Ling, and journalist Katie Couric—discuss the scarcity of women in key positions and the damaging effects the media can have on women.
UP NEXT FOR NEWSOM
Though she just had baby #4, Newsom hasn't slowed down in the least. She is currently working on her next project, titled The Great American Dream, which deals with inequality and its ties to what Newsom calls the "hyper-masculine value system." Soon, she'll also be campaigning alongside her husband, California Lt. Governor Gavin Newsom, who's running for governor in 2018.
"Jen is a hero who is changing the world," says friend and KBQ Marketing founder Kimberly Bakker, "I am so grateful for her work as a fellow human, mother, activist, and friend. Together, we can achieve equality and freedom."
Photographs by Drew Altizer.
*Urbanite Jeanne Lawrence reports on lifestyle and travel from her homes in San Francisco, Shanghai, and New York, and wherever else she finds a good story.