GALA KICKS OFF OSCAR DE LA RENTA RETROSPECTIVE

At the black tie, invitation-only opening of the first Oscar de la Renta retrospective, held at San Francisco's de Young Museum, friends and fans turned out in their best Oscars to honor the designer, who passed away in 2014.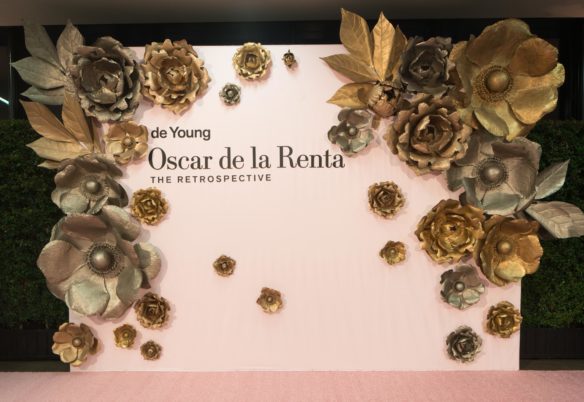 DE LA RENTA IN SPAIN, PARIS, AND NEW YORK
Known for his show-stopping and glamorous evening gowns, Oscar de la Renta was 18 when he left his native Dominican Republic to study painting in Madrid. Turning to design, he served an apprenticeship with couturier Cristóbal Balenciaga, became a couture assistant at the Parisian house of Lanvin-Castillo, and in 1963 arrived in New York to design for Elizabeth Arden couture. Founding his own ready-to-wear label just two years later, he became one of the most influential designers of our time.
His many accolades include winning the Coty Award in 1967 and 1968, at the time the most prestigious honor for an American designer; being named Commander by the French Légion d'Honneur in 1999; and receiving the Gold Medal for Merit in Fine Arts from the King of Spain.

120-PIECE EXHIBIT SPANS 50 YEARS
The first-ever survey of de la Renta's life work, the exhibition on display at the de Young Museum through May 30 features more than 120 pieces produced over five decades. It was curated by Andre Leon Talley, former editor-at-large for Vogue magazine, who spent a year culling pieces from the de la Renta company archives, the designer's personal collection, private lenders worldwide, and the Fine Arts Museums of San Francisco (FAMSF) costume collection.
The exhibit traces de la Renta's early career in Spain through the 2000s, when he dressed some of the most influential politicians and celebrities in the world. It's organized by sections: early work; Spanish, Eastern, Russian, and garden influences; daywear and eveningwear; and ball gowns and red carpet ensembles.

EARLY WORK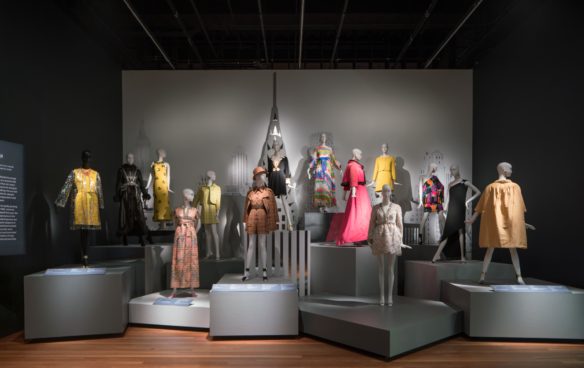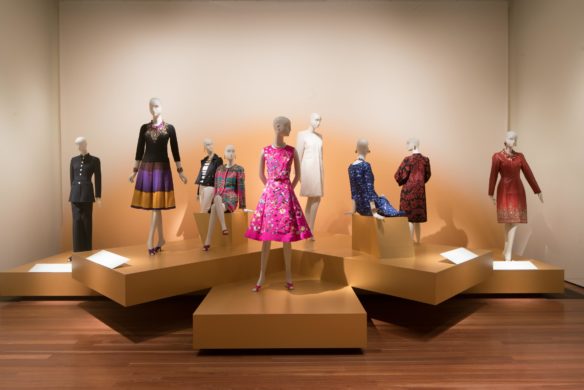 SPANISH INFLUENCE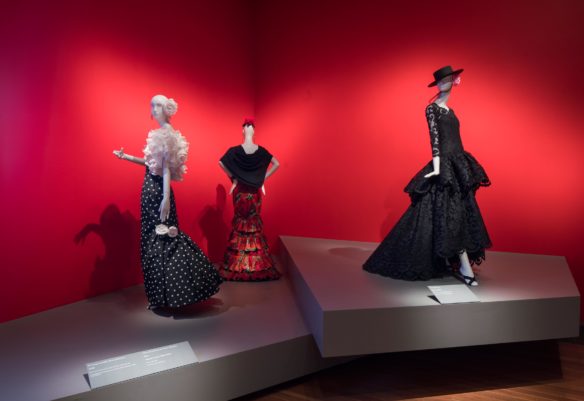 EASTERN INFLUENCE

RUSSIAN INFLUENCE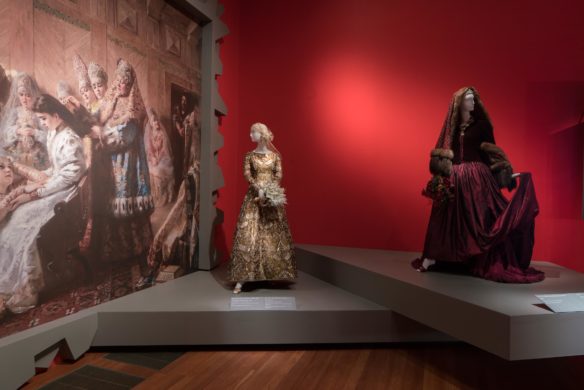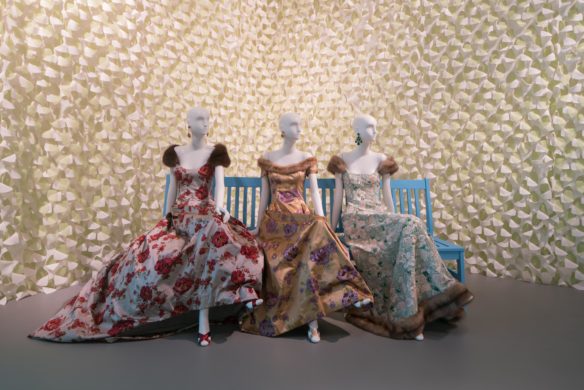 GARDEN INFLUENCE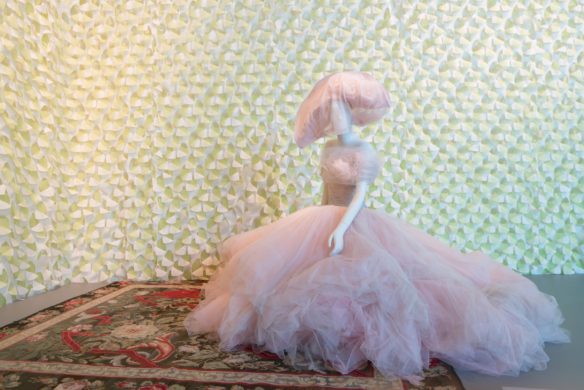 BALL GOWNS AND RED CARPET
De la Renta designed dresses for the second inaugural balls of first ladies Laura Bush and Hillary Clinton. Among his celebrity clients were Taylor Swift, Sarah Jessica Parker, Rihanna, Nicki Minaj, and Penélope Cruz.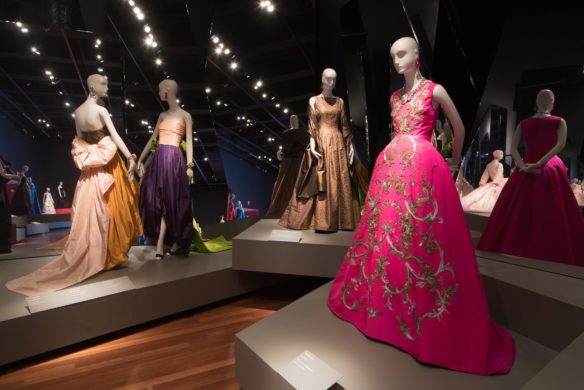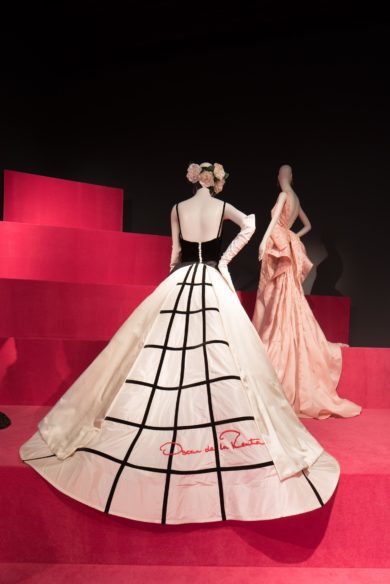 AN EVENING OF GLAMOR AND REMEMBRANCE
The opening gala was co-chaired by the designer's widow, Annette de la Renta, and Diane "Dede" Wilsey, President of the FAMSF Board of Trustees. An Oscar devotee, Wilsey frequently wears luxurious Oscar gowns to glamorous social events such as the opening night of the opera. Also making an appearance was special guest Peter Copping, de la Renta's successor as creative director.
Some of the 350 guests at the sold-out evening flew in from Texas, Kentucky, New York, and even further afield. An exhibition preview and reception preceded a sit-down dinner catered by McCalls, during which Wilsey and Oscar de la Renta CEO Alex Bolen gave stirring speeches about their late friend.
It was a night of fond remembrance. Alex Bolen, his wife Eliza Bolen (de la Renta EVP and daughter of Annette de la Renta), and Talley were tearful during their walkthrough of the exhibition.
Longtime de la Renta Sales Director Boaz Mazor called himself the "luckiest man in the world" for having been associated with the fashion icon for 45 years. "The difference between Oscar and the younger designers I see today," he said, "is that Oscar lived the same glamorous life as his clients."
After the show, Boaz was off to Athens, where there's a de la Renta store that has a large following by a new generation of clients, and then he's on to Paris for few days. He's living the glamorous life, too!

OSCAR DEVOTEES

DINNER IN A MAGICAL SETTING
For dinner in the de Young Museum's tented courtyard, designer J. Riccardo Benavides, creative director of Ideas Events, created a magical "garden" inspired by de la Renta's Connecticut home.
Benavides used whimsically groomed shrubbery, pink blooms, and pedestals topped with lush, oversized floral arrangements in combination with pink and green banquettes. The highlight of the evening, he said, was escorting Annette de la Renta into the room and hearing her say, "Very well done."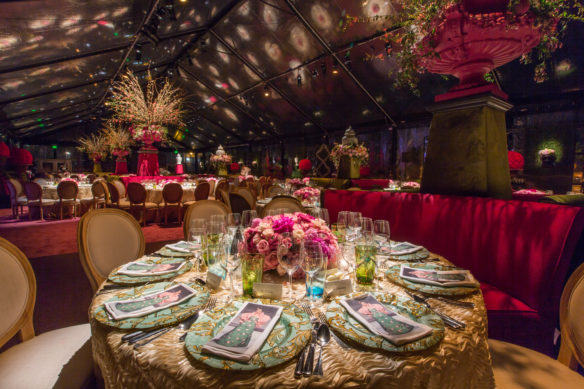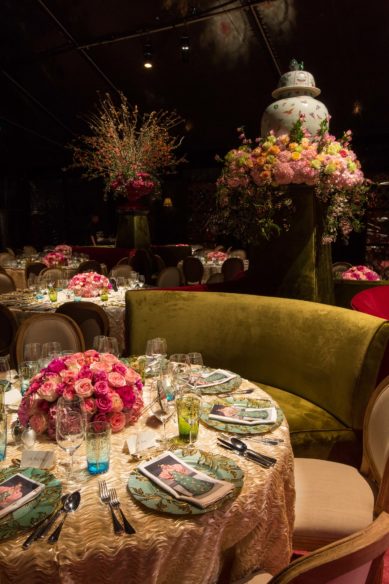 A NEW DIRECTOR FOR FAMSF
FAMSF announced its new director, Max Hollein, in March. Hollein has led three of the most important art institutions in Germany: the Städel Museum, the Liebieghaus Sculpture Collection, and the Schirn Kunsthalle. We wish him much success in his new position.
Hollein succeeds Colin Bailey, formerly of the Frick, who returned to his longtime home of New York to become director of the Morgan Library and Museum. Bailey followed the much-loved director John Buchanan, who passed away in 2011 after organizing many blockbuster fashion shows highlighting the creations of Cristóbal Balenciaga, Vivienne Westwood, Jean Paul Gaultier, and Yves Saint Laurent.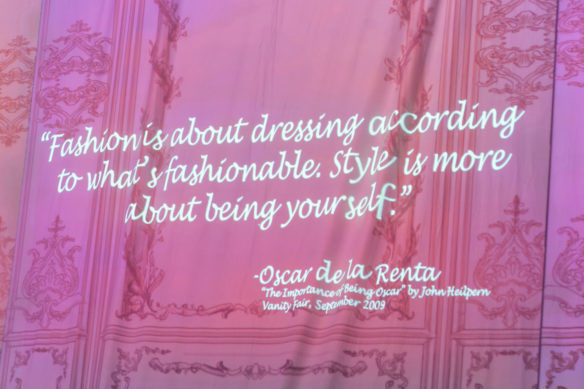 Photographs by Drew Altizer, Irja Elisa Tannlund, and Fine Arts Museums San Francisco.
*Urbanite Jeanne Lawrence reports on lifestyle and travel from her homes in San Francisco, Shanghai, and New York, and wherever else she finds a good story.