CHINA INSTITUTE CELEBRATES 90th YEAR GALA
China Institute celebrated its 90th anniversary in New York City with a glittering gala that included a surprise performance by a troupe of Peking Opera performers. Three people were honored for their contribution to increasing understanding and cooperation between the U.S and China: Bob Chapek, Walt Disney Parks & Resorts Chairman; Richard Gelfond, IMAX Corporation CEO; and fashion designer Guo Pei.
I was elated at the inclusion of Guo Pei, whom I predicted would become one of the biggest international names in haute couture when I first saw her work.
GUESTS MAKE THE SCENE
China Institute, founded by a group of educators in 1926, is the oldest bi-cultural, non-profit organization in America to focus exclusively on China. Its anniversary event attracted more than 350 guests, including culture, business, education, and government leaders from around the world and Institute friends and supporters.
With seats starting at $2,000, the event raised nearly $1 million to support the Institute's program in education, culture, business, and art.

CELEBRATING BLUE CLOUD HONOREES
Bob Chapek, Richard Gelfond, and Guo Pei were honored with the Blue Cloud Award for their outstanding work and leadership in fostering understanding and collaboration between the US and China:
Honoree Bob Chapek is Chairman of Walt Disney Parks & Resorts, which in June opened the $5.5 billion Shanghai Disney Resort, a joint venture between The Walt Disney Company and the state-owned Shanghai Shendi Group.
More than 1 million people have already been to the resort, which is more than 11 times the size of California's original Disneyland.
IMAX Corporation CEO Richard Gelfond was also honored. IMAX has a strong presence with China, with the Middle Kingdom generating a third of IMAX's global box office sales.
In August, IMAX signed the biggest deal in its history with Chinese company Wanda Cinema Line. With the new agreement to create 150 additional theaters in China, the total number of IMAX theaters there will reach 742, roughly double the number in the United States.
The third honoree was Chinese haute couture fashion designer Guo Pei, the designer to whose work Americans are now being introduced in a big way. Pop star  Rihanna wore one of her gowns to the Metropolitan Museum of Art Ball in New York in 2015, when the designer was also featured in The Met's exhibit "China: Through the Looking Glass."

DISCOVERING GUO PEI BEFORE RIHANNA
Known as "China's Empress of Haute Couture," Guo Pei invited the fashion model Carmen Dell'Orifice to China to model her opulent fashions several years ago.
When I admired a Guo Pei blouse Carmen wore to a New York gala, Carmen told me about her work, and on my next visit to Beijing back in 2010, I made a point to visit Guo Pei's showroom, Rose Studio. I expected a boutique, but I arrived to find a workshop filled with skilled artisans such as tailors, pattern cutters, embroiderers, jewelry-makers, and shoemakers.
Meeting Guo Pei was a highlight of that trip. I was so taken with her unique work that I asked that she design several custom outfits for me.

A PRESCIENT PREDICTION
A few years ago, I predicted that Guo Pei's name would soon be familiar in international fashion circles and her work would be in museums. Indeed, she was featured in last year's "China: Through the Looking Glass," the best-attended exhibition in the history of the Costume Institute at New York's Metropolitan Museum of Art.
In one of my previous columns, I reported on how Guo Pei is keeping China's traditional and historical crafts alive. Her work is strongly influenced by the elaborately embroidered and ornamented silk and fur-trimmed styles worn by Chinese royalty and courts in several dynasties, especially the Ming and Qing. Read more about my visit to Guo Pei's studio here.
THE AUCTION
The Emmy Award-winning television host and producer Yue-Sai Kan enthusiastically described the items she was auctioning off.

PEKING OPERA ACTORS BACKSTAGE
The surprise for the evening was a performance by the actors from Peking Opera Theater of Beijing, a troupe founded in 1979, who flew in for the event. The art form, one of China's cultural treasures, involves stylized action, singing, mime, dance and acrobatics, martial arts, and water sleeves.
I was fascinated by a chance to watch the actors backstage before the performance as they applied their bold facial make-up to represent the spirit and personality of each character.

PEKING OPERA THEATER OF BEIJING
Lux Shine, a Beijing-based opera theater company, makes the ancient art form more accessible and helps bridge the generational gap by adding contemporary elements, such as rock, rap, rhythm and blues, and ballet.
What a performance! The enthralled audience demanded an encore, and the actors obliged by performing the piece over again!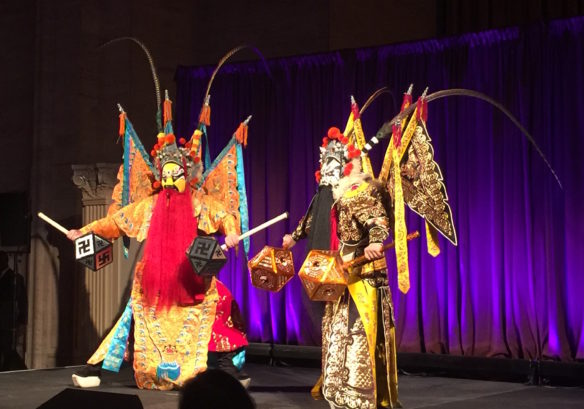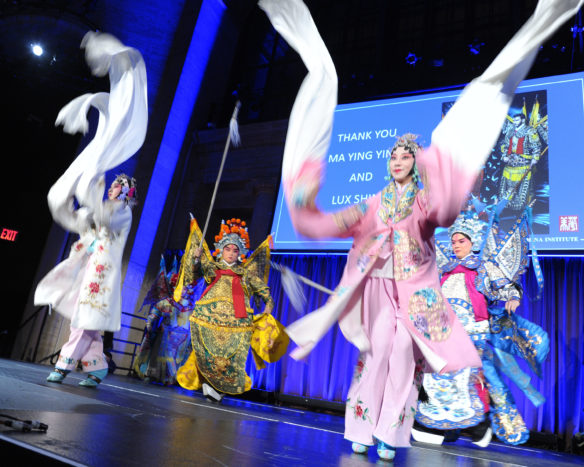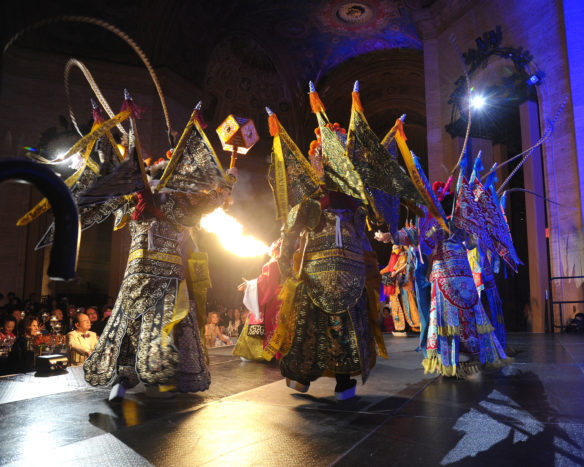 Photos by Patrick McMullan and Jeanne Lawrence.
Save
Save