Three fabulous events bedazzled San Francisco this winter: Attilio Codognato's extraordinary jewels went on display at the Sorokko Gallery, the much-anticipated Manetti Shrem Museum had a gala opening celebration, and Shreve & Company moved to a shiny new flagship store. And I have first-hand reports on all of them!
ATTILIO CODOGNATO JEWELRY EXHIBITED FOR THE FIRST TIME OUTSIDE VENICE, ITALY
"Where has this remarkable jewelry been all my life?" I wondered, completely bowled over by the distinctive, bold, oversized collection from Venetian master jeweler Attilio Codognato at the Sorokko Gallery in San Francisco.
One reason it was new to me was that the works of Codognato and his forebears—celebrated Italian jewelers for generations—have never been offered for sale or exhibited (other than in selected museums) beyond the walls of their 1866 original shop in Venice, near Piazza San Marco.
It's not that gallerist Serge Sorokko and his wife Tatiana Sorokko—a top model, fashion editor, and couture collector who has been a friend and client of Codognato for 25 years—hadn't tried for years to make it happen. "I have always been reluctant to exhibit outside of my place in Venice," Attilio explained. "After more than two decades, the Sorokkos' persistence has paid off."

CASA CODOGNATO, A VENERABLE JEWELRY HOUSE
The exhibit at the Sorokko Gallery, located at the heart of Union Square, was timed to honor the 150th anniversary of Casa Codognato. Entitled Coveted: Jewels by Codognato, the San Francisco showcomprised a collection of fifty works from the House's archives and the designer's private collection.
"The absence of a distinction between jewelry and art is what makes Codognato's works so desirable and collectable," said Tatiana Sorokko, citing also its originality, uniqueness, beauty, artistry, and instantly obvious timelessness.

CELEBRITY FANS
Jewelry by the Codognato family has long attracted high-profile clients, among them members of the 19th- and 20th-century Italian and Russian royal families; writers and artists such as Jean Cocteau, Ernest Hemingway, and Andy Warhol; and celebrities like Maria Callas, Elizabeth Taylor (her husband Richard Burton bought her a serpent bracelet), and Luchino Visconti (who browsed nightly while filming Death in Venice).
Other fans include arbiters of style such as Barbara Hutton (who, like Visconti, never asked the price), Jacqueline Kennedy Onassis, Diana Vreeland, and Coco Chanel (who acquired her famous pearls from Casa Codognato).

THE DISTINCTIVE STYLE OF ATTILIO CODOGNATO
Since he took over the firm in l958, Attilio Codognato has become particularly well known for work rooted not so much in religion, as Serge Sorokko pointed out, but rather themes of alchemy, Byzantine imagery, symbolism, and especially memento mori.
Created to remind people of their mortality, memento mori jewelry and objects date to ancient times. The iconography included images of death, such as skulls, bones, and snakes. Such items, inspired by the Latin phrase "remember you must die" (supposedly uttered to humble vainglorious ancient Roman generals), are reminders of the cycle of birth and death.
Codognato's influence, especially his skull motifs, can be seen in the work of many artists and designers, notably John Galliano and Alexander McQueen. The recent exclusive "club" of Attilio's enthusiasts and collectors, fans of the fantastic, includes Princess Firyal of Jordan, Elton John, Kate Moss, Tom Ford, and Nicole Kidman.

ATTILIO'S LEGACY
"Attilio is truly an influential contemporary artist," said Tatiana Sorokko, "who for over half a century has been creating objects of unparalleled beauty in line with a fabled family tradition."
In recognition of his singular talent, the government of France bestowed upon Codognato the prestigious honor of Chevalier de l'Ordre des Arts et des Lettres in 2012.
In the hands of a master like Attilio Codognato, jewelry is art, to be acquired just like painting and sculpture. Better still, it can be worn as well as displayed. The Sorokkos' exhibit was a huge success: it almost completely sold out, and, what's more, this distinctive art genre attracted a brand-new set of collectors in San Francisco.

GRAND OPENING: MANETTI SHREM MUSEUM AT UC DAVIS
With the 2016 opening of the Jan Shrem and Maria Manetti Shrem Museum of Art on its campus, the University of California at Davis has perpetuated its artistic legacy of nearly 60 years and put itself on the map again as an art school.
Its reputation as a cauldron of artist creation dates from the 1960s, when the faculty included such world-renowned artists as Wayne Thiebaud, Robert Arneson, William T. Wiley, Manuel Neri, and Ronald Peterson.
To see the buildup to the Museum, read my previous column here.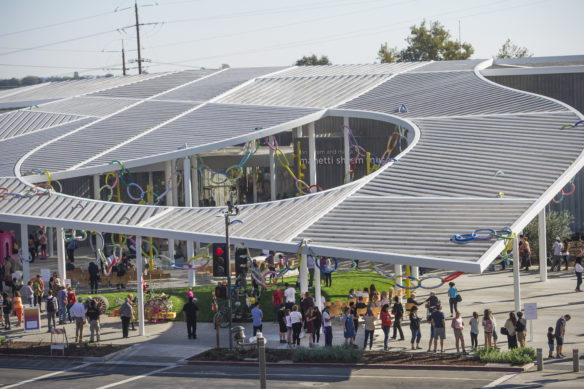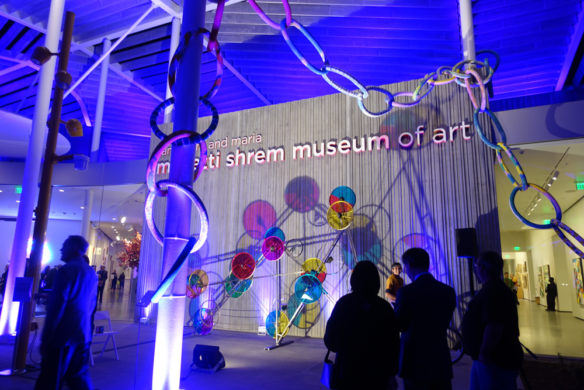 THE GENESIS
When the late Margrit Mondavi lit the spark for the museum with her donation of $2 million in seed money, it inspired her dear friends Maria Manetti Shrem and Jan Shrem to make an additional $10 million gift toward the museum, serendipitously across the street from the Mondavi Performing Arts Center.
Two and a half years after the 2014 groundbreaking, and a year after the topping off ceremony celebrated the placement of the final beam, the museum opened on November 13, 2016.

FOR THE MUSEUM, A UNIQUE DESIGN
Set amid California farmland, the Manetti Shrem Museum has received accolades from Dwell magazine and Architizer, the industry's largest awards program, which called its undulating canopy roof "a spectacular sight."
Composed of 950 perforated aluminum beams, the "grand canopy" arcs as high as 34 feet and dips as low as 12 feet. Resting atop a 30,000-square-foot, single-story interior, it is permeated by natural light that creates ever-changing shadows and silhouettes.

A MUSEUM THAT SERVES THE COMMUNITY
The Manetti Shrem Museum plays a unique role for both UC Davis—near Sacramento, the state capital of California—and the community at large.
Its commitment to arts education is reflected in the fact that 30% of the space is dedicated to learning; that art classes will be made available to all 36,000 university students, not just art concentrators; and that admission will be free to the community.

OPENING NIGHT EXHIBITS
The museum opened with four exhibits that will be on display for several months.

HUNDREDS ATTENDED MUSEUM PREVIEW
On the eve before opening, more than 500 museum patrons, regional museum colleagues, exhibiting artists, architects, and guests from around the world, along with the UC Davis student body, were invited to the Director's Debut Reception to preview the Museum.

OPENING CEREMONIES
The museum opened to the public with a street fair and party, offering performance art, food trucks, and local entertainment.
For the unique "ribbon-cutting" ceremony, the museum was draped in 1,500 feet of interlocked foam links designed by artist and UC Davis alumnae Lisa Rybovich Crallé. At noon, local dignitaries untied the ribbons connecting the links and pronounced the museum officially open.

SHREVE JEWELRY FLAGSHIP REINCARNATION
Skyrocketing rents did what San Francisco's 1906 Great Earthquake could not: It forced Shreve & Company, the city's premier jeweler, to relocate from its long-time home at Post & Grant.
Shreve moved to its flagship location in 1906, just a month before the April disaster. When the earth stopped shaking and the fires were extinguished, what is now called the Shreve building was among the few whose frame survived.
"Architecturally and symbolically, Shreve is San Francisco's jewelry store," said Mike Buhler, Executive Director of San Francisco Heritage. Incorporated in 1894, Shreve is considered the oldest commercial establishment in the city. "It is the quintessential 'legacy' business," Buhler said.

THE NEW SHREVE FLAGSHIP STORE AT 150 POST
I was among the many who regretted that Shreve had to leave its historic home, but I was delighted by its fresh and modern, spectacular new flagship store. With three times as much space, I'm sure it will benefit from an influx of disposable income in the Bay Area.
(Incidentally, Shreve's excellent repair department continues at the new store and works on all jewelry, not just pieces purchased there.)

SHREVE'S GRAND OPENING
Shreve & Company has a special place in the hearts of local residents, so the opening party, co-hosted by Shreve and C Magazine, drew some of the city's most glamorous residents.
Among those sipping champagne and specialty cocktails by Pernod Ricard while ogling the new luxe premises (and, of course, the goodies on display) were fashion illustrator David Downton, SF Ballet principal dancer Yuan Yuan Tan, C Magazine Editorial Director Jennifer Smith-Hale, C Magazine President and Publisher Lesley Campoy, journalist and model Tatiana Sorokko, and publicist Claudia Ross.

CHANGES AT UNION SQUARE
Ever-higher rents and a tight market have caused many changes in the heart of Union Square. As far back as 1994, the legendary Gump's—the 1909 one-of-a-kind landmark  purveyor of home décor, gifts, jewelry, and art objects—was forced to move a block down Post Street when it couldn't reach an agreement to stay in the building it had occupied for 85 years.
But prices that have driven the artists, non-profits, and other long-time residents from the area have not deterred all retailers. Cartier, Bulgari, Loro Piana, Christian Dior, and Gucci are all within a block. British couturier Alexander McQueen, Belgian designer Maison Martin Margiela, and Dutch menswear brand Suitsupply recently signed deals.
One broker at the party lamented that international brands are taking over from local and regional retailers. But I've seen them come and go—Prada, Mulberry, Lombardi Sports, and Dior Homme Boutique all recently lost their shops—and I believe local brands in search of a unique home will continue to find their way here.
My New York neighbors and I also lament the many forced closures and relocations of stores in our city. In the last few years, in my Upper East Side neighborhood, my favorite florist and pizza shop—in business for 40 years—were priced out. The running joke is that everything is being replaced by Starbucks, pharmacies, and banks, even though there are ATM machines on every corner, and most of us would prefer the local services of shoe repair, copy shop, or a café.
Photos by Drew Altizer, Cleber Bonato, Jeanne Lawrence, Jose Luis Villegas/UC Davis, and Shreve & Co.
Save
Save
Save
Save