ART HAPPENINGS IN PALM SPRINGS, COACHELLA VALLEY (PART I)

I'm making vacation plans now to leave Manhattan once winter arrives. One of the places that beckons is Southern California's Coachella Valley, the desert resort area that lures international snow birds drawn by its natural beauty, year-round sun, golf courses, tennis facilities, spas, hiking, gambling, and vibrant nightlife.
The Coachella Valley (locals simply call it "The Valley") is a string of nine desert towns — the best-known Palm Springs, as well as Desert Hot Springs, Cathedral City, Rancho Mirage, Palm Desert, Indian Wells, La Quinta, Indio, and Coachella.

DESERT X ART INSTALLATIONS DEBUT
I last visited Palm Springs for a very exciting Coachella Valley event: the inaugural Desert X, a biannual exhibition of indoor and outdoor art installations by global artists.
The ambitious project included more than 15-site specific works focused on global and local environmental, social, and cultural issues, curated by Artistic Director Neville Wakefield.
The free exhibitions sprawled across some 45 miles of the Coachella Valley, from the San Bernardino Mountains to the Salton Sea. In two days, I managed to see only three of the works — but they were knockouts!
Timed to coincide with the annual Coachella Music Festival, which draws tens of thousands of revelers to the desert every spring, Desert X debuted in February and was on view through April.

PHILLIP K. SMITH: THE CIRCLE OF LAND AND SKY
Phillip K. Smith's The Circle Of Land And Sky is a 600-foot-long arena of mirrored posts angled at 10 degrees. The exterior reflects the earth and the interior reflects the sky, forming what the artist calls "a space of reflection within the middle of the desert."

DOUG AITKEN: MIRAGE
I stayed an extra night just to see Doug Aitken's super-popular Mirage — a mirror-clad ranch house that almost disappeared into the landscape while reflecting panoramic views of the surrounding mountains and desert. The interiors of the house offered a never-ending kaleidoscope of light and reflections.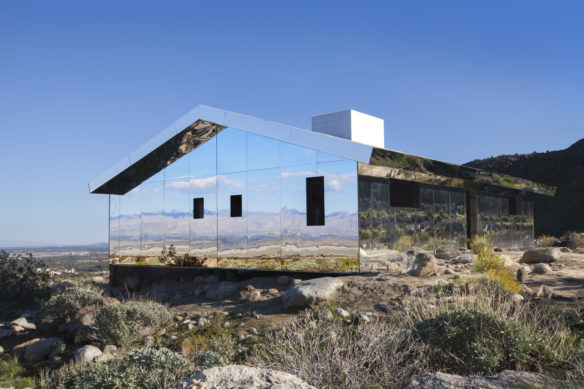 CLAUDIA COMTE: CURVES & ZIGZAG
Claudia Comte's Curves & Zigzag was a nearly 10-foot high and 100-foot long concrete wall covered with repeating black and white S-patterns that gradually sharpened into zigzags as you walked along it. The undulating wall referenced both Op Art painting and heat haze — the shimmering visual distortion that occurs in the desert.

MORE DESERT X INSTALLATIONS
Following are photos of some of the other Desert X installations — all brilliant. I'll schedule a longer stay for Desert X in 2019, in order to visit every exhibit.

PALM SPRINGS HISTORY: HOLLYWOOD HANGOUT
Palm Springs became "Hollywood's desert playground" for the movie community elite in the 1920s in part because it met the "two-hour-rule" — the contractual obligation to stay within close traveling distance from the studio lots 100 miles to the west.

PALM SPRINGS RENAISSANCE
Present-day lovers of the desert, having rediscovered the city's retro-chic vibe and elegant mid-century modern buildings, have made Palm Springs a hot vacation spot once again.
Many of my San Francisco and Los Angelino friends have bought winter homes here or come for weekend retreats. The Uptown Design District offers lots of mid-century-influenced furniture shops and boutiques filled with brightly colored, amusing fashions with which to relive the era.

ICONIC MID-CENTURY MODERNISM
"Mid-century modern" designs from the mid-30s to the mid-60s — from architecture to interiors, products to graphics — are again coveted today.
Palm Springs is especially renowned for marvelous mid-century modern homes by architects such as Albert Frey, Donald Exler, Richard Neutra, John Lautner, and E. Stewart Williams. They are much in demand, especially with the region's year-round indoor-outdoor living style.
Every February, Palm Springs hosts "Modernism Week," with home tours, films, lectures, parties, live music, and other events. It drew more than 100,000 people in 2017.

EAGER TO RETURN
Each time I visit "The Desert," I enjoy it more. Planning this year's visit, I see so many tempting events that I don't know where to begin!
In January, the schedule includes Palm Springs International Film Festival, The Desert Arts Festival, Sunday Polo, and the Rancho Mirage Writers Festival.
February offers the Concours d'Elegance classic car show, Modernism Week, and the Frank Sinatra Celebrity Golf Invitational.
March features the BNP Paribas Open tennis tournament in Indian Wells (which Larry Ellison of Oracle acquired in 2009), the ANA Inspiration women's golf tournament, Fashion Week El Paseo, and La Quinta Arts Festival.
Finally, April highlights include the Coachella Music and Arts Festival and the Palm Desert Food & Wine Festival.
You should consider scheduling a trip of your own!

Photography by Jeanne Lawrence; Lance Gerber, Dakota Higgins, and David Blank courtesy Desert X; Jake Holt, David A. Lee, and Gregg Felsen courtesy Modernism Week; VisitPalmSprings.com; and Wikimedia Commons.
Save