I want to abandon New York this winter and join the international snow birds in flying to Palm Springs, in Southern California's Coachella Valley (which locals call just "The Valley"), to enjoy the ultimate in resort pleasures: natural beauty, year-round sun, golf courses, tennis facilities, spas, hiking, gambling, and vibrant nightlife.
The nine desert towns that compose The Valley include Palm Springs, Desert Hot Springs, Cathedral City, Rancho Mirage, Palm Desert, Indian Wells, La Quinta, Indio, and Coachella.

PALM SPRINGS ART MUSEUM
I jumped at an invitation to the Palm Springs Art Museum Gala on my last visit. It was the perfect excuse to abandon the cold of New York for the balmy desert oasis.
When founded in 1938 as the "Palm Springs Desert Museum," it had a multi-disciplinary focus on Native American artifacts, natural sciences, and the Coachella Valley environment.
In 2004, after three decades of growth, the museum changed is mission exclusively to art and theatre, and in April 2005 renamed itself the Palm Springs Art Museum.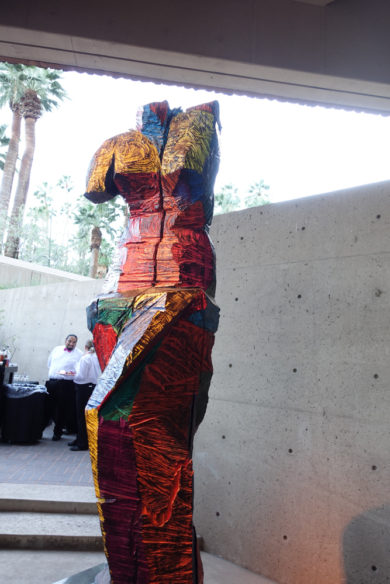 PALM SPRINGS ART MUSEUM GALA
"Embracing the Abstract" was the theme of the 2017 Palm Springs Art Museum's annual fund-raising gala. The museum's transformation into a mesmerizing, abstract fuchsia-and-bright-orange experience dazzled the more than 350 guests.
The Gala was co-chaired by Diane Rubin and Angie Gerber. Diane, a San Franciscan, winters in Rancho Mirage in one of the iconic homes built by architect E. Stewart Williams.

A JAPANESE MULTI-MEDIA PERFORMANCE
The Japanese ensemble "enra" (always spelled in lowercase) performed a mesmerizing show that combined digital projection, music, and live performance.

AN ARTSY DINNER
Event planner Tamara Bolton pulled off a stunning evening. Every detail was in accord with the evening's abstract art theme.

THE AFTER-PARTY
The after-party in the Clayes Wing of the museum offered diversions, cocktails, and dancing.

THE FIRST EXHIBITION OF WOMEN ABSTRACT EXPRESSIONISTS
During the party, guests meandered through "Women of Abstract Expressionism," the first major museum exhibition to fully acknowledge the contribution of women to the genre. After World War II, Abstract Expressionism was the first uniquely American art movement to achieve international influence and elevate New York City to displace Paris as the center of the Western art world.
More than fifty paintings were on display, by twelve artists: Mary Abbott, Jay DeFeo, Elaine de Kooning, Perle Fine, Helen Frankenthaler, Sonia Gechtoff, Judith Godwin, Grace Hartigan, Lee Krasner, Joan Mitchell, Deborah Remington, and Ethel Schwabacher.

ARCHITECTURE AND DESIGN CENTER
A recent preservation effort by the Palm Springs Art Museum is its new Architecture and Design Center (A&D), Edwards Harris Pavilion, which opened in 2014. Formerly a modernist bank designed by famed desert architect E. Stewart Williams in 1961, the 13,000 square-foot glass-and-steel building features floor-to-ceiling windows and the original (now restored) terrazzo floor and bank vault door.
Among the more than 130 founding members and donors who made the Center possible were Trina Turk and her husband Jonathan Skow, Elizabeth Edwards Harris, and John Boccardo.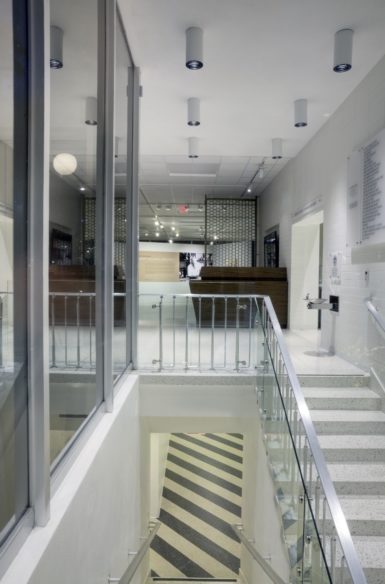 I love "The Desert" more each time I visit; and no visit is complete without a trip to the museum. This fall, I'll be sure to register early for Modernism Week February 15–25, 2018, so I can experience more of the mid-century architecture and design for which this region is so famous.
Read Part I of my Palm Springs coverage: Art Happenings in Palm Springs, Coachella Valley
Photography by Jeanne Lawrence; David Glomb and Dan Chavkin courtesy Palm Springs Art Museum; VisitPalmSprings.com.