On the 50th anniversary of the prestigious South Coast Plaza luxury shopping center in Costa Mesa, California, Elizabeth Segerstrom and her family honored the memory of her late husband, developer and plaza creator Henry Segerstrom.
Three days of activities and celebrations in Orange County culminated on October 30 in a concert at Segerstrom Hall by the Mariinsky Orchestra, conducted by Maestro Valery Gergiev, general and artistic director of the Mariinsky in St. Petersburg, Russia.

HISTORY OF THE SOUTH COAST PLAZA
South Coast Plaza is one of the most prestigious shopping destinations in the world, with more than 30 restaurants and 250 stores that house such luxury brands as Tiffany & Co., Gucci, Louis Vuitton, and Chanel.
The Plaza is in Costa Mesa about 40 miles southeast of Los Angeles in Orange County. California's third most populous county, it owes its prosperity to visionary developer Henry Segerstrom.

CREATING SOUTH COAST PLAZA
In the early 1960s, when the Segerstrom family initially conceived of replacing farmlands with a large retail center in Costa Mesa, many considered the area too sparsely settled to support it. Henry presciently hired a land-planning consultant and successfully lobbied the state highway planner to reroute the soon-to-be built Interstate 405 (San Diego Freeway from LA to San Diego) right through his property.
That move brought hundreds of thousands of people within a 30-minute drive of the future South Coast Plaza, which would become the most prestigious and highest-grossing shopping center in America.

HENRY'S ARTISTIC VISION AND LEGACY
Under mother Nellie Ruth Segerstrom's influence, Henry and the entire Segerstrom family believed that public and performing arts were indispensable to metropolitan development, and the Plaza complex continues to be guided by that vision today.
In 1972, the Segerstrom family donated an acre of land for the South Coast Repertory Theatre Company's new home. They later donated five more acres and $1 million to create the Orange County Performing Arts Center, which opened in 1986.
In 2011, the Center was renamed the Segerstrom Center for the Arts. Its 14-acre campus now includes the South Coast Repertory Theatre, Segerstrom Hall, The Samueli Theater, the Renée and Henry Segerstrom Concert Hall, and is also the future site of the Orange County Museum of Art.

THE CELEBRATION BEGINS
The anniversary celebration of Henry's life and work began when Elizabeth Segerstrom graciously opened her home on Balboa Island to host an elegant high tea in honor of Her Royal Highness (HRH) Princess Michael of Kent.
Balboa Island, surrounded by beach and water, is just 4 miles from Costa Mesa. Henry Segerstrom again showed his foresight by commissioning Mexican architect Luis Barragán to build his dream house. The home is filled with artworks by Picasso, Helen Frankenthaler, Matisse, and Calder, among others.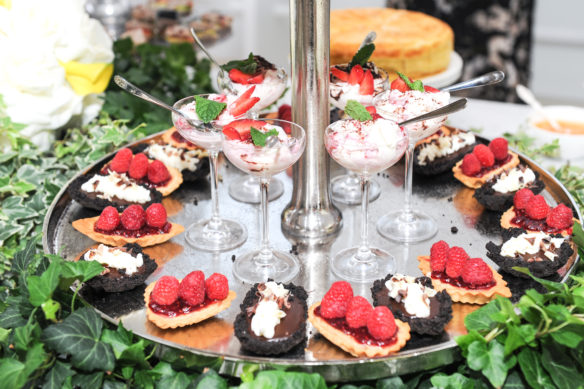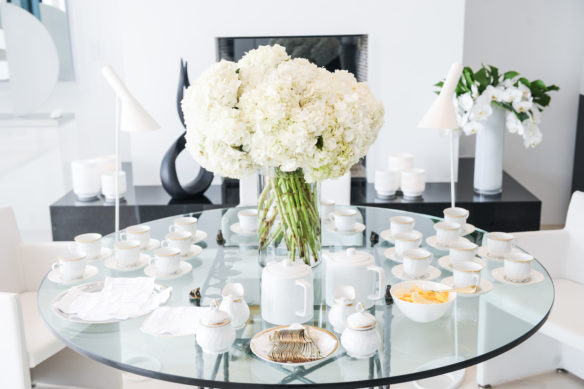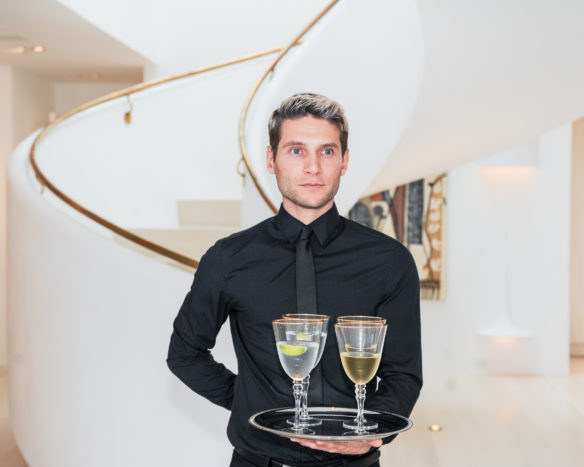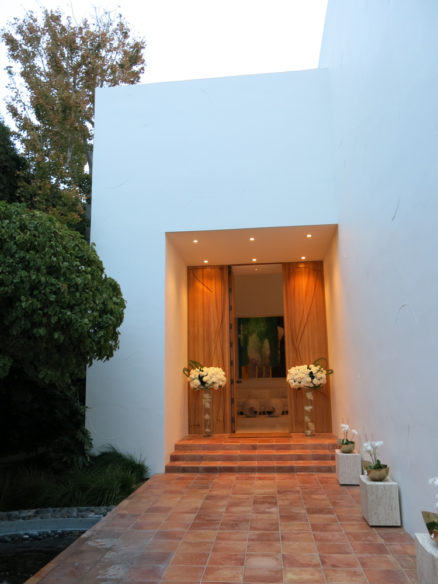 THE NOGUCHI GARDEN
Later, we took a tour of South Coast Plaza and searched out the Noguchi Garden that we had heard so much about. Since Henry felt that art available to all is a key ingredient for successful urban centers, he made sure to include gardens, fountains, and sculptures throughout the South Coast Plaza complex. We were joined by Malcolm C. Nolen, Chairman of the Board of Trustees of the Noguchi Museum in New York.
Henry commissioned Japanese-American artist Isamu Noguchi to create a garden shared by office buildings within the Plaza campus. Noguchi requested full creative control, and the resulting California Scenario sculpture garden is considered one of California's most beautiful and unusual gardens.

VIP CONCERT
Though I was curious to catch a glimpse of Renée and Henry Segerstrom Concert Hall earlier in the day, I purposely waited until the night of the 50th anniversary celebration—and as I had expected, I was stunned by it, inside and out. Designed by architect César Pelli, it features undulating glass walls on the exterior and matching balconies of exotic wood within.
Elizabeth Segerstrom sat in the first box, flanked by actress Helen Mirren, film director Taylor Hackford, opera icon Placido Domingo, Houston philanthropist Lynn Wyatt, HRH Princess Michael of Kent, and the London-born (now LA-based) philanthropist Lyn Rothman.
On the opposite side of the stage in a box hosted by Anton and Jennifer Segerstrom with Henry Segerstrom's sister Ruth Ann Segerstrom Moriarty: architect Frank Gehry and his wife Berta Isabel Aguilera, Forbes Publishing Vice Chairman Christopher "Kip" Forbes, and American Ballet Theatre's Kevin McKenzie (the Segerstrom Center is his company's winter home).
The audience also included the LA County Museum of Art's Michael Govan, arts education advocate Malissa Shriver, HSH Prince Veriand Windisch-Graetz and his son HSH Prince Charles Windisch–Graetz, and artist Bill Viola with his wife Kira Perov and son Blake Viola.
Naturally, the fashion industry was well-represented too, by luminaries including Macy's Inc. executive chairman Terry Lundgren and his wife Tina, LVHM chairman and CEO Anish Melwani, Richemont North American CEO and president Daniel Mawicke, and Stella McCartney America president Ida Simonsen.

THE MARIINSKY ORCHESTRA
The much anticipated Mariinsky Orchestra, under the baton of Maestro Valery Gergiev, gave a thrilling concert. It included selections from Richard Strauss's Don Juan and Ein Heldenleben, plus Tchaikovsky's Piano Concerto No. 3.
Both the performance and the words of Maestro Gergiev were memorable. The conductor paid heartfelt tribute to his dear friend Henry Segerstrom, with whom he'd bonded through art. Gergiev touchingly recalled how he'd flown in from a concert to be with Henry in the final hours of his life.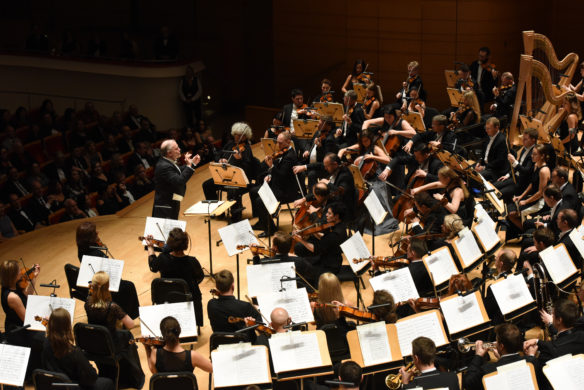 THE ANNIVERSARY GALA DINNER
Guests next moved on to a private gala dinner on the terrace of the Concert Hall, surrounded by 8,000 cascading white Phalaenopsis orchids. I have never witnessed such an abundance of flowers so artistically arranged. Elizabeth wanted the 50th anniversary to be spectacular—and she does love white flowers.
"The concert was thrilling," Lynn Wyatt said, greeting Maestro Gergiev.  "It was worth every mile I flew to get here. I would have walked every mile to hear it."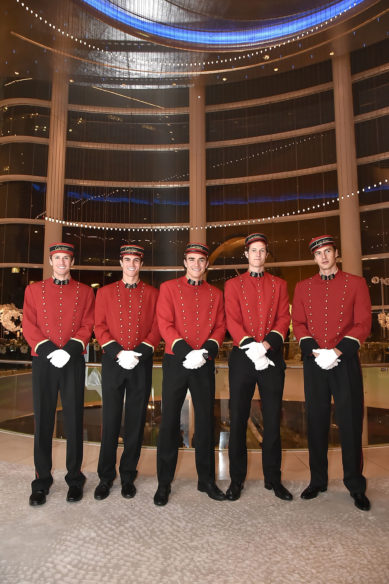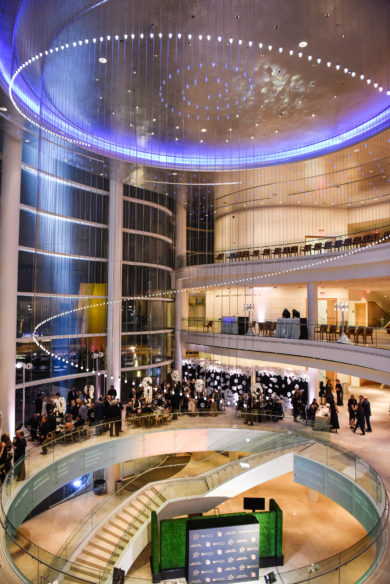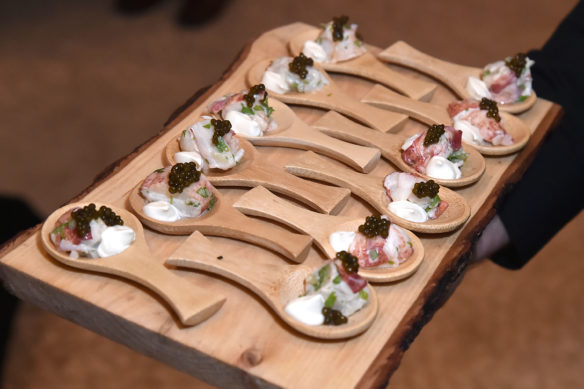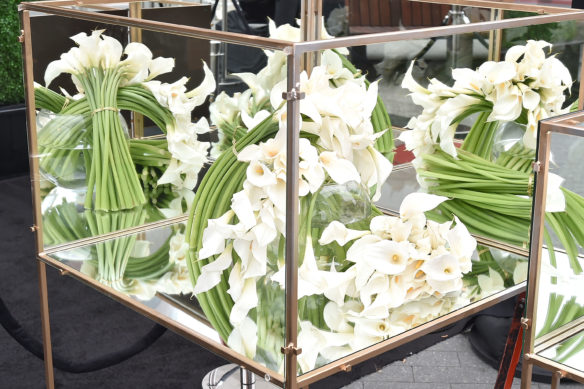 "Perhaps of all arts, music is the one that can sidestep language," said actor Ralph Fiennes in his pre-dinner speech. "Music reaches straight to the soul, putting borders and political and national differences out of focus. Music, I believe, is the great healer." He praised Segerstrom's commitment to art, excellence, and friendship, and his "loving wife, Elizabeth Segerstrom, who keeps it going forward."

SAILING ON FRANK GEHRY'S BOAT IN BALBOA BAY
The next day, we were excited to have been invited to ride aboard architect and avid sailor Frank Gehry's sailing yacht, Foggy (named after the acronym for Frank Owen Gehry). It was moored at the private Balboa Bay Club in Newport Beach, the legendary playground of the rich and famous.
A few even had the chance to ride in the sleek black Frauscher Mirage high-performance speedboat that was used in in the James Bond movie Spectre. What a nice way for Maestro Gergiev to spend his first day off in six months! (He is always on the road.)
Photography by Jeanne Lawrence, BFA Photos, Patrick McMullan Company, courtesy Segerstrom Family, and courtesy South Coast Plaza.