SAN FRANCISCO BALLET 2018 OPENING NIGHT GALA
Befitting the "Celestial" theme of the 2018 San Francisco Ballet Opening Night Gala, the ladies' gowns sparkled, the décor set the room aglow, and the performance by the world-class SF Ballet dancers was heavenly.
It was all a spectacular success under the leadership of Gala Chair Kathryn A. Huber, Gala Dinner Chair Betsy Linder, Décor Chair Catherine Bergstrom, and Honorary Chairs Christine Russell and Mark Schlesinger.

A WALK IN THE RAIN
The rainy weather didn't dampen spirits or dissuade the ladies from appearing in extravagant gowns on this glamorous occasion.

COCKTAIL RECEPTION & DINNER IN CITY HALL
Arriving guests enjoyed a cocktail reception and a sit-down dinner in the Beaux-Arts City Hall.

A SPARKLING EVENING
The "Celestial" theme was inspired by the grandeur of the night sky. Event designer J. Riccardo Benavides, of i•de•as, transformed City Hall with a skyscape created with shimmering lighting, purple and blue fabrics, and dazzling floral arrangements.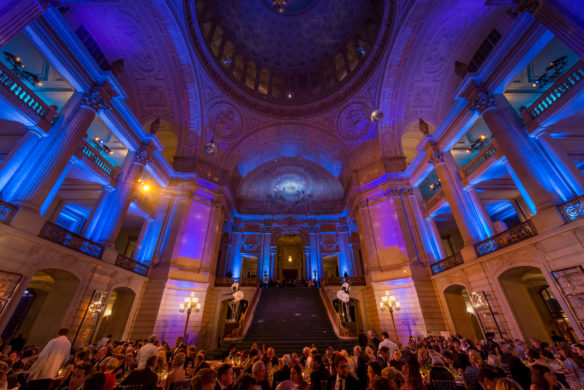 ELECTRIFYING PERFORMANCES
The Gala launched the 85th Repertory Season, which includes the unprecedented Unbound Festival, featuring 12 world premieres by 12 international choreographers in four programs of three works each.
The evening's program featured nine classical and contemporary works, including three San Francisco Ballet premieres.

AFTER-PARTY
The after-party in City Hall featured lavish live music by Pop Rocks and the Ruth Davies Trio, a set by DJ Chris Clouse, and dancing, as well as an open bar and late-night fare by McCalls Catering. This year, Grand Benefactor and Benefactor ticket holders were also invited to a new VIP Lounge where they mingled with SF Ballet dancers and enjoyed a luxury bar and a sushi chef.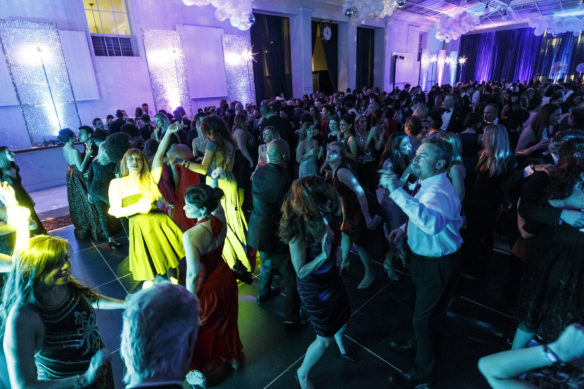 FIFTH ANNUAL FOG DESIGN+ART FAIR KICKOFF
Now in its fifth year, the annual FOG Design+Art Fair has become a mainstay of San Francisco's winter social season. The fair kicked off with a preview gala to benefit the San Francisco Museum of Modern Art (SFMOMA).
In addition to showcasing 45 prominent 21st-century and contemporary international art and design dealers, FOG also offered artist conversations, interactive presentations, and panel discussions with design luminaries and leaders in the field of arts and culture.

A NEW INTERNATIONAL ART DESTINATION
The Preview Gala gave art and design patrons, design-industry leaders, SFMOMA patrons and supporters, VIP guests, and sponsors the opportunity to peruse exhibits prior to the fair's public opening and to enjoy an evening of culinary creations and signature cocktails.
At Fort Mason, sales were brisk on opening night, with some booths selling out in one day. The boom in sales is attributed in part to the young technology community developing an interest in contemporary art. FOG also had a back-to-back opening with the second annual Untitled art fair (at the nearby Palace of Fine Art).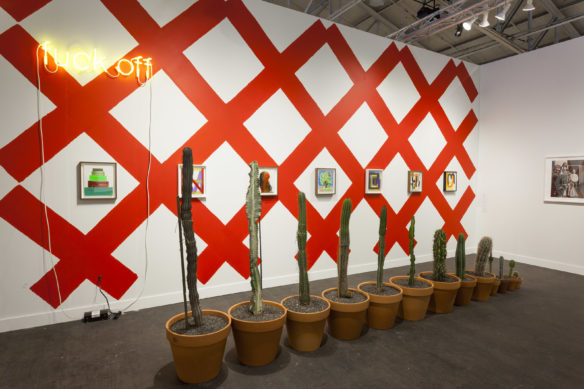 Photography by Drew Altizer and Erik Tomasson.