Treasures of China's Heritage: Touring with the Global Heritage Fund
(Fifth of a Seven-Part Series)
Fujian and Shanxi
In anticipation of a return to China, I've been revisiting my past travels to the country. Some of my best memories of the "Middle Kingdom" include my nine-day tour of historically significant sites with the Palo Alto-based Global Heritage Fund (GHF)—an organization devoted to supporting underdeveloped rural areas worldwide.
DAY 6: HISTORICAL TEMPLES IN THE ANCIENT WALLED CITY OF PINGYAO
After spending a third day in historic Pingyao, we wrapped up our exploration of this ancient walled city with tours of several historically significant Taoist and Buddhist temples in and near the Old City.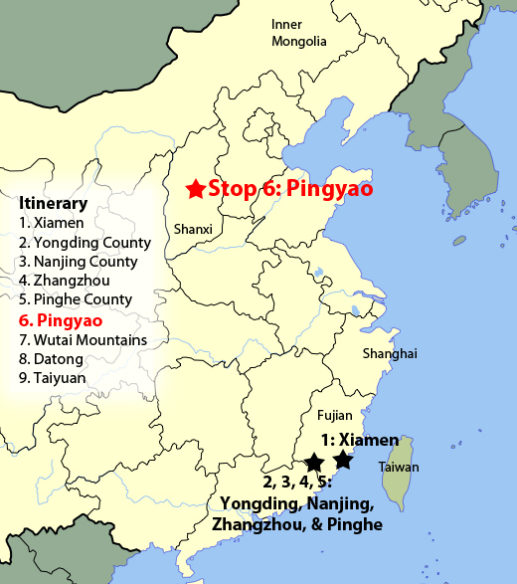 QING XU GUAN TAOIST TEMPLE AND COUNTY MUSEUM
Of the three sites we toured on our final day in Pingyao, the grandest was Qing Xu Guan Taoist Temple, built during the Tang Dynasty (around 757 C.E.) and rebuilt in 1065. It was the first rainy day of the trip, adding another dimension to a place that continued to enthrall our group.

THE OPERA DOLL MUSEUM
The Qing Xu Guan Temple, which includes a museum, is listed as a UNESCO Intangible Cultural Heritage site. One special treat is the opera doll collection, crafted by artisans more than 100 years ago.
The dolls' paper clothes have decayed and the particular form of paper craft used to create them has been all but lost. Of late, there has been an attempt to revive the skill.

STROLLING EAST STREET
A light rain couldn't deter us from wandering around the ancient brick-paved streets to view the lives of the locals while looking for architectural details and interesting views.

TONGXINGGONG ARMED ESCORT MUSEUM
After the temple visit, we walked to 105 South Street, the Tongxinggong Armed Escort Museum, established in 1855 by a martial arts master and his son.
A sign said that Tongxinggong was considered the best "escort services" agency, which conjured up some questionable images in our minds. But we quickly learned that during the nineteenth century, merchants carrying gold and other precious metals often hired armed guards as protection. These "escorts" were similar to today's armored trucks.

BACKYARD EXERCISE SPACE
We moved on to the yard, where guards once practiced archery and martial arts such as Kung Fu. The security guards had to be in fighting shape, as the large amounts of cash changing hands made tempting targets for bandits.
When we came upon some ancient sticks, we began play-fighting with some young Chinese tourists. The hijinks made us all instant friends, as you can see.

DRINKING GINGER TEA TO CURE OUR COLDS
Chilled by the damp weather, we gladly returned to the warmth of our guesthouse.

WATCHING THE WORLD WALK BY
As we enjoyed our tea in the Jing dining room, we watched the world go by outside the window.

SHUANGLIN BUDDHIST TEMPLE
After lunch, we drove out to Shuanglin Temple, a Buddhist complex dating back to the Northern Wei Dynasty (386–534 C.E.). As the province is one of the country's poorest, there is no money to tear down what's old and rebuild it. For that reason, numerous pre-1300 C.E. structures still exist, more here than in all the rest of China. Most date from the Ming and Qing Dynasty (1368–1911).
An important example of historical Chinese art, the Shuanglin Temple is home to an exceptional collection of more than 2,000 vividly painted, lifelike clay Buddhist statues dating from the twelfth through the nineteenth centuries.

ZHENGUO TEMPLE
At a nearby village, we visited the more-than-1,000-year-old Zhenguo Temple.
The temple is home to Wanfo Hall ("Hall of 10,000 Buddhas"), dating back to the Northern Han Dynasty (951–979 C.E.) and one of the oldest wooden buildings remaining in China.

MY FAVORITE, SO FAR
Pingyao remains one of my all-time favorite spots. It's so ancient and relatively untouched that visiting it really does feel like traveling back in time.
I went there specifically to see Qiao Jia Dayuan (the Qiao Family Compound). Built by a wealthy family from the 1660s to 1800s, the courtyard house was featured in Zhang Yimou's film Raise the Red Lantern. Sadly, we hadn't time to get there. I'm somewhat consoled by having seen many other courtyard houses, but I'm keeping Qiao on my list of places to visit in the future.

THE DRIVE TO TAIYUAN
Next, we headed to Taiyuan. On the long drive along the national super highway, I was dazzled by the office parks and greenswards lining the way. It's hard to imagine how much China has recently spent on landscaping and road construction.

JINCI HOTEL
In Taiyuan, we checked into the five-star Jinci International Hotel, the only state guesthouse in Shanxi Province. After receiving hundreds of heads of state, government officials, and numerous celebrities over the years, it is now open to the public.

ANOTHER BANQUET DINNER
After checking in and unpacking, we quickly gathered for another banquet, this one given by Jeff Morgan's friends and some government officials whom he had entertained in California. An excellent host himself, Jeff was always warmly received by the officials we met.
In my next post, I share my experiences on Days 7 and 8, when we travelled to an amazing set of historical sites in the Wutai Mountains.
Visit globalheritagefund.org to learn more about the Global Heritage Fund.

LINKS TO OTHER POSTS IN THIS SERIES
Part 1: Days 1 and 2 – Visiting Hakka tulous (earthen residences) in Fujian Province
Part 2: More of Day 2 and Day 3 – The historic port town of Zhangzhou, plus more tulous in Pinghe and Nanjing counties
Part 3: Day 4 – Our first day in the ancient walled city of Pingyao
Part 4: Day 5 – Our second day in history-packed Pingyao
Photography by Jeanne Lawrence.