THE BEST OF GUATEMALA – PART 2:
LA ANTIGUA, ANCIENT MAYA RUINS, LAKE IZABAL
A year ago, a group of my friends had a once-in-a-lifetime travel opportunity—seeing the best of Guatemala on a trip organized and generously hosted by our dear friend Ana Cristina Alvarado. None of us could have guessed that this would be our last trip of 2020, but shortly after returning home, we were quarantined due to Covid-19.
No other part of the world offers so much in so small an area: the splendor of the colonial influence; breathtaking mountains and lake scenery; the thriving and colorful culture of the indigenous peoples with their markets and unique lifestyle; and the awe-inspiring ruins of the mysterious lost Maya civilization.
Part 2 continues with our last days in historic La Antigua before heading to the jungle to visit the fabled Maya ruins and then on to Lake Izabal and Rio Dulce for the windup of our adventure.
CLICK HERE to read Part 1.

DAY 5: THE COLONIAL CITY OF LA ANTIGUA
Since Guatemala produces some of the world's finest coffee, a visit to a coffee plantation is a must. Our fifth morning began with a 20-minute ride from Antigua city center to "Finca Carmona," an authentic plantation that the Zelaya family has called home for over 100 years.
After the family greeted us, they explained the history of the plantation and guided us through the 1908 house, kept in its original condition and containing many artifacts found on the property.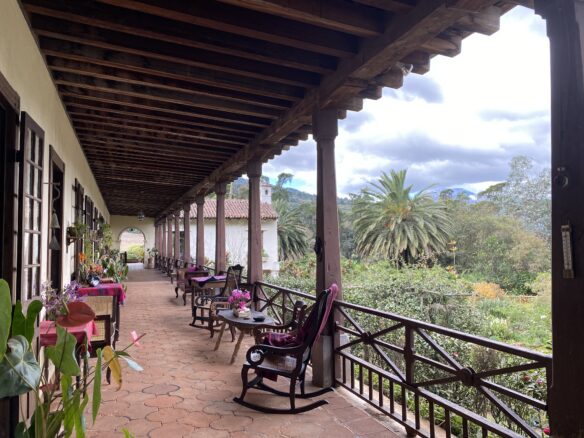 TRADITIONAL COFFEE PREPARATION
After gathering in the dining room, family patriarch Ricardo Zelaya showed us how coffee was traditionally made. After measuring the ground coffee beans into a pot, he slowly poured water over them for about an hour to make a syrup. When you're ready for a drink, you dilute that syrup with an amount of hot water based on the strength you prefer.
The Zelayas believe that the best coffee beans are grown in Guatemala, Colombia, and Kenya, while beans from other regions such as Thailand are best used for instant coffee. Guatemala is one of the few countries still producing coffee under shade trees.

COFFEE TASTING EXPERIMENT
The highlight of the tour was the coffee-tasting experience, similar to a wine-tasting. We were taught about all aspects of coffee production, from planting and picking to drying and roasting.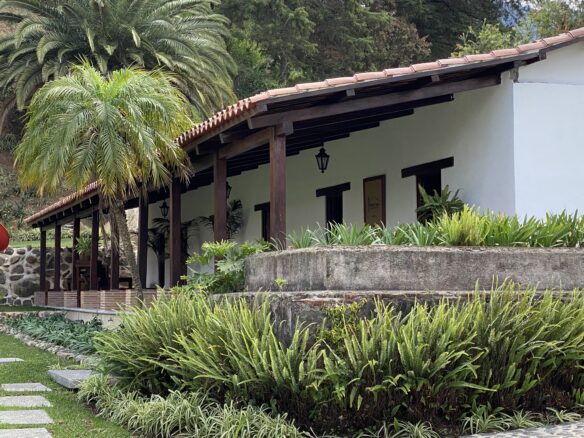 On the table was coffee in each stage: from raw green coffee bean, to red roasted coffee bean, to the final grind. We learned how to first smell the aroma, then take a sip and get the taste in the back of the throat. The ideal coffee taste is balanced and smooth, with no hint of bitterness or acidity. The coffee tasting was informative and spoiled me for life: Now I know how coffee should taste.

LUNCH AT "PALOMARES"
What made this trip even more special was that Ana Cristina arranged for her friends and family to host our group at their homes. With over 200 close relatives living between Guatemala and El Salvador, she is deeply tied to the cities of her childhood and considers Guatemala her second home. Meeting Guatemalans helped us better understand the country's history and politics.
After the morning coffee-tasting, Patricia Escobar de Arzú, widow of Alvaro Arzú, a former president of Guatemala, entertained us with a festive al fresco lunch for 80 guests—our entourage plus more of Ana Cristina's friends and family. We were entranced by the array of colorful floral centerpieces—a natural choice since Guatemala's year-round balmy weather supports a profusion of stunning flora.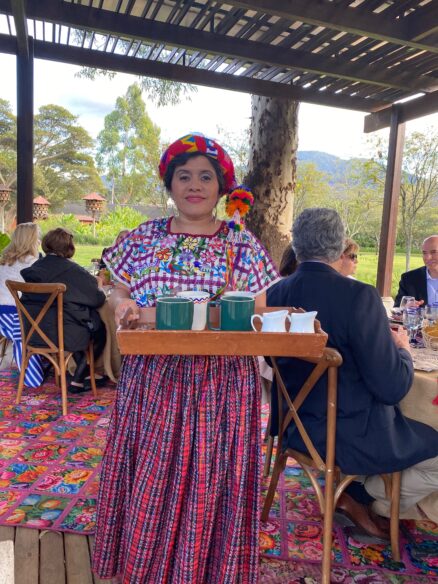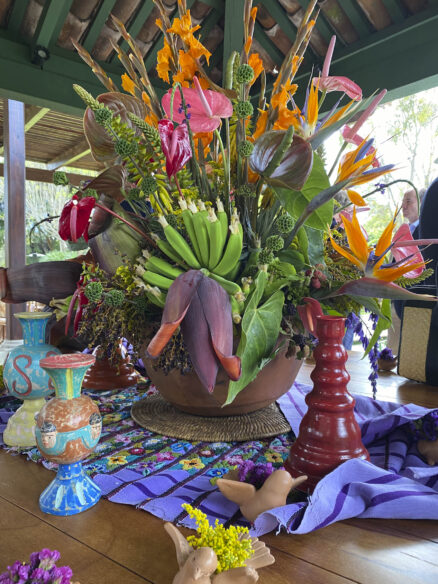 AFTERNOON SHOPPING
Later, strolling the streets, we stopped at Árbol del Telar ("Loom Tree"), which showcases local hand-crafted textiles. Founded by Italian textile designer Carmen Giuliani, it is considered one of the finest local boutiques.
I was impressed by the array of carpets, cushions, tablecloths, and other home decor items, all of superb quality and in a striking range of textures and colors. I could have bought up the entire store!

DINNER AT "EL PALACIO DE DOÑA LEONOR"
On our final night in historic La Antigua, we first enjoyed cocktails at the home of antique dealer Mary de Girón. Then, for dinner, Ana Cristina chose an extraordinary venue: "El Palacio de Doña Leonor," a courtyard palace built in the mid-16th century for Doña Leonor de Alvarado, daughter of the conquistador Don Pedro de Alvarado. Today, hotelier María Rivera has transformed it into an elegant boutique hotel.
It was an unforgettable evening! What seemed to be millions of roses were strewn on the walkways, encircled the fountains, and were incorporated into decorative bouquets surrounding mirrors, candelabras, and table centerpieces.
No wonder La Antiqua is a favorite spot for destination weddings. Its history, colonial architecture, and sense of romance make it magical, and the city offers unique experiences and activities.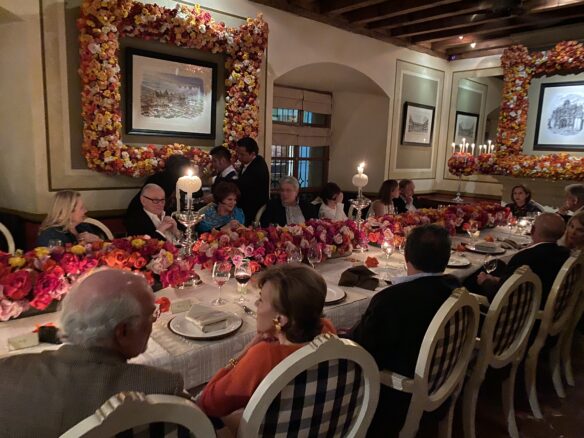 DAY 6: PETÉN – HOME OF MAYA RUINS
The next morning, we departed Antigua for the Maya world, a much-anticipated adventure, particularly for those of us who love archeology. Our destination was Petén, heart of the Maya Biosphere Reserve in the rainforests of northern Guatemala, considered the cradle of pre-Columbian Maya civilization.

ARRIVAL AT LAS LAGUNAS BOUTIQUE HOTEL
From Mundo Maya Airport, in Flores, Petén, we drove to Las Lagunas Boutique Hotel, our home for the next three nights. It's a rustic eco-hideaway tucked into a 300-acre private nature reserve, with a museum highlighting pre-Columbian archeological pieces and individual guest bungalows overlooking forests and a lagoon in the middle of the reserve. In that jungle atmosphere, we felt far from our everyday lives.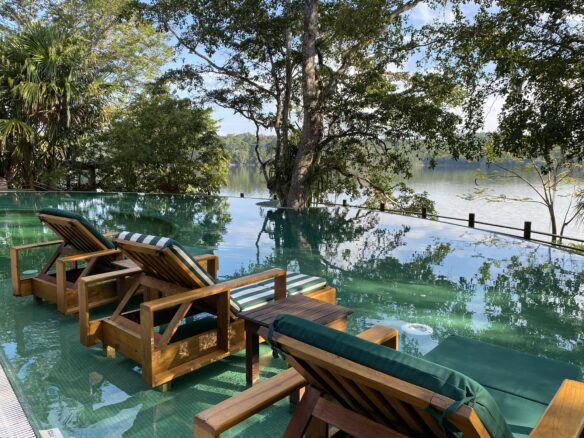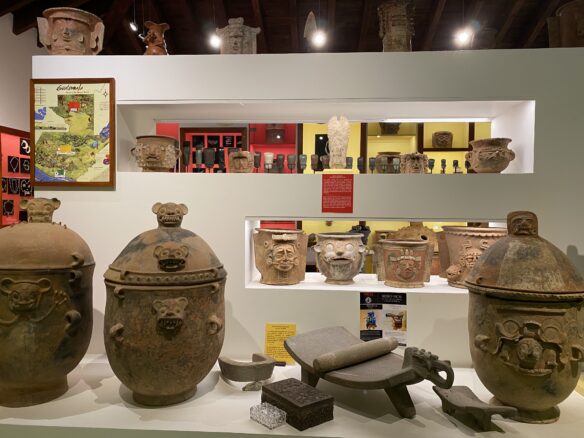 LEARNING ABOUT TIKAL FROM ARCHEOLOGISTS
Joining us on this portion of our trip were archeologists Dr. Francisco Estrada Belli and Daniel Aquino, and Marianne Hernández, president of the Foundation for Maya Cultural and Natural Heritage (PACUNAM), which supports archaeological research, environmental conservation, and sustainable economic activities that help preserve Guatemala's natural and cultural heritage.
The archeologists briefed us on our upcoming visits to the Yaxha and Tikal archeological sites and highlighted the 2,500-year-old history of the ancient Maya people, one of the more mysterious ancient civilizations.
From a National Geographic documentary on Maya culture, we learned that the revolutionary laser technology known as LiDAR has mapped more than 800 square miles and revealed more than 60,000 houses, temples, palaces, and moats in Guatemala's dense jungle.
To learn more about recent Maya discoveries, I recommend the National Geographic special Lost Treasures of the Mayan Snake King and the Netflix series Guatemala: Heart of the Mayan World.

DAY 7: OUR ADVENTURE TO THE ANCIENT MAYA CITY OF YAXHA
On our first day in the jungle, we visited Yaxha, the ceremonial center for pre-Columbian Maya people. Located on a ridge overlooking Yaxha Lake (Yaxha means "blue-green water"), Yaxha was once the third largest Maya city in the region, and reached the zenith of its power during the Early Classic period (c. 250–600 CE).
The archeologists took us on a guided tour of the Yaxha ruins, which cover an area of two square kilometers (0.77 square miles). More than 1,700 structures have been identified, including plazas, pyramidal temples, palaces, numerous residential groups, and a twin pyramid complex that is unique outside of Tikal.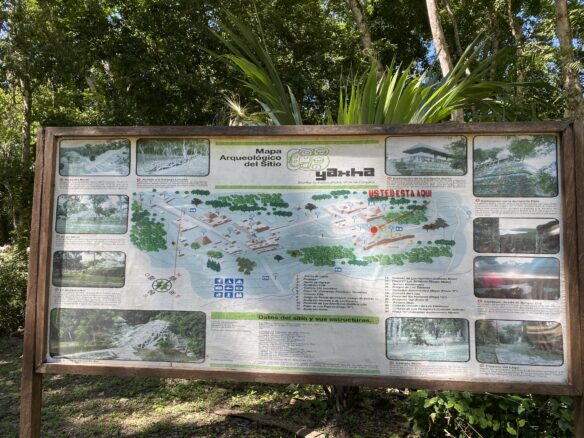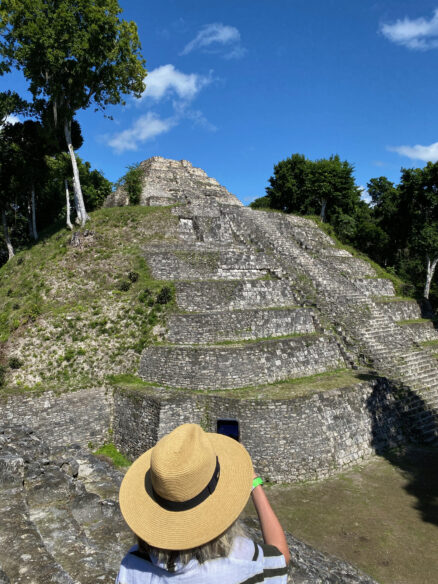 BOATING TOUR TO TOPOXTÉ ISLAND
After lunch, we cruised on two small boats to Topoxté Island. Guided by the archeologists, who shared information about Maya culture and archeological finds, we hiked through the forest to reach more ruins.
An important trade center, Yaxha was inhabited by the Maya from around 700 BCE to 950 CE. By around 1,200 CE, most of the remaining population of Yaxha had migrated to the small islands of Topoxté, Canté, Paxté, and Jacalté, where they built low structures and perishable superstructures. All the sites of the region were abandoned by the middle of the 15th century, and archeologists today are still trying to discover why.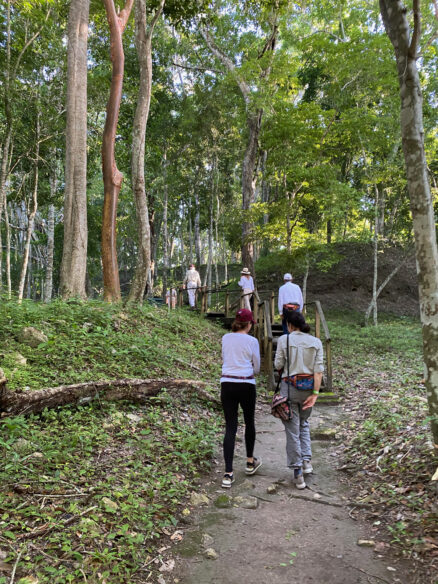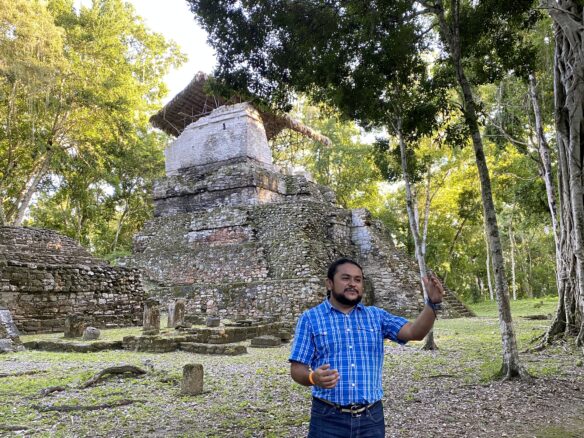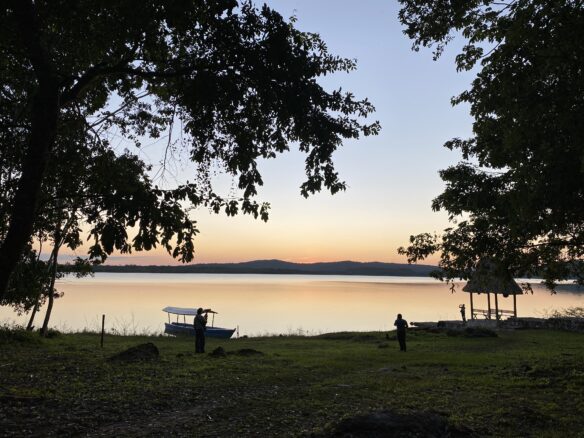 DAY 8: THE GREAT ANCIENT MAYA CITY OF TIKAL
Early the following morning, we took a 45-minute drive to Tikal National Park. One of the archaeological wonders of the world, Tikal was the greatest Maya city ever built. Once the city reached the peak of its power, it maintained political dominance for 1,000 years, controlling vast stretches of territory and dominating smaller city-states.
Our archeology guides, Daniel Aquino, Erick Ponciano, and Marianne Hernandez, led us to the visitor's center at the Parque Nacional Tikal to see a scale model of the area. Surrounded by  rainforests and ancient plazas and ball courts, the model illustrates a rich and powerful history when Tikal's population grew to almost 100,000.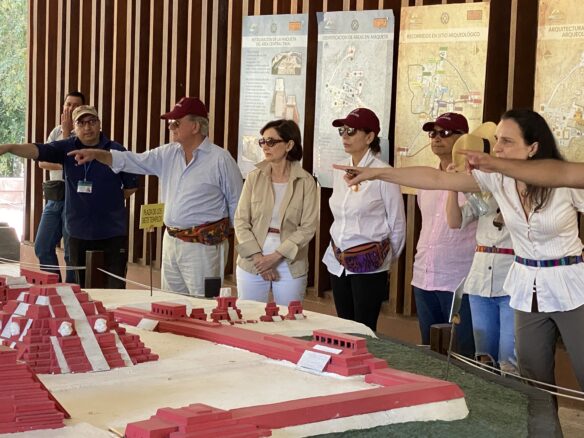 THE RUINS OF TIKAL
Like many of its neighboring cities, Tikal eventually fell into decline and was later abandoned for reasons that are still mysterious. Current excavations may reveal an answer. We felt so fortunate to spend two days full days here, though even in a visit of several weeks, it's impossible to see everything.
The achievement of these ancient people is simply stupefying, from the monumental size and architectural brilliance of their temples to the cultural, artistic, astronomical, and scientific knowledge they developed. Tikal's society was surprisingly sophisticated; it even developed a complex irrigation system to preserve water and feed the population.

TOURING ANCIENT TIKAL
We walked to view the Grand Plaza and Acropolis, where many of Tikal's ancient towering stone temples and pyramids are located. Many majestic large pyramids have roof-combs that make them seem even taller. The impressive monoliths are numbered but also have exotic names such as Mundo Perdido (The Lost World), Temple of the Masks, and Temple of the Jaguar.
Among other initiatives, PACUNAM has sponsored research that led to the discovery of elevated highways connecting a large network of ancient cities and kingdoms, thought to have once been home to 5 – 10 million people.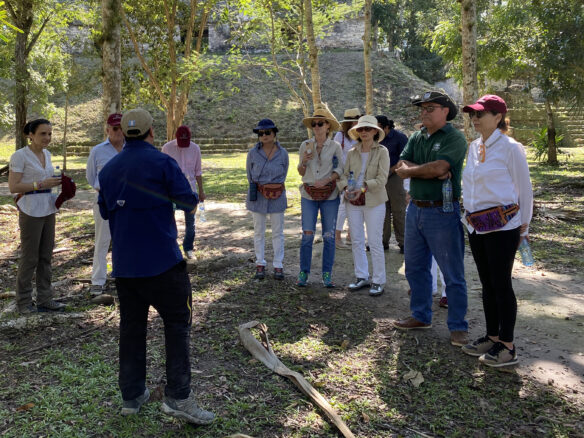 VIEW FROM TEMPLE IV 
Heading toward dusk, we enjoyed the day's highlight: climbing the steps of the majestic and monumental "Temple IV," one of the tallest and most voluminous buildings in the Maya world. These images may seem familiar if you saw the Mel Gibson-directed film Apocalypto or other movies in which they appear.
Temple IV was built to mark the reign of the 27th king of the Tikal dynasty, or possibly built after his death as his funerary temple. Archaeologists believe the king's tomb lies undiscovered underneath the temple.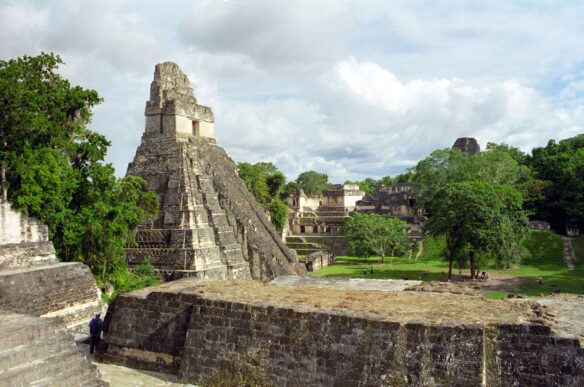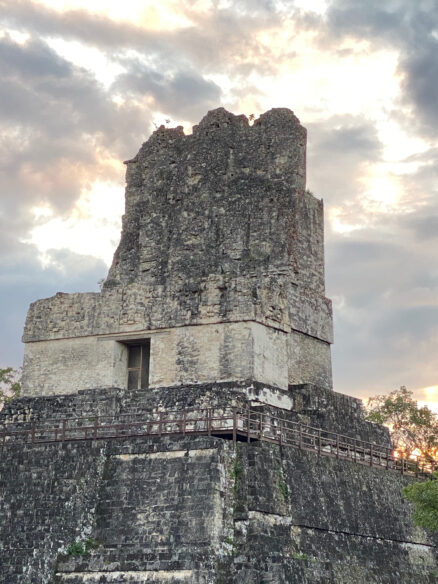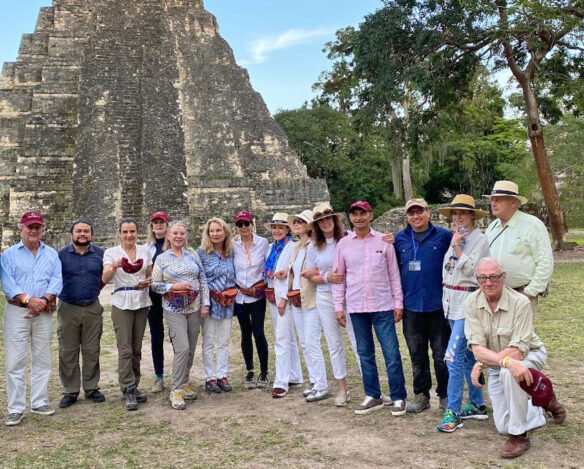 DAY 9: LAKE IZABAL AND RIO DULCE 
We regretted the end of our trip to the Maya ruins, but looked forward to the next and final destination: Lake Izabal, Guatemala's largest lake, and Rio Dulce ("Sweet River").
We flew to Lake Izabal, where we were guests at a private lakeside villa belonging to one of Ana Cristina's relatives. It was a truly grand finale! Though lacking sandy beaches, the shores are dotted with waterfront houses, with typical regional straw roofs and built right up to the lake's edge, surrounded by tropical gardens and magnificent views.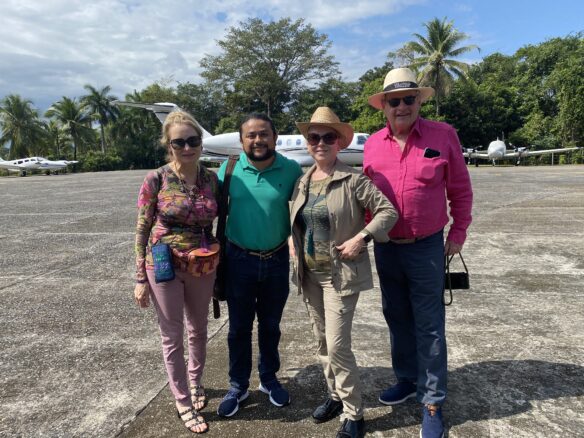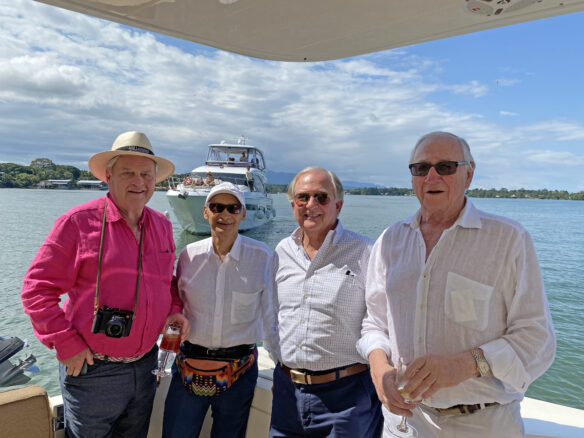 GUESTS AT A PRIVATE HOME ON LAKE IZABAL
We disembarked at a traditional thatched roof dock and arrived at the lakeside estate with views of the water and open-air dining and sitting rooms. The home was my idea of heaven—built with family and guests in mind, with colorful suites and every amenity, comparable to any 5-star hotel.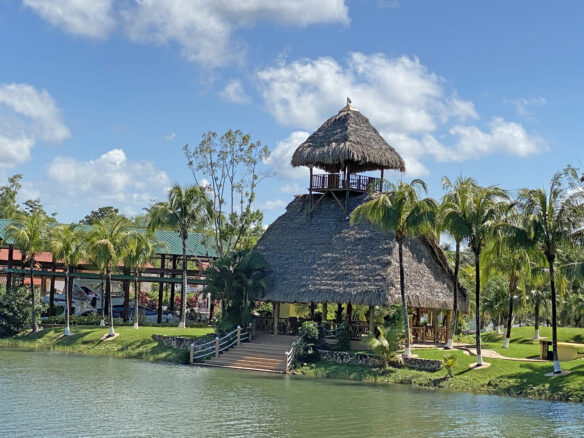 The entertaining space, open to the tropical gardens and fresh air, created a delightful ambience and we dined al fresco daily. The attentive staff made everything special, serving up authentic local cuisine at breakfast, lunch, and dinner with exquisite floral centerpieces.

APERITIVO AND LUNCH AT THE "RANCHO DE PALMA"
After settling in our rooms, we gathered to enjoy the traditional Latin-American aperitivo, at which we were served small bites that included Guatemalan tortillas with guacamole, black beans, elote (grilled corn on a stick), and hummus.
The bountiful lunch buffet offered local grilled beef, chicken, pork, cold mixed vegetable salad, and rice, followed by homemade pineapple ice cream.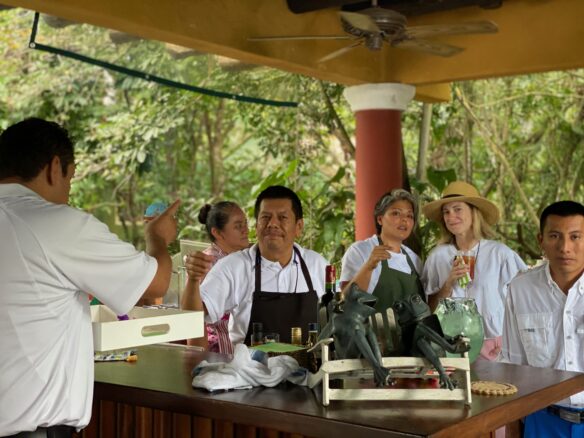 DAY 10: RIO DULCE AND THE CARIBBEAN SEA
Today, we hopped on a yacht for a final unforgettable experience—a gentle boat ride down the Rio Dulce, through the canyon with breathtaking views of the natural scenery and along the historic route where, long ago, pirates would hide to attack galleons carrying gold, cacao, and other riches back home to Spain.
Again, we enjoyed perfect spring-like weather (even though it was January), and we slowly glided down the lake, observing life along the riverbanks, until we reached the Caribbean Sea. I had to review the map to get my bearing and understand where we were exactly.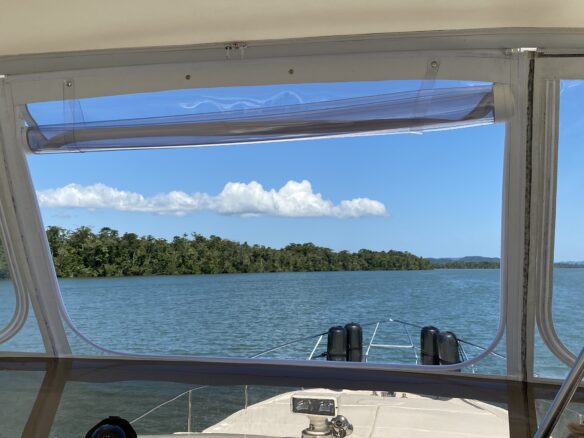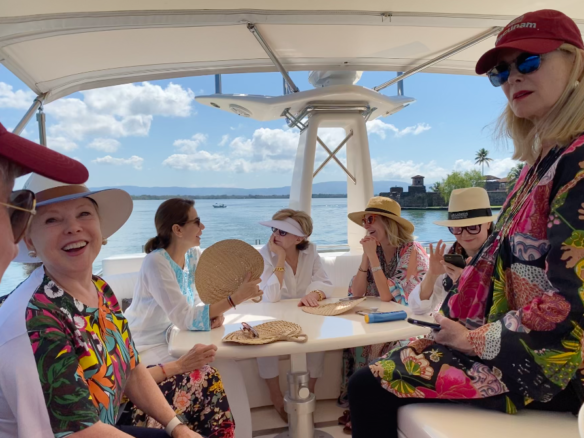 OUR FINAL NIGHT – FESTIVE DINNER AND DANCING
On our final night in Rio Dulce and Guatemala, we gathered in one of the thatched roof pavilions to sip cocktails and watch the sun set, then feasted on another farm-to-table al fresco buffet.
We had all bonded in friendship, and we drank bottles of tequila and danced the night away. I couldn't recall the last time I'd laughed so long and so hard! That last night was the culmination of a perfect trip. I still smile when I think of our dancing and the "tequila evening" as a night to remember—forever.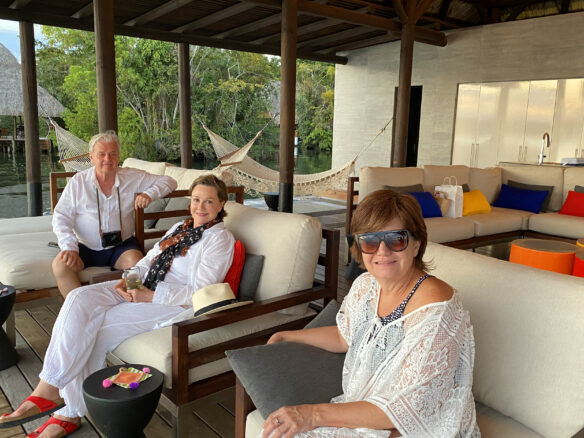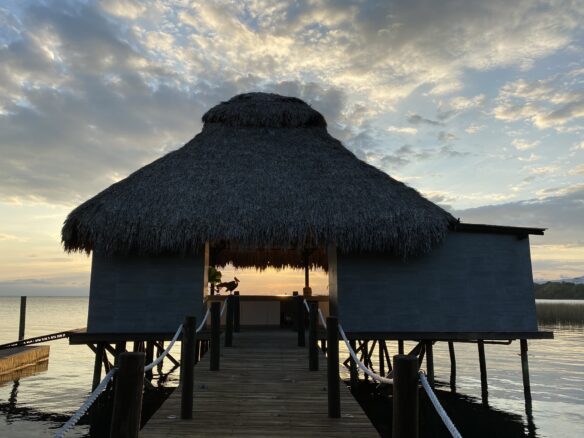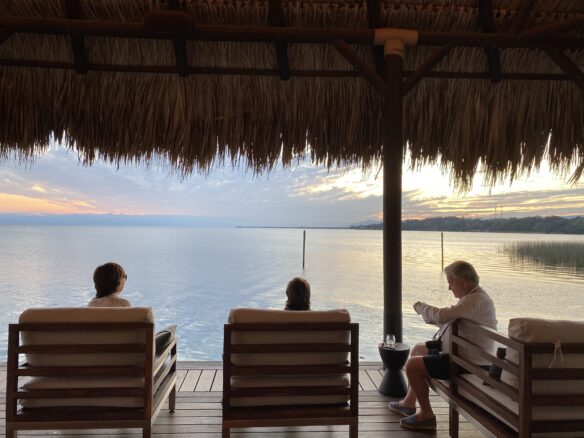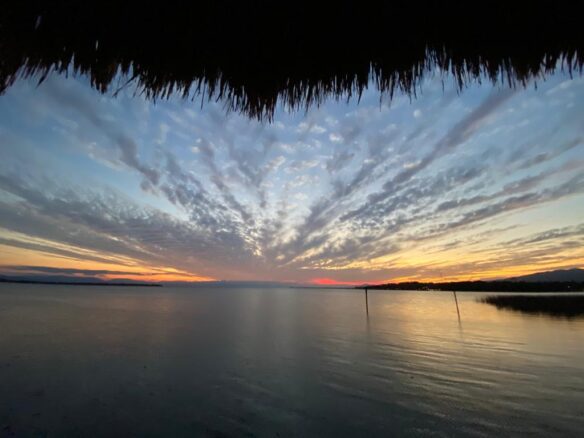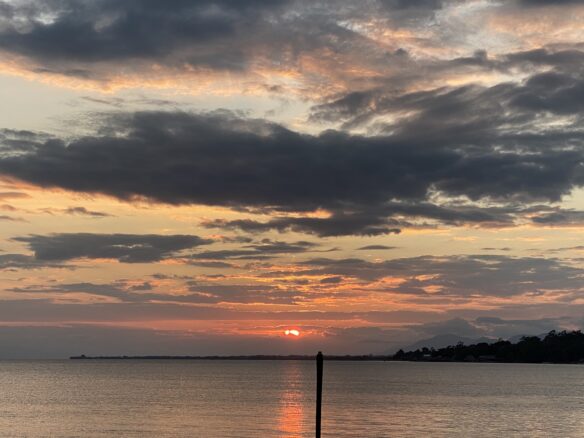 GUATEMALA TO NEW YORK CITY 
Though none wanted such a fantastic trip to end, it was time to go home. We could never thank our dear friend Ana Cristina enough for her generosity and for planning such an eye-opening introduction to Guatemala. Travel is my passion, and being shown a country new to me by someone who knows and loves it was especially enchanting. 
We saw the best of Guatemala: From Lake Atitlán to ancient Maya ruins, the rhythm of the trip was perfect, and every venue, location, event, and meal was superb. There were so many highlights! And the Guatemalan people are some of the most gracious and welcoming in the world. What an incredible treat to get to know them.
Photos by Jeanne Lawrence, Ana Isabel Carrera, prominent photographer Clark Winter, PACUNAM, and Wikimedia Commons.