SHANGHAI TO HANGZHOU
After spending six days in Shanghai, San Francisco's Asian Art Museum delegation continued their fact-finding trip to Hangzhou (pronounced Hong-Joe), one of China's most historic and—beautiful cities.

Hangzhou was the capital of the Southern Song Dynasty (1127-1279). Famed for its natural scenery, the city and its West Lake (Xī Hú) have been immortalized by countless poets and artists. Marco Polo is reported to have dubbed it "the most enchanting city in the world."
Today it's also the capital of Zhejiang province and home to 6 million people. With its hi-tech companies such as e-commerce Alibaba.com, it is often compared to California's Silicon Valley.

THE BULLET TRAIN
I followed the group to Hangzhou. Although I have travelled there before, this was my first time taking the new, sleek bullet train that went into service on October 28, 2010. At a top speed of 261 miles per hour, the train made the 120-mile trip in just 45 minutes.
One of the few times I become aware that I'm in a country with a population of over a billion people is when I'm at a train station. The number of travelers is overwhelming, and I've learned never to travel during the major Chinese holidays, when the crowds (as during our Thanksgiving and Christmas holidays) are even larger than normal.

FOUR SEASONS HOTEL HANGZHOU AT WEST LAKE
After arriving in Hangzhou, I grabbed a taxi to the gated enclave of the Four Seasons Hangzhou that opened in October 2010. Situated along an inlet on the western side of West Lake, it offers 17 magical acres of landscaped gardens with footpaths and a series of lagoons, streams and lily ponds.
It is touted as "combining centuries of tradition with chic contemporary style" [by whom?] and has become the place to stay in Hangzhou. Nothing is perfect, but Hangzhou's newest hotel comes very close.

A WEST LAKE WALK
After unpacking, Eliza Cash, Gina Chu and I headed out for a walk around West Lake for some exercise, fresh air, and to take in the beauty of the lake that is a must-see when visiting Hangzhou.
West Lake is in the heart of Hangzhou. The partially man-made lake is more than 1000 years old, has an area of 2.2 square miles and is ringed by undulating hills on three sides.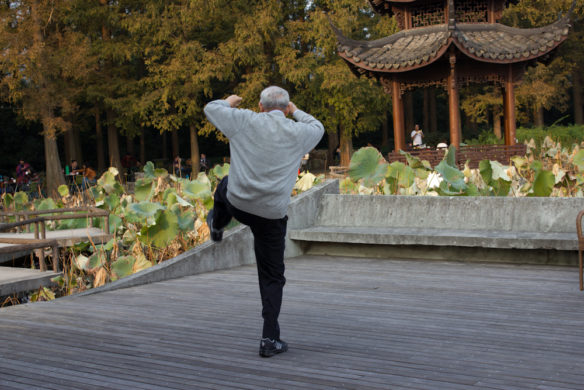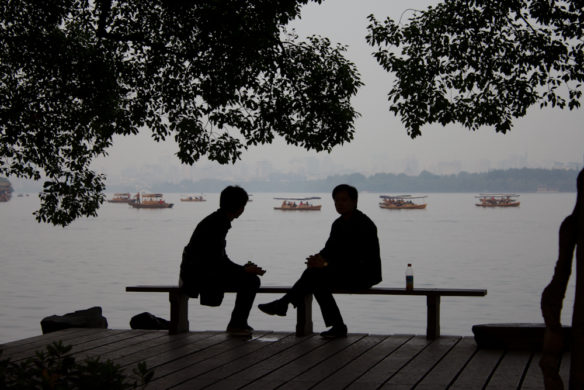 VISITING MUSEUMS AND STUDIOS
This day was filled with art-related activities. Asian Art Museum director Jay Xu was on hand to give in-depth commentary. It is such a treat to travel with him, as he knows everyone and has the knowledge to explain what we are seeing.
He made a point of saying the focus of the trip was to view contemporary art; it wasn't about shopping or sightseeing.

SHI HUI STUDIO
The first art stop was the studio of Shi Hui, a pioneer fiber artist who creates works of paper in many forms. She is constantly experimenting with fibers and uses conventional and hi-tech methods. Her work "Floating" (2007) is at the National Arts Museum in Beijing.

ZHEJIANG MUSEUM
The next stop was the Zhejiang Museum of Art on Nanshan Road, adjacent to West Lake. It opened officially in August 2009, and most of us had not yet discovered this gem.
It is the largest modern art museum in China today—at least until a new one under discussion in Beijing is actually built.
Director Ma Fenghui greeted us; I noticed the camaraderie they had with Jay. A scholar of Chinese antiquities, Jay is a two-way emissary who is able to move easily between the U.S. and Asia.

XU JIANG'S "SUNFLOWERS"
The highlight was Xu Jiang's exhibition, A Tribute to the Garden of Sunflowers, as he believes the golden flowers, cultivated for their edible seeds, are the perfect symbol of China.
Xu Jiang is also director of his alma mater, China Academy of Art (Hangzhou), a founder of the Shanghai Biennale and the author of several art books. Art Review named him one of art's "Power 100."
To the generation of artists who grew up during the Cultural Revolution from 1967-1977, the sunflower has historical and political implications that Westerners may not be aware of.
They were taught to follow the sun (meaning Chairman Mao and Chinese leaders), just as the sunflower always follows the sun.

LUNCH AT JIANG NAN HUI CLUB
Lunch was at Jiang Nan Hui, a private club whose founders include Alibaba CEO Jack Ma (China's Bill Gates). "This is where deals are made," we were told. It certainly looked that way at the entrance, where a line of elite cars, including three Rolls Royces and their chauffeur/bodyguards, waited.

CHINA ACADEMY OF ART HANGZHOU
After lunch we visited one of the oldest and most prestigious art schools in the country, the China Academy of Art (formerly the Hangzhou Academy of Art). The Academy has been one of China's leading schools for the past thirty years and is considered more conservative than the Beijing National Academy.

Calligraphy Professor Wang Dongling
We met Wang Dongling, dean of the calligraphy department. Regarded by the Chinese as the highest expression of all art forms, calligraphy has been flourishing and evolving in China for over 3,000 years.
Wang Dongling has made ancient calligraphy modern and bold and turned it into performance art.

BANQUET DINNER AT HU XUEYAN HOUSE
On the delegation's last night in Hangzhou, a banquet feast was held at the villa of Hu Xueyan, built in 1872 by the richest man in Hangzhou. It is located near Hefang Street, which is famous for its well-preserved Ming and Qing dynasty buildings. Recently the Hangzhou government took over the complex and beautifully restored it.

BICYLE RIDE AROUND WEST LAKE
The group left on an early morning flight for Beijing for more jam-packed days. I remained to enjoy a few more days in Hangzhou, a city where I had always wanted to spend extra time. It's a great place to recover from a super-charged China itinerary.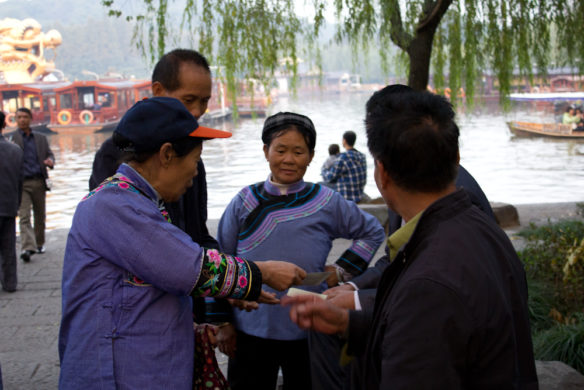 Photographs by Jeanne Lawrence
*Urbanite Jeanne Lawrence reports on lifestyle and travel from her homes in San Francisco, Shanghai, and New York, and wherever else she finds a good story.