Treasures of China's Heritage: Touring with the Global Heritage Fund
(Fourth of a Seven-part Series)

Fujian and Shanxi
I recently had the privilege of taking a nine-day trip to China in the company of board members of the Palo Alto-based Global Heritage Fund (GHF)—an organization devoted to supporting underdeveloped rural areas worldwide. Although I'd previously traveled extensively in China, this unusual excursion was uniquely enriching and memorable. It's my pleasure to share this experience with you in a series of recollections illustrated primarily by my personal photographs. Links to the other installments in this series can be found at the end of this article.
After resting up from our first magical day in historic Pingyao, we looked forward to more experiences in the ancient walled city, including an up-close encounter with the walls themselves.

DAY 5: THE ANCIENT CITY OF PINGYAO IN SHANXI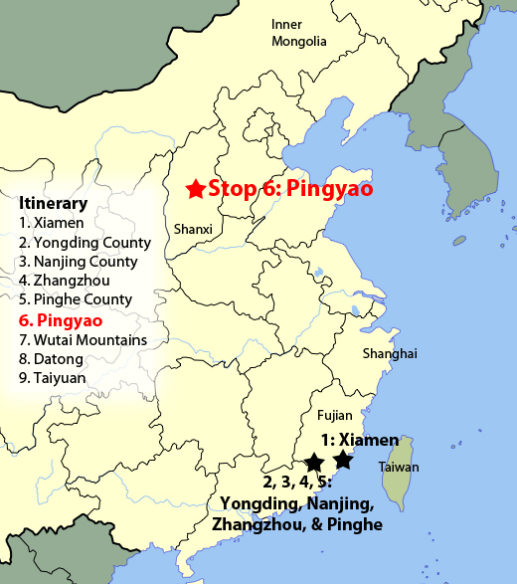 VISITING THE CITY WALLS AND GATE TOWERS
On the fifth day of our tour, we explored the Pingyao city walls, beginning at the north end with Gongji, one of six gates. The north and south ends each feature one gate, while the west and east walls have two, each with a tower. Each gate has three surrounding walls to protect it from invaders and prevent wind and sand damage.

CHINA'S FIRST BANK
We stopped at West Street, once the most famous banking street in the world and home to Rishengchang, China's first and biggest bank.
Pingyao was the financial center of China during the late Ming (1368–1644) and Qing Dynasties (1644–1912). Merchants from Beijing, traveling along the Silk Road, exchanged their silver and gold for "checks" here so they wouldn't be robbed. Our present-day personal banking protocols have their roots in this system.

SHOPPING ON MING-QING STREET
Among the tourist trinkets and street-food stalls at the local market on the main street of Ming-Qing, we discovered some fine craftwork by local artisans.

A VISIT TO A LACQUER STORE
Our eventful second day in Pingyao included an opportunity to observe some extremely skilled lacquer craftsmen at work. Their exquisite wares were not inexpensive, but the huge selection of beautiful pieces included something to tempt each of us.

LUNCH IN A COURTYARD HOUSE
Since the province is known for 200 types of pasta made of buckwheat, potatoes, and other starches, we planned to sample a few at lunch.

GHF'S RESTORATION OF A COURTYARD HOUSE
GHF is responsible for the first privately funded authentic restoration of an ancient courtyard house. Located at 12 Mijia Xiang, the structure housed a kindergarten from 1963 to 2009. The project was meant to become a model for others.

HERITAGE CONSERVATION AND FANJIA JIE HISTORIC STREET PROJECT
To give us an overview of the work being done here, the Global Heritage Fund team invited some top local government officials to address us. They were led by Li Jin Sheng, Chief Planner of Housing & Urban Development and Director of Urban Planning of Shanxi.
For the twenty-year Fanjia Jie Street project, GHF first surveyed the local architecture, then gathered family histories and stories, and finally drafted a Master Conservation Plan.

REVIVING ANCIENT CRAFTS
Heritage groups are also looking at ways to encourage local and regional crafts such as woodblock printing, paper cutting, and the making of baskets, opera dolls, cloth shoes, and lacquerware.

MY PRESERVATION THOUGHTS
One thing became crystal-clear to me during my wonder-filled trip to China's remote areas: If we don't protect architecture and cultural artifacts worldwide, cities around the globe will all look the same.
Our group was surprised to learn that GHF had needed just $100,000 to restore the model courtyard house at 12 Mijia Xiang. Some of us immediately began fantasizing about buying and renovating a private courtyard house as a country home. Then reality intruded. Travel to Pingyao is challenging, as it is far from any big city. It lacks greenery, parks, and flowers. And, though we were taken with the moody patina of the town, its gray skies, gray buildings, gray earth, and gray tile roofs might ultimately prove monotonous.
In my next post, I share my experiences on Day 6, when we visited three significant temples around Pingyao.
Visit globalheritagefund.org to learn more about the Global Heritage Fund.
LINKS TO OTHER POSTS IN THIS SERIES
Part 1: Days 1 and 2—Visiting Hakka tulous (earthen residences) in Fujian Province.
Part 2: More of Day 2 and Day 3—The historic port town of Zhangzhou, plus more tulous in Pinghe and Nanjing counties.
Part 3: Day 4—Our first day in the ancient walled city of Pingyao.
Photographs by Jeanne Lawrence & Global Heritage Fund.
*Urbanite Jeanne Lawrence reports on lifestyle and travel from her homes in San Francisco, Shanghai, and New York, and wherever else she finds a good story.