NAPA VALLEY – "SALUTE, SANTE, CHEERS, MARGRIT! Tonight we raise our glass to you!" read the invitation from Festival Napa Valley, for a tribute to Margrit Biever Mondavi this past July.
The 91-year-old widow of vintner Robert Mondavi, who is credited with putting California wines on the world map, Margrit was honored for her more than four decades of dedicated work to help fine art, music, food, and wine flourish in the California wine country.
I flew in for the occasion to be with my dear friend, knowing she had been ill and fearing this Festival might be her last. Indeed, just weeks later, on September 2, Margrit's remarkable life came to an end.
Though each of the ten evening events at Festival 2016 was extraordinary, the one honoring Margrit at the Far Niente Winery was to me the most extraordinary of all.

FAR NIENTE WINERY
I've attended Festival Napa Valley every July since it launched in 2005, and consider the festivities at Far Niente Winery to always be among the best. In part, that's because the historic stone winery that overlooks the Valley makes me feel like I'm on a movie set.

A STAR-STUDDED TRIBUTE
More than 300 guests came to pay tribute to the irrepressible Margrit, including family and friends, fellow vintners, artists and celebrities from other fields.
Among them was another legend: the Academy Awards-winning Italian actress Sophia Loren, who flew in from Switzerland accompanied by her son, conductor Carlo Ponti Jr., and his wife, violinist Andrea Mészáros Ponti.
Lidia Bastianich, host of "Lidia's Kitchen," the TV show, opened her renowned New York Italian restaurant Felidia in 1981. She came to honor her good friend Margrit's contribution to Napa Valley food and wine culture.
Italian chef Fortunato Nicotra greeted his compatriot Sophia Loren by exclaiming, "You've been my idol since way back."

MARGRIT BIEVER MONDAVI, "THE AMBASSADOR OF NAPA VALLEY"
"No one better exemplifies the philanthropic spirit and the passion for art, music, food, and wine of the Festival than Margrit," said new Festival Board Chair Timothy Blackburn.
Her encouragement and nurturing of the Festival have made it part of her legacy. Festival President Rick Walker said she inspired everyone to live life to its fullest.

DRINKS UNDER THE CANOPY
At the sold-out evening event, guests arrived amid an enchanted forest of towering redwoods, acacias, dogwoods, and century-old cork oak trees.

THE OFFICIAL WELCOME AND TOASTS
As they have every year since the Festival began, Far Niente co-owners Beth Nickel and Larry Maguire generously hosted an event. Their vineyard was a perfect place to honor Margit, since it is next door to the Mondavi Vineyard, and Far Niente founders Beth Nickel and her late husband, Gil Nickel, enjoyed a long friendship with the Mondavis.
In his welcoming speech, Larry Maguire noted that during his childhood in Napa, "Italian food" meant spaghetti and meatballs. Then Margrit arrived and inspired locals to think more seriously about both food and art. He offered her a toast of thanks.
The current Michelin Guide gives three-star status to two Napa Valley restaurants: Chef Thomas Keller's The French Laundry and Chef Christopher Kostow's The Restaurant at Meadowood.
Maria Manetti Shrem thanked Margrit for her and her husband's work in turning Napa Valley into a sophisticated paradise, called Margrit  "my idol," and fondly acknowledged Margrit's joy and passion for "the art of living."

CONDUCTOR CARLO PONTI JR.
Sophia Loren came in support of both her friend Margrit and her son Carlo Ponti Jr., who conducted the orchestra on the Festival's last night. He was music director and principal conductor of the San Bernardino Symphony from 2001 until 2012, and in 2013 he founded the Los Angeles Virtuosi Orchestra.
"I'm honored to be part of this special night," Carlo said, adding, "I still have the bottle of wine you gave us when we married."
"If I were you, I'd drink it!" was Margrit's riposte.
"We did drink it" Carlo said, "… but we kept the bottle," drawing chuckles from the crowd.

MARGRIT TAKES THE MICROPHONE
From her wheelchair, Margrit responded to the accolades with a speech that was the evening's highlight.
She said she was overwhelmed and overjoyed "a thousand times," told some anecdotes about her more than forty years in the Napa Valley, and thanked Sophia Loren for her support, adding that the she would have liked to have had long legs just like the film star. The crowd was enchanted by Margrit's spirit and wit.

THE MUSICAL PERFORMANCE
Before dinner, jazz superstar Dave Koz and Grammy-nominated vocalist Monica Mancini (daughter of composer Henry Mancini) offered entertainment.
Many in the audience were moved by the performance of "Hope," which stirred up many wonderful memories of Margrit mixed with regrets about her illness.

CELEBRITY CHEF DINNER
After Far Niente Winery CEO Larry Maguire introduced celebrity chef Lidia Bastianich as "kitchen royalty," she took the stage and explained that her long friendship with Robert and Margrit began when they were early supporters of Felidia, which she opened more than three decades ago.
"With all my heart," she said to Margrit, "today I celebrate all you do for humanity and culture."
Chef Lidia Bastianich and Executive Chef Fortunato Nicotra prepared a superb meal that began with lobster salad with heirloom tomato paired with 2013 Far Niente Cave Collection Chardonnay. The main course was a beef striploin tagliata with 2013 Far Niente Estate Bottled Cabernet Sauvignon and a 2009 Far Niente Cave Collection Cabernet Sauvignon.

DESSERT IN THE GARDEN
After dinner, guests headed to the Cabernet Grill to choose among the dessert buffet temptations and share comments about how special the night was. Reluctant to tear ourselves away from the "Liquid Gold" 2010 Far Niente Dolce and the delicious lemon meringue tarts, our group was one of the last to leave. As the evening drew to a close, we could hear crickets chirping, enjoyed the twinkling stars overhead, and savored the special atmosphere of Napa Valley wine country.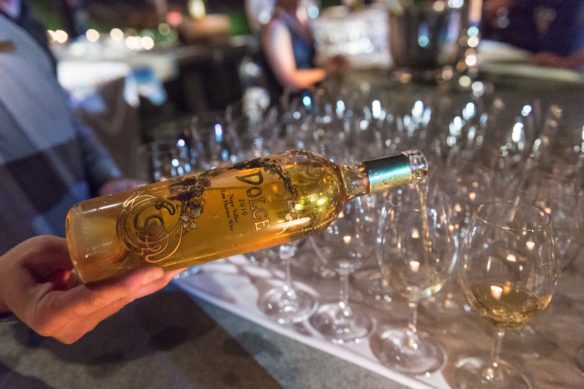 THE FESTIVAL FINALE: SUNDAY'S OPERA GALA
For its grand finale on the following evening, the Festival presented the Opera Gala at Lincoln Center. Carlo Ponti Jr. conducted the Festival Orchestra NAPA, made up of master musicians from around the world. They were joined by two of opera's most exciting young stars—tenor Michael Fabiano and mezzo-soprano Isabel Leonard.
The performance was followed by dinner at the Robert Mondavi Winery, which celebrated its 50th anniversary this year

LOSING MARGRIT MONDAVI: THE END OF AN ERA
Six weeks after the Festival Napa Valley tribute, Margrit Mondavi passed away. To the end, she was energetic, social, and witty, and still supporting her many cultural causes, among which the Festival was a favorite.
Festival President Rick Walker said Margrit was the guiding light in creating Festival Napa Valley. He admired her joy and generosity, and noted that she brought people together through food, wine, and culture, and "brought out the very best in everyone lucky enough to know her."

MARGRIT AT FESTIVAL NAPA VALLEY IN RECENT YEARS

THE MONDAVI POWER COUPLE'S LEGACY AND VISION
When Robert Mondavi founded his namesake winery fifty years ago, his goal was to put Napa Valley on the worldwide wine map. Margrit, originally the Winery's public relations director, integrated cultural and culinary activities into the plan.
As the San Francisco Chronicle reported, "Robert Mondavi deserves credit for revolutionizing Napa's wine industry. Ms. Mondavi deserves just as much for transforming the valley into a paradise of cultural sophistication."

FOUNDERS OF THE SUMMER MUSIC FESTIVAL
In 1969, Margrit founded the popular Summer Music Festival to benefit the Napa Valley Symphony. Celebrated participants included Ella Fitzgerald, Harry Belafonte, Boz Scaggs, and Tony Bennett.

FINE DINING & FINE ART PROGRAMS
A passionate cook, Margrit launched The Great Chefs Cooking School at the Winery in 1976. Among the school's guest chefs were Paul Bocuse, Michel Guérard, Joel Robuchon, Jacques Pepin, Alice Waters, Thomas Keller, Jeremiah Tower, Julia Child, Wolfgang Puck, and Martha Stewart.
Also an accomplished painter, Margrit invited illustrious artists such as Richard Diebenkorn, Wayne Thiebaud, Helen Frankenthaler, and Nathan Oliveira to participate in the Winery's art programs.
After the winery was sold to Constellation Brands in 2004, Margrit received the title of Vice President of Cultural Affairs, and continued to curate its cultural programs.

INTERNATIONAL IMPACT
The Mondavis invited top international winemakers to Mondavi Winery, from the French Rothschilds to the Italian Frescobaldis and Antinoris. Robert founded a second winery, Opus One in Napa Valley's Oakville, with Baron Philippe de Rothschild, of Bordeaux's Château Mouton Rothschild.

GENEROUS PHILANTHROPISTS
In addition to their winery and involvement in Festival Napa Valley and other artistic ventures, Margrit and Bob Mondavi were involved in many other philanthropic activities.
They gifted $10 million to help establish the Robert and Margrit Mondavi Center for the Performing Arts and $25 million to create the Robert Mondavi Institute for Wine and Food Science, both at University of California Davis.
In Napa, the Mondavis supported the Napa Valley Symphony with proceeds from the winery's Summer Music Festival, co-founded the Oxbow art school in 1998, and launched the now defunct Copia American Center for Wine, Food & the Arts, among many other projects.

A WELL-LIVED LIFE
The visionary Bob Mondavi championed California wines, while Margrit's passion for art and gracious living fueled her lifelong efforts to integrate the pleasures of music and art with fine drinking and dining. Together, the charismatic couple served as ambassadors for California wine and helped transform Napa Valley into the epicenter of American wine culture.
A toast to you, Margrit and Bob! We'll miss you both!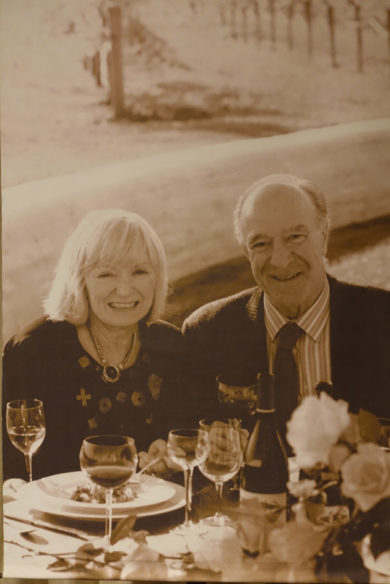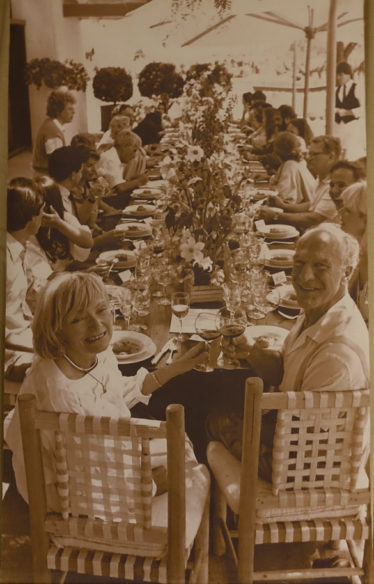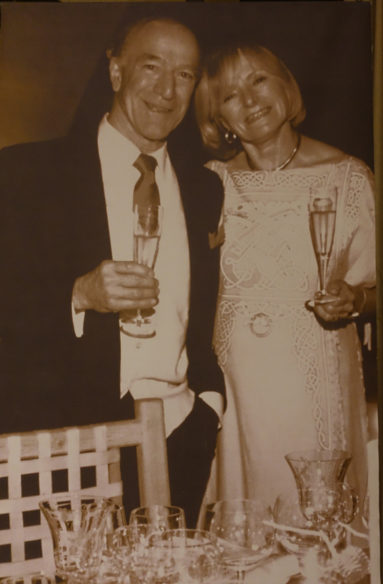 Photos by Drew Altizer, Jeanne Lawrence, Festival Napa Valley, Napa Valley Opera House, and UC Davis.
Save